I created this thread in an attempt to make it easier for newcomers to join the RP, as starting an IC thread right away would be too daunting.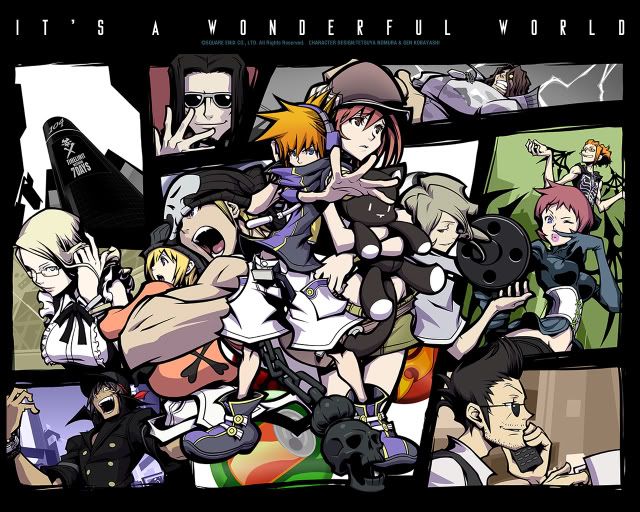 Seven Days of Disharmony
Setting:
Shibuya's shopping district. No outside city or country is ever mentioned.
Universe:
The World Ends With You (a game by Square Enix)

Active Groups
Players:
Souls of dead people carefully selected to participate in the
Reaper's Game
. They are promised that if they "survive" the game in UG for at least seven days, they shall be resurrected in the RG world. The selection process is too complex for common comprehension, but each Player chosen for this game has a fundamental part in creating an
ideal future for Shibuya
.
Players either invited by the current Conductor or, in rarer cases, handpicked by the Composer himself. The first option means that the character joins the game willingly and learns the rules, while the latter will usually offers no choice in the matter. You are allowed only the first option at this moment.
To enter the game, Players must pay an entry fee: The thing/s they hold most dear to them. These will be returned when you are announced victor of the week's game.
Players follow an immediate prerequisite; They have to form a pact with a partner before the first day ends or they will be deleted. If the character's partner dies, he/she too is deleted soon after, and vice-versa. Every day for seven days a Player will be sent a mission mail. It takes only one Player to clear a mission for the rest of the other Players.
Each Player is given an identical black pin that allows them to scan people's minds, as long as they are from the RG. They cannot scan a fellow Player or a Reaper. This pin is also used to find idle Noise around the area so they can destroy them.
Note- Almost every Player and Reaper have some sort of affinity with Telekinesis. How your character wields Telekinesis is for you to decide, but here are some options.
-The usage of a variety of pins. Think of them as magic spells of some sort, controlled through Psyche.
http://wewy.deviantart.com/art/Psych-an ... n-83602646
-Animating an object or amplifying a medium and using them as your primary weapons. This may include telekinetically controlled stuffed toys, psychic cellphones, or even superpowered skateboards. Be creative, peeps.
Reapers:
They are the authorities of the game, acting as moderators of sorts. There are two kinds of Reapers. There are the regular Reapers who give missions to Players, and the Harriers who are tasked with hunting Players down. A selected soul may also choose to apply for Reaper.
Unlike Players, Reapers don't need a pact to survive, but it's an available option.
Note- All Reapers, regular and Harriers alike, carry card keys to different areas of Shibuya. They also have those fancy wings (which are functional, by the way). There are no Player prerequisites for Harriers, but regular Reapers must have an extensive knowledge of the game rules.
While Players need to accomplish given missions to survive, Harriers must keep a record of erasing Players lest they be deleted themselves. Don't think they have it easy.
Also, like Players, Reaper telekinesis can take the form of whatever you want.
Noise:
http://wewy.deviantart.com/art/Noise-ta ... n-83214933
http://wewy.deviantart.com/art/Noise-animation-83214320
http://wewy.deviantart.com/art/Noise-design-83214632
Basically, monsters. Souls of dead people and deleted players are often converted to Noise. They usually take animal forms and are characterized by a mutated tattoo as part of their body. If you, as a Player or Reaper, get deleted, your character will fall under the control of another Reaper.
RG Folk:
Mundys, if you will. They are living people oblivious to the existence of UG. They cannot see Players, but they can sometimes see Reapers because the latter isn't usually dead. Often, daily missions involve some sort of interaction with them.
Additional Notes:
At the set timeline of the RP, at least two years before the events in TWEWY, certain canon characters will be available for RP. It requires knowledge of the characters, fundamental information about them, and a good sync to their personality. I'll list some who are currently available. (I'll be needing at least one of the Reapers/Harriers ASAP. I, or the presiding GM, will take control over the Composer and Producer simultaneously.)
Composer: Yoshiya "Joshua" Kiryu
Producer(must be hidden): Hanekoma Sanae
Conductor: Kitaniji Megumi
Harrier: Kariya Koki
Harrier: Uzuki Yashiro
Reaper: Konishi Mitsuki
Character sheet:
Name:
Age:
Class:
(Player, Reaper, or RG folk)
RG occupation / Cause of death:
Entry Fee:
(for Players. The price your character had to pay to enter the game.)
Personality/ Background:
(where he was born, how his life was like, how does he interact with others?)
Psyche:
(How Telekinesis is applied to your fighting methods)
Partner:
(If applicable. Include how your char feels/ interacts about this person)
______________
Fundamental CS:
Name:
Yoshiya Kiryu
Age:
Class:
Composer (Angel)
RG occupation / Cause of death:
N/A
Entry Fee:
N/A
Personality/ Background:
Little is known to anyone about the game's Composer- Who he is, what he is, how and why he created the game. What everyone does know and care about is the fact that he has omnipotence in UG, and is able to recreate the RG as he sees fit- thus explaining the power of resurrection.
Joshua is terribly (and somewhat playfully) sarcastic by nature when it comes to interacting with anyone other than Hanekoma. His vibe is way too high for anyone to comprehend or endure, and has a tendency to infuriate or downright crush the spirit of anyone who stays in his company for too long.

Psyche:
Joshua, as an Angel, has the ability to fly, teleport, and summon holy light at whim, and he can do so in unceasing successions. The holy light attack can disrupt the core foundations of Noise and therefore delete them with relative ease. No Noise can possibly pose a threat to the Composer.
Alternatively, when not using the powers mentioned above, Joshua uses a cellphone as his psyche medium. This lets him levitate nearby objects and drop them on his victim with varying efficiency.
Partner:
No pact, but he is often found with
Hanekoma Sanae
, the game's
Producer
who masquerades as a Player.