thanx for the comment DC
here's the next update
Chapter 1
Part 4: finally free after 20 years and not going back.
"So you basically got beat by this kid." Said Tucker while he, Sam and Danny where walking out of Casper High building.
"No he hit me with a table and flew off." Said Danny in a defensive tone.
"But lets go to library to do some research on our presentation about history of Casper high." Said Sam.
"Ok" Said Danny and Tucker at the same time.
And they walked to the library.
A few blocks from the library Danny suddenly stops and a blue kind of smoke came out of his mouth.
"My ghost sense is going off." Said Danny when he saw the blue smoke.
"Up there." Said Sam pointing at a flying boy wearing a cloak.
"I'm going ghost" Said Danny while he changed into his ghost form.
"Good luck" Said Tucker when he gave Danny his thermos.
Danny put away the thermos and charged at Crovax but stopped about halfway and charged up a green energy beam.
Crovax was just flying towards Megaville when he suddenly got hit by a green energy beam sending him towards the ground.
Crovax recovered quickly and saw another enery beam heading his way.
He teleported away and yelled "Dark spheres." and threw 2 dark energy balls at Danny.
As usual Danny phased out before the attack hit reappeared already charging head first at Crovax.
Danny launches a kick which was easily blocked by Crovax's arm.
"Why did you attack me? I have no reason to fight you." Said Crovax while he backed off.
"I have to send you back to where you came from." Said Danny while he launched a energy beam towards Crovax.
Crovax avoided the beam and said "After 20 years I am finally out of that ghost zone and I am not going back."
"We will see about that." Said Danny charging at Crovax.
"Yes we will" Said Crovax as he threw a dark energy ball towards Danny.
Danny phased out and appeared right before Crovax and hit him with a roundhouse kick sending him towards the ground.
Quickly Danny grabbed his thermos and hit Crovax with it and a green dust cloud appeared around Crovax.
When the dust cleared Crovax was still standing there coughing.
"You are not a ghost?" Asked Danny.
"No I'm a human kid you idiot." Answered Crovax feeling insulted.
A human. I can take control of his and walk him right into the ghost portal. Thought Danny and he phased out and flew inside Crovax his body.
Noticing that Crovax his body was taken over Nighteyes turned into red eyed Blob and flew inside Crovax his body.
Suddenly Crovax hang still in the air.
Inside Crovax his mind Danny found himself on a dark looking plain like field.
Danny looked around and saw a black haired kid with blade like wings wearing a red sweater with a skull on it, blue jeans and a ripped cloak on his back.
The kid's left underarm was black with spikes coming out of it and a claw as hand but the most scariest that Danny noticed about the kid where his eyes they where completely black except for the red irises.
"Corvax?" asked Danny surprised and a bit scared.
"I just borrowed his body to kick you out of it I'm Nighteyes." Said Nighteyes in his and Corvax his voice.
End of part 4
Added after 3 hours 6 minutes:
here is a pic of nighteyes when he borowed corvax his body: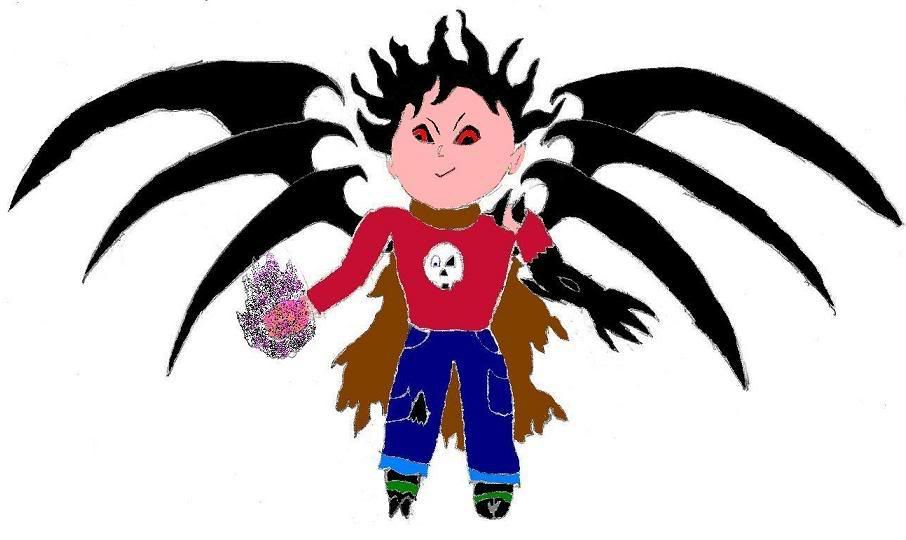 sorry for the big post