JunSama wrote:

AkuTenshiiZero wrote:I'm assuming Chi is the official ruler of the City of Aku, otherwise Him would be conferring with Aku himself.

All the more reason to believe Aku's gone bat-s*** cra-cra.

This just begs the question: What the heck is Aku doing these days?

Dressing up as a prepubescent girl, masquerading as his own daughter, and stalking someone else's daughter is one possible answer...

----

Oh, and I'd to chime in fashionable-late on the whole Lesbian thing:

All of you, tolerant or not, should shut up because none of you know anything about demonic anatomy or sexuality.

That's right, I'm playing the "This is uncharted territory, so you don't know ----" card.

And, It has no counter. So please keep future threads free of this nonsense.

This is a thread about a fantasy world. Hardly the place for your need to bicker of real life topics.

Sometimes, tolerance is a matter of withholding your opinion and concluding that your opposition is too stupid to comprehend it.
there's already a design for aku pretending to be a girl: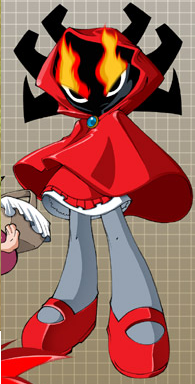 which means, if it is aku, why the sudden change from this design by bleedman himself? IIRC, hardly any character has been drastically changed from their original one made by bleedman.