Mr. Sefrol wrote:
Until that male sign came up, I always thought you were a woman, Q.U.
Would you like me to be?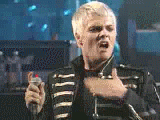 Where did you get that idea, I wonder?
Just because yesterday when Grey said over skype that he was going to take a shower and I asked him if I'm invited and suggested that we could rub shampoo over each other and then wrestle naked doesn't mean I'm a woman.
Or gay.
True story.
I mean, who wouldn't want to do that with Grey?
_________________
This post is intended for information only. Please do not reply to this message as responses cannot be read or acknowledged due to the stupidity of the user.