I just wanted to share this picture I've found on Jefusion.
They are the villains from
Uchuu Keiji Gavan The Movie
San Vardo
,
Brighton
and
Lizard Doubler
. San Vardo's body is made of the wrath of previous Doublers while Witch Kill belongs to a clan of witches. Brighton is a great swordsman leading the Maku and lastly Lizard Doubler is a hell executioner armed with a sword and shield. The woman in the middle is Space Mafia Maku's,
Witch Kill
.
What do you guys think?
_________________
The Bringer of death and chaos to the World of humans!!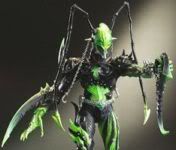 "Why so Serious?"