Hello,
I am, have been, and always shall be a Lover Of Comics! I have been published professionally as a comics artist, but probably nothing you've ever heard of
. I'm developing a new game and I want to show it to you.
I was also hoping you all could help me with comments and criticisms: How can I make the game and the artwork better before I publish the work officially?
It's a Sketchcard Interactive game: It's made up of small original artworks the size of ordinary playing cards (2.5 x 3.5 inches). The images were scanned from originals created in watercolor and Prismacolor pencils; they are not digital computer generated images.
This is a choose your adventure style children's picture book. The content is very light, child-friendly with no NSFW, no extreme violence, no mature subject matter.
The charm of the game is that you, the reader-player gets taken to scenes with different outcomes based on your choices. I will interactively link new choices with new submissions; the choices will link to further artwork submissions on posts further down the thread. You will be able to play the game right here on the forum!
Then hopefully, you can tell me what you like and dont like about it. What spelling /writing errors I've made. How I can improve the art or gameplay, etc.
Fellow comics and art aficionados, will you allow me to introduce you to Kimmy?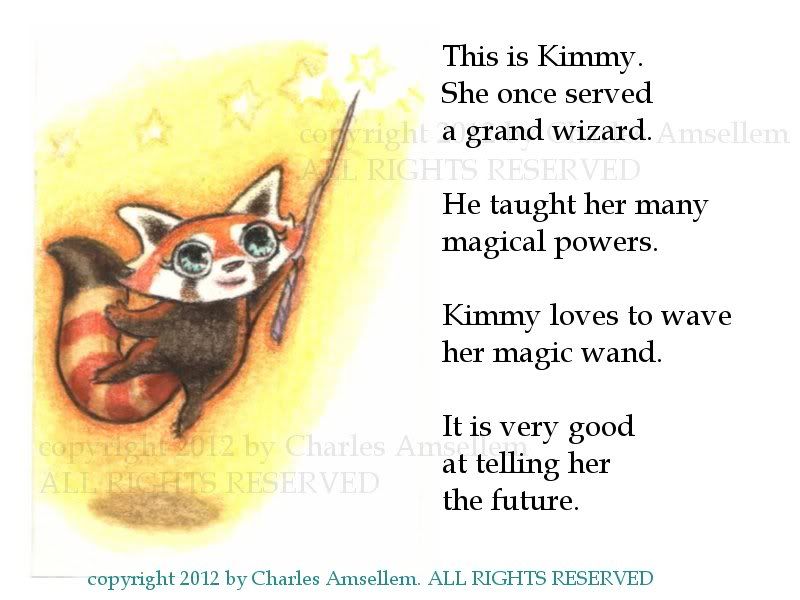 These are the choices, you, the reader-player are presented with. Say if you would, which one you choose?
I will be back with the results and post them in this thread probably tomorrow or asap after that.
CLICK ON YOUR CHOICE BELOW!