To Lunatic Inc,

My name is Adam Stone, CEO of DynaCorp Inc. Let me first say that I admire your organization, you set an example for all the other mercenary organizations and I hereby want
you
to be the first to test our latest product, I think she'll make an excellent addition to your already impressive roster. Added with this message will be an official information booklet, explaining everything you need to know about the unit.

We hope you'll consider our offer as it could have very... beneficial advantages for our perhaps future partnership.

Signed,

Adam Sone
CEO DynaCorp Inc.
---------------------------------------------------------------
Name
: Bonnie Mk I (Alpha)
Age
: 28
Gender
: Female
Race
: Hello, we are DynaCorp Inc. You probably know us best for our W.A.R (Walking Assault 'Roids) droids or the ever popular Escort Maids.
Today we are pleased to introduce to you our latest product in the area of personal defense and private warfare, the Bonnie Mk I. A fully customizable Cyborg, outfitted with the latest technology, specifically designed to work under the most hostile situations. Displaying the finest cooperation between human and machine to date.
But please, do read on to learn more.
Physical Description
: You are currently in possession of the Alpha version, the original. So sadly we cannot offer you the free physical customization options that are to be implemented in the near future.
This is the original Bonnie, as she would've looked if she had managed to life a normal live. Her current appearance:
Height: 5'66" (or 1m and 73cm)
Weight: 205.96lbs (93.42Kg)
Hair: Black; kept in short military style haircut (regular grow speed applies)
Measurements:

B: 34
W: 30
H: 35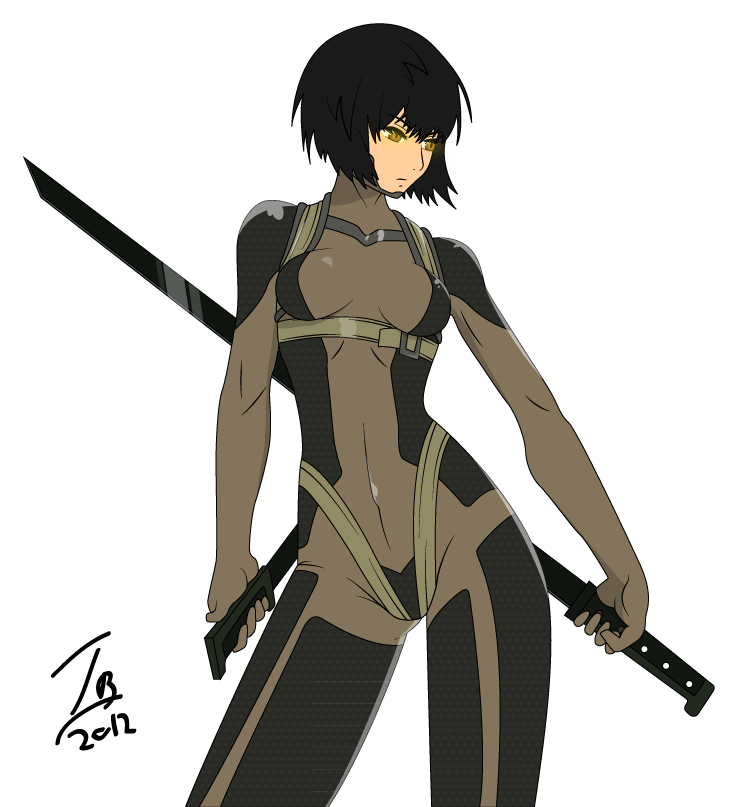 Equipment
: As said before, we are equipping the Bonnie unit with the best of the best. The following list contains all weapons and add-ons, that come with the vanilla version*:
SynthSkin™ Mk III; taken from years of experience from our Escort Maids, we are able to replicate the most realistic, synthetic skin known to man. This realistic, but very durable skin is able to withstand a heat of up to 309.2F (154C). Throughout the skin flow veins, carrying our patented MediCare™ Nanobots, able to clean, close and heal a wound within an hour (severity of wound not taken into account). Below the SynthSkin™ we applied a flexible, but robust polymer coating, which acts as a low caliber bullet-proof shell, capable of stopping small arms fire (up to 45. CAL).
The SynthSkin™ also provides excellent protection against any scanners, making it near impossible to detect any weapons on the Bonnie unit. We know, because we're the ones building the scanners.
Allows the use of the GlassShield™ cloaking technology. See Powers for more information.
QuickDraw™ arm modifications; originally designed for wounded war veterans still wanting to fight the good fight, despite the loss of limbs. We have redesigned these prosthetic limbs and managed to turn them into deadly works of art. Each of the Bonnie unit's arms are loaded with a high quality weapon in the forearm. The arms can open up at the front, faster than most can draw their weapon, taking most opponents by surprise. Using the latest achievements in pulse rifle technology, the Bonnie unit features self replicating ammunition and quick ammunition swapping, making sure the Bonnie unit always has the right ammunition for the right situation.
Right arm; designed for medium to long range combat. This arm features either an assault/combat modification or a long range sniper modification.

The assault/combat modification uses the latest high caliber SmartGuide™ rounds, capable of changing direction mid-flight, minimizing collateral damage and making sure the Bonnie unit always hit the target. The assault/combat modification features the latest in railgun pulse ammunition, allowing for accurate, powerful fire.
Current usable rounds:
.563 SmartGuide™ AP pulse rounds
.467 Henneke SmartGuide™ HE rounds

The sniper modification, in conjunction with the HUD allows the Bonnie unit to take down high value targets of up to 2.707 yrds (2.475m) with only a 2.9In (7.3cm) deviation. Or to support advancing group troops by giving them accurate sniper cover. Or possibly you want to quickly dispatch the enemy force's light vehicles.
Current usable rounds:
.338 Lapua SmartGuide™ railgun round
.416 Rigby anti-material SmartGuide™ railgun round
The left arm of the Bonnie unit is designed for close to medium range combat, featuring a shotgun or PDW. Ideal for indoor combat areas, or other confined spaces.

The semi-automatic shotgun modification gives the Bonnie unit the ultimate close quarter combat ability. Loaded with either the standard 70 mm (2 3/4 inch) 12 gauge pulse shell, with a diameter of about 8.4 mm (.33 inch), giving the Bonnie unit devastating close range power against unarmored forces, or the heavy 12x76 12 gauge Brenneke pulse slug, capable of simply forcing itself through even the thickest armor due to sheer force. There's little that can stand up against such brutal force.
The PDW (Personal Defense Weapon) modification gives the Bonnie unit some needed silent weapons, for use in covert ops. Mixing the superior fire rate and handling of a submachine gun and the high caliber, armor piercing rounds of an assault rifle, the PDW is a true hybrid. This is also the only modification that allows silencers.
Rounds used:
6.89x30mm AP Pulse rounds
Dakata Ionized blades. Is a target too well protected against ranged fire, particularly seen in magic use, why not cut them to ribbons using the ever popular Dakata blade? Spiritual successor of the legendary Katana sword, this blade features the most modern upgrades. Including:

QuickMetal; a normally liquid metal, capable of achieving a solid state by introducing a electrical charge, this allows the blade to be as compact as just the hilt, making it an excellent hidden weapon.
Nanobots to repair and sharpen the blade whenever necessary. This is the most low-maintenance blade on the market!
The ionized blade ensures that whatever you cut will be cut in half, whether its a person, a wall or a tank, it matters little to the Dakata. Thanks to its integration with the Bonnie power cell, it can be overcharged to cut through even the thickest shields! Warning: overcharge may cause power failure in the Bonnie unit, use with caution.
Stylish! Nothing says style, like a blade in a firefight. The Bonnie unit turns into a modern day ninja, when this blade is used in tandem with the GlassShield™ cloak.
HUD eyesight. The Bonnie unit is capable of displaying a variety of information, including;

Target identification; using the vast database of DynaCorp Inc. to identify targets, always securing a perfect hit. If the client wishes to use their own database, this can be easily arranged.
Weapon identification; the Bonnie unit can spot and identify armaments used by the enemy within 0.334 seconds, allowing the Bonnie unit to react and adapt to any situation. Will keep track of ammunition count, if possible. Caution: does not identify weapon modifications.
System analysis; a simple method for the Bonnie unit to keep track of possible system failures. Will show where damage is located and apply pain-suppressors where needed.
Radar; using silent sonar, the Bonnie unit can scan an area and plan out her approach accordingly. This function also features a simple mark & track system, allowing the Bonnie unit to tag enemies or places of interest. If team members are using a HUD based system, this information can be relayed to them.
8x zoom; complete with accurate distance registration.
Last known position; the Bonnie unit is able to register shots fired, calculating speed and angle to get an accurate reading on where the shooter could be. Useful against snipers.
IRNV; Infrared Nightvision, causing "warm" targets to light up bright green.
EMF vision; or Electromagnetic Field vision, allows the Bonnie unit to see the electromagnetic radiation emitted by power lines, generators or electronic equipment. Will pick up cloaking fields and or holographic fields, rendering them useless.
AMC; Automatic Motion Capture, allows the Bonnie unit to pick up movement around her, highlighted on the HUD.
Tungsten carbide skeleton; after extensive surgery, we've managed to replace nearly the entire skeleton with an extremely durable tungsten carbide skeleton. Having a tensile strength of .84 GPa (122,000 psi) and a yield strength of .64 GPa (67,000 psi), it allows the Bonnie unit to survive even the most punishing collisions, while protecting her softer insides. Using the enhanced muscular systems, the Bonnie unit is easily capable of lifting at least 4.67 times her own weight.
Other notable uses for the the tungsten carbide skeleton are;

Higher jumps; using the enhanced muscular system, the Bonnie unit can jump up to 13'6.20" (4.12m).
Longer falls; the legs and spine have especially been enhanced for this purpose, allowing the Bonnie unit to survive falls from up to 287'6.78" (87.65m). This can be used for quick insertion, when a parachute is too slow or conspicuous.
Powerful punches; while hand to hand combat is not a preferred style of combat, in desperate times the Bonnie unit can still deliver bone breaking punches.
Closed circuit breathing; thanks to the enhanced lungs placed in the Bonnie unit, she can survive even the most toxic situations with ease.
Nanobot enhancers; much like the nanobots found in the SynthSkin™ system, these nanobots repair and maintain the prosthetics, always making sure they operate to optimum capacity.
As for other equipment, the Bonnie unit comes with her own skin tight body suit, allowing the use of the GlassShield™ cloaking technology. As well as several required tools to maintain her prosthetics, in case the nanobots fail.
All other equipment must be purchased separately.
*Note: additional upgrades may be implemented over time. See Firmware to learn more.
Theme Song
:
Agnus Dei; lamb of God
Empty Souls
Powers
: But what sets our Bonnie unit apart from other androids or cyborgs? Adaption! By being able to quickly analyse a situation, our Bonnie unit can adapt to any situation thrown at her. But perhaps best of all, is the ability to download firmware on the go. This firmware is stored in her short-term memory, making it only last for about 6 hours before the short-term memory is wiped again.
Suddenly need a pilot? A tank driver? Or perhaps just an excellent cook? As long as we have the data, and trust us, we have, we can upload any knowledge needed onto the Bonnie unit.
As a client, you are always more than welcome to sent us your requests, we review each case personally and judge whether it has large scale applications or not. Personal requests can be made as well, but these come at a fee.
The GlassShield™ cloaking technology allows the Bonnie unit to disappear from sight almost completely, having a invisibility factor of up to 95% when standing still. This percentage drops the more the Bonnie unit moves, to as low as 20%.
The GlassShield™ cloaking technology is still in its early stages and comes with some drawbacks. For one is the energy consumption, for the the Bonnie unit only has enough energy to stay invisible for 8.76 seconds, after which the battery needs to cool down. Any attempts to go further than the official 8.76 seconds will be met by system failure and possible overheating.
Secondly the GlassShield™ cloaking technology only works with DynaCorp Inc. patented equipment, listed in the equipment section. Any attempts to bring foreign objects into the cloaking field will be futile and will remain visible.
Skills
: The Bonnie unit has been trained in many arts of warfare, ranging from hand to hand combat to long range sniper fire and covert ops. The unit knows how to handle just about every firearm (full list of compatible weapons can be found at our extensive online database:
http://uww.dynacorp.m1k/bonnie/
).
The unit knows basic first aid, adding to her function as a support role. Medical knowledge can be downloaded from the firmware database if needed.
Has knowledge on driving light vehicles, additional training can be downloaded from the firmware database.
Titles
: The Alpha
History
: You might be asking us "Wow, DynaCorp, this sure sounds like an awesome android! How did you build it so well?" First of all we want to say thank you, but also point out that the Bonnie unit is, in fact, not an android. The Bonnie unit is a cyborg. "But what does that mean?" Simply put, an android is a complete robot, manufactured in a factory and drives on an A.I. But a cyborg is an enhanced human (or otherwise living creature). "Okay, so you took a woman and put some gizmos in her, am I right?" Yes and no. When the Bonnie project started, the unit in question was only 5 years old. Meaning that this project has been running for an impressive 23 years!
We took a number of orphans under our wing, all possible candidates for our project, personally selected and picked up by our squad of experienced talent hunters. Each child was labeled with a number, ranging from 1 to 12. That is right, we originally had 12 subjects. The current Bonnie unit had the number 5.
Our drive behind this million dollar program was to design the perfect fighter, one that would carry out orders like an android would, but with the ability to adapt to any situation at a second notice, for which we needed human ingenuity.
The first test involved their body's ability to adapt to prosthetic limbs, especially the more advanced ones we were using. So we dismembered the subjects and outfitted each with the prosthetics. Don't worry, this was all completely legal, we had council approval.
Some of the subjects rejected the prosthetics, showing signs of immense agony and still feeling the so called 'ghost limbs'. These were quickly cut from the roster and released from the compound, to be returned to society. Of the original 12, 7 remained.
We intensified the project with these remaining 7, replacing more than just limbs over the next couple of years. We also started their combat training at a very young age, as we believe 'learned young, used old' to be our motto. More subjects dropped off, now in a more permanent state, leaving us with only one subject. Subject 5.
She had shown great progress, quickly adapting to all the prosthetics and showing great prowess in combat. And this all turned her into the fine killing machine we know today, our Bonnie unit.
The current model is the original, so we must ask you to be careful with it. After the initial prototype phase, we will collect the unit again, and use the newly gained experience and memories to start cloning her for mass production. Soon everybody will have their personal Bonnie for their protection!