@Lord Soth
Sorry, I'm not well known to have nice handwriting :b underneath is the onslaught of bad script; Please proceed with caution...
@soulchild
Thanks (: as a storyboard artist, I have to adapt and alter my drawings according to the project I work on (I can't really say I'm good at mimicking them though). As a result, I pretty much adopted a few styles here and there. Good luck and I can't wait to see your stuffs!
***
Somewhat semi-fixed comic page, with slight colour test: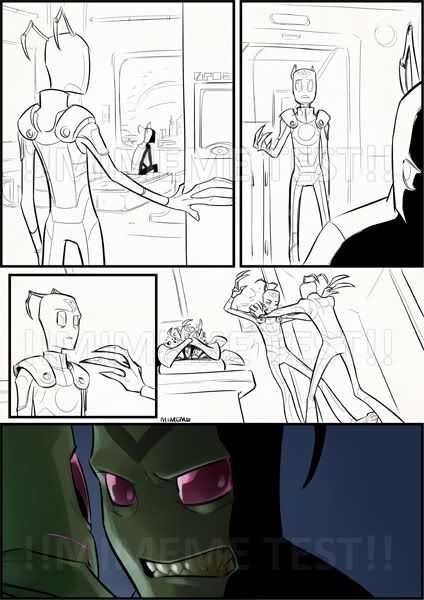 Blegh... proof that if I were to start on webcomics, I may need a good script writer and colouring artist.
Location: Nate's Resting Chamber
Time: NightPANEL 1
Jake/Kwil stands by the entrance to Nate/Twik's resting chamber, his back facing us. Nate is brooding on his bed, looking outside his window. The room is poorly-lit.
JAKE:
Nate? You weren't at the conference today.
PANEL 2
Jake steps into the room, the door swooshing close behind him. Nate doesn't move at all.
JAKE (Sympathetic):
This... cannot continue. I know you are grieving for the smeets, brother, but-
NATE:
'Brother'? After what you did, you still have the gall to call me 'brother'?
PANEL 3
Medium Close-Up. Jake stops in his tracks. Nate's hand enters the panel (lunging at his twin).
JAKE (confused):
What?
PANEL 4
Wide shot. Nate grabs Jake by the shoulders and slams him against the wall. His thumb accidentally scratches Jake's face in the process.
NATE (Furious):
Don't you dare feign ignorance!
JAKE:
Oof!
SFX:
BAM!
PANEL 5
Over the shoulder shot of Jake, close-up. Nate firmly grips his twin's jaw and snarles. Jake does not resist, blood trickles lightly from the scratch on his cheek.
NATE:
Listen well,
brother
. Those were
my smeets
.