Name: Private Teo Dalakis
Age: 25
Sex: Male
Appearance: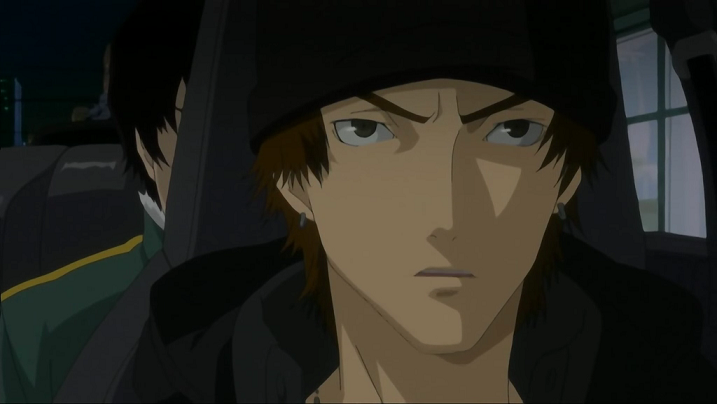 Teo is 6'1'' and weighs about 170 lbs. He's slim but athletic thanks to military training. His light brown hair, while short, is usually messy. He has brown eyes. His ears are pierced and he has several tattoos on his body which depict scenes from well known stories.
Clothing: Not particularly fond of military attire, Teo prefers to wear a black jacket and a t-shirt underneath and dark pants. He wears a black necklace as well as a black wristband. He occasionally wears sunglasses, and often times wears a beanie or some type of douchey hat.
Personality: Teo is an extremely arrogant person. He really only cares for himself and finds most everyone to be worthless. He is not always outright an asshole to people (only if they deserve it or say something stupid) but usually seems uninterested with people and is short and to the point. He comes off as extremely apathetic. He loves to be right and never admits he's wrong if he can help it. Alcohol makes him somewhat more tolerable. He's also helplessly addicted to cigarettes.
Skills: Infantry
Background: Teo was born in North East Anatolia with his mother and step dad. His mother's job required her to move from city to city frequently. Since he never stayed in one city for very long, Teo never got much of a chance to make friends so he suffered from the curious condition of feeling isolated despite being surrounded by thousands of people. His step dad never really liked Teo and Teo easily returned the feelings. After years of constantly moving, they finally settled allowing Teo to live a normal life.
He did go to college for some years but never really did much actual work. He spent all of his time going to parties, meeting girls, and buying drugs. Eventually though, his scholarships and his parents stopped supporting him and he was forced to drop out. A night of drinking convinced him to join the military on a drunken whim. "Why not? It can't be that hard and I'm good at whatever I do."
After a few weels, life for him in the military was surprisingly easy. All he had to do was what he was told to and remain quiet. Not that hard though given he came to realize this after he learned he couldn't just do whatever he wanted. In combat, while rare, Teo proved to be excellent at understanding and executing plans with no questions asked. Though serious like any soldier in combat, Teo always seemed to remain calm even in bad situations. Someone decided it would be a good idea to train him to use M72's and RPG-7's as well as other powerful explosive weapons. When he succeeded at these, he was trained to operate tanks. He excelled at this as well.
His Sergeant approached him with an offer. He told Teo that while he was an douche that he was also a good soldier. The Sergeant vaguely explained that Celsius had chosen him for something called Project EPSILON. Teo didn't need much convincing to go. It sounded interesting and better than the shitty squad he was currently stuck with.
SIREN Profile
Name: R Leporis
Type: Assault
Physical Description:
Here
R Leporis stands a little taller than Teo. Designed to be slightly more powerful than defensive and still pretty agile. Like most assault sirens, it's meant to strike hard and fast.
Specs:
Max Speed: 35 mph
Strength: Medium-High
Defense: Medium
Agility: Medium
Weapons:
M240
The M240, officially Machine Gun, 7.62mm, M240, is the US military designation for the FN MAG (Mitrailleuse d`Appui Général, "General Purpose Machine Gun"), a family of belt-fed, gas-operated medium machine guns firing the 7.62x51mm NATO cartridge. The M240 has been used by the United States Armed Forces since the mid-1980s. It is used extensively by infantry, as well as ground vehicles, watercraft, and aircraft. Despite not being the lightest medium machine gun in service, it is highly regarded for reliability, and its standardization among NATO members is also seen as a major advantage.
All variants are fed from disintegrating belts, and are capable of firing most types of 7.62 mm NATO ammunition. M240 variants can use non-disintegrating belts (following replacement of a few easily-swappable parts). There are significant differences in weight and some features among some versions which restrict interchangeability of parts. The M240s used by the US military are currently manufactured by FN Manufacturing, a US-based branch of FN Herstal.
Rate of Fire: 750-950 rds per minute
Ammo: 7.62 mm
Weight: 26 lbs
FAMAS G2
The FAMAS (French: Fusil d'Assaut de la Manufacture d'Armes de Saint-Étienne or "Assault rifle of the Saint-Étienne weapon factory") is a bullpup-styled assault rifle designed and manufactured in France by MAS located in Saint-Étienne, which is now a member of the French government-owned Nexter group. It is the service rifle of the French military. The FAMAS G2 was developed circa 1994 to bring the rifle more in compliance with NATO standards by having tighter rifling and accepting standard NATO magazines, but also included several other upgrades taken from the G1 model, such as the enlarged trigger guard and improved hand guards made of fiber glass, rather than plastics like on the F1. The French Navy purchased the FAMAS G2 in 1995, and began distributing it to the Fusiliers Marins and Commandos Marine, but the French Army has held off large scale purchase of the G2 to date, and the FAMAS F1 still remains the primary service rifle of the French Army and French Foreign Legion.
Rate of Fire: 1000-1100 rds per minute
Ammo: 5.56 X 45mm
Weight: 8.38 lbs
CIS 40 AGL
The CIS 40 AGL is a 40 mm automatic grenade launcher, developed in the late 1980s and produced by the Singaporean defence firm − Chartered Industries of Singapore (CIS, now ST Kinetics). The launcher is employed primarily by the Singapore Armed Forces and the police and security forces of several other countries.
Rate of fire: 350-500 rds per minute
Weight: 72.25 lbs
KS-23
The KS-23 is a Russian shotgun, although because it uses a rifled barrel it is officially designated by the Russian military as a carbine. KS stands for Karabin Spetsialniy, "Special Carbine". It is renowned for its large caliber, firing a 23 mm round, equating to 6.27 gauge using the American standard of shotgun gauges and approximately 4 gauge using the current European standards (based on the metric 'CIP' tables), making it the most powerful shotgun in use today. By comparison, the Nudelman-Rikhter NR-23 cannon uses a 23 mm round, as does the ZSU-23-4 self-propelled anti-aircraft weapons system.
Ammo: 23 mm
Weight: 3.85 kg
Emergency Firearm:
PP-90
The PP-90 is a Russian 9 mm folding submachine gun, developed by the KBP Instrument Design Bureau in Tula for use with special units of the Russian Ministry of Internal Affairs (MVD). It is designed for close quarters combat, particularly engagements that require the weapon deployed rapidly in unusual circumstances.
The PP-90 (short for Pistolet-Pulemet model 1990, Russian: ПП-90 – Пистолет-пулемет) is an automatic-only weapon that uses the straight blowback method of operation, chambered for the 9x18mm Makarov cartridge. The weapon bears a conceptual resemblance to the 9 mm FMG submachine gun made by the American company Ares.
Rate of Fire: 600-700 rounds/min
Ammo: 9 X 18mm
Weight: 4.9 lbs
Explosives:
Incendiary Grenades / Flash Grenades
Theme song:
Bad Religion - Hooray For Me