Student Character Sheet:
Name: Renji Mikage
Age: 14
Element: Water
Year: Second Year
Appearance: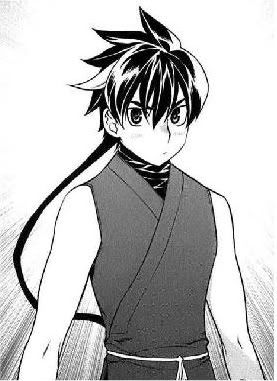 Standing at 5' 8", Renji Mikage carries himself with the air of a practiced martial artist. His lightly tanned skin and athletic build are result of the constant training in the arts of combat. As meticulous as he is with his training, he is with his appearance. His long, raven black hair is always tied up in a braided tail. His ebon eyes carry an intense gaze, that often cause misunderstandings about him. As for clothing, he prefers the uniform his grandfather made for him (see pic). If for some reason he can't use it or isn't in the mood for it, he wears jeans, sneakers a short-sleeved shirt, cap and a jacket. He chooses clothing that is comfortable and easy to move in.
Weapon of Choice: Zai (plural of sai)
Personality:
Due to his training under his grandfather, Renji has developed a cool, calm and introspective mind. This has caused him to seem aloof or even indifferent, which would be the furthest from the truth. More often than not, you will find him, either meditating on some new text or lesson he's received or practicing some new technique. Deeply caring and loyal to fault, He is willing to give his all for those he call blood brothers, which are only a select few. To all others, he is cordial, respectful and amiable; as long as you don't cross him or his blood bothers. As of yet, he has not designated any of his peers as a blood brother. Hardworking and dedicated, he devoted a good deal of his time to the practice of the martial arts, as well as his studies on the nature of his element. He, much like his grandfather, can be very stubborn especially in the pursuit of his goals.