Stupid internets...
Late enrollee coming up!
Teacher
: No
Name
- Jayde Arsen Stills nick J.A.S. or B.B. (Black Blue)
Age
- 16
Height
- 5' 7''
weight
- medium build
Appearance
-

Jayde has medium build body (think spider-man), and sports a short, messed up, silver-dyed hair. He has light brown skin, and wears a grey shirt with black raglan sleaves, and a pants similar to ninja with cargo pockets. He has a pair of light padded gloves (MMA gloves), and wears a pair of light boots.
Personality
-
Jayde looks pretty dormant. He enjoys his time alone; only talks when someone bothers him to. The only time he's upbeat is when in battle and/or the conversation picks up. He has a habit carrying a small pocket comic book when he travels. He's a closet-otaku. If he doesn't want to be disturbed he uses his stealth to hide--even in plain sight. He also love to call the names of his techniques while attacking. There are times that he too into thing that he looses awareness around him, which probably a no, no for a ninja.
Favorite catchphrase: "Hide in plain sight, sap you from behind."
Background story - He was born in a clan of special assassin and spies, and are work-for-hire. Baring the title of son of a very known spy in the clan, he is endowed with training of being a spy like his father. At an early age, he is trained of the way of the clan, and has much experience on recon and spying. He also did some infiltration and sabotage missions at the age of 10. He is the only one in the whole clan that wears his drab. Most of them uses leather suits or trench coats--more assassin than a ninja. Feeling that her son is not only fated to be spy, his mother tend to him. All he learned about came from her mother. She then decides that her son should go out and see the world for himself and enrolls him to this school.
Type
- Melee Fighter-- Shadow Stalker.
A stealth oriented fighter who relies on speed and stealth. Recon and intrusion is what this class specializes. Even in plain sight, this class, he can meld and attack with ease.
Skills:
Shadow Meld(Skill): Ability to hide in plain sight for a long time unless he moved. Once he moves he has only moments before the cloaking wears off.
Shadow leap (Skill): leaps towards an enemy without losing Meld until the moment of attack. A puff of smoke appears to the enemy.
Doppelganger: (Auto/Skill): Jayde throw or summon a clone of himself with 25% of the users strength. Can summon up to two clones only. When sumoning another one, one clone disappears. The clones are mentally link to Jayde.
Ninja Proficiency (Passive): Mastery of all ninja blade weapons (Humma Shuriken, Kunai, Jute, shurikens,). Can dual wield weapons.
Flip Tatami(Skill): Envelops the caster with walls and walls tatami, blocking projects or upcoming attacks.
All skills use up mana
Weapons
-
Soul Resonance Blade (Black Rock Shuriken) -

A special blade equipped by clan Jayde is in. The weapon uses the users mana and creates a neon blue blade. He was given portable Huma Shuriken, a four-spoke blade than can turn to one portable blade. Continually drains mana when used. He nicknames it: BRS (Black Rock Shuriken for obvious reasons).
Krishna (2) -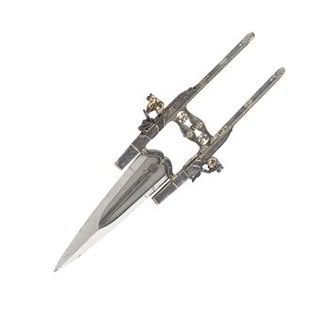 A specialized katar. When mana is induced with the blade, it can cut through concrete like a knife through butter. Consumes mana.
*Soul Drain- when killing an enemy is drain mana from it.
Kunai, Shuriken, Chained blade, sickles--Even a huge-ass scythe, etc.
(But he only carry so much.) One Main two secondaries
Trinkets
Azure Symbol - A blue, smooth, v-shaped gem embedded on his right hand. Increases the user's stamina and mana.
Overdrive - Automatically activates if the user is in mortal danger. A blue flame engulfs the gem, increasing the user's combat abilities by 100%. When activated, it consumes chunks of mana. It can leave the user drained of energy when not careful. If jayde summons clones during this state, the clones with have 100% of the his strength
Azure viles - a vile containing luquified mana. It restores a bit of mana.