What if Saban's Masked Rider was made into an animated series?
Well I did a small series of possible of ideas & sketches for said project.
Here's the main cast, including Dex (and his superhero alter ego, Masked Rider), the Stewart family and Patsy & Herbie.
I've made small changes to the characters, for example, Masked Rider is Dex's real form (not a suit) and Dex is his human-form so that he could blend in with the local people. Dex is the soul-survivor of a race of crasshopper-like aliens, who's home planet was attacked by the evil Insectivores. He now fights the invaders on Earth so that it will not share the same fate as his own planet.
The Insectivores (the main villains of Masked Rider), totally reworked.
The Insectivores are an invading race of aliens who attack planets and make the people into slaves (or destroy it, like Dex's planet).
The mastermind of this whole thing is Count Dregon, an evil alien brain housed in a giant super-computer like machine. Nefaria, a young human-looking witch commands the Supernatural type of Insectivore monsters. Cyclopter, a robotic brute commands the robot Insectivore monsters. Double Face, a creepy alien-general commands the Man-Beast type of Insectivore monster, and finally Gork, a small, unusual creature that speaks in rhyme commands the Alien Lifeform type of Insectivore monsters.
There's also Fact, A small robot that gives out statistical data, calculations, and probabilities concerning a plan before Count Dregon makes any final decision and the Maggots, insectoid creatures who serve as the empire's grunts.
A few little sketches & doodles for some of the Insectivore's many monsters.
The monsters featured here are Lavasect (though it says Magmasect in the picture), Solarsect, Fire Bug, Dread Dragon, Spearavore and Heliotoid
_________________
The Bringer of death and chaos to the World of humans!!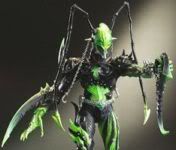 "Why so Serious?"