ok so updating the status of the magician baker.......I'm restarting it. Basically I took a second look at the storyline and art and decided I can do better. To start with, I'm shifting the focus of the storyline to the title character rather then heather, giving tobias more of a complex character and a history and putting the story from his perspective. The story overall will also be getting a shift, making it more a general fantasy world rather then the 'fairy' bit I originally planned. It's also going to be a touch darker, with a rather twisted monster (who I'll describe in a bit) as the antagonist. And finally changing the overall art style.....something a bit less 'chibi' ish.
To give a bit of a view what this new look might be like, I present you with an early concept sketch of the villain in his 'monster' form.....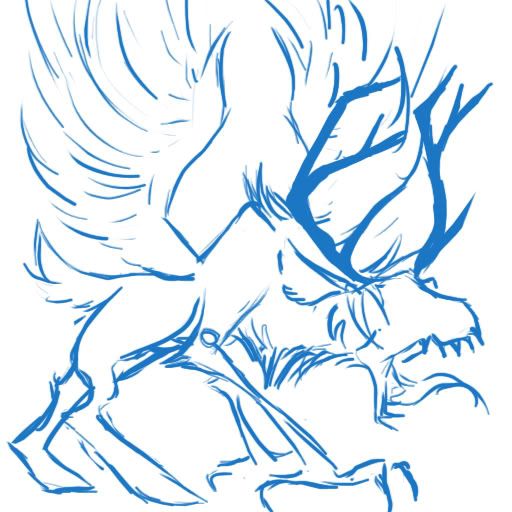 The magician baker villain is a creature known as a Peryton. They were creatures from medieval folklore that resembled a cross between a stag and a bird. They were believed to be the spirits of murderers trapped in beastial form. Despite their shape their shadows appear as human, which helps them when stalking their favorite prey......humans. In tradition, a peryton could only kill a human once, and once it did its shadow would return to it's physical shape. For the sake of plot the villain in our story will only face such limitations in a smaller extent. Plus he will have some additional features; enough to make him more of an imposing antagonist.