Chapter 20 a plan...Need members to help!
-Dexter's lab, briefing room-
"So what's been going on since I was gone for 2 weeks?" Kite asked.
Dexter just sighed along with the rest. Then Dexter types something down on the computer for 'crime wave' then the screen shows Megaville was in turmoil.
"That is what is going on. A major crisis was happening and AIDA rapidly appeared" Dexter said
"Why not just go out their and fight them?" said Kite.
"Only one problem." Blossom said
"the out number us..." Bubbles said
"And outmatch us." Buttercup said as she slammed her fist to the tables.
Then the whole entire group decided what to do...till Kite came out with an Idea.
"We need more people." Kite said.
"Where?! No one in the right mind would fight them!" Buttercup Shouted.
"Dexter do you still have a teleporter?"
"yeah why?" Dexter asked.
"That's how we are going to get more people"
All*: Right!
Then they all got up and left till Kite stop Shad
"Shad a word if you will"
"Yeah?" Shad said
"How about we make a 'trade'."
"A trade?"
"For your Epitaph for mine"
Shad was shocked. "Are ya sure?"
"…Yeah."
"Ok but how?"
"Hold on…"
Then he does hand signs and 2 spheres exit out of their bodies and enters the other bodies. Shad looks normal; But Kite's body characteristics change
"Well this is new…"
"What happened to you ya?"
"Must be an effect but I think I better be called by another name…Haseo, The Terror of Death"
Then in the next few hours Kite, Now Haseo explained to the group, was standing on the teleported ready to go.
"Are you sure about this" Dexter asked
"yeah...I got more experience at this" Haseo said
"Ok here it goes!" Dexter said as he activated the switch then everything went bright then the light descend and Haseo was gone
Unknown Beach, Unknown world.
Haseo opened his eyes, though quickly closed them. The water he was in stung his eyes. Water… Water?! He quickly opened his eyes and lifted his head out of the water, though something was strange, he didn't feel light headed, nor did he feel like he had swallowed any water.
"Interesting." He said to himself.
He then felt a sharp pain on the back of his head, after spluttering and splashing a bit in the water, he saw a blue ball floating nearby.
"Heeeeyyy!!" He heard a familiar voice call from behind him, but he couldn't quite place it.
He turned around; his eyesight was slightly blurry from the blow to the head. He could make out someone on the beach waving at him. Kite waved to him.
"Hey!"
He started to swim towards the beach, as he got closer, he started to see the features of the person more clearly, he was with other people on the beach. He smirked when he recognized him. He stood up when his feet could reach the sandy ground and walked towards him.
"Are you alright? Sorry about that!" The Red haired teenager said as he neared him.
"Just watch where you're aiming next time... ((Dexter?!))" Haseo smiled, he hadn't seen him in a long time. Though he was confused when Dexter looked shocked instead of happy to see him. "What's wrong?" Haseo asked.
"Uh… what do mean?" Dexter look-alike said, taking a few steps back.
Haseo sighed. "It hasn't been that long, Dexter."
"Umm… We've never met before." Dexter look-alike spoke nervously.
"What are you talking about, Dexter? We fight AIDA, for only 2 months, remember? You came to visit me and Buttercup about a month before her Gathering, remember?" Kite was getting annoyed.
Dexter look alike took a few steps away from him.
"Okay… Who are you?!"
Haseo sighed again, this was getting ridiculous. Alright, I'll play along, for now.
"I'm the terror of death from Megaville."
"the what, from where?" Dexter look-alike asked.
Now Haseo was getting worried. If this Dexter didn't even pretend to act shocked by that news and ask a million questions about his airship, there was now something to worry about. He then remembered what happened back in the ruined temple.
"Where am I?" He asked to no one in particular as he looked back out to sea, realizing now he didn't recognize this island. "And who are you?"
"Besaid Island. And my name is Leo" Leo said, he was eyeing Haseo strangely. "Are you alright?" He asked.
Haseo turned to Leo.
"I'm where?" He asked.
Leo now had a look of understanding and pity. Haseo was getting even more annoyed.
"Did you get too close to Sin?"
"What? ((Sin!?))"
Leo sighed, and he looked pained.
"Yeah, it's been terrorizing Spria for a thousand years."
"Spira?" Haseo asked, he took a step towards Leo.
"That's our world… You don't remember, do you?"
Haseo hoped he had misunderstood. How could he be in a different world? What was that thing I found? He thought just before her felt his legs give out from under him. Soon, everything around him went black.
Chapter 20 ended!
Next time on Chapter 21 the Besaid temple!
-------------------------------------------------------------------------------------
"All:" is used for if the whole group is talking
Chapter 21 The Besaid Temple
Haseo woke up to find he was looking at the roof of a tent. He looked around, it was decorated with different fabrics for the walls and there was a rug on the ground. He was lying in a soft bed. He was glad that he was alone in the tent. It gave him some time to think. He was trying to make out how he got here, and why Dexter, or Leo didn't know him. He sat up in the bed and put his feet on the ground and rested his elbows on them, and supported his head with his hands, sighing.
He was starting to believe that he wasn't in Megaville anymore, though, he still wasn't entirely convinced. What was that mirror I found? He wondered to himself. I wonder if it was that, that brought me here… As he was deep in thought, Leo walked in; he had a basket of fruits with him. He looked at Haseo, and stopped where he was. Haseo looked up at him, and noticed the fruit, at that moment, his stomach growled. Leo smiled and walked over to him, handing him the bowl.
"Here, eat up."
"Thanks." Haseo said as he took the bowl and started eating.
"Where is this…Megaville, you said you were from?" Leo asked, as he sat on the bed, leaving some space between himself and Haseo.
Haseo swallowed the fruit he had been chewing. "Far away."
"Like…. Not in this world?" Leo ventured, Haseo nodded.
A silence grew between the two.
"Maybe you got too close to Sin and its poison affected you?" Leo offered.
Haseo looked at him.
"Where is Sin?" Haseo asked.
Leo was about to explain when a bald man in robes came into the tent, he walked over to Leo and whispered something in his ear.
"She's fine, I'm sure of it." Leo answered. "Besides, two guardians are already down there."
The monk whispered something into his ear again, and Leo sighed.
"I still think, there's no need to worry." Leo said.
"But, it's been three days." The monk pressed.
Leo sighed. "I'll go to the temple, but I'm not going in, you know how those two can be!"
"Thank you."
The monk turned and walked out of the tent. Leo stood up and stretched.
"What's wrong?" Haseo was curious.
"WH-what? N-noting, nothing at all!" He spoke quickly. "I have to get to the temple."
Leo turned and left the tent, leaving Haseo on the bed.
"Temple?" A mischievous look appeared on his lips.
He stood up and walked out of the tent, though he stopped in his tracks when he walked outside, he hadn't seen the village, since he wasn't awake when he was brought there. There were a few huts and tents in the area, and at the back of the village was a large, stone temple. He starts walking towards it.
Besaid Temple, Spira
Haseo stopped in the entrance as he took in the sight he was looking at. It was a dark circular room with statues of different people surrounding it. People were either standing or kneeling at various statues and making odd movements with their arms. He noticed Leo was talking with the monk at the bottom of some stairs that lead to a door. He walked towards them; they were talking in whispers again.
"Please go check on her for us." The monk was saying.
"She's fine, I'm absolutely sure of it!" Leo said again.
"It's been three days."
"What's been three days?" Haseo asked, startling the two.
"The summoner has been inside the cloister for three days, we're getting very worried about her."
"The summoner?" He asked.
The monk looked at him as if he was looking at a madman. Leo stepped in front of Haseo, holding up his hands.
"He got to close to Sin, his memory's fuzzy."
"I see." The monk looked saddened; he did the odd movement with his hands. "Praise be to Yevon that you survived, hopefully you will regain your memories shortly."
All Haseo could do was blink and stare. I'm definitely not in Megaville anymore. He thought as he looked at the monk. There was definitely no Yevon, or any prays like that in Megaville. He then remembered why he had entered this temple. Where there were temples, there were usually some answers. He was on a mission after all.
"We should go check on the summoner, she could be in danger." He said as he ran up the steps towards the door.
"W-wait! Only summoners and their guardians can enter the cloister of trials!" The monk spoke quickly and rapidly.
Haseo sighed. "You wanted him to check on her right?" He pointed to Leo.
Before anymore objections could be made, he slipped through the door that had opened for him.
Leo watched the man disappear through the door and sighed. She's going to kill me. He thought as he ran up the stairs after the man.
The Cloister of Trials, Besaid Temple.
Haseo was impressed with what the interior looked like. Glyphs glowed on the walls, and touching some of them made either doors or walls open. He walked through the cloister, trying to find some treasure; he could sense there was something around here, but where? At first he thought the glowing sphere he had picked up could have been, though he quickly discovered another recess where it could fit in, which allowed him to move deeper into the cloister. A few long minutes of searching, he reached a large stone pedestal; it was in the middle of a corridor.
"What do I do with this?" He asked himself, his voice echoed in the corridor.
"You push it to that." A voice said from behind him.
Haseo turned around and saw that Leo was standing with his arms crossed; he was leaning against the wall, looking at Haseo.
"Over to where?" He asked.
Leo stood straight, uncrossing his arms and walked over to the pedestal.
"Here, let me show you."
He put both his hands on it and pushed, it moved effortlessly. When Leo stopped pushing it, it sunk into the floor and a circle appeared on the ground, Leo stepped onto it, and it became what resembled a lift Haseo had seen back in the Mac Anu.
"You coming?" Leo asked.
Haseo smirked and walked to beside Leo, the lift started to move downwards almost as soon as he had stepped onto it. It came to a stop, and Haseo could see two familiar people standing at the far end of a circular room, near some stairs. The two figures faced the lift. One had a red ribbon and long orange hair that was tied in many braids. She wore a long black dress. It had one long sleeve on her left arm, and no sleeve on the other, she turned to face them with her red eyes, she didn't look happy. The man who was standing with her had shoulder length silver hair, and he was well skilled. He wore a white tank top and had dark blue shorts on, and was wearing sandals. He also wore a blue bandana over his silver hair. He only looked at them, he stayed where he was.
Haseo only stared at them in amusement, even though they looked different, they were there. Blossom and Shad. I doubt they'll know me though. He thought to himself.
Leo walked towards the two.
"What are you doing here?" Blossom look-alike asked without warning. "Didn't think we could handle it?" She sounded a lot angrier than the Blossom he knew… Considering the Blossom he knew didn't get angry easily.
"J-just let me explain, Mel." Leo spoke quickly.
"Who's that over there?" Shad's deep voice echoed in the small circular room.
Leo turned around, even though Haseo got off the lift, he was barley inside the room. As I thought, they don't know me. Haseo thought to himself, while sighing.
"Oh him? Well, he's the reason why I'm down here." Leo spoke quickly.
Mel shot both Leo and Haseo a look that could have incinerated them.
"You brought an outsider in here?" Mel glared at Leo, and he seemed to shrink under her gaze. "If anything bad happens, I'm blaming you."
She turned away from him and walked back to the bottom of the stairs. Leo stayed where he was, staying quiet. Kite walked towards Leo slowly and stood beside him.
"I see why you didn't want to come down here." He whispered to him. This seemed to cheer him up a little.
"Yeah, she's got quite the temper."
The door at the top of the chairs started to open, everyone looked in that direction. Light was pouring into the chamber from the room that lay beyond the door, footsteps could be heard. Soon, a person materialized, and Haseo sighed, he should've have seen it coming.
Chapter 21 ended!
Next time on Chapter 22 The summoner!
Chapter 22 the summoner!
At the top of the steps, was a Buttercup look-alike. She was leaning against the wall, she looked exhausted, and she was sweating. She wore a white tank top that had a sliver flower design, she also wore a long, flowing dark green skirt, and it had some golden flowers near the bottom. Underneath she had black, knee high boots with black laces. Her hair was the same as it was in Megaville.
She stood up straight and walked to the top of the stairs, and flicked her hair away from her eyes, which were closed. She slowly opened them, and a small smile appeared on her lips. Her Green eyes sparkled.
"I've done it. I've become a summoner." Her, surprisingly, quiet voice barely echoed in the circular room.
Her knees gave out and she started to fall down the stairs, the Shad look-alike ran up the stairs and caught her before she fell too far. Haseo was looking at this version of Buttercup. She was quite different from the Fighter he knew back in Megaville. A lot quieter, that's for sure.
Besaid Village, Besaid Island.
They were back outside the temple and in the bright sun. People were surrounding the version of Buttercup as she walked out; she was now carrying a staff that one of the monks had handed her. She walked into the middle of a stone circle that was in the middle of the village, she turned back to her guardians behind her, they nodded, and so did she in return. She faced forward again.
She raised her staff above her head with her right hand, as she brought it down in front of her; she placed her left hand on it as well. She took a step back with her right leg and held the staff out behind her. A large circle appeared under her and bright lights shot out into the air from the circle. Soon after a large, bird-like creature appeared. It flew in from behind the temple and landed slowly in front of the version of Buttercup. She lowered her hands and walked slowly towards it, it reached out its head, its yellow, pupiless eyes staring at her with gentleness. Ashe reached out and gently stroked its head and neck.
Leo and Mel ran over to her, and everyone in the village cheered. Ashe was smiling as she was receiving praises from Leo and Mel. The creature was patiently standing behind its summoner as she received praises from the villagers. Haseo could only stare in wonder at the creature. He had seen stranger looking AIDA while he had gone on his own quest those two months ago, but there was something, different about this one. The version of Buttercup turned back to the creature and nodded. It spread its colored wings and took off quickly.
"Pretty cool, huh?"
Haseo jumped and looked to his right, where he saw Leo standing.
"I thought you were over there." He pointed to where the version of Buttercup was.
"I was, I came back over here. But, what did you think of the aeon?" He asked, he sounded exited.
"The what?"
"The aeon, what Aina just summoned."
"Oh that… It was, quite interesting."
"Is that all you can say? It was incredible!!" He was silent for a few moments. "I meant to ask… About earlier, how did you know my name? And that of the summoner?" He asked.
Haseo sighed.
"It would take a while to explain."
"I've got time!" Leo said quickly.
Haseo sighed again. He obviously didn't get what I meant by that.
"Let's go back to my tent, we can talk there."
Leo started walking before Haseo could object. And considering he didn't actually know anyone, even though there were four people that looked like his friends, he didn't know them. He decided it'd be best to stay with this version of Dexter.
In the tent, Haseo had explained everything of what had happened in Megaville, and why he had gone all over it two months ago with his friends, and all about Epitaphs, and why he found the aeon to be interesting, he sat quietly munching on some food Leo had brought. This version of Dexter just stared at him in amazement.
"You're not from here are you?" Leo ventured looking at him from his position on the floor in front of him.
"No, I'm not."
"Wow… Well, maybe I can convince Mel, Xin and Aina to let you come alone with us to Luca tomorrow. It's where the season's opening Blitzball tournament is being held." Leo offered as explanations, though it seemed to have left Haseo even more complex. "I'll try to explain it to you at some point, you should get some sleep, you look bushed!" Leo said after a yawn came from Haseo.
"I think I will, thank you."
"No problem!" Leo stood up and walked to the curtain that served as the door to the tent. "Make sure you come to tonight's party, we're celebrating Aina first successful summoning tonight."
"I'll make sure to be there." Haseo said as he lay down on the bed.
Leo left through the curtain.
-*-
Haseo woke up a little while later and sat up in the bed. He could hear some people arguing outside. He stood up and crept over to the curtain and peeked through a small opening. He saw it was Mel and Leo. He couldn't make out what they were saying, at first.
"Excuses again?" He heard Mel; she spoke a little louder now.
"Yeah, but… He needed help." Leo said quickly.
"That's it! No more! Enough Leo."
She turned around and walked away, Leo just stood there. He sighed and turned towards the tent. Haseo walked away from the curtain and back to the bed. The fact that there were only those two outside told him that he had missed the celebration. Not that he had actually planned on going, he felt like he needed some time alone anyway. Leo walked into the tent and saw that Haseo was sitting on the bed.
"Oh! So you're up, and you missed the celebration!" He folded his arms in mock disappointment.
"Sorry about that." Kite wasn't in his usual good mood.
"Don't worry about it; you've been through a lot. It must be tough being separated from your friends."
He sat down on the floor again.
"Do you want your bed?" Kite offered.
"Don't worry, I usually sleep on the floor anyway!" he laughed. "More comfortable I find!"
Haseo smiled.
"What's your name anyways? I haven't asked you!" He rubbed the back of his neck.
"Haseo." He said looking at him.
Leo held out his hand and Haseo took it, they shook.
"It's a pleasure to meet you Haseo."
"Same to you!"
"Got some good news for you!"
Haseo looked at him.
"You can come along with us to Luca! Hey who knows, you might find someone you know there!"
"Maybe."
Even Haseo didn't believe himself when he said it. How could he find someone who knew him? Everyone he knows is in Megaville, or right in front of him on the floor.
Chapter 22 ended!
Next time on chapter 23 Trouble at Sea!
Chapter 23 Trouble at Sea!
Haseo was standing at the front of the boat, enjoying the wind that blew over him. His arms were folded and his gaze was set straight ahead, though he wasn't actually watching anything, he was busy daydreaming. Fran was on a small balcony with Leo, and Xin was with Aina, as she was talking with some people on the boat. Everywhere she went, someone wanted to talk to her, and it usually ended up being a large group. Though she never faced it alone, since Xin was always nearby. She looked over to the front of the boat, and noticed Kite was standing on his own. He had a sad look on his face. She didn't know why, but she felt like she had to go over there and talk to him.
She turned back to the people who were in front of her and excused herself; she walked slowly to the front of the boat.
"Beautiful day, isn't?" She said quietly, she was still walking up the steps onto the small platform.
Haseo turned his head, he looked slightly startled. Must've been daydreaming. She thought, she offered a warm smile.
"Yes, it is." He said, he turned back to face the front.
Aina was now standing beside him, her hair and skirt blowing in the wind. Aina for some reason felt butterflies, as she stood beside this mysterious man. There was something about him and she couldn't quite place her finger on it.
"Do you miss your home?" She asked, looking at the ocean ahead of them.
"Hm?" Haseo looked at her intently.
Aina looked at him. "Your home, do you miss it?"
Haseo sighed, her lowered his arms and turned around, and he leaned against the railing of the ship.
"I do… And my friends… Did Leo tell you?" He asked, looking at her.
Aina nodded. "He doesn't believe you entirely." Haseo sighed and looked at the floor of the ship. Aina turned to face him. "But… I do." She was smiling again.
Haseo looked up at her, he offered a brief smile. She's definitely not the Buttercup from Megaville, this one's shy. He thought as he looked to the back of the ship. Some children were playing with a blitzball, Leo had descended onto the main floor and was talking with the rest of the Besaid Aurochs, which Leo had explained hadn't won a game for many years. But he was determined to change that this year at the tournament. Mel was still on the upper deck, she was looking at them, her gaze still cold, it made Haseo shudder slightly. He looked over at Xin, his silver hair and blue bandana blew in the wind. He too was looking at them, his arms were crossed.
Aina was now sitting on the railing. She was looking around the ship as well, looking at all the different people on board. She sighed happily, enjoying the moment.
"You miss your friends, don't you?" She said, looking at Haseo again.
He nodded. "It doesn't help that you resemble one of my friends… Your guardians too."
Leo had explained quite a lot to Haseo last night; he was shocked he had remembered it all.
"Really? Wow… That's interesting… Are they like us?" Aina asked excitedly.
Haseo chuckled and smiled, this one was a true one.
"No, they're quite different. Which is probably why I haven't mistaken anyone for them… Well, except for Leo."
"Wow… I'd love to hear about them someday." Aina said quietly.
"Did you say something?" Haseo asked looked at her.
She shook her head. "Nope, nothing at all!" She said quickly.
Haseo chuckled and looked back to the ship. Aina jumped down from the railing and stood, facing him.
"What?"
"Just thinking of how different you are from the friend I knew back in Megaville."
Aina smiled. Suddenly something hit the boat hard causing it to rock violently. Aina was knocked into Haseo, and they both fell onto the deck. Aina felt herself blush and she looked away. The ship was knocked again and they started sliding, Kite grabbed hold of one of the rails that supported the railing, and held onto Aina.
"Siiiiiin!!" They heard someone yell.
Haseo looked over to the side of a ship; a very large fin was sticking out of the water. It was a lot bigger than he had expected it to be. Water splashed onto the ship, splashing everyone. Haseo shook his head to try to get the water of his face. Not many people were left standing at the wave came crashing into the ship. Aina and Haseo sat up, and he saw a large, spiral like thing come out of the water, it then slammed into the water again, sending another wave onto the ship, soaking everyone, and knocking several people over. Aina started to slip towards the edge of the ship; Haseo reached out, but just missed her hand. Thankfully, a very wet Xin caught her and helped her up to her feet. Kite too stood up.
A man rushed forward to one of the harpoons and aimed it at sin.
"Are you crazy? Shoot that into sin and it'll pull us under too!" Leo had come to the front when he saw Aina almost fall over board.
"It's heading for Kilika! Our families are there, we have to stop it!" The man replied urgently. "Forgive us, Lady Summoner."
Aina nodded. The two men fired the harpoons and they dug into the fin that was now ahead of the boat. A roar could be heard, the ship was suddenly pulled forward, and people stumbled, Kite fell over.
"Hey Haseo! Get your swords, you'll need it!"
Leo yelled to him. He had his blitzball with him, Mel had now joined them, she didn't have a weapon, Aina had her staff and Xin had a spear. Kite nodded and rushed towards the entrance to the lower decks, he had left the swords in his room.
Chapter 24: Battling Sinspawn
Haseo quickly ran into his room and retrieved a sphere then pulls out the Empty Skies. He quickly returned to the main deck, where he saw that Xin and Leo were attacking strange creatures with glowing shells, while Mel and Aina were casting magic. He ran to join up with him, when two closed shells landed in front of him. He slid to a stop, and readied his swords.
The shells both shook and unstuck themselves from the wood and transformed into the creatures that the others were fighting. One came at him; Haseo blocked and swung his 1 of his swords, slicing through the shell, which wasn't as hard as he had expected it to be. It fell over and disappeared in many dancing lights, like he had seen other fiends disappear into after being killed. He turned his attention to the other one. It too charged at him. Haseo drove the other sword into what he felt what its head. It too disappeared into many dancing lights. He ran forward and managed to join the others.
"What are these things?" He asked the others.
"Sinspawn, they detach themselves from Sin. These are small, but you can be certain that there are others who are a lot bigger." Mel answered as she cast a thunder spell at one of them, killing it.
"Sounds like fun."
Haseo said sarcastically, though he was smirking as he faced some newly arrived spawn. He was standing beside Mel, who quickly cast another thunder spell at one of them. Xin jumped towards one and drove his spear into its body, and through the shell, it died quickly. Though this Xin was different, he did fight very similarly to the Shad back in Megaville. Leo threw his blitzball at the remaining one, he didn't kill it, but instead he blinded it. Leo laughed as it tried to hit him but missed. Instead it fell over and started the slide down the wet deck, getting zapped by another one of Fran's spells.
"We need to do something about Sin!" Xin said. "Hey Aina, why don't you try out that aeon?"
"Okay!" She smiled.
Everyone backed off to give her some space. She did the same thing she had done in Besaid and the large circle appeared again, sending lights off into the sky. A shadow appeared in the sky and the aeon once again appeared and landed in front of Aina.
"Please help us, Valefore." The bird nodded and floated in the air in front of Aina, facing the fin, patiently waiting for commands from its summoner. "Attack."
Valefore flew towards the fin and attacked it, a roar emanated from the ocean. As it flew by the ship, Ashe shouted another command, Valefore nodded and cast a thunder spell, zapping the fin. Another roar could be heard. Valefore flew by the ship again and heard another command, it nodded, this time it flew up then dove back down, as it swooped over the water, it severed the ropes connecting the ship to Sin.
The ship slowed considerable, now that it was no longer being pulled by Sin, and some people fell over because of inertia. Valefore landed in front of Aina and she patted the bird Aeon's head gently. Valefore nodded its head and took off into the skies. Leo smiled as he watched the aeon leave.
"Pretty cool, right?"
He went to pat Haseo but noticed he wasn't standing beside him. Leo looked around from where he was for any sign of him, but saw he wasn't anywhere to be seen. He then saw that one of the harpoon guns had broken off, he also noticed one of Kite's swords lying nearby. He picked it up and ran towards the edge and jumped off into the water below. Aina rushed forward, but was stopped by Xin's hand grabbing her shoulder gently. She could only wait and wonder.
Below the waves, Leo was swimming and looking for any sign of Haseo. He soon noticed some Sinspawn swimming around an unconscious Haseo. He threw his ball as hard as he could; it hit one and ricocheted, hitting the other two. They swam away. Leo tossed Haseo a tuft of Phoenix down and he woke up. Leo handed him his last sword, Haseo nodded his thanks. Two dolphins swam by, they looked scared. Soon the two noticed that a large purple octopus-like thing was swimming towards them. It looked quite ominous, and Kite had a feeling that this was one of the larger Sinspawn that Mel had told him of earlier. He was thankful that for some odd reason, he could breathe underwater in this world.
He had to quickly moved out of the way as a large tentacle tried to hit them. It missed thankfully. Leo threw his ball, and blinded the beast, that would raise their chances considerably. Haseo swam towards it and swung both swords at its head. He cut it fairly badly, but not badly enough to kill it. Though deep red liquid started to ooze out of it. Leo threw his ball again, it hit the beast square in the eyes, stunned, the beast shook its head. Haseo swam up while it was still stunned and stuck both of his swords into its head. The beast lifted one of its tentacles and hit Haseo away; he managed to hold onto his swords. The blow had winded him, left him feeling a bit worse than sore. He shook his head to refocus himself. The thing was somehow still alive, even though blood gushed from its newest wound. Leo through the ball again and hit it where Kite had stabbed it. That did the trick, and soon it disappeared into many dancing lights. Haseo sighed, though it hurt slightly and he grabbed his side. Leo swam towards him, and motioned for the boat, Haseo followed.
Their heads broke the surface, and soon afterwards, ropes were thrown towards them. They each grabbed onto one and were pulled back onto the boat. Haseo just lay on the deck, and Aina went over to him. Leo sat beside him, panting.
"Are you hurt?" She asked as she knelt down beside him.
"Nothing serious." He said as he tried to sit up but winced.
"Just lie down and rest for a bit. I get the feeling you won't be needing a cure spell anytime soon." She smiled warmly.
Haseo felt himself smile; there was something about this girl, and her smile, that made him feel a lot happier. He lay down again, using her legs as a pillow.
"You're quite the fighter." Mel said as she too sat down, though she was slightly farther away, and was at the top of the nearby steps.
"And you're quite the spell caster." He said as he closed his eyes, it was quite the tiring day.
Mel smiled, and looked back to the back of the boat and watched the crewmen as they made some repairs and made sure the passengers were safe. The sun was starting to set, and people started to grow more solemn as they neared Kilika
Chapter 25: Sending the Parted
As they neared Kilika, the sun had starting to sink beyond the horizon, painting the sky pink and purple. Ahead of them, was Kilika, the now destroyed Kilika. Sin had already left, but its destruction remained behind. Everyone on the boat was quiet, looking at Sin's destruction, seemed to suck all speech away from those who witnessed it, or saw the aftermath.
"I will defeat Sin… I must." Aina vowed defiantly as she looked forward.
Haseo was still resting on her lap; he too, was looking ahead to what they were approaching. Mel, Xin and Leo were all standing near to Aina, they too were quiet.
Kilika Port, Kilika.
Somehow, the port had managed to stay intact enough for the ship to dock. Aina got off the ship quickly and faced the people who had gathered. Xin got off afterwards, staying nearby.
"I am Lady Aina, from Besaid, if there aren't any other summoners, I would like to perform the sending." She said as she did the prayer.
Haseo was watching from on top of the ramp that lead off the boat, Leo was standing beside him, and Mel had joined Aina and Xin on the dock. The group of people started to lead Aina away.
"Come on; let's see what we can do around town."
Leo said as he ran down the ramp. Haseo followed him; they headed towards what used to be the middle of the town.
-*-
People were gathering near the edge of the water, people had gathered the deceased to that area. Aina was taking of her boots, as Xin held her staff. Haseo walked over to Mel, and stood beside her, he folded his arms.
"What's a sending?" He asked her quietly.
She sighed. "Just how much have you forgotten because of Sin's toxin?" She asked, looking at him with her red eyes.
"Leo told you?" He asked, avoiding her question,
she nodded and looked back out to where Aina was, she had her staff and started to walk on the water, towards the area the bodies were gathered. She can walk on water? He was impressed.
"The dead need guidance, especially if they died a violent death." Mel began. "They become jealous of the living, and soon hate the living, out of jealousy for what they lost. And that hatred is what turns them into fiends. The sending sends them to the Farplane, where they can rest in peace."
Haseo nodded his understanding, and watched as Aina came to a stop over the bodies. She began to dance, twirling her staff around her as she danced in circles. The water below her feet began to rise, she rising on top of it, and continuing to dance. Pyreflies began to rise out of the water; he had asked what the dancing lights were that came from fiends after they had been killed. From what he remembered, they were the "souls" leaving the bodies and going off to the Farplane. As Aina danced, more and more came out of the water, and danced through the air, beginning their journey to the Farplane. It was beautiful, yet sad at the same time, and Haseo wasn't sure which it more was of. As the last of the Pyreflies left the water, Aina stopped dancing, and stopped twirling her staff. The water gently brought her back down and she walked back onto the broken dock, which was halfway into the water. She had tears running down her face. Mel walked over to her.
"Did I do well?" Aina asked.
Mel nodded and hugged you.
"They've reached the Farplane by now, you've done well." She released her from her hug and wiped a tear from her eye, "Just, no tears next time."
Aina nodded, soon Xin and Leo were there as well, comforting and praising the young summoner they guarded. Haseo felt very out of place. There was so much in this world he didn't know, he wondered how much there was left for him to discover… Though he hoped that he wasn't going to be in Spira for much longer, he did want to return to Megaville, but he needs them for the Battle against AIDA back home
Leo noticed that Haseo was standing on his own, and walked over to him.
"Something tells me that you haven't seen a sending before."
Haseo shook his head. "It was… An interesting experience." Interesting… he had a feeling he was going to use that word often.
"Yeah." Leo said solemnly. "C'mon, let's get checked into the inn, it somehow managed to stay intact."
Leo started walking away, and Haseo followed, taking one last glance at Aina, who was once again surrounded by people.
Chapter 26: A Stroll in the Woods
Haseo woke up fairly early the next morning. He stood up and stretched. He walked over to a window and looked outside; the sun was slowly rising above the waters, streaking the sky with its rays. People were already busy with rebuilding. I wonder what it's like… To live in fear each day. He thought as he walked away from the winder and picked up his shirt from the chair he had placed it on last night. He put his shirt on, then his vest. He grabbed his Sphere from where he had put them last night and walked down the stairs.
"Good morning." The receptionist greeted. She sounded happy, even after what had happened yesterday.
"Good morning." Kite replied as he walked down the stairs, putting his sword on his back.
He looked around; they had already made a lot of progress with rebuilding. Impressive, they would get well paid in Megaville… So much there needs to be rebuilt. Most of the docks were rebuilt, and they started to work on the houses that rested on top of them. Building equipment lay scattered everywhere, and many people were working hard.
"Good morning!"
Kite jumped slightly, as Leo had come to a stop just in front of him and had spoken fairly loudly, he groaned. He may be used to waking up early, but it never delighted him.
"You're a morning person aren't you?" Haseo said as he yawned.
"That's right! C'mon, we need to meet the others by the gate."
Leo started walking, Haseo followed.
"Gate?" Haseo asked.
"Yep, it leads into the Kilika woods, that's where we're headed next! Then after that, the temple, so that Aina can receive her second aeon." Leo explained as they walked.
"Does she know what it is yet?"
Leo shook his head. "But that's what makes it exiting!"
As they walked, people were busy hammering, sawing or measuring some piece of wood. Even though many, if not all of them had lost someone close to them yesterday, they all waved and happily greeted them as they walked. Haseo wasn't sure if it made him feel more or less pity for them. With Sin around, they must have to find happiness whenever they can. Soon enough, they reached the gate, where Ashe, Xin and Mel were waiting. Aina smiled when her eyes fell on Kite, he smiled as well. She was still happy. Much different from the Fighter I knew in Megaville. He had become rather fond of the Fighter turned Hero in Megaville, though, because of all she had lost during the time she told me about the time a arch-rival of Dexter, Mandark, took Blossom and she couldn't save her because Dexter got first in line. She never smiled that much and always seemed troubled. Perhaps this is what she was like before all that? He wondered as he neared her and the others.
"Everyone here?" Xin asked, Leo nodded. "Good, then let's get moving."
The gated opened and the group stepped through, a thick jungle lay beyond. When Leo had mentioned that they were going threw woods, he had imagined a small forest, not a thick jungle. He shrugged and walked forward.
They had barely walked one minute when they encountered their first group of fiends. There was a giant bee, with a very large stinger and an odd thing that was made up of floating rocks surrounded by fire.
"What is that?" Haseo asked as he drew the Empty Skies and motioned towards the fire thing.
"An elemental." Mel answered. "They're strong against physical, and weak against magic. Though be careful around them."
"Because they have strong magics?" Haseo finished, Mel nodded. "I've encountered many back long ago, but they look different from where I'm from."
Mel just sighed and cast a blizzard spell at the creature. It looked weakened but it certainly wasn't dead. Leo threw his ball at the bee; it died, disappearing into a few Pyreflies. Mel cast another blizzard spell at the elemental, killing it.
The group continued on their way, and Haseo hoped that they weren't going to be in these woods for too long, it was quite humid and warm. Aina was leading the way, and she looked like she knew where she was going. Which Kite was thankful for, he didn't want to get lost in here.
After about an hour, and some fiend encounters, the group reached the other end of the woods. Ahead of them were some well kept stone stairs, the temples seemed to be very well kept. Leo ran on ahead, followed by the Besaid Aurochs, who was going to pray for victory at the temple. The Besaid Aurochs, and Leo, lined up at the first landing.
"Hey Aina! Wanna help us out?" Leo called down.
"Okay!"
She said while smiling, she ran up to join them and stood slightly ahead of them. She held her arm up in the air.
"Ready…. Set!"
She lowered her hand and took off up the stairs, laughing.
"Hey!" Leo said as he, and the Aurochs took off after the summoner.
Mel and Xin chuckled, and Haseo crossed his arm then smiled abit. She's more carefree here, even with all she has to do. They walked up the steps after the summoner and the youngest of the guardians. Suddenly, they heard yelling from above them, and some people ran by them screaming.
"Guys get up here! Sinspawn!" Leo called down to them.
Sighing, the others ran up the rest of the steps, drawing their weapons. Haseo stopped when he reached the top of the steps. It looked like there was a large plant. At one end of the courtyard were tentacles, four were at the two corners in that end and on the other side was what looked like a large ball with a shell. He sighed and joined the others in the middle of the stone courtyard.
Chapter 27: Of Sinspawn and Temples
Haseo barely had time to make it to the others, when he had to jump out of the way of the tentacles slamming down into the ground. Thankfully everyone had dodged that attack, though they weren't so lucky when the tentacles on the right swooped in for their attack, most of them dodged, but Leo was knocked into the small wall at the other end of the courtyard, he was knocked unconscious.
"Leo!" Aina made a move to go towards him, Xin stopped her.
"Wait until we've gotten rid of those tentacles, it'll be too dangerous with them still around."
Aina sighed, and nodded. Instead she started to cast protect on everyone.
"Haseo, you take the ones on the right, I've got these ones." Xin instructed as he went over to the tentacles.
Haseo nodded and faced the tentacles, he had to jump out of their way again, but this time he moved towards them, so it would be harder for them to hit him. He puts the Empty Skies, then pulls out a chainsword claymore: Silad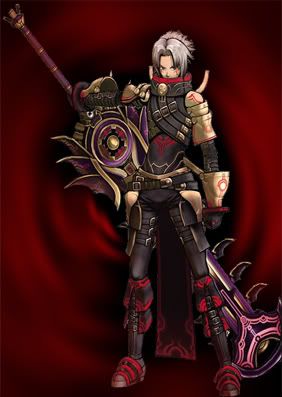 "Ok NOW I'm ready!" Haseo said with an evil Grin
Then he swung the sword at the base of where the tentacles connected. The sword went a quarter of the way through, and he heard a loud squeal come from behind. These must be connected to that ball thing… He thought. He pulled the sword out and swung again, harder and faster this time, and this time the chainsaw part activated then digs deeper into it he severed it off, green liquid came out, spraying him. He groaned. Now I'll need a change of clothes. He pulled the sword forward again, the tentacles were now dangling more than anything, and they were barely holding themselves up. He swung again and this time, the others came clean off. Before they hit the ground, they disappeared into many Pyreflies, though they had enough time to spray Kite in more green liquid. And now…I'll need a bath.
He turned around and saw that Xin had also disposed of his tentacles, and he too was covered in green liquid, though he didn't seem bothered by it. He was now trying to break through the shell of the main part of this Sinspawn. It suddenly opened up its shell revealing its body. It was green and had two sets of four tentacles attached to it. It looked like a giant plant. Kite ran over and joined the group. Fran cast a fire spell, causing the creature to squeal. Leo had been awoken and now through his ball towards the creature, blinding it. The creature now blindly swung at the group, missing them entirely since everyone was spread out. Fran cast another fire spell, the creature squealed again. Fran was panting, and she fell to her knees.
"I've used too much magic, and I don't have any ethers."
"You've done well, don't worry about this, we can finish it off."
Xin said as he ran towards it and drove his spear deep into it, causing it, to once again, squeal. It swung one of its "hands" though it missed Xin. Xin pulled out his spear and plunged it in once again, at the same time Leo threw his ball and hit the Sinspawn in its head. It shook violently then collapsed, and disappeared into many Pyreflies. Everyone stood, or kneeled for a bit panting. Haseo sheathed his sword and looked at himself sighing.
"Are there baths at the temple?" He asked.
Aina looked over and started giggling, Haseo smiled. For some reason, whenever Aina either smiled or giggled, Haseo felt happier.
"It isn't that bad, is it?"
Xin said smiling, he was leaning on his spear, and he too was completely covered in the liquid goo. Everyone slowly, started laughing. The site of the two, green goo covered warriors was a very entertaining one.
"You've definitely got skill with swords and fighting, Haseo!" Leo said excitedly. "You'd make a pretty good guardian!"
Mel shot Leo a look that could've sent shivers even down Sin's spine. Leo seemed to shrink to the size of a pea under her gaze. She started to walk towards the stairs. Xin sighed and walked on after her.
"Nice going Leo." He whispered to him as he walked by, Leo sighed.
Aina, Leo and Haseo were still standing where they were. A guardian eh? Hm… If I'm to be stuck here for a while, at least that would keep me occupied after all he is still on a mission. The three looked at each other; they had probably all been considering the same thing.
"We should… Get to the temple." Aina said.
She walked towards the stairs, Leo walked beside her, and Haseo was behind them.
Kilika Temple, Kilika.
Haseo stopped at the top of the stairs. It was quite the impressive temple. On the sides of the temple were too large spires, with holes throughout. The temple it self resembled a dome; it too had alcoves and niches on the outside. Some green spheres with fire inside them were placed throughout the various niches and holes. Before the temple was a stone courtyard with columns surrounding it, and encasing the smaller circle of columns, were two larger ones, which looked like they could have been the arms for the temple.
"Impressive, isn't?" Aina was standing beside him, smiling.
"Yes, yes it is."
"Come, let's get you and Xin cleaned up."
She said as she walked forward, and walked over a green dome in the centre of the courtyard, which had fire underneath the thick glass. Kite followed, Mel, Leo and Xin followed Aina closely, especially as another group of people came to greet the summoner. The Besaid Aurochs were by their captain, Leo.
A group of men emerged from inside the temple; they were all wearing the same, ridiculously purple outfits. Kite had to stifle a laugh, especially since they were strutting around with pride. They stopped in front of Leo and the Aurochs; Leo was standing in front of who appeared to be their captain and crossed his arms.
"Have you come to pray for victory?" One of the aurochs asked.
"Us pray? No, we've come here to pray for some competition this year." The man in front said. "What's your goal this year? You gonna: Do your best again?" He taunted.
"We play to win this year! We're bringing the cup home to Besaid!" Leo said enthusiastically.
"Play away, just remember, even kids can play." And with that, he and his lackeys walked around them and started to descend the stairs.
"We definitely have to beat them in the finals! Man that Bickson gets me so mad!" Leo said after he had left.
"Don't let him get to you, that's what he wants, to throw you off. Keep yourself focused on your goal, and you'll reach it." Haseo said, placing a hand on Leo shoulder.
"You know… You're right!" Leo smiled.
"Now… Could we get to that bath Aina mentioned?" Haseo asked, smiling.
Leo laughed. "Follow me!"
He headed down the steps, Haseo followed.
"Who were those guys anyways?" Haseo asked.
"The Luca Goers… They've won the opening tournament every year, but this year will be different."
Kite looked around the temple; almost exactly like the one in Besaid, though there were different statues. Some of the Aurochs were already there praying, Leo lead Haseo into one of the side rooms. A steaming bath was already set up.
"Ah, looks wonderful."
"And you can put those clothes in that basket," He pointed to one in the corner, "And someone will get them cleaned for you."
Haseo smiled. "Excellent, thank you."
"Not a problem!"
Leo turned and left the room, leaving Haseo alone so he could get cleaned up.
Chapter 28: Another Summoner
Haseo had managed to get himself completely clean; there wasn't even just a spec of liquid goo anywhere. Feels great to be clean again. One of the monks of this temple had already cleaned his clothes and they were neatly set on one of the chairs in the room.
After he dried himself off he walked over to the chair and picked up his shirt. It looked and smelled very clean. As he started to put on his shirt the door to the room opened and Aina stepped through.
"I was just – Oh my!"
Time seemed to come to a stop, as Haseo and Aina just started at each other with looks of pure shock on their faces. It seemed as though they were glued to their spots on the floor, and Aina was getting redder and redder in the face.
"U-um…. Sorry! I should've knocked first."
Aina turned around and faced the door; she held her hands up to her face. I can't believe I just did that! Aina thought to herself. Her face felt hot to touch, she wasn't sure if she had ever felt more embarrassed in her life.
Kite, despite the fact, found he was chuckling slightly as he got dressed. He never thought he'd every see Aina blush, and even though it wasn't Buttercup he had met in Megaville 4 month ago, it was still Aina.
"Don't worry about it. It could've happened to anyone." Haseo said as he was putting on his last article of clothing. "Besides, I'm glad it wasn't Leo or Xin."
Aina started to laugh.
"You can turn around now." Kite said calmly, he was smiling.
Aina turned around slowly, she wasn't directly looking at him, and she couldn't bring herself to lift her gaze. Kite stood waiting patiently, he was curious to know why the young summoner had entered the room. When she continued to stay silent, he decided to try to encourage her.
"You had been saying something?" He said calmly.
"O-oh… Yes! Umm… I-it can wait… I-I'll just wait outside for you."
And with that, she turned around and opened the door and left. I can't believe I just…. Oh!! She thought, though, she did start smiling. She walked over to where Leo, Mel and a now clean Xin were standing.
"Did you ask him?" Mel asked.
"Uhh… N-no… I decided it would be best to wait." She was blushing.
"Did you walk in on him?" Leo asked.
"W-what?! N-no… O-of course not!" She went bright red again.
Leo, Mel and Xin just smiled. The door at the top of the stairs that lead to the Cloister of Trials opened; a woman and a very strong looking man appeared. They walked down the stairs and noticed Aina standing with her guardians.
"A summoner?" She said.
Ashe turned to face her.
"My name is Aina; I come from the Isle of Besaid."
"Dona." She said it was an afterthought. "The daughter of High Summoner Raminas, that's quite the name to live up to." She looked around at her guardians. "My, my, my… All these people are your guardians? As I recall Lord Raminas had only two summoners. I have only need of one." She motioned to the man beside her. "Right, Barthello?" The man nodded.
"I only have as many guardians as there are people I can trust. And I trust them all with my life." Aina said as she took a step forward. "To have this many guardians, is a joy and an honor, even more so that being my father's daughter." She took a pause. "Of course, I would never think of questioning your ways either. So, Lady Dona, I ask of you. Please leave us in peace."
"You do what you want, Barthello, we're leaving."
And with that, Lady Dona and Barthello left the temple. Haseo was now standing behind the others; he had walked out just as Dona had arrived. His arms were crossed.
"Strong and polite. Very nicely handled."
Aina turned around quickly, and felt herself blush, she hadn't noticed him there, and she was still feeling embarrassed about what happened earlier.
"Thank you." She said quietly, not looking directly at him.
"We should get going." Mel said as she started to walk towards the stairs.
"Right!"
Aina started to climb the stairs, followed by Mel, Leo, Xin and then Haseo. They were now in a narrow corridor that was lit by torches; a lift was at the end of the corridor. Aina, Mel, Leo and Xin got on. Kite went to step on, but Xin blocked his way.
"You're not a guardian, yet." Mel said when Kite looked confused.
"We'll be back as soon as we can, stay out of trouble." Aina said as the lift took them down.
Haseo sighed and looked around. He hoped they weren't going to take too long, there wasn't much to do in the temple. He went and leaned against the railing that surrounded the hole, the lift started to ascend back up to its original location. I wonder what answers to AIDA's connection to this world and his own, could be down there… I didn't find anything in Besaid… But that doesn't mean there couldn't be anything down here. Though, Aina's words of 'stay out of trouble' came back into his mind and he sighed.
The door at the other end of the corridor opened and Barthello and Dona stepped through, Haseo sighed and looked at them with a cold expression.
"Did you two forget something?" He asked when he neared.
"Why aren't you down there with your Summoner and her other guardians?" Dona asked.
"Simple, I'm not a guardian." He answered; he put both his hands beside him on the railing.
"Oh? And you're just going to sit there and wait like a good boy, are you?"
Dona asked smirking. Haseo just shrugged, he wasn't going to let her win that easily. Barthello walked towards him and went to grab Haseo, though he just smacked his hand away. Barthello grunted and looked at Dona who put her hand on her head and shook it. Barthello turned back to Haseo and tried to grab him again, he just sighed and moved out of the way, crossing his arms. He was now in between Barthello and Dona.
"And the point of this is?" Haseo asked, not really expecting an answer.
"Oh, just a game, though its not going as I planned. Barthello, we're leaving."
Dona said as she turned around and left through the corridor, Barthello sighed and followed his summoner. Haseo just sighed and shook his head; he walked over to the lift and looked at it. The thought of what things he could possibly find down there. Well… These things do seem to take time… Perhaps I could find the treasure and be out of there before they notice. Smirking he walked onto to the platform