And so it is done...
Person's Name
: Terra (has no last name to speak of, but constantly refers to herself as "Terra the Great Terror!")
Person's Age
: 17
Person's Gender
: Female.
Person's History
: Like any good mysterious character cropping up from mysterious circumstances, Terra's history is almost entirely unknown. What makes it doubly worse is that she, and even her totem, rarely ever volunteer the information themselves, and when asked, only vaguely answer the question posed. What
is
known about her, though, is her incredible knack for getting into trouble. For example, someone might see a Wanted ad with a girl's face that has an incredibly close likeness to Terra. This person is currently wanted for a variety of broken laws, chief among them being her frequent thievery, identity theft, and assumptions of a variety of false names.
Personality Quirks
: Terra's a tomboyish young woman, well known for her less than ordinary actions, and constantly boisterous attitude. She'd sooner break your nose with the flat end of her palm than act even remotely lady-like. Though, that's not to say she's gender confused or anything. She's just gender
apathetic
, and doesn't like to be generalized by that or through any other means. She also has a flair for being overdramatic and theatrical, as well as having a severe lack of social grace. Your personal space is nonexistent to her, and the social "norms" are completely ignored by her unless it's convenient to follow them. For example, she'd yell "Bomb!" in an airport if she lived in our world in a modern time, and later remark she was
really
saying "These wrapped up meals are the BOMB!"
Headshot
: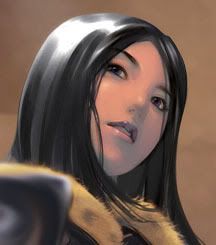 Clothing Style
: Terra wears a fur coat like jacket almost all the time, regardless of temperature, where there is a significant amount of "tuft" at the edges of its hood and sleeves (If asked about it, she would simply say, "It's cold where I come from. You know, the
Moon
"). Though, regrettably, she often absentmindedly rips them off because she gets hot, later asking a town seamstress to fix it for her (which she'll inevitably not pay for and steal back). When it's cold, she generally wears some sort of long sleeve shirt on the inside, with some especially baggy blue pants. Otherwise, she wears a short and red tank top (that oddly enough, shows her midriff), and dark blue shorts that are form fitting. However, over those shorts she wears one could call a "skirt", except that is extends a little past the knees, and splits all the way to the thigh. In spite of all that, one wouldn't exactly call her apparel revealing. Indeed, you should also never tell her that to her face. She also owns a pair of boots and a pair of gloves.
Equipment Added
: Terra carries around two daggers and scythe on her person at all times. It's quite obvious all three were stolen at one point or another. After all, the blades of daggers read "To the holy arm of Malak, Gods guide your hand", and the scythe has this inscribed: "To my beloved Thorne. Farm well!" She also lugs around a backpack that contains a various number clothes for her to change into, whether as a disguise or to be comfortable. She has also recently retrieved
triple-bladed throwing weapons
that can
retract its blades
.
Totem's Name
: Ziz
Totem's "Race"
: Bird. More specifically, it looks similar to the "Giant Teratorn", sharing its massive size and enough strength carry people upon its back. Through predominantly blue, its plumage shifts in shades and intensities at the end of its wings and tail,
Totem's Gender
: Male.
Totem's Element
: Air.
Air Rune
:
Vortex
- Creates a miniature tornado that can suck in things, twirl them about, and regurgitate them back out with increased force. Disorients and distracts more than it damages.
Gust Barrier
- Creates a barrier composed of nothing more than the rushing wind, accelerated to incredibly potent degrees. Parries attacks more so than it deflects.
Wind Tunnel
- A variate of Vortex that makes the tornado originate from the caster instead, causing the funnel to go outward and towards opponents. Depending on which direction its spinning, it can blow things away or suck things towards it.
_________________
"
A pistol is a tool to save people. It's not a weapon for murder.
" "
Then save me by killing them!
" "
That's kinda contradictory...
"
My Characters' Endings