Edited
Person's name: Daskavar Varaski
Person's age: 15
Person's gender: Male
Person's History: Dashkavar was brought up in a small village with his parents and sister. His family had great bonds with their totems. Life was peaceful in their little village but it didn't stay that way. When Dashkavar was four his village was attacked and destroyed by bandits. They pillaged and burned everything. As far as he knows he is the only survivor, enabled only by his totem's power. Almost a year passed and Dashkavar was taken in by a group of assassins known as "The Black Wing". They trained him mercilessly, teaching him how to kill without emotion, regret or mercy. He was sent on "jobs" frequently and he always succeeded. His target always believed that they could not be killed by a mere child. On one job things didn't go to plan. Studying his target he refused to kill her. He warned the woman and instead killed the man who had sought the contract. Unable to return to the Black Wings for fear of death (to fail the kill was to offer yourself instead) he fled. Travelling, hoping against all odds that the Black Wings wouldn't pursue him, that he could survive.
Personality Quirks: Dashkavar is quiet. He is a dark, mysterious person. Although many wouldn't guess it, he can be charming if the situation calls for delicate handling. Dashkavar has "issues", his anger can flare up unexpectedly over the smallest things. He is a merciless killer, killing first asking questions later. His training from such a young age enables him to outmatch most opponents.
Clothing Style: He wears a black t-shirt and black trousers. Doesn't need more layers because of his totem. He wears black boots and has black fingerless gloves. He has a chain with the pendant of a four leaf clover that was given to him by his sister.
Equipment: (Thought I'd add this to make sure the GM is aware of what I've got) Two blades, sword like that are thin but very sharp. The blades curve into a hook at the end, used for hooking weapons or limbs. Sheaths for the swords. A wooden bow, in-between the size of a shot bow and longbow and a quiver with 20 arrows. A pouch that contains 10 throwing stars on his belt and two daggers that are sheathed in his boots.
Totem's Name: Luthwen
Totem's Race: Phoenix
Totem's Gender: Male
Totem's Element: Darkness
Runes: Equipped with a rune of darkness. The rune is equipped on Luthwen's back in the middle.
For the observent of you here you will have noticed that I have edited my character sheet. This is because (and I think you will all agree) that having a seven year old around may cause some problems, hell, alot of problems like, how the hell is he going to defend himself when his totem is busy fighting, how is he going to walk such a long distance (he can't fly all the time) etc etc. Also I felt it would be easier for the GM's having similar age groups, somehow a seven year old just doesn't seem right.
What was I thinking? (rhetorical question, please don't answer
)
_________________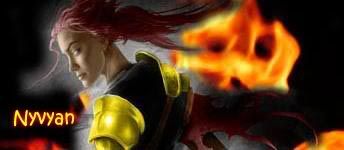 Fenix13- Now see, that is a prime example of how people in other RP's should be. Bravo Nyvyan, You are the shining symbol of what awesome should be.- Oh yeah, I'm awesome!