Chapter 40:
*Shad's house (Shad's room)*
Blossom: Nuhh....*opens her eyes; feeling a warm light* wha?
*Blossom wakes up at least. She sits upward on a bed as she sees the familiar gray wallpaper around her. At the far corner, Sensei Jack still lays there petrified. Blossom sees Bubbles and Buttercup are still fast asleep beside her. However, a soft cerise light covers them, along with her. Soon, the last 2 sisters awaken as well*
Buttercup: *yawns* Where are we?
Claire's voice: Whew. So you're awake. Guess those injuries weren't TOO bad.
Blossom: *turns to her right and sees Claire, her hand being the source of the glow* Mrs. Staydamind?
Claire: *smiles* How do you feel?
Bubbles: A little better. We kinda didn't do so...*gasps* NO! That's right! We didn't save Shaddy!!
Buttercup: Didn't save him?! Claire, you had no idea how CLOSE we were! We were practically home free until...
Blossom: A lot of stuff happened, but at least the Global Defenders are done for. At least now we...*sees something...rather odd about Claire* Mrs. Staydamind?
*Claire doesn't seem to be paying any attention to the girls' words. In fact, she seems completely unphased!*
Claire: Yes?
Blossom: Are you feeling okay? You don't seem...
Claire: It's okay Blossom. You don't need to explain.
Bubbles: *crying* But...but Shaddy! The Darkstar baddies took him AGAIN! *latches onto Claire*
Claire: *still has an unusually unsurprised face on* Hmm. Now we have a problem. Did you get the other coordinates though?
Buttercup: We kinda busted the machine while we were fighting so...no.
Blossom: *frustrated* And we were SO CLOSE!
Dimitri: *bolts into the room and speaks in a rather sarcastic tone of voice* Been shopping much, Claire?!
Claire: *gasps* Dimitri! Y-Y-Y-You're awake already?!
Dimitri: *scoffs* What did I tell...*holds his head in pain* AHHHHH!!! *bends down*
Claire: Dimitri! *puts Bubbles back on the bed and runs towards him* Your head is...you shouldn't be up right now.
Dimitri: *chuckles ruefully* You're not going to believe what a disaster it was. Oh, and that masked girl? Guess who it was?
Blossom: Yeah. Why DID you freak out when you saw her?
Buttercup: You know her, don't you?
Dimitri: Heh. PAH! *chuckles more* Know her? KNOW HER?! Why don't you...you...*faints*
Bubbles: Mr. Staydamind!
Buttercup: Yikes. Crazy much?
Blossom: I never saw Dimitri laugh like that. Who WAS that girl?!
Claire: I think I have a clear idea who he
thought she was.
Bubbles: *sniff* Thought?!
Claire: Whoops! Said too much already. Just stay put! *picks up Dimitri* Bunny and Adric are downstairs getting some snacks and Dexter went home to recover some more. *opens the door*
Blossom: What about the Xiaolin Monks?
Claire: They went back to the temple. Now please, no more questions! *leaves the room*
Buttercup: What's gotten into her?
Bubbles: It's because we failed to save Shaddy...again! *sobs*
Blossom: I don't think so. We didn't tell her everything yet but from what I was saying she didn't seem shocked at all. And what Dimitri said. "Been shopping much?" Did she leave the house again?
Buttercup: There's no answer is there?
Blossom: Worse. There are more questions without answers. Not to mention...Bell.
Buttercup: Can't believe she actually tricked us like that!
Bubbles: SHE DID NOT!! She was telling the truth! That mutant man just wanted us to think that and it worked! Now Shaddy, the Creampuffs, Breannin and Bell got taken away!
Buttercup: So leader girl? Where do we go from here?
Blossom: *sigh* I don't know. There are just too many things to rethink now. What happened, what's now, and what to do next.
Bubbles: *looks out the window* Um...what do we do about that?
*the Powerpuffs look out the window and notice that the outside appears dark; A little TOO dark for afternoon although not as dark as night. The girls look up and they see why...kinda. From somewhere, a purple-black fog seeps into the dull gray clouds, darkening them as they block out the sunlight even further*
Bubbles: Where's that fog coming from?!
Buttercup: Great, more bad news!
*meanwhile, at Black Eden (Dr. X's room)*
Dr. X: *sitting on his bed in deep thought*
Heh. Never thought I'd encounter my old friend like that again. Suppose it's a small world after all. The Global Defenders are no more, although I'm concerned as to where the Rowdyruffs fled. It matters not. What matters is what Bell did back there...and why. If she hated me as much as she led me to believe, why would she save me? Perhaps it's due to me being her father. Perhaps. When I saw her harmed that way...what did I feel? For an instant, it's as if I felt compelled to deliver divine justice to the one who would dare harm my daughter.
Ugh! *buries his face in his hands* What's happening to me?! That emotion I felt. Was it...love? *shakes his head* Nevertheless, I have Shad back! I can only hope he awakens soon.
*Bell's room*
*the mood is rather gloomy. Of course, that's to be expected after you've lost your friends and forced to go back to where you don't want to go again. Breannin just sits on her mattress, at a loss on what to do. The Creampuffs, who'd normally jump on theirs, are dreary-eyed and rigid, perched on their mattresses, still rather wounded. Bell stands next to her bed, staring at Shad who has yet to awaken*
Bean: Mommy? What happened?
Bell: ...................
Bop: What's gonna happen to us?
Bell: .......................
Berry: What about daddy? Is...is he...*mouth quivering* He's not moving. What if he's...
Bell: *snaps at Berry* HOW DO YOU THINK I FEEL?! I'M THE REASON WHY EVERYTHING TURNED OUT THE WAY IT DID!!!!!!
Breannin: *wide-eyed* B...Bell. There's no need for hostility.
Berry: *sobs uncontrollably; glomps Bell* I don't want him to die! It's not fair! Why did that meanie firehead lie?!
Bop: And I thought we were good Creampuffs. If only we weren't so busy with the Powerpuffs...
Bell: I told you it's NOT YOUR...
Shad's voice: What's all that noise?
*the bickering stops. The girls turn to Shad, now wide-awake already despite being knocked out for several hours on end. He gets up and is set in a sitting position*
All 3 Creampuffs: DADDY SHADDY!!!
Bell: Wait. Don't hug him too hard! He just got up!
Breannin: Shad, how do you feel?
Shad: Bree? Weird. You sound different. *feels something missing. He checks his wrists only to see that he no longer possesses the Moby Morpher* Huh?!
Bop: Those Monk people took it back.
Bean: You missed a lot of stuff Shaddy! Bree has feelings now!
Shad: She does?
Berry: Daddy's alive!
*Berry jumps toward Shad, glomping him so hard he fell off the bed, hitting the floor rather hard*
Bell: Shad!
Breannin: Berry let go of him! He just got up!
Bean: Uh-oh. Shad has a boo-boo on his head.
*Berry lets go off Shad, who, for some reason, has a rather surprised look on his face*
Bell: Shad?
Shad: *snaps out of it* Huh?! Oh! Heheh. Sorry. I think I got a little dizzy.
Berry: *sees a bump on the back of Shad's head* Huh? What's this? *pokes the bump*
Bell: Berry don't do that! *pulls Berry's hand away* Sorry about that Shad.
Shad: But it didn't hurt!
Bell: Wait...what?!
Shad: Uh, I mean, it didn't hurt that much.
Breannin: I'll see if there's anything we can do about that bump...
Bell: No! *eyes narrowed with suspicion* Bean, come over here.
*Bean walks over to Bell, who whispers something in her ear. The bergandy-eyed girl walks out of the room and comes back with a cup filled to the brim with a light brown liquid*
Bean: Here you go Shaddy.
Shad: But I didn't ask for…
Zim's voice: BWAHAHAHAHAHA!! Marvelous! Marvelous I say!
Bop: What's that alien up to?
*the Creampuffs, Breannin, Bell and Shad exit the room and make it to the lab, but no one is present*
Berry: I thought I heard him here.
Bop: Wait, I know! Everyone grab on to me!
*the kids do so, and with a flash of amber, they now stand on the roof of the dome. At the center they see a large machine of sorts, probably designed to fire something. Near it is Zim, smiling his evil toothy smile at the machine as Gir dances around it*
Bop: My head hurts.
Bell: You were flashwarping too much during that battle.
Shad: Zim, what's that?
Zim: *turns around* Ah! The earth monkey is awake! Feast your eyes, for they shall be stuffed indeed! What you are gazing upon is the key to our success! This atmospheric cannon is what will trigger...the Doomsday Blackout!
Bell: What? But I thought...
Zim: You thought wrong! Dr. X finally obtained the proper power source efficient enough to utilize its capabilities. The dark, gloomy doomy Shadow Amethyst! *points to a slot where the jewel is placed, crackling with black electricity* I have made the test run, which has been a success, for I AM ZIM!!
Gir: I AM GIR! Hug me!
Dr. X's voice: You failed to mention one main aspect of the machine.
*the kids turn around and see Dr. X, who came seemingly out of nowhere*
Shad: Huh? How'd you get up here?
Dr. X: Elevator. Glad to see you're awake.
Bop: Pfft! No thanks to you!
Zim: But Dr. X! I made the test run just as you asked and Megasville is now DOOMED to be DIM! For I AM ZIM!
Dr. X: That's the problem! It's only dim, but not DARK! The Blackout Cannon can only be at its most maximum potential if its power radiates near a weak dimensional fissure. The Cluster troops are currently searching for that weak spot as I speak. Once it uses its power near a thin dimensional wall, it can easily manifest its entire power to Earth.
Zim: But where can the dimensional weak point be?
Shad: Mr. X? What happened while I was asleep?
Dr. X: Simple. You were in danger, so we saved you.
Bell: Shad, do you know someone named Cranston?
Dr. X: What?!
Shad: *gasps* Yeah! I remember him! He's the man I told you about last time! My Godfather!
Bell: Do you want to know where he is?
Dr. X: B-B-Bell! Stop this at once!
Bean: What's happening?
Breannin: That mystery girl called him Cranston shortly before we arrived here. I'm not sure if I understand.
Shad: Wait. I get it now!
Dr. X: No you don't!
Shad: YES I DO! You tricked me!!
Dr. X: Shad it's not what you think...
Shad: You said that you were going to use Bree to help me when I leave Black Eden but instead you had her hurt Bell instead! I got confused and I didn't know what to believe and...and I fainted.
Bop: And a lot of stuff happened too! You were captured!
Shad: What? By who?!
Dr. X: It doesn't matter who! All that matters is that I saved you!
Shad: But...but why?
Bell: Yeah, why change your mind daddy?! What about SUSAN!?
Dr. X: Mandark was expendable. *walks to Shad* Shad, on the other hand, is far more efficient at...
Shad: Stay back! *backs away* I SAID STAY BACK! *dark aura appears* I'm not letting you making me hurt the Powerpuffs...*starts to slide off the roof* Whoa...WAAHHHHHHHHHHHHHH!!!!
*with the roof of the dome lacking any safety gates, Shad slides off the slope, causing him to crash onto the floor. The girls rush to his aid*
All 3 Creampuffs: SHADDY!!!
*Shad doesn't answer. Instead he has another blank expression on his face. The same one as before*
Bell: Shad? Shad are you okay?!
Shad: *gets up with ease; whispers to himself* I don't believe it. I'm...I'm...*dark aura vanishes*
Breannin: What was that?
Shad: Uh...I said I'm fine!
Bop: How'd you get up so fast?
Bean: You must be really strong Shaddy. You fell off and you got up just fine.
Breannin: But...but how? No bones are broken?
Dr. X: *jumps down from the roof* Are you okay Shad?!
Bell: *grabs hold of Shad* What do you care?! Creampuffs. Breannin. Stay out here! I...I need to talk with Shad for a moment. *takes Shad back inside the dome*
Berry: What's wrong with mommy? She sounded a little nervous.
Dr. X: *all 6 eyes are narrowed*
So it begins at last.
Perhaps I'll need Aku's assistance after all.
*Bell's room*
Shad: My...Godfather?
Bell: It's really hard to believe but from what I looked into, his name is Cranston Utonium. He's related to the same person who made the Powerpuffs.
Shad: He...my Godfather. The same man who used to visit me and take care of me is...
Bell: Was he always like this?
Shad: He was nice. I don't remember that many stuff about him but he was mommy and daddy's friend, and my friend too. I...I don't think I can believe that. At least not now.
Bell: *sigh* I thought so. I don't really get it either.
That girl was the one who figured it out anyway.
Shad, are you sure you're okay? You fell down really hard.
Shad: I'm...I'm FINE! It didn't hurt!
Bell: *eyes widen* What?!
Shad: I mean, it didn't hurt a lot.
Bell: *picks up the mug full of hot chocolate from off the bed* Here, I thought you could use a drink.
Shad: But I don't like chocolate.
Bell: Really? C'mon, just try it. *gives the mug to Shad* It's hot isn't it?
Shad: Yeah. Hot.
Bell: Really hot?
Shad: Really hot.
Bell: *starts to get dreary-eyed* I lied. It's actually iced chocolate.
Shad: Huh?
Bell: I...*starts to shake a little* I had Bean make it cold.
Shad: Huh? Oh! Of course it's cold!
Bell: I...*shakes even more* I lied again.
Shad: What?
Bell: *whispers* It's actually hot.
Shad: Oh yeah. Hehe. Why would you lie? Of course it's...*pauses* Uh-oh.
*Bell smacks the mug from Shad's hands, causing the scalding hot liquid to drench said hands, yet Shad doesn't yell out in pain. Bell's eyes immediately release a small stream of tears*
Bell: I was right all along! *screaming* YOU CAN'T FEEL ANYTHING CAN YOU?!?!?!
Shad: Th...*backs away* that's not true! You're lying!
Bell: You're the one who's lying!! That explains that look on your face when you fell off the bed. You already couldn't feel anything, could you?!
Shad: Uh...it's that...well...
Bell: How about when Bop poked that bump? She pushed it really hard and you STILL didn't flinch!
Shad: *sigh* Fine. I guess the secret's out...kinda.
Bell: What's happening to you?
Shad: I don't know. It's just that...well, things started to feel weird when I first used that power the first time. When that happened, I felt a little less sleepy.
Bell: But you...
Shad: I only pretended to sleep because I didn't want anyone to worry. Even when I close my eyes, nothing. The only times I can sleep is if I use my powers too much, like when we were fighting Bree. I woke up really late at night to use the bathroom and that's how I knew that Berry had that nightmare.
Bell: So unless you burn out your powers you can't sleep?! That's...that's...*light sobs*
Shad: Yeah, and for some reason every time I use my powers, even when it was just a little bit...I couldn't feel anything.
Bell: Like now?
Shad: Yeah, but in another way. It's really weird, but I don't feel hurt. Before I felt more hurt the more I used my powers, but when I used it too much earlier, I felt...I don't know what I felt but it's something I'm feeling now, and it's in the same place where the hurt was. I think it's what my mommy called...empty.
Bell: WHAT?!?!
Shad: I like it that most of my hurt is gone and that only a tiny bit of it is left, but nothing is in its place. Instead I feel that a part of me is missing. Even when I woke up, I wasn't really that suprised when Berry hugged me.
Bell: Why? WHY DIDN'T YOU TELL ME?! I THOUGHT I WAS YOUR FRIEND!!!!!
Shad: I AM! That's why I'm here! To try to get Mr. X to understand that you should be happier! And the Creampuffs and Bree.
Bell: But what about you?! Even if you convince daddy to admit that what he's doing is wrong, what good will it do you?! How do you think we'll feel knowing that you can't sleep anymore or FEEL ANYTHING ANYMORE?!?! This is what I was afr...afr...*sobs as she hugs Shad*
Shad: Don't tell the Creampuffs.
Bell: Why?!
Shad: I don't want them to worry. I don't want them to be sad like you are.
Bell: But if they find out on their own...
Shad: I'm sorry Bell. Really. I know that you're crying for me. So much, that I want to cry too. But..................................I don't think I can anymore. *gasps; eyes widen*
Bell: Shad?!
*something happens to Shad that hasn't happened in quite a long time. He pushes Bell away as his eyes turn from silver to not only red...but
his left eye turns BROWN as well!
*
Shad/???: *different voice; almost garbled* NO! It...*staggers to the door*
It's already begun!
Bell: *mouth agape* It's you isn't it?!
Shad/???: *turns around* B...Bell? *pants heavily*
Bell: What's wrong with you?!
Shad/???: Heheh. Blame it on
that woman.
No, I suppose I'm partly responsible as well. That damn
Grimlock Curse!
*Shad/??? limps his way out the room and to the lab. He makes it to the teleportation pad and weakly raises his hand, beckoning Bell to come forward*
Bell: You're escaping?!
Shad/???: Not quite. The message must be relayed! *steps onto the pad* First...tu...turn it on!
*Bell presses the main button on the console, allowing the large monitor to light up*
Shad/???: Set it...set it to...
Dr. X's voice: WHAT IS THE MEANING OF THIS?!?!
*Bell jumps up in surprise. At the far end of the lab, she sees the Creampuffs, Bree and Dr. X, his headflames blazing wildly surefire proof that he's pretty much pissed*
Bell: Daddy!
Bean: Mommy, where are you taking Shaddy?!
Dr. X: This is treason Bean! HOW DARE YOU DO THIS?! *storms toward Bell*
Bell: Daddy wait, it's not what you...
Shad/???: *to Dr. X* FOOL! Do you have any idea what powers you've been tampering with?!
Dr. X: *notices the different, distorted tone in "Shad's" voice; still stomping forward* What? Who are...
Berry: *flashwarps to Bell; speaks to her father* Daddy? What's wrong with your eyes?
Shad/???: B...Berry?
Berry: You sound like that voice from my *gasps* that nightmare! Or was it visionburst?
Bell: Yeah, you saw Shad dead didn't you? *to Shad/???* What happened back then anyway?
Shad/???: SHUT UP!!!!! *screeching* Set this thing to the Staydamind household NOW!!
Dr. X: No one is going anywhere!
Shad/???: Bell! Subdue him by force! NOW!
Bell: Daddy...stay back. *hands balled into fists*
Dr. X: You wouldn't dare.
Bell: Shad's suffering right now and you know exactly why. Why don't you just tell me?!
Breannin: I'm sure the revelation can't be as bad as Dimitri put it.
Dr. X: Oh, but it is.
Bell: *set to a fighting stance* Try me!
*meanwhile, at Master Monk Guan's temple (head temple)*
Master Monk Guan: I see. So the Sapphire Dragon, or Breannin, is no longer leathel?
Dojo: We kinda had to toss away one of our Wu, but hey, no more sapphire zombies.
Master Monk Guan: But from everything you've told me, not everything was a success.
Kimiko: We decided to help a guy named Dimitri save his son.
Master Monk Guan: The same one who took the Wu?
Omi: Yes, but as Xiaolin Monks, we were honor-bound to help those in need.
Raimundo: It's just that things were going great until that girl's mask flew off and Dimitri flipping out all of a sudden.
Clay: Still, she looked mighty pretty.
Master Monk Guan: That is strange. Would you describe this girl to me?
Kimiko: She had a tendril above her forehead, brown eyes, a black karate suit with a white sash and a short ponytail.
Master Monk Guan: Wait...what?!
Omi: Is something troubling you?
Master Monk Guan: Kimiko, are you absolutely sure that's her appearance?!
Kimiko: Yeah, can't forget a girl like that.
Master Monk Guan: Dojo! Fetch the registration folder from the archive, circa 1980s.
Dojo: Sheesh, what am I, a carrier pigeon? Alright then.
*Dojo slithers to another room and comes back with an unusually heavy folder*
Dojo: *drops it; pants* You...whew. You should've been at least more specific!
*Master Monk Guan opens up the folder and flips through the papers, searching for the one that came to his mind when Kimiko mentioned the Mystery Girl*
Raimundo: What're you looking for?
Master Monk Guan: In the past, we were open to the public for registration. Those who showed promise in their reports received acception into the dojo, where their already high skill can be pushed even further. I remember almost all of them. However, this is what intrigued me the most. *finds a profile and slaps it on the table for the Monks to see*
Name:
Jeri Asher
Eyes: Black
Reason to fight: Defense for the weak; rebellion against bullies
Residence: USA
Nationality: Half-Amazon
etc, etc, more stuff.
Clay: That's a fine profile there but what does this have to do with...
Master Monk Guan: That profile was sent to me in the mid 1980s. Enclosed was a photo of both the girl and her twin sister, also from the same year. *takes out the photo from the folder and shows it to the Monks* Look familiar, Kimiko?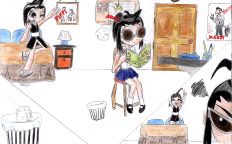 Kimiko: *mouth agape* But...HOW CAN THAT BE?!
Raimundo: Those girls look just like the other girl that was with us!
Master Monk Guan: Jeri was supposed to arrive here in the evening the day she got on board the plane all those years ago. She never got off.
Omi: What do you mean?
Master Monk Guan: I can't quite recall the details, but an accident occured with the plane. All the passangers were killed...including Jeri Asher.
Kimiko: But we saw one of these girls with us! I'm sure of it!
Clay: Maybe it was the other twin?
Master Monk Guan: No. The other twin didn't seem to be interested. From what I knew, the sisters didn't get along with each other very well.
Omi: But if this Jeri girl really was killed, how is she alive?
Kimiko: And more. How is it that she stayed the same after 2 decades?!
End of Chapter 40!
Sorry if I can't make the pic bigger. Consider that the biggest clue yet! If you want a bigger view, go to Griddles' gallery at Deviantart. The whole scene between Shad and Bell in Bell's room (minus the "other half" coming back) courtesy of Tales of Symphonia...again.