You noticed I'm using their original look? Sweet! Guess the "exorbantly large blue eyes" part gave it away. (of course, this takes place a bit of a while before they go to Megasville, so they may or may not stay like that for long) And what do you mean by jumping to conclusions? I think the reason why there were no comments before is that I stayed home on Halloween and therefore got this started very early in the morning. Sorry about that.
And Kris, I may or may not change the format. Sorry. Besides, it's my very first time writing in script format and my first time writing fanfiction in
years.
So once again, sorry if things seem a little rusty.
Added after 5 hours 47 minutes:
Chapter 2: Doodles, not doodoos!
*It was a peaceful time in Townsville. No monster attacks...yet. It's arts and crafts time at Pokey Okes Kindergarden. Everyone is pasting feathers into shapes on paper*
Blossom: Just a few more. *feather shape: Star in a box*
Buttercup: Finished! *feather shape: some formless blob...if that's even possible with pasting feathers*
Bubbles: A hamster! Shad look...*turns to her right and sees that Shad isn't there*
Buttercup: He's over there. *points to table in the corner where Shad hastily retreated after his shaky introduction. He's currently doodling something after being done with his feather art a few minutes back*
Bubbles: Why did he go back?
Buttercup: After what happend earlier I don't blame him. Heh. "Shagaboo!"
Blossom: Buttercup!
Bubbles: I wonder how Shad's feathers turned out. *hovers toward Shad's table once again. He looks up and sees the big eyes from earlier*
Bubbles: Hi!
Shad: Waugh! Don't scare me like that! I'm not feeling well today.
Bubbles: Why?
Shad: Why did you make me do that in front of everyone? I get...um...scared in front of lots of people...alone.
Bubbles: Alone? But Ms. Keane was there.
Shad: She's a teacher. And she made everyone stop laughing.
Bubbles: And I held your hand. Didn't that make you feel a little better?
Shad: *blushes* Uh...Ms. k-k-k-Keane would've done so!
Bubbles: *looks down on Shad's feather art* Hey! What's that? *grabs feather art*
Shad: Hey don't look at that, it's bad!
*paper bears feathers pasted in the shape of flowers with leaves and stems drawn from them with a yellow-green color pencil*
Bubbles: Bad? It dosen't look bad.
Shad: Not by itself. Yours is probably much better.
Bubbles: Yours is so pretty. Why do you say that?
Shad: You're a superhero.
And a cute superhero.
Superheroes are always good at everything. They can do things normal people like me can't do.
Besides, I can't just be friends with a superhero even if I wanted to...but since you girls came along, I felt so...*heart skips a beat*
*gasp*
Bubbles: What's wrong?
Shad: I feel weird.
Bubbles: It's probably from earlier today. That "Shagaboo" thing was pretty funny.
Shad: Humph. *head looks down* I wasn't laughing.
Bubbles: It's this seat. If you sit closer with everyone else you'll get noticed more. Maybe you can sit with me.
Shad: HUHWA?! *blushes*
Me sit with the...Powerpuffs?
Wh-wh-why...NO!
Bubbles: But it'll...
Shad: I said NO! I want to stay in my regular seat!
Bubbles: Fine! *darts to Ms. Keane's desk and whispers something in her ear. Ms. Keane smiles then nods as she scribbles something on her roster as Bubbles glides back to Shad*
Shad: You told on me?
Bubbles: Okay, you win. You can stay here.
Shad: Huh? Already? Fine then.
Bubbles: Gee, it looks as if you wanted a different seat.
Shad: No I didn't. Just leave me alone.
Bubbles: Aw. Maybe this'll cheer you up. *snatches Shad's doodles and runs all around the room*
Shad: Hey! Give me back my doodles!
*Shad chases Bubbles around the room to get back his art, occasionally bumping into a few chairs*
Bubbles: *sticks out tounge* Nya nya.
Shad: This isn't funny! Give those back! *Blossom watches on*
Blossom: What is she doing? And why?
Buttercup: Meh. She always gets like this. Just ignore her.
*after 2 and a half minutes of running, Bubbles finally comes to a halt and puts Shad's drawings on a table. Shad stops to catch his breath, then sits on a chair*
Ms. Keane: Shad! So I guess this means you do want a new seat.
Shad: New seat? *sub-long pause until Shad notices that the table he's sitting at and the drawings on the table...happens to be right where the Powerpuffs are seated* Uh-oh.
Bubbles: Welcome to your new spot.
Shad: You said you didn't tell.
Bubbles: I didn't.
Blossom: Ms. Keane, what just happened?
Ms. Keane: Okay, let me explain. Bubbles wanted me to change your seat so you won't be so lonely, but I couldn't just force you to do so unless you asked yourself. Yet you wouldn't because you're so, well, timid.
Bubbles: So I thought that if I took your doodles and have you chase me around in circles you'd be exausted at the right spot. Ms. Keane said she didn't want to change your seating unless you moved to another seat on your own.
Shad: But you made me get up! I...I didn't sit here on my own.
Ms. Keane: Oh but you did. When you got your drawings back you could've sat at another nearby table after you cought your breath, yet you sat here instead. Hmm. *bends down to Shad's height* Did you want to sit here?
Shad: *blushes* Uh...uh...uh...maybe. But I want my old seat back!
Ms. Keane: Too late. I've already reassigned you. It won't change anytime soon. Enjoy your new spot.
Blossom: Wow. That was really clever. Even for you Bubbles.
Bubbles: Guess this means we're class partners now Shad! *puts arm around Shad's shoulders*
Shad: *burning up* You mean friends?
Buttercup: *takes a look at Shad's art* Hold on. Your feathers look okay, but you got mad and chased Bubbles around for
these?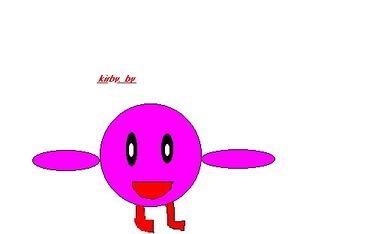 Blossom: Is that Bomberman?
Bubbles: Aw. Look at the pink one.
Shad: Give those back! Those are my doodoos! *entire class turns around*
Ms. Keane: Oh dear.
Buttercup: Doodoos?
*entire class laughs...again*
Shad: NO! I meant doodles, not doodoos!
Blossom: Hehe. Another unconventional slip.
Shad: Auuuuuuuuu.
Chapter 2 end.
Whew. Just started and already I have the longest chapter yet. I didn't mean for it to be this long so next one should be a tad shorter. Commence the comments!