Yo Im new here my name is Rett a.k.a Kite of the Azure Flames. Well im going to make my first post is when the group meets an unknown person. (note: In the posts it is just gonna be 1 .hack//GU character). Now the story begins. try to guess who this person is. (also I may use pictures to explain the details)
-------------------------------------------------------------------------------------
Chapter 1: The Azure Flame has rised. Ally or Enemy?
-In a bleak and colorless realm called the Outer Regions.-
*the area was plained out. No trees no ground color just white everywhere except for a demonic coffin, also a paper seal on it, and a boy was in it.*
???: "....."
*then his eyes begins to open and then an Azure light flashed , then the seal was slowly burn, then he open the coffin and he walk out of it. he was wearing a orange cap shirt and pants, black gloves, metal shoes , and holding 2 multi-blade twin swords. his hair was blue and has triangle markings on both sides ot his face.*
???: "....."
*then flames surrounded him and then he became an azure sphere and teleported from the bleak realm and the realm is now empty.*
-in Megaville in the a white house-
Prof. Utonium: "GIRLS YOUR GONNA BE LATE!"
*then 3 Girls ran down the stair and their were the Townsville formar heroes: the PPG.*
Blossem: "Sorry Proffeser. Hurry up!"
Bubbles: "Right Blossem."
Buttercup: "Right..." * I hate doing math on 1st period *
Prof. Utonium: "Be careful."
PPG: "Right!"
*then they took of to Megaville Elementery.*
-Megaville Elementry-
*at the entrance 2 boys named Dexter & Shad were waiting for the PPG.*
Dexter: "Where are they? Their gonna be late and so are we."
Shad: "Dont worry. they will make it" * i just hope Bubbles gets here on time *
*Then the girls appeared in a flash.*
Blossom: "Sorry we're late Dexter."
Bubbles: "Hey Shaddy!" *glomps Shad*
Shad: *blushed hard* "H-hey Bubbles."
Buttercup: "Love birds"
Dexter: Anyway let's get inside
All: Right!
*They all enter the School but they didn't relized they are being watch by the unknown boy while he was sitting on the roof's edge of the school.*
???: "....."
*then ??? fades away*
Chapter 1 end
Shad: Hey people Im Shad. In the next chapter the unknown boy appeared and challenge us to a fight! and Kite try to not make the story not dull ok
Next Chapter: ??? vs. Shad. Azure against Ebony!
Added after 1 hours 22 minutes:
Chapter 2: ??? vs. Shad. Azure against Ebony
-After school-
Buttercup: "Phew! the Day is over and hello Weekends!"
Bubbles: "Hey have anyone seen Shaddy?"
*they all shake their heads "no" then a student overheard them*
Student: "If you are looking for Shad he's on the playground"
Bubbles: Thanks!
*she headed to the playground*
Blossom: we might as well follow.
Buttercup: Now something is interesting!
Dexter: If you need help just call ok?
Blossom: Sure!
Buttercup: Forget it let's go!
*both follows her*
-the Playground-
*Shad as sitting on a wodden bench*
Shad: "*sigh* It's a little boring to be at a playground when school ended."
*then a sound was made*
Shad: "HUH?! what's that sound?!"
*Looked around then he sees an azure sphere*
Shad: "What is that thing?!"
*then Azure flames burst out the sphere and ??? decended to the ground*
???: "....."
Shad: "Who are you?!"
???: "....."
*then ??? pulled out his multi-blade twin swords*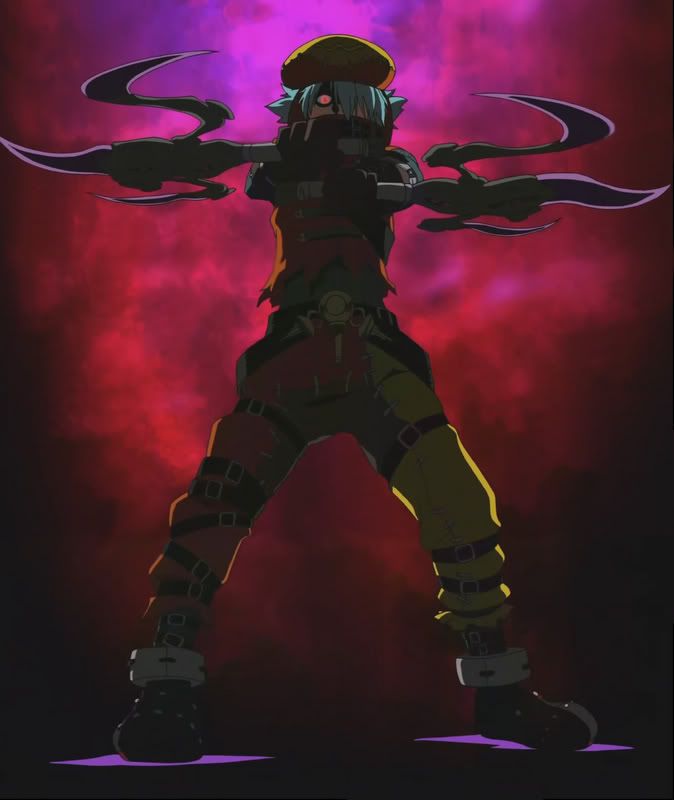 Shad: "A fighter huh? well good."
*his eyes turned red and his shadow was bursting into black flames*
Shad/???: "I WAS GETTING BOARD!!!!"
*He striked at ??? with his fist, but it was blocked by the edge of his sword*
Shad/???: "WTH!"
*then ??? used his other sword and swing it, but Azure flames came out of nowhere and strike Shad*
Shad/???: "oww....Like to use flames huh? Then eat this! EBONY BLAZE!!!"
*then a piller black flame came out of his shadow, headed straight at ??? and hit him, but the flames didn't hurt him and he opened his hand*
Shad/???: NO It can't be-
???: "Azure....Strike....Blaze!"
*A massive piller of blue flames just like Ebony blaze except 10 times harder headed toward Shad, hits him, and was captured*
Shad: what the?!
*then from the Azure flame comes two Azure Flame clones then they strike him then the flame under Shad burst him into the air and ??? and the clones jump and rapidly striked him and striked him to the ground and ??? and clones struck him hard and left a mark under him*
Shad/???: "GAAAAHHHHH!!!!!!!!!"
Bubbles: "SHADDY!"
*??? Looked at the PPG group as Bubbles helps Shad up*
Bubbles: "Shaddy are you ok?!"
*Shad looked at Bubbles with his normal eyes*
Shad: "Yeah im fine."
Bubbles: "Shaddy..."
*Blossom and Buttercup looked at ???*
Blossom: "Who are you?!"
???: "....."
Buttercup: "ANSWER US NOW!!!!"
*then she charged at him*
Chapter 2 end
Buttercup: Yo People! Im Buttercup! In the next chapter i will go on face to face with this guy and man o man is he not gonna be a pushover. and Rett can you tell us the guy's name
Rett: Sure next time Chapter 3: Buttercup vs. ???, The unknown enemy is a Good guy?!