These are some character-concepts for a fan-fighting game idea called "Armageddon-Mutants". A game set in a post-apocalyptic future were all life-forms on Earth have been mutated by a new genetic material called "Bio-Gene X", but these event gave rise to an ancient demon, who decides to host a fighting tournament between a host of strange and crazy mutant combatants, each with their own reasons for entering the event.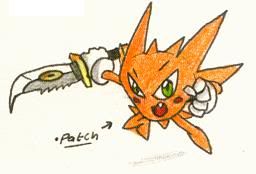 Patch, is a little-guy (not to mention the game's main character), but what he lacks in size, he makes up for that with courage. The leader of a clan on other small-creatures, he enters the tourament to not only protect his people, but also to prove that the little guy could hold his own against even the biggest opponent. His main weapon is a custom-made knife/short-sword.
Patch's fighting style involes speed, spinning like a buzzsaw (much like Sonic the Hedgehog) and attacking opponents with his knife.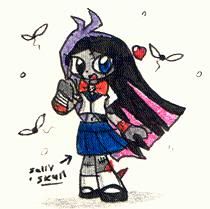 Sally Skull was once a nice & cheerful Japanese high-school student, until the "Bio-Gene X" event, turned her into a mutant that looks like a zombie. Despite her new form, she still as cheerful as she was before, not letting what happened get her down. She entered the tournament just to meet Patch (who she's in love with, because he saved her once).
Sally's fighting moves are basically like Lord Raptor (from the Darkstalkers series), such as using bones ans shape-shifting. She also has the odd skill to control leagons of flies (from normal-sized flies to giant lion-sized mutant flies).
The TK-666.02 is one of the last weapons developed by mankind before the "Bio-Gene X". It is basically an AI controlled battle-tank, designed to be the perfect weapon. The strange thing is that during the event, there was a engineer in the tank, so he was merged the the weapon (so that's why there's a human-skull on top of the tank), but it's human-part doe's not interfere with it's programming to attack any opponent it encounters. It's in the tournament just to test it's weapons. many fear the TK-666.02 because it is a cold, souless machine, without any bit of humanity.
The TK-666.02 bascally attacks with it's giant cannon, a top-mounted machine-gun and twin stinger-missile launchers.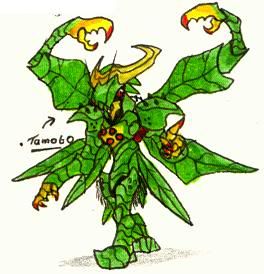 Tamoto, while sometimes outspoken and flamboyant, means business in battle as he's very proud of his skills and doesn't want anyone to look down on him for his good looks. He also respects ladies though he tends to be more than a flighty flirt. He's a Leaf-insect/plant hybrid mutant. His hated enemy is Dai Yamachi (because he killed Tamoto's father), He also has a deep respect for Patch. He has the power to control over pollen, plants and electricity.
Tamoto is the classic ladiesman type of character, basiclly the plant version of Benimaru Nikaido (from the King of Fighters series), right down to the electricity based attacks.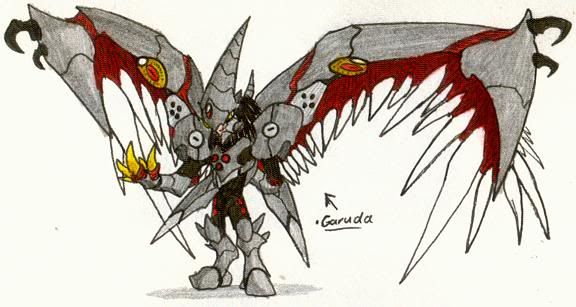 Garuda, an evil, twisted mutant with fanged metal-wings that can also snap like a giant pair of jaws. He plans to take over the world through the tournament killing his opponents so that can be unchallenged. The reason for this is because he was a human mass murderer and crime-boss before the "Bio-Gene X" event.
Garuda is one of the "evil" characters of the game. His fighting style is like a combination of M-Bison (because of his Plasma-Ball attack) and Jedah (because of his shape-shifting wings).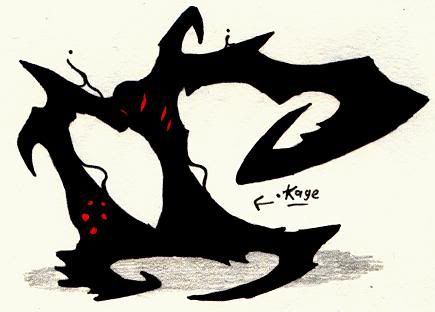 Kage is a living shadow who become any shape he wants. He is a vampire-like creature who hunts the shadows, looking for pray to feed on, which is why he's in the tournament. His origins are not known, nor if he's really a mutant, or if he's a demon.
Kage is a odd shape-shifter style character, like Eddy (from Guilty Gear) or Arakune (from Blazblue), both of which are shadow-based.
Jade was a former girl gang member who was fused with a male insectoid mutant named Mantor. They joined the tournament to find a way to make them two people again. Jade tends to be very agressive and bold, while Mantor's more calm and collective. While Jade fights with knives and chains, Mantor fights with poisonous claws.
I thought I make Jade/Mantor a different with their design to fit with the mutant theme of the game concept. Their style of fighting is like Vega (because of the claws on one hand).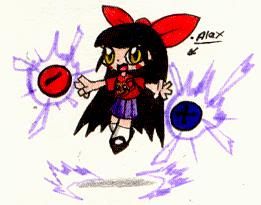 Alex is one of the very few examples of humans gaining powers through the "Bio-Gene X" event. She's a 8 year old girl who has magnetic powers. She may not look like much, but she can hold her own against some very powerful opponents. She entered the tournament to save a parents from Garuda.
Alex is basiclly like Magneto (because of her magnetic based attacks).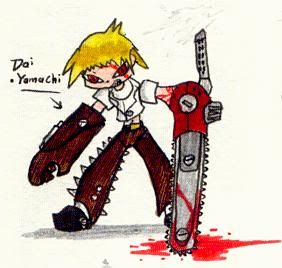 Dai Yamachi is a psychopathic human fused with a chainsaw (which works into some of his attacks), which gives him the nickname "the Saw King". His entry into the tournament is just a way for him to kill more people. A few years ago he fought and killed a leaf-insect/plant mutant named Katsuki (Tamoto's father), so he because Tamoto's hated foe.
I based Dai Yamachi's look & powers of Giriko (from Soul-Eater) because I really like how the guy could use chainsaw-based powers during combat.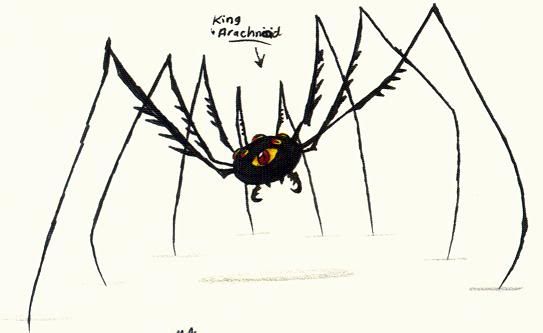 King Arachnoid is a giant spider-like mutant. His reasons for entering the tournament & origiin are not known, but he fights with psychic powers, toxic webbing and spear-like legs.
I based his looks on the Evangelion angel, Matariel. He is not good, nor evil, just a force of nature.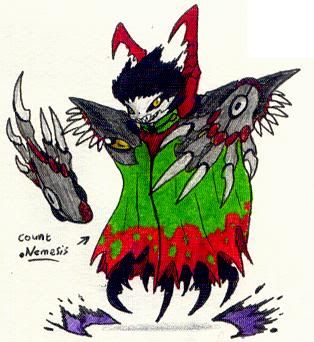 Count Nemesis is a reawaked mutated vampire brought back to life by the "Bio-Gene X" event. His goal in the tournament to to become the king of all creatures of the night, and to feed on the souls of his opponents. He has command of dark magic and E.S.P. He has no legs or arms but he does have metal-claws for hands.
Count Nemesis is the Demitri (from Darkstalkers) of the cast, mostly because he is a vampire.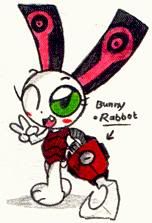 Bunny Rabbot is a cyborg mutant-rabbit with a grappling-hook like weapon for a hand. She's a happy-go-luck kind of girl who loves nature and is from a small tribe of mutant rabbit. She entered the tournament to protect her village from attackers.
Bunny Rabbot's grappling-hook is good for long range combat, it can also convert into things like drills, pincers, hammers and a laser-cannon. She is not to be confused with the Bunny Rabbot from the Sonic Universe.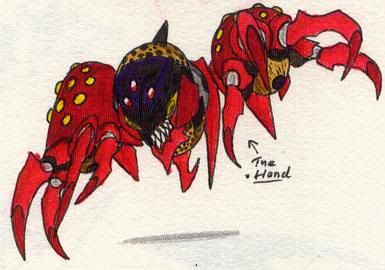 The Hand was an experimental living-weapon that was in development before the "Bio-Gene X" event. Although it acts and fights like an wild animal, it thinks like a super-computer, plus it's from the same AI-controlled weapons project that created the TK-666.02. It's reasons for being in the tournament are as yet unknown.
The Hand is a very intresting design for a fighting game character, in the fact that it's just a giant floating head with two giant clawed-hands. It's fighting style is a series of punches, grappling moves and laser-attacks.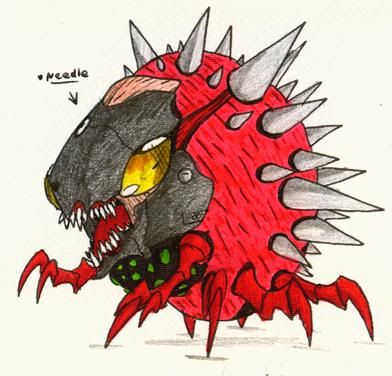 Needle was an experimental living-weapon that was in development before the "Bio-Gene X" event. Unlike the Hand & the TK-666.02 (that are machines), Needle is a experiment in organic genetic engineering (combining many life-forms, including a spider, a venus fly-trap, a piranha and a crocodile, among others), he also has iron-spikes on it's back. It's reasons for being in the tournament are as yet unknown.
Needle is the game's huge-character, like Hulk and Zangief (face it people, you can't have a fighting game without a big-guy in the roster).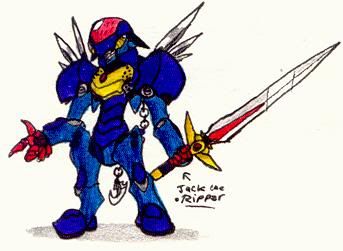 Jack the Ripper, the world's most infamous killer is alive and well. Before the "Bio-Gene X" event, the preserved brain of Jack was placed into a fully fuctional robot body, armed with many kinds of bladed weapons (like knives, hooks and a sword). He entered the tournament to carry on his work of death and murder, and still acts like an English gentlemen. When not in combat, he wears a long black coat and a top-hat.
Jack the Ripper is a character who uses a sword in battle, something I had never put in this game idea yet.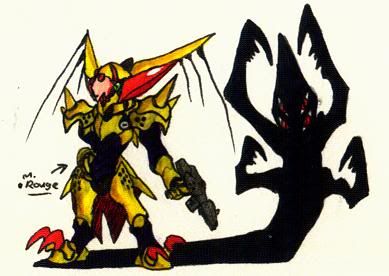 M. Rouge (short for Murder. Rouge) is a master marksmen with a living shadow-like parasite (named Anubis) as his partner. When fighting an opponent, Anubis can appear out of nowhere to grab them, then M. Rouge can take them out with his powerful pistol (called the Black Widow). M. Rouge entered the tournament to seek out one target that is in his sights, Garuda.
M. Rouge is basiclly a combination of both Alessi (because of his living shadow) and Hol Horse (because of his gun-based fighting style), both of which are from JoJo's Bizarre Adventure.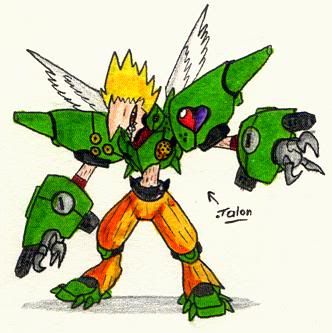 Talon is a cybernetic bird-like mutant who works as a professional hitman to the rich & powerful. His main weapons are his metal claws and twin wrist-mounted machine-guns and is an expert in hand-to-hand combat. He entered the tournament because his current target is Count Nemesis.
Talon's fighting style is abit like mix between Deadpool & Dante (both from Marvel vs. Capcom 3), because he uses a mix of multiple-hit combos and gun-based attacks.
More fighters coming soon...