Today, I had a touch of nostalgia, so I did this picture of a little superhero comic book/fighting game style story idea I had when I started at college in 2001.
"Fighter-X: Battle of the Hypermutants" is about X, a young 15 year old kid who has superhero powers, including super-speed, superhuman strength and laser eye-beams (sort of a manga-style Superman). He is joined by a small and very cute girl from the magical world named Makimi who has a crush on him, who becomes his sidekick.
Among his allies are Max Darma, a former british thief turned fighting monk who can stretch his limbs and can make his body into any shape he wants. Zano, a 20 year old Japanese warrior with the fabled skills of the ninja (walking on water, disappearing etc) and fights with a kanata. He has a main rival/ally named Genma, an insectoid mutant with bird-wings, he started out as a villain but learns that his former boss, Beelzebub is evil. His main fighting style is called "Chaos-Light Fist" and is X's most skilled opponent and most trusted ally.
The Villains X fights are mostly ether aliens, evil Hypermutants and demons. Some of X's main enemies are Beelzebub, the king of the underworld is a powerful beetle-like devil who plans to send all mortals to Hell. He has two deadly cyborg living-weapons as his servents, Sakuru, an insect-like weapon-type cyborg that can fly and attack with long & close range weapons and Rai-On, a close-range attack-type cyborg who's main weapons are razor-sharp claws. The other main villain is one of my favourite characters, Destruction. This version only has an armored torso and head, while the rest of his body is pure shadow. His minions are Samantha (from Medabots), who I made into a vampiric tomboy who seduces humans (both sexes) then sucks their blood, and Bloda, a humanoid spider-like monster who is in love with Samantha and is Destruction's loyle lapdog who obeys his masters wishes.
X meets other heroes and villains along the way, testing his skills and battling the forces of evil to relise his dream to become one of the greatest superheroes in history.
Page creation time: 0.0128 seconds | Archive
_________________
The Bringer of death and chaos to the World of humans!!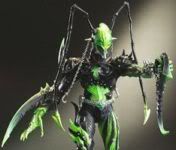 "Why so Serious?"