W00000000000000000000000T W0000000000000T I STILL HEREZ YAYZ 4OR MEYH.
I JUST finished scripting for the first chapter of Be My Angel. And all I can really do concerning it right now is jot down some refference art and back stories and shiz and make you look at them
because my mommy won't ;~;
Next time around- so I don't have a long period of inactivity again- I'll throw out some backstories and in-between shiz and go as far as I can without spoiling anything. Right now, I have the- re-done quite a few times- sketches for our main characters. Timmerz and Pooferz.
AHAHAHAHAHAA GO AHEAD AND HATE ME FOR THE ABSURD BISHONENIZATION OF TIMMY I KNO I KNO I KNO I'M TERRIBLE AHAHAHAHAHAAHAHAHAAAAAAA!
But yeah.
I HAVE LOGIC FOR IT. I combined the grown-up Timmy designs for Channel Chasers Timmy and Grow Up Timmy Turner.
Alec Baldwin lovechild with Drake Bell with some shaggy post-apocalyptic hair.
Buff & baby faced.
ITMAKESSENSEPLEASEDON'THATEMEIHAVEABANDONMENTISSUESGYAAAAAAHCK
I actually him down alot then what I originally had planned. Made his face gentler and lessened his mucles. He's not actually supposed to be huge. He hasn't technically been WORKING OUT per say- All those muscles are from general labor and running for his life.
Oh, and that leather jacket is actually something I drew Cosmo in once. I wanted at least one doodle where he was covored up. But he's dressed light because the story'll be starting in the middle of an apocalyptic summer and it's hella hawt.
The chibi in the corner is just what I could hear Timmy singing in the back of my head. I think he'd be proud of himself. Cute little vain baby he is.
Most of his tattoo's are actually comic relief. I'll drop little jokes all over throughout the comic concerning the drunken angst that led to each of them. It's just a little silly thing.
AS FOR these tattoos- and two scars littering Timmerz:
1. Maybe one of the reasons I chose to do this is just how awesome the opening page that showcases this thing is. Basically, the Anti-fairies have taken all of the regular fairies magic and it's transformed them into terrifying little black winged animalictic monsters. They eventually invade the human world and religious fanatics everywhere declared them demons and proof that the worlds terror was the final judgement. Groups of people, eventually of every creed and reason, formed together as squadrons of warriors against these demons. Called the Holy Redeemers. Timmy becomes a member for a while, so that he could throw a few shots at them damned Anti-fairies who started all this. He's dropped out shortly before the start of chapter 1. Most Holy Redeemers have kick-ass cross tattoos symbolizing their membership and alliance.
2. A thug who Timmy'd screwed over once along the way tracks him down and puts an axe into his shoulder. This crippled Timmy for a time where he was nearly about to lose the arm. Put Poof took it as time to prove his worth and nurse him back into fitness. Plenty of bonding time for these two during that one.
3. Happened earlier and not nearly as bad as the last scar. Despite it being from a Anti-fairy impaling him through-and-through. It missed all vitals and Timz was miraculously fine when he'd stopped the bleeding. As a side note, the duo was more thoroughly crippled by Poof's leg being broken after being thrown into the ground after hopping onto the Anti-fairy to get him off Timmy.
4. A normally concealed heart tattoo with the inital's 'T T' in it. Hoooow mysteeeeeriooous.
5. One of Timmy's firsts- it's a pink-and-green butterfly. Awwwwww~
6. A tribal band with more backstory then I had once intended- When Timmy was about fifteen they were trying to survive in the woods. In a sad, quirky tribute to Last of Us- they encounter a cannibalistic cult of depraved civilians. Out of need of shelter in the middle of winter, Timmy joined them. It was only for the winter and Timmy managed to nab quite a few animal meals so he didn't stoop to their 'only option' ways. He also passed 4-year-old Poof off as a girl so he would get special treatment. He was sick for most of the winter and would have been an option for dinner, otherwise. There was an incident at the end when Timmy tried to defect, the leader knew he was against their ways and held a grudge. (Even though Timmy'd provided quite a few meals for them. These people weren't mentally well, after all. All religious nuts who refused to speak with the devasted and increasingly corrupt world outside) He tried to keep Poof with them, but one woman who was also with the group out of neccisity assisted their escape. It still created a large stir that included a few others to defect from the group. Timmy got the band done in refference to the ribbons the cult members war to remind himself of the means some people go to to survive doesn't always reflect their true intentions.... And deep shit like that.
7. A goofy nostalgic robot panel pad on his forearm. Half out of silly rememberance of childhood robot and video game fun days and half out of how roboticly capable he's become.
8. CRIMSOOOOOONCHIIIIIIIIN.
9. He's been whacked around so many times he thought it'd be cute to get stitches tattoo's. His huge scars are the only ones that are really visible.
10. It's a tattoo of a ring, Littered with the initials: C.W.P.S.T.M.D.
11. Same as the ring, it's harder to lose skin then jewelery. It's a dog tag with all of Timmy's information. "Take care of the boy" is printed at the very bottom.
AND FINALLY: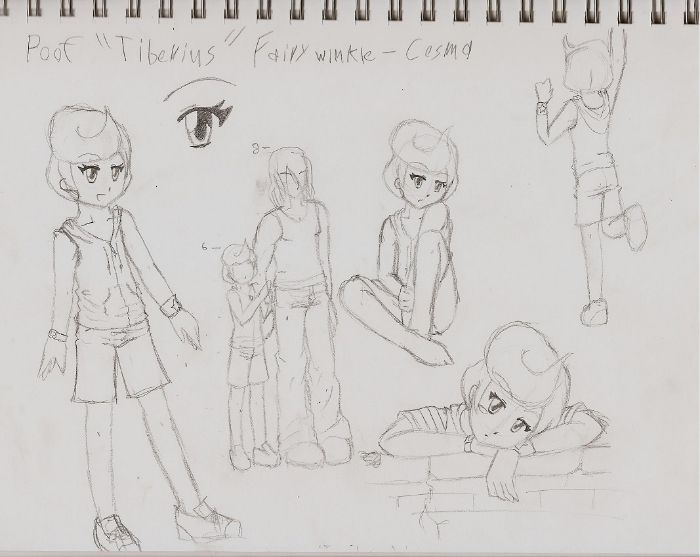 Poof's name is going to be Tiberius throughout the story. Because ten-year-old Timmy logicates that Tiberius is more human-sounding then Poof. The generally used name is Ti. Though. Like Tie, only I can't bring myself to put an E there..... I unno' I'm silly Idon'tknowwhichispropergrammerdonicknameshavepropergrammar?waithowdoyouspellgram-
Anyway.
The main story jumps ahead to ten years in the future so Poof is ten and Timmy hits twenty-one. Which isn't a long time, when you think about it. Have I mentioned the story is like Last of Us? The stories alittle like Last of Us. Though it isn't as awesome as Last of Us. Has anyone played Last of Us? I haven't. I'm poor.
My Mom suddenly decided to throw out an actual comment and declared there was poop on his head.....
IT'S CUTE.
HIS LITTLE 'P' CURL FELL OVER. IT'S CUTE. I SPENT HOURS TRYING TO GET THAT RIGHT. I'MNOTCHANGINGITNO.
So, yeah. Telluwat. When I finish the scripting for chapter 2, I'll put up the leading-to stories for everybody. Basically backstory for things that occur but don't have the relevence to be directly addressed in the story.
Yeah.
SO THAT'S IT FOR FOP DOUJINSHI UPDATE.
NOW I THROW IRRELEVENT FANART IN YOUR FACE.
IN YO' FACE.
XDDDDD
So yea.
I've also been doing storyboards for a short Hetalia Doujinshi I'm doing. And since Hetalia is the main series all my other Doujin's and fanwork will be of, I've been doing lotz o doodles and it's all I really got right now. 97% of my notebook paper has gone to practicing and honing my skills so there isn't much left over for just regular pictures.
So yea.
But here's somethin' special:
Here's some doodles I did showing off the styles I do- well, 'Styles' is used loosely.
In my default generic style, that I'm doing my FOP Doujinshi in- is Obsessive Freaks little demon hybrid Zyuu. Cute little bugger is a preteen in this though he just turned six in Freaky's comic. Bloody well damn he's cute. Wittle Incubus-Dharem baby he is~~~
Then it's a little chibi 12-year-old Alfie from Hetalia in how close I can get to the APH style. I still gotta get that blobby kinda shading right. I actually completely forgot about it and tried to re-do the shade.
I had plenty of room for a third doodle and was going to do one of the Re:Kinder kids until I finally thought of a style I developed that actually looked substantally different. This one's got plenty of backstory to it-
So my step-brother has a great idea for a kick-ass morbid little Manga idea, called "Graveyard Shift." The story is that the Grim Reaper holds an annual battle royale tornament in a graveyard pitting a bunch of dead people against eachother and the last one standing gets to live again. The catch this time around is that a group of kids were in the graveyard when the battle starts and they now have to participate, they all get hyped up powers and shiz to help in the battle and stuff like that.
Among the main zombies. (He hates me calling them that. XD) There's a Death Clown named Pierro. A man-killing serial murderess with a dark past. A blind swordswoman. A gigantic schizophrenic homicidal maniac who couldn't be killed by the electric chair so he had to rot in a prison cell until his brain exploded with cancer. And finally, who I've pictured in the cartoony-Soul Eater style requested. A five-year old evil genius who slaughtered his entire family and then quite un-geniusly starved to death.
Yeah.
And if you're wondering, yes, my step-brother has been perscribed several medications.
He moved so that project is shelved right now. But I hope we get to work on it again because I'd designed all the characters and it's kick ass and I love them. 8D
He wanted a cartoony, exaggeratingly spastic style that was still regonizable as anime, so I churned out a ultra-deformed Soul Eater-esque style that works rather well.
The designs for the Death Clown still haunt me at night tho.
He never got around to naming all the characters so I nicknamed the five-year old Dex because Dexters Lab is what I thought of when I thought 'Chibi evil genius'. Shyea. I love them elephantitis cankles.
AAAAAAAAAAAAAAAAAAAAND-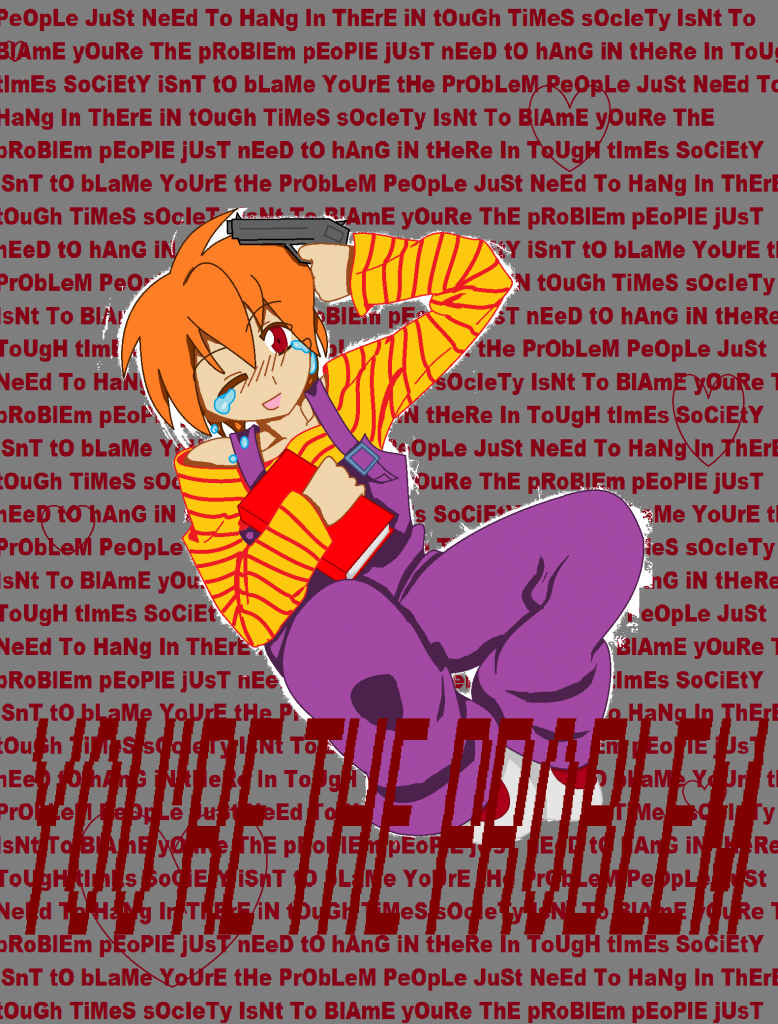 I DIDN'T GET TO PUT A RE:KINDER KID IN THE STYLE DOODLES SO I NEEDED TO DRAW YUUICHI AWWWWWWW LOOKIT THE CUTE LITTLE SUICIDAL EIGHT-YEAR-OLD.
BE KINDER BITCHES. EVERY TIME YOU'RE A DICK, A KID UNDER TEN SHOOTS HIMSELF.
jk obviously but you should really play re:kinder it'll make your heart sad.
or probably not since there's a good chance you're not a pussybitch like me.
He's kinda just saluting with the gun. I couldn't get his arm to be naturally long enough for the barrel to be at his head without lowering the whole arm- and then he looked too curled in on himself.
He wants you to KNOW he's gonna do it after all. It's the "highlight of the show!"
.....
Re:Kinder is a sad game....
XD I totally wanted to put up a short, cute comic strip to make up for taking so long, and having so little- But that was taking even more time and I got LOOOOOOTS a shit ta' do.