Mon Oct 24, 2011 2:45 pm
Okay, when I use to be a really good drawer when I was little, that I was so good that every parent's meeting night at the primary school, first thing my art teacher would do was look for my parents so he could rant on about me. Sad thing is that I stopped drawing and haven't been for ten years.
But I've decided to regain my skills and have only been drawing for three weeks so far. Been using lots of tutorials, tips and help. This isn't to say I could use a lot more and I ain't overconfident or anything. But am glad to say that I still have the skills I abandoned long ago.
Anyways here's a one artwork I decided to show here of a character chart that I plan to use for a webcomic sometime in the future (Not sure how long it'll take though
)
Also thought to share my Deviantart account
http://walrusm3.deviantart.com/
stooie74 wrote:I really hate to be the one who tells you all this. But I'm afraid that Obsessive Freak has lost the battle against cancer.
viewtopic.php?f=5&t=51102&p=3522599#p3522573
Mon Oct 24, 2011 3:40 pm
You might want to study anatomy.
Mostly because I can't tell if they're human or not.
I'm not saying you should quit but instead study the human form before trying to draw anime.
Tue Oct 25, 2011 11:39 am
I agree with Morpheus. A lot of people try to jump into anime or copy the style of an artist they admire, whithout first learning the basics. You should look into anatomy, and learn proportions, joints etc. it will help a lot down the road.
Tue Oct 25, 2011 1:02 pm
Well I hope this doesn't sound snippy or rude or anything
, but I've already been doing the basics is you don't mind me saying. I bought a bunch of tutorial drawing books and been working on them. The fact is that I do have trouble with things like curves, such as making them look to femine or brawny. I'm also having difficulty with finding an easy way to do head shapes and don't ask about the eyes. If you also look a little close, you can tell I've been trying to do elbows.
I've just been advancing on ahead though as I felt if I challenged myself if enough, it would push what I needed and focus on the problems I have. I guess you could say its working.
Overall, thanks for the help and I appreciated your time.
Tue Oct 25, 2011 1:50 pm
What books did you buy?
Tue Oct 25, 2011 2:07 pm
Manga for the Beginner: Shoujo
The Complete book of drawing Manga
Draw your own All Basics Manga
And I even used the Manga university site
And yes I know what your all thinking
But these books do come with proportion and anatomony chapters
Tue Oct 25, 2011 2:13 pm
Never learn to draw from anatomy from a manga book.
Study loomis, hogarth, bridgman.
That and lots of practice.
Tue Oct 25, 2011 6:43 pm
Or you could always practice from drawing your friends/family or from photographs...but before you jump into anime, you need to have at least a basic understanding of the human body. It really does help. Though manga is a bit different in proportion from realistic art (usually the limbs are a little longer, and of course the head), I have found it really is a useful skill to have. And if you ever decide to try a different style, knowing basic anatomy and technique will help you get used to the new style without having to start all over.
Tue Oct 25, 2011 9:57 pm
TL;DR if you want to make the best out of drawing manga, learn the basics in realism first.
Everyone has potential so keep pushing for the best
Wed Oct 26, 2011 6:39 am
Right, sorry then if this is a little more harder to see, still using my Ipod to take pics and I didn't outline with pen, because I wanted to show what I've already learnt from Atomyy just now and what I use to draw bodies.
And here's more examples of some of my work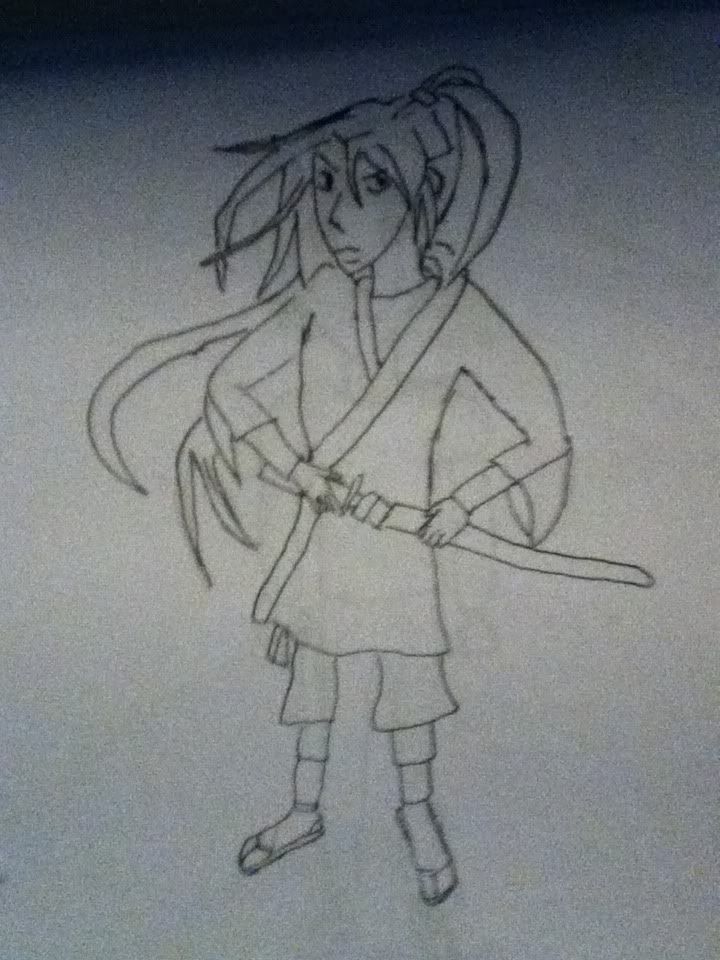 Wed Oct 26, 2011 7:04 am
I can see you draw Atomyy very well.
But if you want to draw
anatomy
you're going to have to work a bit harder.
Wed Oct 26, 2011 7:13 am
Thanks, it's great to hear you say that and give your opinion, considering that your first one was arguably a bit harsh (can't tell if they're human or not, after all), not that I cried about it, but you can see what I'm getting at when you compare it to what you said just now
. That drawing at the top after all was me mostly trying to get the eyes right, I have a real problem on drawing eyes and I guess I was maybe a bit too frantic on trying to fit them all in the same picture.
But hope practising six hours a day already counts as working hard
Wed Oct 26, 2011 7:22 am
One of your main problems is the face.
I can't tell if the women are women or trannys.
http://www.placidchaos.com/AM/index.php ... &tb=1&pb=1
But it's good to know you're practicing.
Sat Oct 29, 2011 2:22 pm
Okay, I've been getting a lot of help and been doing a lot of practice, who there are considerable difference in my drawings. These are characters from above these two, due to the fact I was trying to get emo eyes right and try and make my females more distinctive.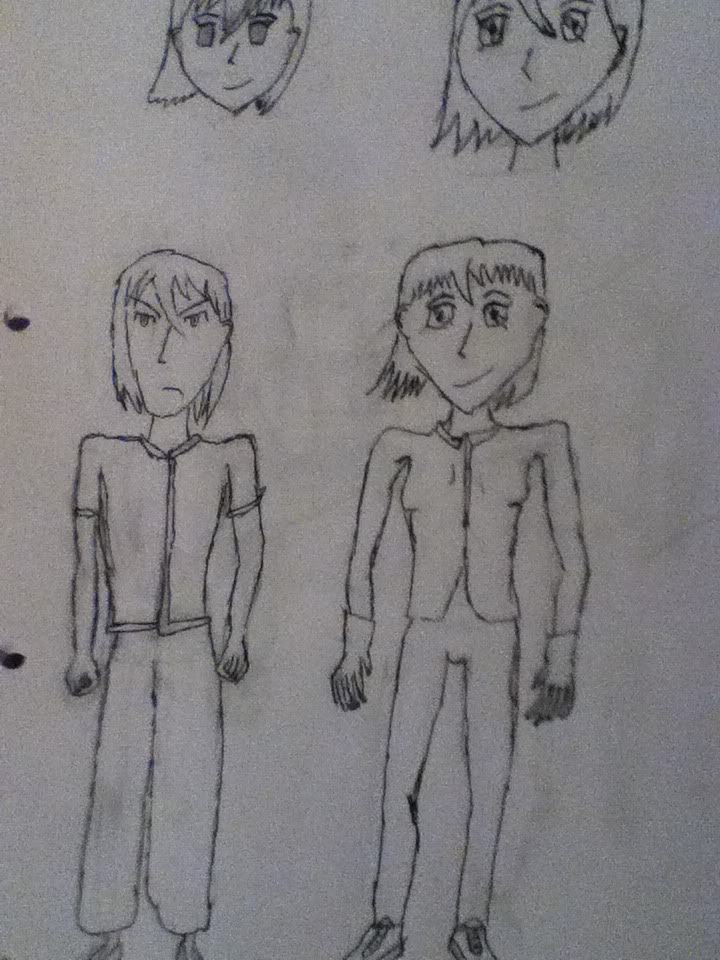 Different characters, but also intended for the webcomic, if I ever establish the skills to do it.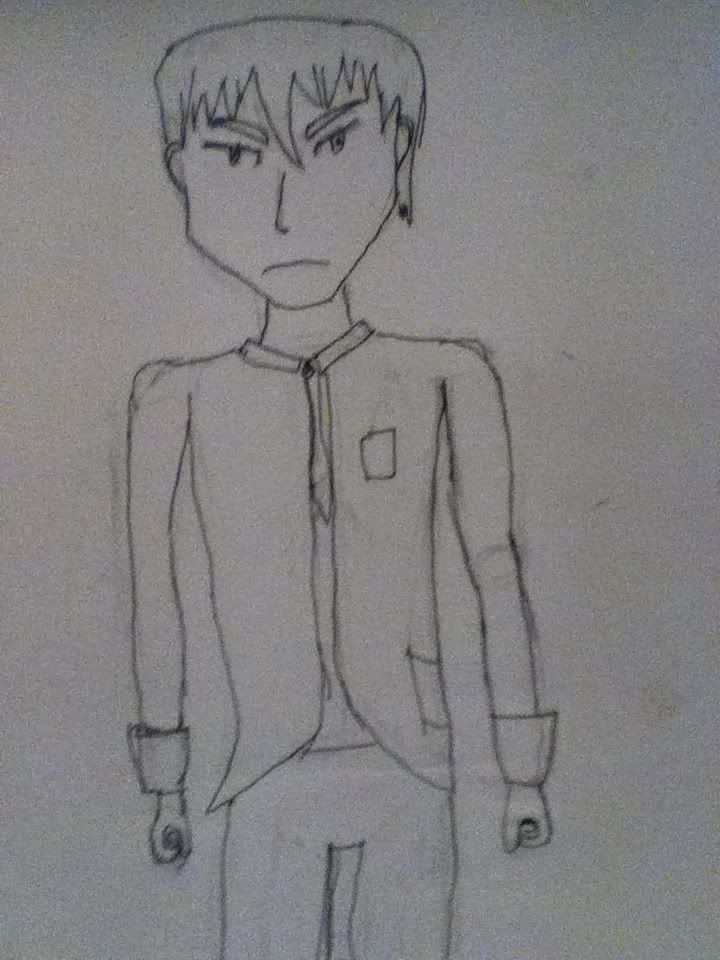 Sat Oct 29, 2011 3:14 pm
I will once I have the 'money' and I live on an island, so even then I'd have to wait for it to arrived. Can't expect me to hold off my practice until then can ye?
Sat Oct 29, 2011 3:45 pm
Click on the picture.
They're free pdfs.
Download them.
Then use Adobe to read them.
Sat Oct 29, 2011 4:01 pm
Oh... right... didn't notice - I guess a thanks and sorry is in the process of this
Sat Oct 29, 2011 4:10 pm
Always nice to see an aspiring artist's work... If you pay attention to Morpheus's advice and links, I can see all of this going somewhere someday, especially if you just took up drawing again barely a month ago.
Sat Oct 29, 2011 4:19 pm
Thank you, it's good to hear that.
Wed Nov 02, 2011 4:27 pm
Just as proof I've been following the exercises and reading Andrew Loomis' work. (I'm still in progress though, so don't be snippy)
http://i1233.photobucket.com/albums/ff3 ... G_0126.jpg
http://i1233.photobucket.com/albums/ff3 ... G_0127.jpg
http://i1233.photobucket.com/albums/ff3 ... G_0128.jpg
http://i1233.photobucket.com/albums/ff3 ... G_0129.jpg
http://i1233.photobucket.com/albums/ff3 ... G_0130.jpg
http://i1233.photobucket.com/albums/ff3 ... G_0131.jpg
Sketches of my friends that I did for fun, while I was waiting on them and then placed costumes over them of the wargame we play at our club.
http://i1233.photobucket.com/albums/ff3 ... G_0120.jpg
http://i1233.photobucket.com/albums/ff3 ... G_0121.jpg
http://i1233.photobucket.com/albums/ff3 ... G_0122.jpg
http://i1233.photobucket.com/albums/ff3 ... G_0119.jpg
http://i1233.photobucket.com/albums/ff3 ... G_0125.jpg
http://i1233.photobucket.com/albums/ff3 ... G_0134.jpg
http://i1233.photobucket.com/albums/ff3 ... G_0135.jpg
(I didn't manage to capture what they were saying but if you're that curious the three guys in corner go 'What's up with Denianth?', 'I think it's the Black rage?' 'That's not the Black rage - I don't even want to know what that is)
And some more character concepts of the webcomic I one day hope to be able to do, which I only just drew today.
http://i1233.photobucket.com/albums/ff3 ... G_0136.jpg
http://i1233.photobucket.com/albums/ff3 ... G_0137.jpg
(The one of the bottom is meant to be a gal, but the car was rocky sooo I couldn't get the chest right, but I can take blame for the face, Loomis hasn't been helpful for drawing female faces... even though he yammers on a bit about them)
Sat May 25, 2013 3:03 pm
Been a really long time since I last showed me art! Wasn't expecting it to have been this long to be honest!
Anyways, reason why I've started showing my face again (Really can't believe it's been that long since) is that I've started doing a comic and the reason for that is that I've been doing my traditional art for more than a year and a half and wanted to started moving more onto my digital art. However I have the clunkish machine the sitterroom that I have to carry my laptop to and the process takes forever (For me, I'm an impatient git
). So yes the way I found to motivate me was to begin doing a comic. So while it seems like I've already started running, sometimes the way is to jump right into it.
Hopefully people will forgive the amateurish art and appreciate the story and efforts. The story is based on a prequel to a novel I'm writing by the way. So yes, hopefully people here will be able to enjoy 'The tale of Mizuka'.
Sat May 25, 2013 7:49 pm
You've improved significantly.
But the positioning of the eyes need abit more work.
You might try to start working on your scenery as well.
Sat May 25, 2013 8:24 pm
Just looking at old posts in comparison to new ones, your improvement is quite nice.
The digital work really makes everything look a lot nicer, and you're using some more natural posing.

Nice work.
Sun May 26, 2013 4:14 am
Thanks, practice has done wonders in a year and a half. And thanks for the tips, I was wondering what I was needing to work on most.