Fri Jan 13, 2012 12:58 am
@Eddie
Thanks :)
@Hana
Thank you! I hope you had a wonderful start to a new year with your loved ones too (:
@Pwned
Yep... kinda sad that I can't convince my house-mate to watch it with me though :b
----
DUMP!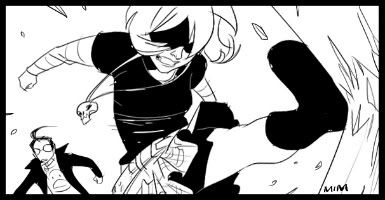 They needed a way out.
(Ugh... her leg, me no likey.)
Fri Jan 13, 2012 5:01 am
lol, yeah. It had a good run.

Also, the word "BOOT!" comes to mind to shout out when I see that pic.
Sat Jan 14, 2012 10:37 pm
You're art is as vivid as always, Mim. :D
There is a little something that's odd about her leg... but nevertheless the overall sketch looks great. I always have trouble emphasizing a character's actions. >_<
Mon Jan 16, 2012 3:34 am
Thanks guys :) I always have difficulty with legs. Here's hoping I'll get better at drawing them.
---
DUMP!
This is going to hurt.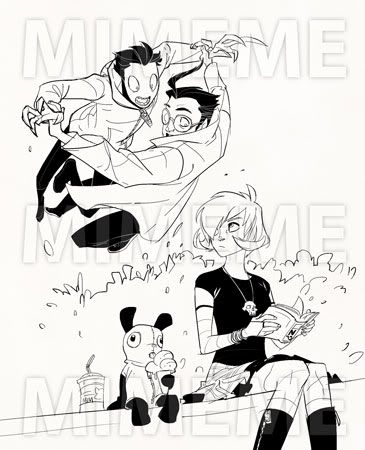 Mon Jan 16, 2012 3:44 am
Well.. despite you saying you have difficulty with legs. You are mighty fine with the end result.
Mon Jan 16, 2012 11:25 am
Thank you (: I'm really hoping the end result is pretty clear.
A follow up to the previous artwork!
Mon Jan 16, 2012 12:15 pm
Ouch.
I felt that. She is very violent. o.O
Also:
Hope you get well.
Grivous.
Tue Jan 17, 2012 8:00 pm
Das boot!
Tue Jan 17, 2012 8:05 pm
Still amazing.
Tue Jan 17, 2012 10:40 pm
Mimeme wrote:----

DUMP!

They needed a way out.

(Ugh... her leg, me no likey.)
I am impressive that none made a joke with
this scene
yet.
Grivous.
Thu Jan 19, 2012 10:49 am
Hah hah! Actually, I was thinking more of
this
:b
*ANNOUNCEMENT*
In light of the recent
art thefts committed against my friends
, I decided that I should step out of anonymity (even if most of you may have figured me out by now). This bothers me, as I really value my privacy, but I also value my artworks no matter how big, small or insignificant it may be. This is also to avoid being called a thief since I have two other existing art accounts.
My main art blog would be
KUSUT MASAI
, whereas my main DA page is
here
. I will still keep my
m1m3m3 DA account
to stash in my fanart stuffs, I suppose.
Be seeing you guys there
Fri Jan 20, 2012 4:05 am
I'll be floating around and lurking.
Fri Jan 20, 2012 2:05 pm
Be seeing you, Soth :)
Some love for Tak:
You can find the coloured version
here
:)
Sat Jan 21, 2012 9:17 am
A metal bat.

Ouch for the one whom will receive it in a painful way.

Grivous.
Sat Jan 21, 2012 3:13 pm
@Grivous
Luckily, not us ;)
A bit more of Tak!
I'm sure most of you are tired of my IZ fan arts by now... so sorry about that ): I haven't worked on my personal Invader Zim project (since I have separate jobs running at the same time), so I'm letting it bleed out of my systems. I hope you all can bear with me.
Meanwhile, head over to my other art blogs if you want to see non-fan art stuffs :)
Sat Jan 21, 2012 3:49 pm
It's normal we're being invaded by
Invader
Zim's fanart.
He needs to conquer something, even if it is a
spoon
.
And that pink light from her eyes are nice... and very suspicious.
Will she launch laser beams from her eyes?
Also,
Wanna. See. Derpy's. Fanart.
Grivous.
Sun Jan 22, 2012 10:15 am
Uhu! Derpy, the (unexpected) new star.

Keep testing the program, you will win it victoriously.

Grivous.
Mon Jan 23, 2012 4:16 am
Thanks, Grivous :)
I was watching my husband play Arkham City; and when the thugs surrounded Catwoman, a sudden memory just hit me: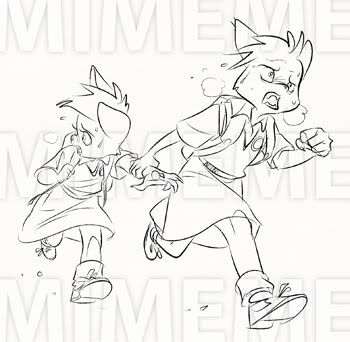 My sister and I went to the same all-girls primary school. During that time, primary 1-3 is separated from the main building where primary 4-6 were placed in. After school, my sister and I always walk there to meet up with our mom, who at that time, was teaching in the main building, so we could all go home together. A huge church separated the two buildings, and an all-boys' school was directly next to it. My sister and I had to run for our lives when a group of 12-year-old boys thought it would be fun to catch and pummel a pair of 9 and 7-year-old girls with asthma.
We couldn't run fast enough (especially with the heavy school bags strapped on). Luckily, a security guard who was patrolling the grounds rounded the corner just before they could touch us. Even after that incident, we still had to take that route everyday.
It's strange how a video game could trigger a blocked memory.
Mon Jan 23, 2012 11:25 am
It's too bad that guard didn't give them DAS BOOT.
Mon Jan 23, 2012 11:27 am
That would have been funny XD
Mon Jan 23, 2012 12:58 pm
Mon Jan 23, 2012 1:21 pm
Never fear...

... 'CAUSE SOTH IS A ROYAL GUARD!

Grivous.
Mon Jan 23, 2012 4:27 pm
Looks great Mime, Soth as Irken, love it.