@Alopunk
Thanks *hugs* But I tell you what - you give me Christian Bale, and I swear everything will be tip-top fine again :D
@Soth
I've been coming down with the cold and flu lately for the past 1 and a half month (I rarely ever fall sick; so when I do, it is quite bad). It's simmering down to the coughs now, so it's all good.
@Pwned
Thanks :) Now that brings us to the next dump!
---
DUMP!
My sister was amused by the
pony family
I did a while back, so she asked for a pony design. While I was at it, I gave some of
Quicksilver
's buddies a go: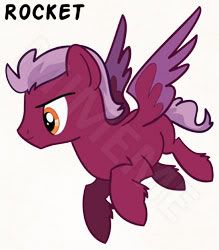 Eeee'yup.
No ideas for their cutie marks yet. I'm not happy with TC, but oh well... I don't think I'll ever use them (aside for portfolio purposes).
Sketches of the young colts (not finalized yet):
Rocket (top), (Bottom: L-R) Maelstrom, Turbo Charge, Lucky Strike (the youngest), and Red Ace (Lucky's cousin and head of the group).
Rocket's original colour:
I feel that this is better than the final version, but there is always room for adjustments once we get to the line-ups.