@Pwned
He has seen it, don't worry :)
---
DUMP!Pony family: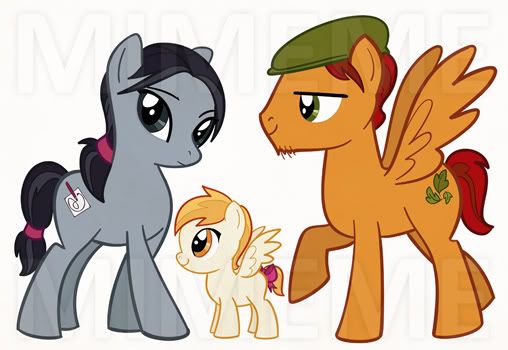 I was testing Adobe Illustrator for a personal project, and
when this came up
, I jumped at the chance to try it out. After a while, I decided to like the pony, so gave her a family of her own. Her husband's
Samhain
, and her little foal is
Radiance
(whom I am very sure will one day have a sun for a cutie mark). No idea what I should name the grey mare herself though. *shrug*
Template is traced from
HERE (for the foal and stallion)
and
HERE (for the mare)
.
Say... Is there ever a rule about mixed marriages in the MLP universe (and their offspring)?
---
That's it for now, and I will be away for a few days to finish a project. See ya all soon!