Wed May 05, 2010 11:20 am
So I've made it a goal for the last year of my life to improve my drawing from nothing to as far as humanly possible. I figured out an effective way of getting better and stuck to it for a while.
Essentially, I had thousands of MTG cards lying around so I started drawing the art in larger format.
As you can see (these are in order from when I started to the most recent):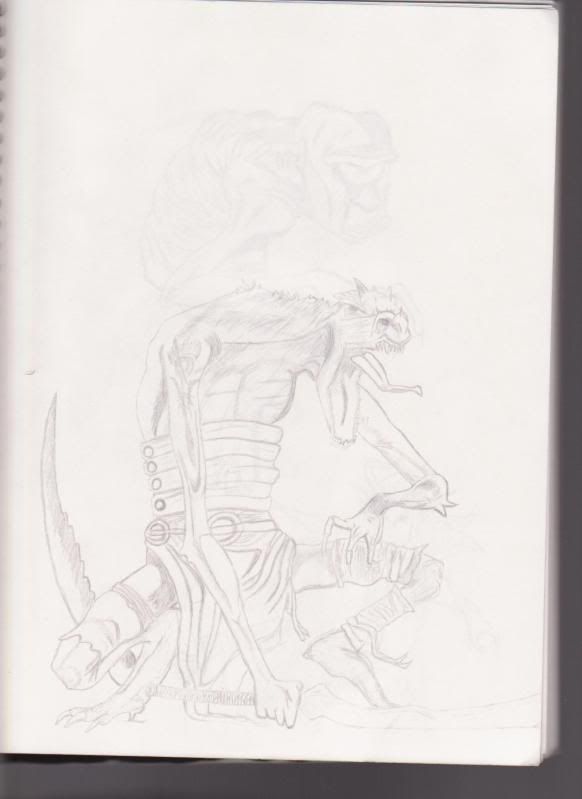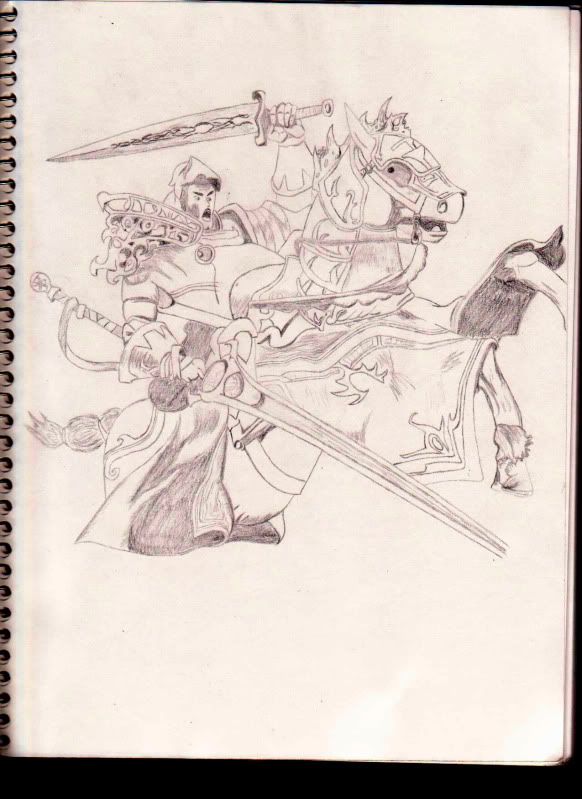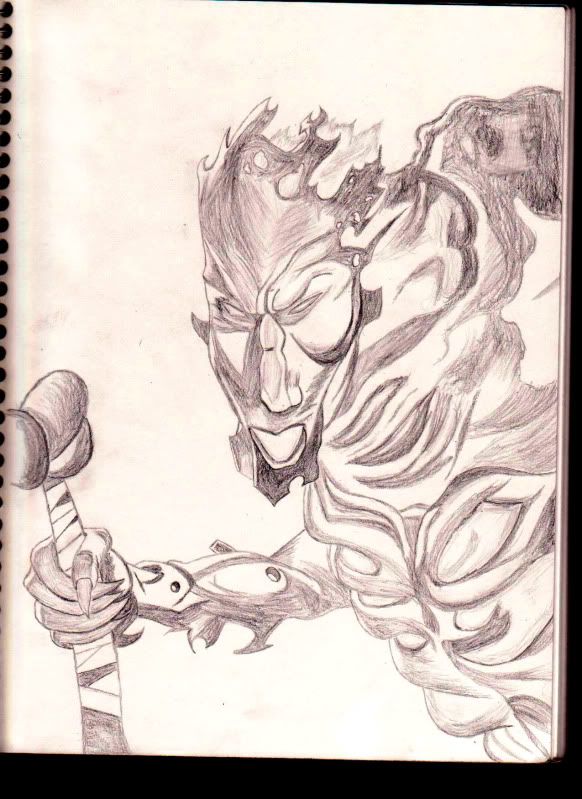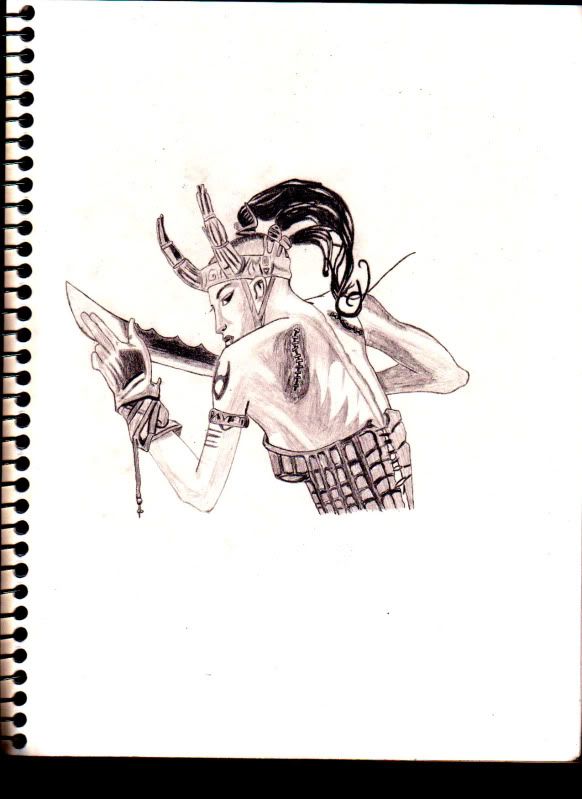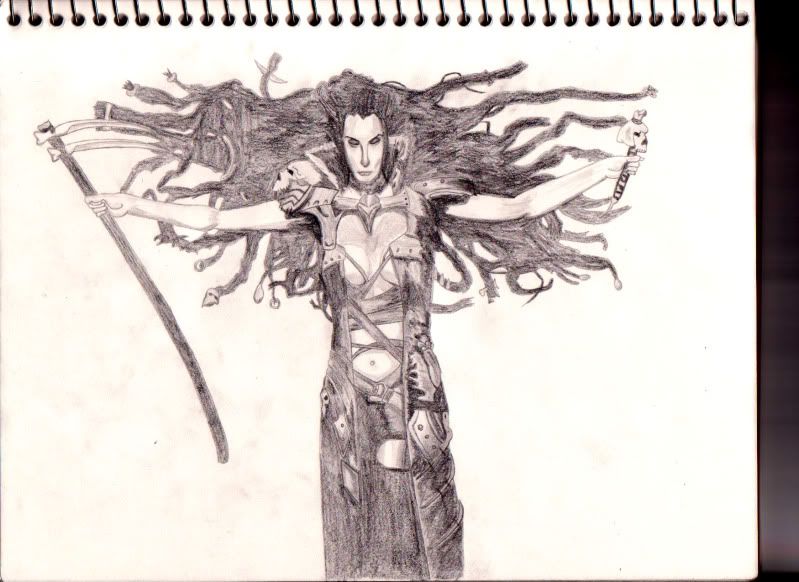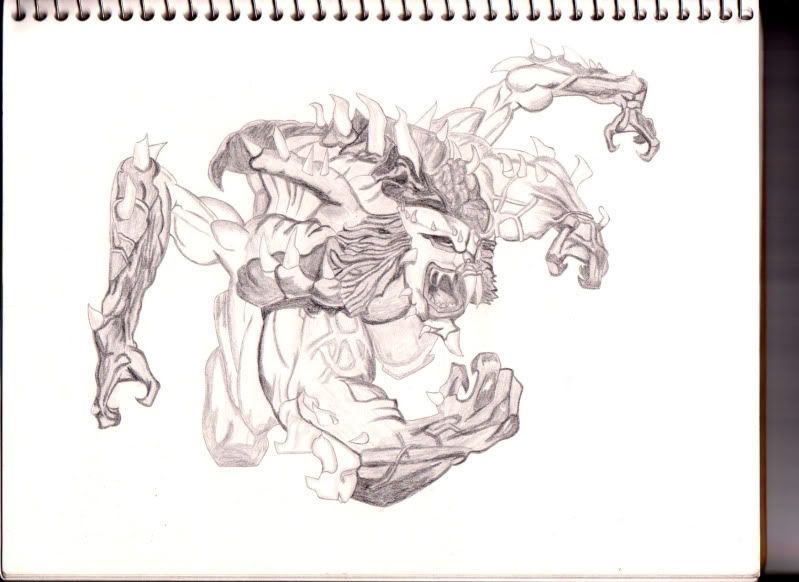 I recently tried doing something a bit more original (this is still incomplete):
So aside from just sharing this stuff, I was wondering if there was any advice on other things I could try to help improve.
Also, I'm still trying to figure if I should change anything on that last drawing before drawing in the details. Any ideas?
Last edited by
Mortar
on Wed May 05, 2010 10:03 pm, edited 3 times in total.
Wed May 05, 2010 11:40 am
I would suggest maybe darkening the lines somehow, because I can't see anything on most of these, and for the ones I can see, Your shading is fairly nice, but you could try working on building frameworks for your drawings to keep the proportions regular.
Wed May 05, 2010 2:29 pm
Oh, and one more tip: Put your name in the title of the thread.
Wed May 05, 2010 2:57 pm
I'd try different directions, other than frontward poses. You got dynamics down but it'd help if you corrected on your proportions. Do you use drafting skeletons by any chance? Those can definitely improve on more accurate anatomy. It surely help if you increased the darkness of your lines, if that's an adjustment that can be applied to your scanner. I like your subject matter though. Dungeons and draogns, plus, with the demons, I'm really enjoying what I'm seeing. Also I go try for various medias, if you haven't tried so already. Like inking. Usually an artist who's skilled with a pencil can usually be just as good -- sometimes even better -- with a pen. It takes time of course, but well worth it when the right skill has been gained. Take it from someone who's done it himself.
Keep on drawin' and improvin' on your work! Potential as yours shouldn't sit behind on getting better.
Wed May 05, 2010 4:19 pm
Yeah... Any way to increase the definition of the lines on those older drawings without having to go back and do it by pencil?

Maybe a quick adjustment using photoshop?
Wed May 05, 2010 5:06 pm
Well, I lack Photoshop, though, I have the next best thing; GIMP. Whenever I want to increase the darkness of the lines, I increase the curves. You should have an option in Photoshop which can do just that, if not better. After all, GIMP's a free imitation of Photoshop for folks, like myself, who lack proper finances. |3
Wed May 05, 2010 9:44 pm
K, so I increased the black and white contrast on the latter half of the pictures. The scans weren't perfect to begin with so I wasn't very precise on the levels but the lines should be better now.
Thu May 06, 2010 9:18 am
Cool avatar. art to =3 reminds me of my brothers drawings very detailed and stylistic.
Fri May 07, 2010 10:02 am
try practicing on human shapes more, those are a little less... kudos on the monsters though, those are awesome!
Thu May 13, 2010 9:41 pm
Did some inking and cleaning on that last one (trying to hone up the basics).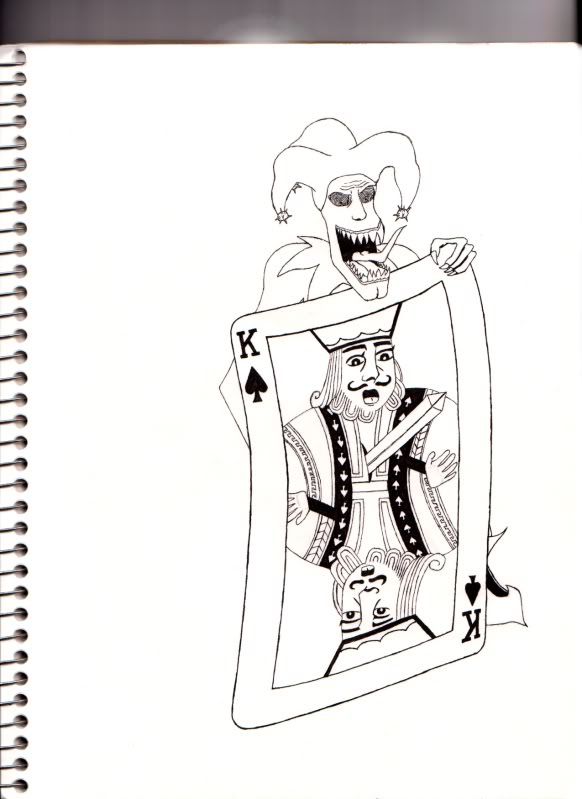 Sun Jun 27, 2010 11:58 am
Sorry for double post.
Took some advice and tried drawing a human and used ink this time (from a Fallout artbook). Tell me what you guys think.
Mon Jul 26, 2010 6:13 pm
Here are two more: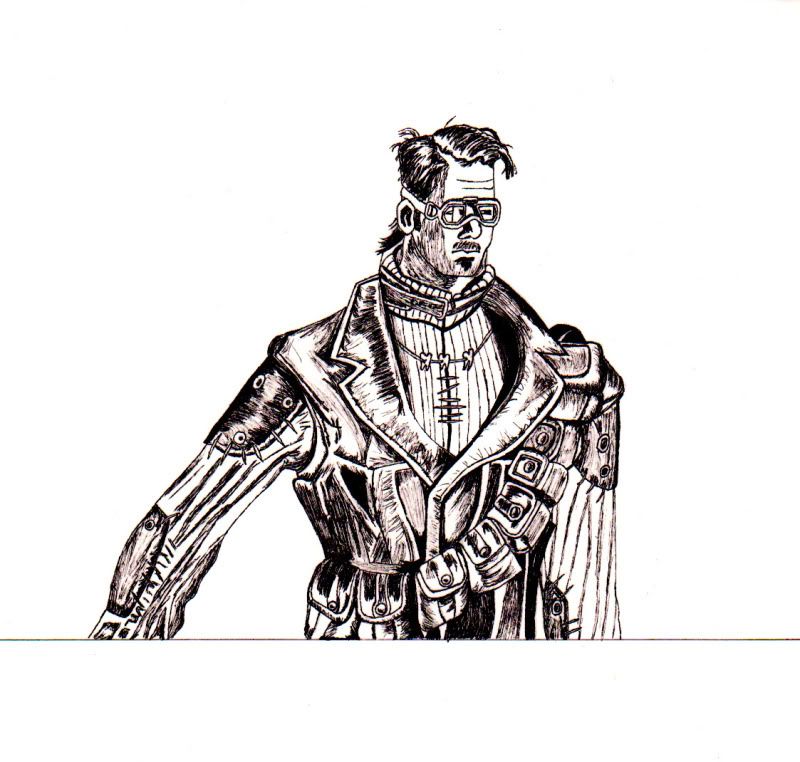 Put a lot of work into this one: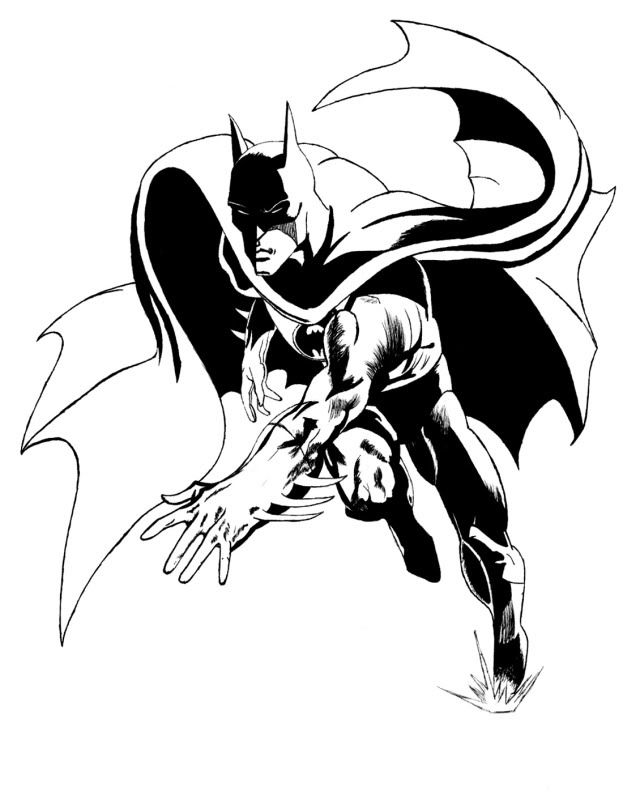 Last edited by
Mortar
on Fri Aug 20, 2010 7:42 pm, edited 2 times in total.
Sun Aug 08, 2010 5:16 pm
You're definately off to a good start from what I see.
Sun May 27, 2012 9:13 am
Been a while since I updated this thread. Here's my progress so far. These are listed in the order in which they were drawn: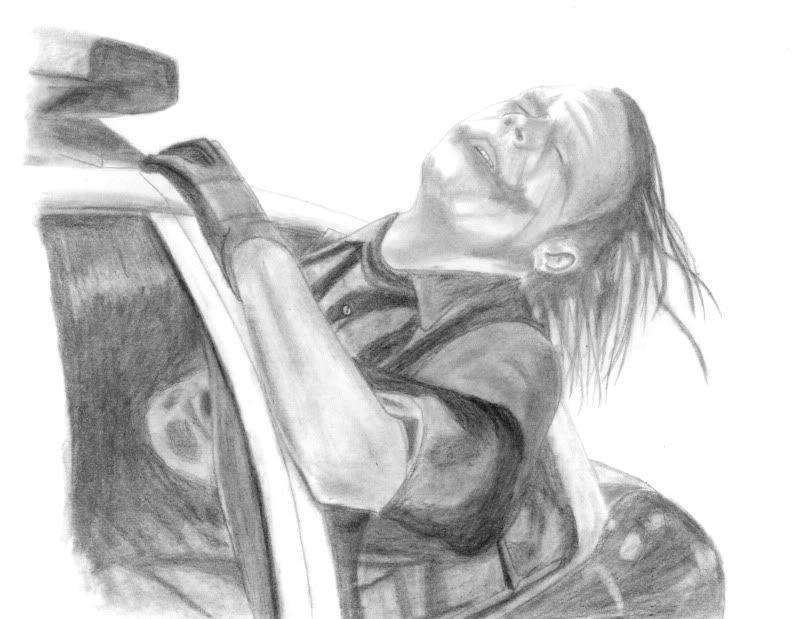 Tue May 29, 2012 9:30 am
Hey, good to see you again. Everything looks great, especially the last one. However...
The Apocalypse's left thumb seems a bit out of place. If you fix that, it'd be more or less perfect, imo.
In "Roronoa Zoro Rashomon" drawing, his left thumb (on our right side) seems to be "buldging" a bit too much.
Other than those, everything else looks great to me.
Tue May 29, 2012 10:42 am
Thanks for the reply.
Yeah, overall there's quite a few things wrong with the Apocalypse. I accidentally drew his arms freakishly short. I improvised a lot with it which is the reason for the proportions being off.
For Zoro, his thumbs actually looked that big in the original:
I felt his hands were big too, but I thought the angle and style made it acceptable.
Here's the finished version of the Joker I posted earlier:
But here's a questions for some of the artists on here, right now I'm using pencils to do the grey areas of some of my ink drawings. I don't like it. I know some artists use grey ink in the exact same way but will any kind of grey marker do? I just want to know so I can switch over.
Thu May 31, 2012 11:32 pm
I suggest you focus a little less on the details for a while and concentrate on anatomy. Also, spend more time with the preliminary sketches, and try looking at the sketches upside down to make sure everything's accurate before you begin filling in the details.
Photo reference is also a very good thing, but you want to make sure you understand what you're drawing.
Some resources:
Burne Hogarth's Dynamic Anatomy (you'll enjoy this one)
Jack Hamm's Drawing the Head and Figure (focuses on females)
Both of them can be found for decent prices on Amazon.
Good luck!
Oh and here's a Tumblr blog that has a shitton of free resources.
http://amazinglyartisticadvice.tumblr.com/
Sat Jun 09, 2012 9:23 pm
Never looked at Jack's books.
But i've heard that Hogarth's understanding of anatomy is warped.
I would suggest loomis or bridgman instead.
Sat Jun 09, 2012 9:33 pm
A lot of people have suggested anatomy books in the past, which makes sense to me. I'm just not sure what to take from buying one.

Do I study it like a student? Do I draw from the models to produce proper proportions? Can't I learn this by drawing from real life?
Sat Jun 09, 2012 10:33 pm
The books are to help you like any book for study.
Learning the muscles helps greatly.
And yes do this along with life drawing.
Try some figure drawing classes.
Tue Sep 18, 2012 12:17 pm
Drew this one for a friend.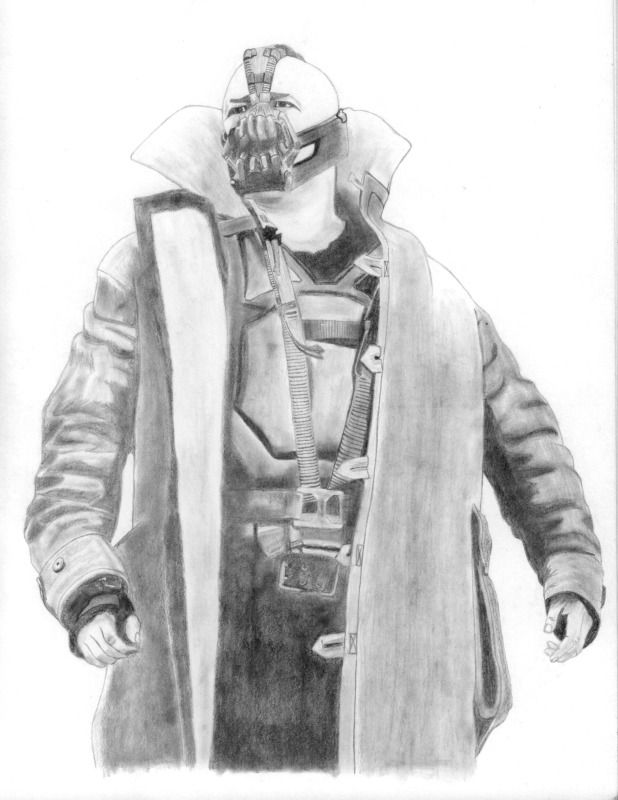 Wed Sep 19, 2012 6:47 pm
You're relying on your stub too much.
Take one small section at a time and work slowly.
Switch it all to greyscale if you need to.
Wed Sep 19, 2012 11:32 pm
Sorry, I'm not sure what you mean by switching to greyscale.
Thu Sep 20, 2012 2:10 am
Go into Photoshop and put the original picture into grayscale you you can more easily draw from it.