Name: Ozzy Olivers
Age: 20
Ht.: 5.0
Wt.: 100
Species: Egyptian Chesire (Droopy Eared Cats)
Sex: Male
Sexual Orientation: Gay
Abilities: Not Established Yet. (Something Explosive)
Eye Color: Emerald Green
Fur Color: Bright Brown, Dark Brown Tips
Strongest Features: Droopy Ears, Thighs
Character Archetype: Main Character Type
Personality Traits: Intelligent, Aggressive, Ambishes, Selfish, Flamboyant, Smug, Myscheivous, Irritable, Impatient
Voice Type: Male, Medium Pitched, Whispy
Bad Influence: Smokes Cat-Nip (The Cat version of Weed) sometimes.
Theme Song: Beyonce - Sweet Dreams
http://www.youtube.com/watch?v=4JOB4-9L1cY
Quote: "Give it a Rest".
OverVeiw
One could say, he's the control, compared to Soapy, the brains of the operations. He's an ambishes feline, but can at times be very selfish. Despite showing small heroism he really only helps others when it's something he can gain from it. In a sense he's kinda of a anti-hero, showing great heroism but having ulterior motives. He's a lover food, music and performances as he loves to put on a show. One of his most glaring personality flaws is his irritability and his overall lack of patience for those around him. It's probably the only times he doesn't think. Despite that he speaks with a rather expansive vocabulary and loves to read.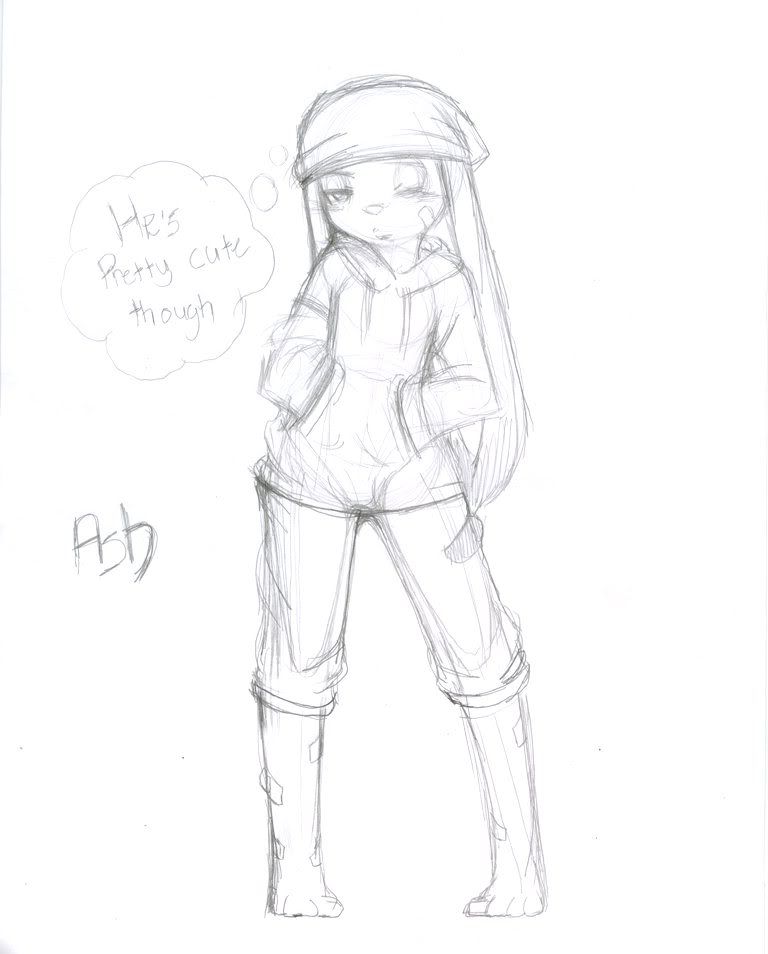 This character is slated for a redesign, so once I draw it I'll be posting it next.
The following bio is based on his new design so you may notice some changes from when you last read it. I'll be moving the varient into it's own spot and placing the redesign before this.
Name: Ash "Clips" Kanabubu
Age: 19
Ht.: 5.0
Wt.: 100
Species: Snow Hare
Sex: Male
Sexual Orientation: Not Sure
Abilities: Snow Hare Tribe Tactis, similar to a ninja. Skills with alchemy.
Eye Color: Sky Blue
Fur Color: White and Blue
Strongest Features: The Spirals in his Eyes
Character Archetype: Quiet/Dark Type
Personality Traits: Pessimistic, Quiet, Morbid, Serious, Determined, Short-Tempered, Violent
Voice Type: Feminine Medium, Raspy (Raven from Teen Titans is the best Example.)
Quote: "I could really care less."
OverVeiw
As cool as a cucumber, maybe, or just not all the way there sometimes. Ash lacks a sense of humor for many things and never seems to lighten up much about anything. It's as if a dark cloud continues to hover him constantly. He's in constant conflict with Ozzy due to his sometimes gung-ho ways and impatience. He's also always on guard even when it doesn't call for it. Despite that he still is the most valuble partner on Ozzy's side. He does his part. he does seems to have a soft spot for anything remotely cute.
This Character has been dropped from the project and will be placed in his own project in the near future. Anything pertaining to Ozzy and Ash in this bio are not relevent, anymore.
Name: Theodore "Soapy" Rock
Age: 18 (Really)
Sexual Orientation: None (It's not important, he doesn't seem to show any sort of attraction towards anyone)
Ht.: 4.5
Wt.: 96
Species: Cox (Coyote/Fox)
Sex: Male
Abilities: Not Established Yet. (Something Explosive)
Eye Color: Icy Blue
Strongest Features: His Eyes, Piercings
Character Archetype: The Violent One
Personality Traits: Irritable, Impatient, Selfish, Violent, Gullible, Cocky, Dumb, Loud, Hyper-Active
Voice Type: Feminine High, Raspy
Theme Song: N.e.r.d. - Spaz
http://www.youtube.com/watch?v=4pge7x1cGZo
Quote: "I don't like your Face."
OverVeiw
He's a wild one, he is, with his love for piercing and his horrendous language, he's the perfect example of not judging a large book, by it's tiny cover. Soapy is like a gun, and thats how he lives his life, causing unimaginable collateral damage, and being all the way destructive to those around him. When he's not breaking things, he's being a jerk to those he doesn't like, and he's incredibly selfish. Everything he does is for personal gain even if he has to step on as many toes at possible. He's just a violent little cox. But deep down that dark pit he calls a heart holds a microscopic glimmer of light that seems to stop him from becoming some full-fledged villain. He's got a short-fuse, which becomes quite problematic for him. Despite all this he lacks the ability to manipulate and is very gullible. It's shocking how stupid he is.
Last edited by
Freedom-Frequency
on Fri Aug 21, 2009 3:21 pm, edited 8 times in total.