Welp, finally person'd up and made a thread to post somethings. Decided to go with some reflections I've been going over lately.
I've done a lot more lurking than posting in the past week and some change. Mainly trying to get a feel for the place.
I mentioned in a different unimportant post that I got kicked out of a website I previously called home. It's a bit of a story, really. Except the consequences turned out a lot graver than I had expected. I learned more than I can say I wanted, about life, about relationships, and about people. I also learned the horrible nature of myself, and I guess you could view the following as a lot of confessions, but I wasn't the only one that drew blood.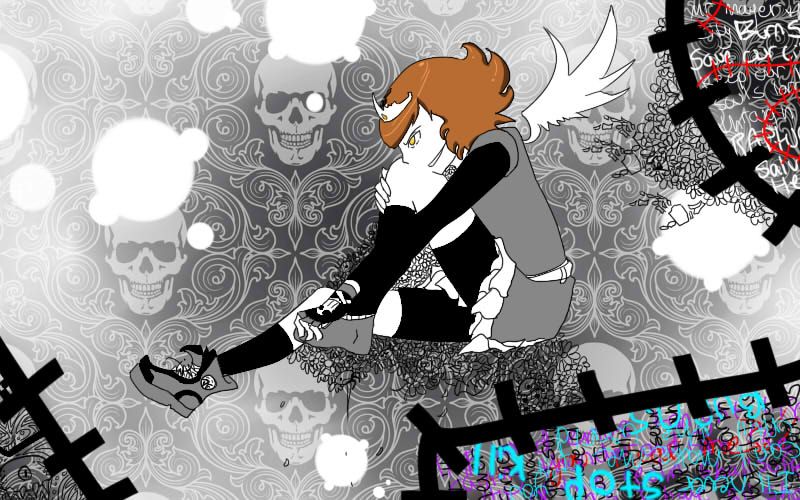 Let's just say I got comfortable on top of this fake little world. It's not breaking the rules if you're the one making the rules, now is it? I wanted perfection, not power, but I wasn't afraid to use power to achieve it. I want too much. I wanted a grand story, I wanted open world, and I wanted the world to sing a tale of great battles and deep drama, sharp edges and decision. I wanted, I wanted... but it's in the heart of the people that determines the fate of roleplay. It comes down to whether people like you or not. Me and people have never quite gotten along, IRL or internet, and I treated my pathetic little realm like the only place in the world I could shed the face I put up IRL, and let the darkest side of me show. I worked my ass off for the website, but I refused to do it with a smiling face. A smiling face and kind words weren't me, and I wanted to do what I wanted, how I wanted. And for the few that tried to stand in my way, they never stayed on the site longer than a month before I drove them into some self-inflicted exile.
If I worked hard, that should be enough, maybe? But it never will be. There's an underbelly to society, one beneath even internet culture. One that comes out not amongst a sea of random anonymous faces, but amongst the ones you let your guard down to.
I hope I have time tomorrow to draw out a page or so of the metaphorical telling of how things ended, but I'll recap in text how things metaphorically began. Not that it's a story worth telling, but I just felt like drawing it out in a fictional telling of how it happened. I'm comfortable now, years after things ended, to talk about it only because the site was recently announced that it was down for good, and now it's gone forever. I joined the website years ago when I graduated highschool. Roleplay website. Fandom of my choosing. My last three RP characters had each met horrible fates suiting the nature of their lives, and I was ready for a fresh start. I got really into it, especially when my life took a very dark turn, and I found myself on a plane to England with expectations to never return home. I met my (now ex-)boyfriend on the website, he was a Game Master for a long time, and then moved up to Head Admin. Two years later his GMs poofed, and he gave me a choice. I either take over as the plot writer and Game Master and run this site, or the site dies and everyone loses everything they've worked on for years, including me. I took up the position upon the agreement that he would help me, and that I would be the only GM he'd hire (in other words, all of the work was mine to have and decide and do). I was a respected roleplayer, but respect doesn't necessarily mean people like you. I caused more fights on that site than anyone in it's toxic history. Looking back, I don't know if I was respected, or just feared into loathing.
I took up the mantle and lead the website into the shortest lived golden age it would ever see. I'll skip the mass drama of a plot reset decided and enacted by said ex-BF without my council, amidst my extensive 3-month work. But either way, the show went on whether I liked it or not, despite the first relationship in my life being horrendously thrown on the rocks. Months turned into years of college and roleplay gone by. My actions in-RP kept my roleplayers there, but my actions OOC were growing a conflict that I couldn't see. I saw in due time a world I had built from the ground up slowly beginning to burn.
And then my people began to rebel.
TLDR:
I ran a website and ppl hated me
and now I'm going to make pictures of a silly telling of how the world ended.