@ Glah
I'd appreciate your comment more if it was fully phrased.
Your talking about the last, right? Well, I'm fairly sure the hair isn't very random (it always sticks in the exact same directions), and I dunno about the length. It could have grown together with his physical aspects.
@ MrHoboX
It's Calvin, from Calvin and Hobbes. The boy and his stuffed tiger. I sure hope it's because my rendition is crappy you don't recognize him, because I have little respect for those who don't know freaking Calvin and Hobbes (and doesn't have a valid reason not to know them).
Aaaaaanyway, sketch dump.
No, Ivenks is not going to get raped. There's only rape if there's a tentacle monster. And yeah, I drew it at that angle. Dunno why. And man, I gotta stop making Angel look goofy. I also realize I haven't drawn him where doesn't smile like a psycho. He is a psycho, but I now have 5 pics in where he smiles exactly the same way.
My hand. Holding an apple. There. Stupid scanner doesn't pick up the lighter strokes...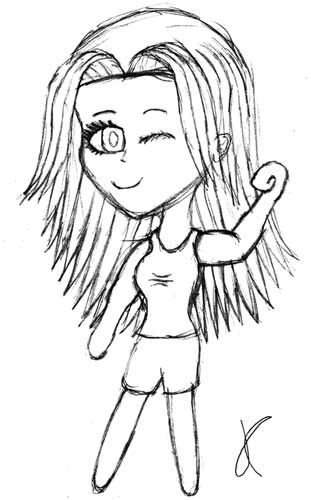 Aaaaand a chibi for good measure. Supposedly an athletic one or something. One of my girl friends (emphasis on friend, not girl. Stupid english language) commented that I've gotten good at drawing boobs. YES!
In other news, I've been working a good deal on the C.Y., but it is not to be shown yet... Just know that me and Relick will PWN you all, Keahahahahaha!!