Ah, yes, been a while hasn't it? 4th page. I'm sure you've all have waited for me to update in agony. Well, I've been a bit of an art slump lately. I simply haven't felt like drawing very often, mostly due to all of this style experimenting stuff being a bit infuriating. I'm a very indecisive person in general. I tend to min/max everything, looking at what has the most pros and the least cons and then taking that. Whenever I'm presented with something with equal amounts of these, I'm utterly confused. Hell, since I'm not very aesthetically minded, I can't even properly weigh these pros and cons!
Bah, even though this is my thread, my ranting space, that's enough emoing for now.
Trying to get to a like final product as the Zodiac thing, but using completely different tools, meant to be faster, I made this: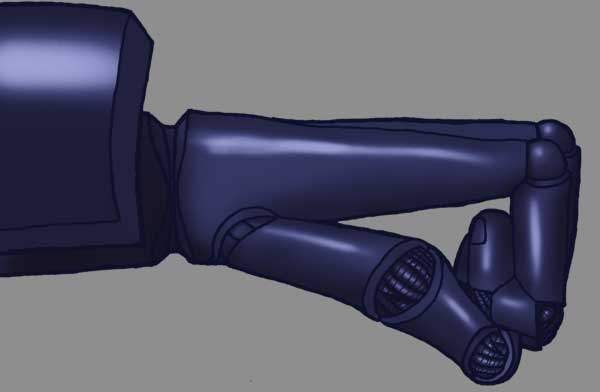 I failed. The coloring sucks. Bah. The perceptive with good memory to boot, will notice that the design has changed slightly. I've been redesigning Ivenks arm, no, I've been redesigning the way I design cyborgs in general!
Again, indecisive, designs of mine are always prone to change, but here's how it looks now
Give or take some lines. Inspired by other cool robot designs, it seems a bit of etchings and random lines in the metal makes it cooler.
And the requests. I haven't forgotten about them. Well, I do have a weird feeling there's a third one I have forgotten about, but anyways: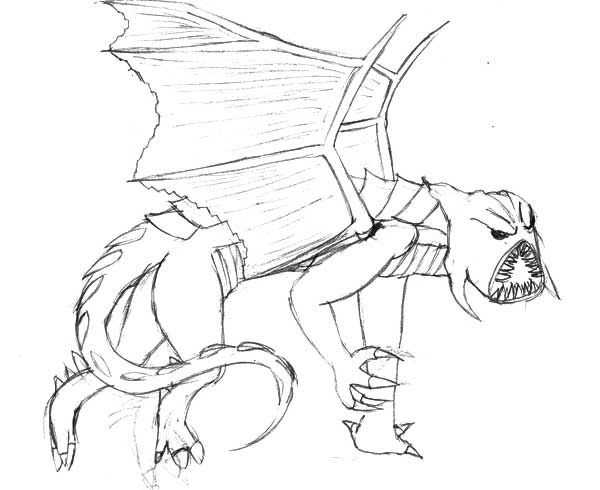 Crosis, a dragon who apparently Purges. I do mean to color and ink this one, but I haven't found out in which way? Thin lines with soft shading? Raunchy ink with cellshading (look below)? So many choices...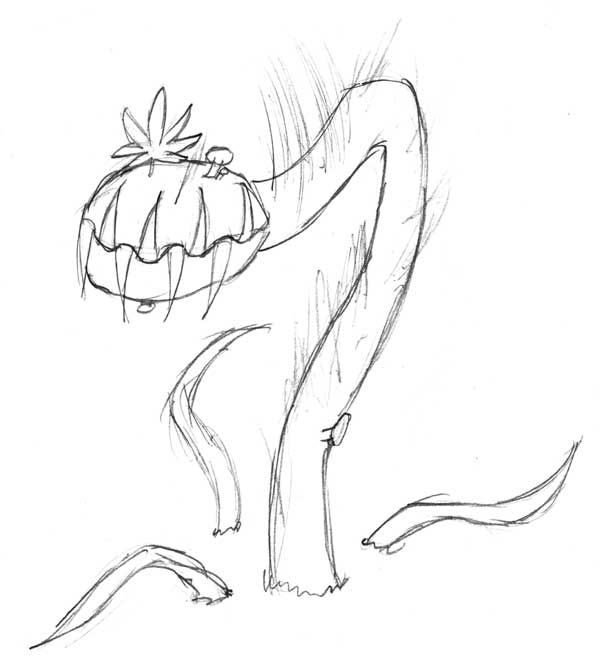 And some character for Hiryu I forgot the name of. This is far from the final line art, but I'm getting happy with the design. As a chronic stoner, I like the idea there'd be mushrooms, weed and Weed growing on it.
Lastly, a fairly standard Ivenks head-shot with less standard shading.
Indecisive, eh? A month ago I swore I'd never cellshade again, because soft shading is so sweet, and now I'm bouncing back. Well, not fully. It started with the inking. I wanted to do a messy, evil inking, in a style befit of Still City. I knew soft shading would never go with it. Soft + Messy = Bad. Soft shading needs to have matching thin, nearly invisible lines, as far as I can tell. Not wanting to go directly back to cellshading, I tried a different photoshop technique, mostly involving the brush and opacity 25%. And it's not too bad. It has detail, but is still hard. I think it would look better with a lower detail. Most importantly, though, it was incredibly fast and easily done. And not just because it's grey scale.
About that, I've always grayscale because it's one of those weird cases where the law of diminishing returns doesn't apply. It doesn't save that much time, but it can severely lessen the quality of a picture (how people grieve about mangas being in B&W). However, the mental difference is enormous. There's a lot of things I simply don't have to worry about, matching colors, keep watch of what colors I'm using, and so on, that makes the whole process more enjoyable.
Faster, and funner? I'm going to have to look into this.