Fri Nov 21, 2008 2:56 pm
BL line art is cool, but what you did is where is at! Keep on doing it!
Fri Nov 21, 2008 4:15 pm
K! Will do!!! X3
Fri Nov 21, 2008 8:04 pm
That is the purpose of the comment, so you can continue!
Sat Nov 22, 2008 4:50 pm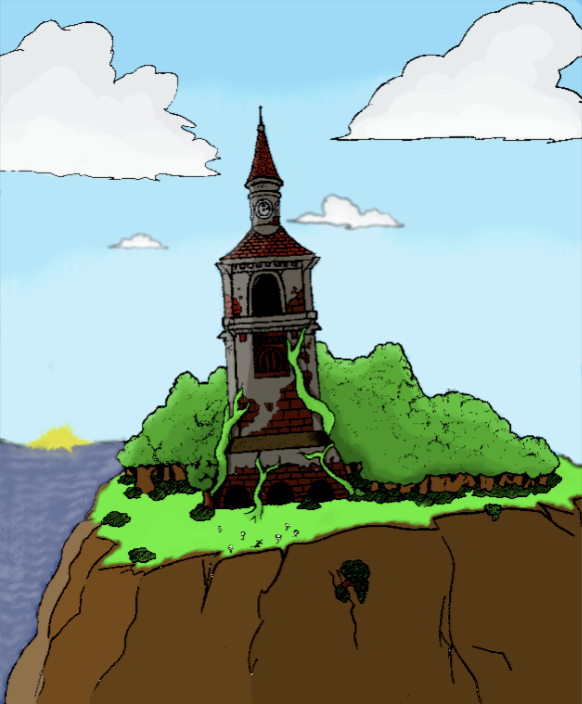 Well i know it took me fricken long enough and it sucks but hey I'm done with this. I don't think I'll be trying coloring anytime soon i tried photoshop and gimp. Finally sticked to gimp and got this..... i hate it but hey.
Sat Nov 22, 2008 4:57 pm
That drawing with girl and skulls looks great. Nice shading, too.
And why do you hate that? I think it looks good.
Sat Nov 22, 2008 5:21 pm
Not bad BL, it does not look that bad. I also use gimp myself and it is not so bad either. Keep working!
Sat Nov 22, 2008 7:25 pm
good job BL. I use the GIMP too. I know its a good program but kinda hard to get used to. (open three windows to do one thing!)
Sat Nov 22, 2008 7:50 pm
Definitely takes some time to create something like that. It looks good. My only complaint is the island the tower is on. It looks phoned in.
Sat Nov 22, 2008 8:46 pm
Looks pretty decent, yeah the island looks a bit.. yeah.

I prefer painshop pro for pretty much everything, I dont get the whole multiple window thing at all, it just annoys the heck out of me and seems very very pointless.

I do have GIMP, and I have used it before, I just dont like it when stuff becomes unselectable because the window is not selected anymore iow: I am drawing in the drawing window ;.;


Photoshop is possibly more evil.

what is the advantage of drawing in multiple windows? It totally goes beyond me, even when it got mentioned in a magazine they did not explain what the heck was better about it, at all.

rant rant rant rant rant rant.
Sat Nov 22, 2008 8:52 pm
It's called multiple layers, and they ae a big help especially when you mess something up in other programs you can only undo so far whil in Photoshop and Gimp you have multiple layers to work with thus making it easier to fix your mistakes.
Sun Nov 23, 2008 4:31 am
Ya i think I'll try layers and photoshop next time but i don't have high hopes.
Sun Nov 23, 2008 5:07 am
sam4books wrote:It's called multiple layers, a
I was talking about windows, not the layers.
Paintshop pro has layers as well, and yes; layers are a very handy tool.
Sun Nov 23, 2008 9:40 am
I don't really understand what your talking about when you say, "windows".........wait a sec........*opens photoshops and plays around with it a bit*. Oh, THAT's what you're talkng about xD
Windows aren't that bad, it helps me when I'm using colors from other artworks and copying and pasting layers as well. I don't see anything wrong with multiple windows
Sun Nov 23, 2008 2:20 pm
Well you see Sam normally its not a problem but with gimp each "window" is treated like a separate program so first you goda click the new window to be "in it" then select the tool. If you just click on the tool it wont switch because you haven't selected the window yet. Closest example to it is open internet explorer and photo shop at the same time and have them side by side on your screen and try to click a button on one wile your in the other is a pain in the ass. =P (hope you understood if not download gimp it free!)


XD
Sun Nov 23, 2008 2:25 pm
Sam, when you use GIMP especially the original program whenever you do something it opens a new window. That is all. I'm trying to play with the layers a bit, I also downloaded GIMPSHOP which is GIMP but setup just like Photoshop. I'm taking a tutorial in order to understand better how to work with it.
Sun Nov 23, 2008 2:25 pm
That's one of the reasons I buyed Photoshop xD
Sun Nov 23, 2008 2:57 pm
Thats one of the reasons i pirate- d --- - - - - oh wait.... ya bought. bought photoshop...
Sun Nov 23, 2008 3:03 pm
Thu Nov 27, 2008 1:51 pm
Heres a little cartoon i drew with a pen when i was taking a US history test =D i drew it because a girl in my class didn't know what a 'pun' was so i decided to show her.
(Surprisingly i passed the test dono how tho *shrug*)
HOPE YOU ALL LIKE IT!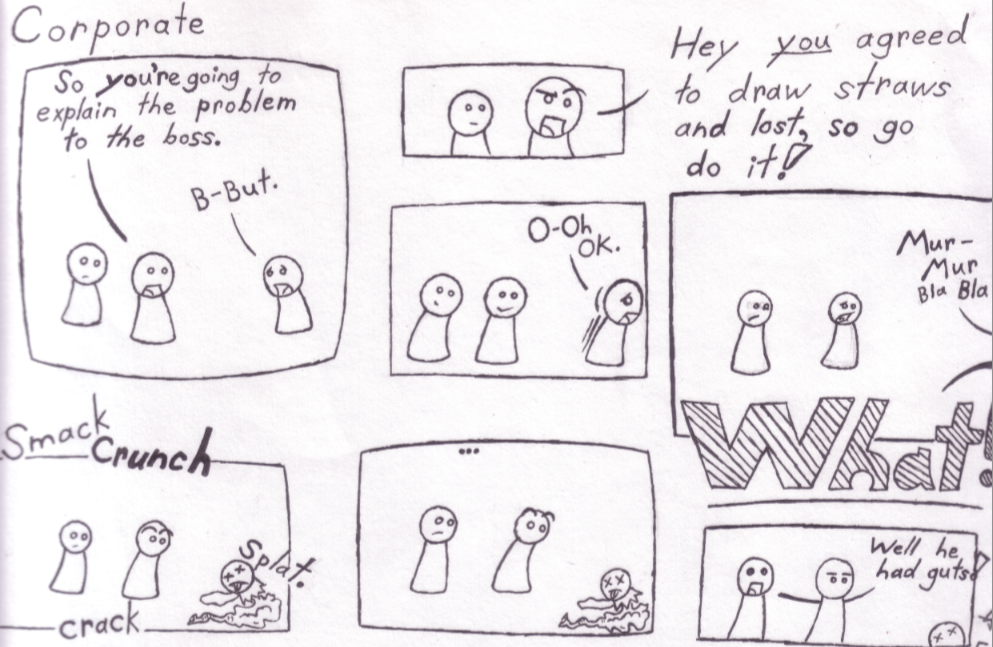 I had a few problems with the scanner so the sides got cut off. XP
Thu Nov 27, 2008 2:01 pm
That is messed up! Dude got pounded!
Oh BL, check the Canadian heroe on my thread, did it due to the last conversation we had.
Thu Nov 27, 2008 4:42 pm
Well since you guys seemed to have liked my pencil art and i got so many comments on it heres some more.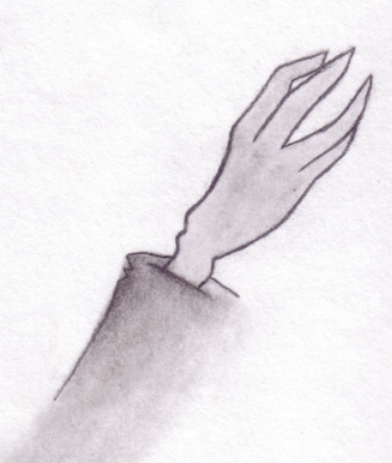 Ya it a hand. What of it?
[edit] Ya there's a guy attached I'll post him tomorrow.
Last edited by
Chuckledarkly
on Thu Nov 27, 2008 5:02 pm, edited 1 time in total.
Thu Nov 27, 2008 4:56 pm
BL that is pretty nice, shading looks fine. Next time just add the thump a bit, since althought I know what angle you used, most people looking, will try to find a thump or a bit of it. Besides that, it looks
real good!
Thu Nov 27, 2008 5:43 pm
Well here it is his name is Han say hi.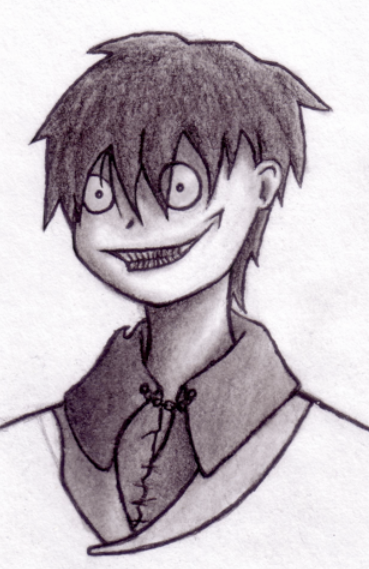 Because i got so many wonderful comments before about my hand drawn stuff heres something for ya. >=)
Hope you like it.
[Its far from perfect maybe next time I'll fix my drawing up on photoshop first.]
Thu Nov 27, 2008 7:31 pm
Nice BL, he has a real psycho look!
Fri Nov 28, 2008 5:19 am
Ya thats what i was going for hehe thanks for commenting dude