Thu Aug 27, 2009 5:39 pm
Oh I know, I was just wondering the levels of originality one would need to succed in a blood fest without any power of sorts.

I would love to judge, but I don't know if my opinion has any value in this lands, provided by the fact I don't post my art here (and for the time being, I won't).
Fri Aug 28, 2009 12:42 am
I'm too stubborn to alter Remedius. So that'll be my problem.
Hahaha. I just remembered that she has a weapons fetish. <3
I'm inquiring as to if I can include that fact into the equation. But anyways, I'll try.
I am my father's daughter, after all.


I know it isn't true to everyone, but I'm a tad leery about making an OC just for a tourney... it's just me.





@Black

: Well, I wanted to ask: can I have a topless one? xD I demand boobies!
Because I have the character design. And lust.... or is that too NSFW (I don't plan on drawing nipples)?
Fri Aug 28, 2009 10:46 am
I think it's fine so far. Not every OC have to allow for all kinds of characters. It's good with a more consistent setting too. Creating an OC, at least for me, isn't so strenuous a task that it can't be done just for a tourney.

The league also sounds super fun. Since I won't be participating in the next OCT, I'm willing to help with judging, administrating, deciding, god-modding etc.
Sat Aug 29, 2009 11:21 am
Okay, I'll keep in mind 3 possible judges (so far) for "O.C.T. 2": Mehoaido, Aura, Vegedus.
We might need someone to make the "Snafu Original Character Battle League" logo 'n' stuff. Some of you
think
know I'm not so good with that. I might try making something, but we'll probably need someone else for it. I'll probably "organize" the league, but I don't think I'll be best suited for a judge.
@Visi:
I'm sure most guys (if not all) would vote for allowing it XD . Frankly, I'm not sure if most of the OCT would be SFW. Could you imagine a Lust area of Purgatory >.> (I try not to) ? And how many decapitated and disfigured figures may you see in Wrath area
? Rules state that if you post NSFW image (nude, horribly decapitated,... ) you have to clearly mark it as such (preferably with caps, larger font and/or different color) and only leave it as a link, not image itself. Even though nipleless/non-detailed character is not hentai but ecchi (or fan-service), it's still NSFW. Imo, you might always show the OC with something covering her breasts (her hands, hair, other chracters, surroundings, fog,...). But I guess marking it NSFW and not drawing nipples would do. Another option is censoring.
I just found out that in "Dante's Purgatorio" lust area of Purgatory is described as following:
the penitent walks within flames to purge himself of lustful/sexual thoughts and feelings.
So, basically, there would be a lot of flames around with people in them...
Sat Aug 29, 2009 4:19 pm
I actually dislike the idea of allowing any kind of nudity. Partly because of the hassle of making everything NSFW (and the consequences it might bring), partly because there's a billion ways to cover up nipples, most requiring more creativity than not covering them, and partly because it seems odd to have nudity in a thread a lot of (underage) people will look at, even though I don't subscribe to the idea that nudity corrupts the soul.
Also, I'll give the logo thing a shot, even though I'm not good at it either. Maybe we can get Zoul to do it again
Sat Aug 29, 2009 6:33 pm
@Black

: Surprisingly, my area about lust has nothing to do with actual sex or flames.... It's a different interpretation.... Onto breats; a long time ago I saw a bra (irl) that were shaped like hands. xDDD So I can use that. That's not out the the question, right? I'm still thinking that lust is lust, man, and when I think of that....I think of the nude. But Veg is right; there are underage people. Forgot

all

about the ages on here.

Got the, eh, MSFW talk in skype. No worries.

People can draw the top; I'll stick to my own idea and censor it later.


Also, why not ask Zega to judge?
Sun Aug 30, 2009 5:10 am
Logo designer?
Sun Aug 30, 2009 7:15 am
It didn't occur to me that some of the contestants (maybe even most of 'em) will be underage XP I'll have to agree with Veg and Zoul, no NSFW. That means: no nudity, no horribly disfigured/decapitated people (Right?).
Hands-like bra? I guess that'd be alright.
Unless Zega asks himself to be a judge, we can't make him do it, can we?
It didn't exactly turn out the way I wanted, but I was thinking 'bout using something like this:
I'm expecting Veg'll start saying it sucks big time shortly... XP
Sun Aug 30, 2009 7:46 am
Well, ya, it sucks, but I might actually try and see if I can do it better myself this time around XD
Sun Aug 30, 2009 8:08 am
Yeah, I know. Color composition's wrong and it's a bit too dark. I didn't think we should use it, I just wanted to show you how I aproximately imagined it. I should try making one from scratch (not use web-cammed photo)...
Sun Aug 30, 2009 11:25 am
SO who are the 2 judges? Does that leave me out? XD
Sun Aug 30, 2009 1:19 pm
Hold on a second. Zoul, are you not doing anything with that battling league?
Sun Aug 30, 2009 5:40 pm
@Zoul:
She's talking about "Snafu OC Battling League". We were discussing it's creation (several posts up, one page back, too...). It would basically consist of 1v1 fights between forumers' OCs and it'll be purely for fun, unlike the O.C.T. which has stricter rules & rounds (I'm not saying OCT ain't fun, just that here you could challenge anyone you want instead of hoping for both of you to meet in some of the rounds of the OCT XD).
We were talking about making a logo for the league, not for the 2nd O.C.T. . We'll use the same logo for the next O.C.T., no reason to make a new one.
Also, thanks for taking the responsibility of choosing a judge. You think I did good enough job in this O.C.T. to keep my position as a judge XD ? Thanks.

About "Snafu OC Battle League":
I'm thinking of actually having several judges, so if a judge would compete, other judge would judge a match that's got a judge as a competitor (basically, there'd be 1 judge per match). I'm thinking of using that system 'cause I'd like to have my OC in the league, too. Btw, I'll be organizing the league, but we'll need some judges for it as well.

So, basically:
-Judge applications for 2nd O.C.T. are PMed to Zoul.
-We could use some prizes (artists that would do comissions). I could put myself on the list, but I'm not sure if anyone would want a comission from me.
-We'll also need judge(s) for "SOCBL" (Snafu Original Character Battle League).
-We could use a logo for SOCBL, so anyone interested in making one is welcome to give it a shot.
Sun Aug 30, 2009 10:54 pm
Black, I have a question.
Can contestants have weapons that they've made/acquired while they were alive?
Mon Aug 31, 2009 12:26 pm
Hmm... I think they should have only the ones they had when they died or the ones they were burried with (And who'd burry someone with weapon(s) beside him?).
Mon Aug 31, 2009 12:31 pm
Ah, that's no problem.


I suppose that if one were to die with the weapon in hand that their sin could alter their possessions in some way? Cause that was my intention.

I apologize for so many questions, but... I don't want to screw this up.
Mon Aug 31, 2009 12:55 pm
Yeah, that's about how I see it, too.
It's okay to ask questions, it's better to clear it all up right away, right?
Mon Aug 31, 2009 1:21 pm
As I see it, since the persons powers are derived from their personality and sins, so is their appearance and equipment. If you always wanted to be a samurai, you might have a full samurai battle armor and katana. If you're a tech geek, you might have cybernetic arms and legs.
Mon Aug 31, 2009 1:46 pm
See, that wasn't blatantly clear to me at the beginning. So thank you for answering. o u o ;
And yes, I'm glad it's cleared up.

Time to prepare.
Tue Sep 01, 2009 11:03 am
Um, question please.

Do we actually have to make our OCs' clothes appropriate with our sins? Because I think that looks can be deceiving, and... it gives the unpredictable feeling about the characters.
Tue Sep 01, 2009 1:11 pm
I should note I'm still not in charge, Black is, but my mind on the matter in general is maximum creativity, maximum interpretation. Clothing could be some complicated facet of the characters personality or sin, or it could be their everyday slacks. Or their everyday slacks could represent their sin! However you like.

We have a setting to adhere to (modern, and realistic persons before death) and certain rules to follow, but it should be "knock yourself out" the rest of the way.
Tue Sep 01, 2009 1:42 pm
Well said, Veg. You pretty much nailed it spot on. OCs' clothing is entirely up to the contestants.
Wed Sep 02, 2009 2:45 pm
I felt devious, so I drew a concept for the Devil/Satan.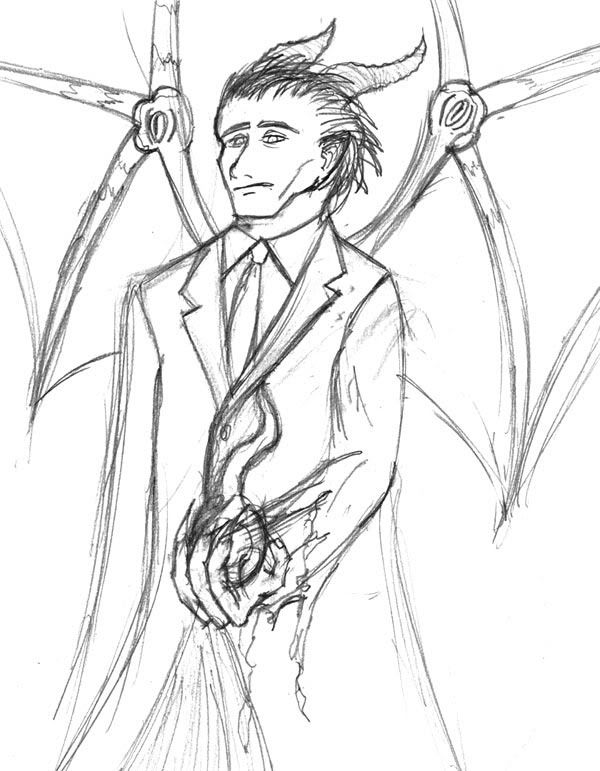 Think I borrowed a bit too much from Soul Eater, but oh well. I can't help but feel now that this guy should be an executive of hell of sorts and satan much more of gigantic beast, even though him as a small figured guy seems like an interesting idea.
Thu Sep 03, 2009 5:05 am
Reminds me of the expression "devil's advocate" XD I think there was even a movie called that, too...