Name:
Marie-Antoinette Léon
Moniker:
"Madame Mirage"
Nationality:
French, Île-de-France
Class:
Social
Affiliation:
Céleste, Bello, Femme, La Veuve Noire
Description:
Age: 39
Gender: Female
Height: 1.8 meter (5 foot 9 inches)
Weight: 59 kg (130 lbs)
Build: Light
Race: Caucasian
Hair color: Black
Eye color: Blue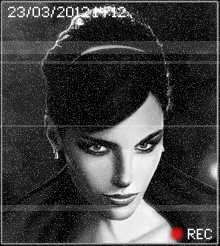 "A sight to be seen."
– Vogue
"Truly the spokesperson of future France!"
– L'Officiel
"Fashion queen of the world."
– Time
Marie is the present day archetype of the Femme Fatale, possessing an almost otherworldly beauty, ensnaring her lovers in bonds of irresistible desires and more often than not, lead them to an untimely demise. Whether her beauty, charm or sexual allure, Marie is always in the center of the spotlights.
She wears only the finest clothing, made from the most expensive threads and crafted by the most skillful artisans. All of her designs she wears are from her own fashion line "Femme", as her statement always has been "What you see is what you can buy." The dress that made her famous, and the one that turned into an icon on itself, is her red, silken, strapless dress. It's tight hugging and leaves a lot of skin exposed, yet retains its classy look.
Addendum 1-A: Personality:
Marie is a pleasant woman to be around, she always has good stories to tell and is a serious improvement to anybody's social status if you're seen with her. Her soirees are the stuff of legends, everybody who's a somebody simply has to attend these, from movie actors to politicians, Marie has seen and spoken to them all.
Yet despite all of it, all the glitter and glamour, Marie always wants more. Specifically the things she can't have, or so they say. Marie is always out to prove them wrong. She becomes obsessed with whatever it is she set her eyes on, and will do everything in her power to achieve her goal. This is what makes her such a successful business woman.
Even when it comes to violence, Marie tends to go all out. Expect it to be big and grandiose. Has her own personal team of bodyguards, girls handpicked from La Veuve Noir, trained in the arts of hand to hand combat, explosives and heavy weapons. While she doesn't take them along on missions, she does surround herself with them off-mission.
Addendum 1-B: Bio:
By the time Marie was 24, she was a well-established multi-millionaire with everything she ever wanted. From the glitz and glamour, to her posh fashion line or her beauty products dominating the markets worldwide, she was set for life. Yet she always sought out more.
Marie was the sole daughter to fashion icon Francois Léon. Early on, father and daughter only had one another, after Marie's mom, a young American model from New York, had died in a car accident when Marie was only ten years old. His work being his life, Francois took initiative to teach Marie everything he knew, including how to design, how to create, and how to run a business. If he ever had a high profile meeting, Marie was there with him. She was inhaling all the fashion shows and absorbing every corner of the design room. Marie lived, breathed and ate fashion, and she loved it.
Marie also turned out to be an excellent chemist, quickly picking up the trade and showing off skills far beyond that of someone her age. Her father encouraged it, as it gave the girl a good insight on how makeup was developed. But Marie was far more interested in substances that affected the human body, from mood changers to poisons.
Francois passed away when Marie was 22. With the renowned artist gone, Marie was the only one who could step up to the plate, as otherwise, Francois' greedy siblings would take the business away from her. In the following years, Marie fought hard for everything her father worked towards and finally won the assets. With his death, Marie inherited 124 million dollars, and her father's siblings took a little under 2 million. She felt no need to ever speak to them again, cutting off all connections and instead focused on her own future, a fashion line called "Céleste." She finally stepped out of the hole she had hid in for so long and created her first makeup line, called "Bello," a digital lipstick that could change colors with every outfit, rendering normal lipstick worthless. The brand became a hot commodity and sold huge numbers around the world, turning Marie from a protégée into an icon, by raking in $3.2 million in sales in the first month.
After her successful makeup line, Marie created "Femme," a fashion outlet for young females who longed for a sophisticated and classy look. But what really set Marie apart from the competition was her creation of the extravagant burlesque club, La Veuve Noire. With this extraordinary club, one was given a show most would die for, where beautiful woman would mesmerize you not only with their incredible dance segments, but their captivating beauty as well.
For now Marie continues to run the club, and visitors still pour in by the boatload, despite the eerie rumors of SABRE agents going missing after visiting. She is France's most luxuriant and iconic females in the industry and is determined to stay that way until the day she dies.
Addendum 2-A: Equipment:
Addendum 2-B: Abilities:
Primary – Femme Fatale (passive): Marie is an impossible to miss presence, the mere sight of her making the knees of men weak. And if her appearance isn't enough, her perfume, laced with pheromones, will seal the deal. Marie can make men dance to her whims, make them do things they'd normally never do. It is also an exceptionally effective skill at gathering information.
Secondary – Madame Mirage (active): Using her unique Bello lipstick, she can change not only the color of her lipstick, but her entire appearance. Hair color, eye color, skin color, even her outfit can change. Using this has made it sure that she has not been arrested yet, as none of the agencies know who Madame Mirage truly is. This skill cannot change her genetic makeup, so her physique will remain untouched. The changes are purely cosmetic.
Addendum 3: Perks:
Addendum 4: Extra's:
Last edited by
Asmodai
on Tue Jun 05, 2012 4:24 pm, edited 1 time in total.