Voted for by:
Mastermind001
sam4books
Keiran
Garethcool
Archrival
Musicmac
Iris
Gallifrey: Time Academy
----
"Can you imagine silver leaves waving above a pool of liquid gold containing singing fish? Twin suns that circle and fall in a rainbow heaven, another world in another sky? If you'd like to come with me, I'll show you all this - and it will be, I promise you, the dullest part of all. Come with me and you will see wonders that no Human has ever dreamt possible. Or stay behind and regret your staying until the day you die."
~ The Eighth Doctor
----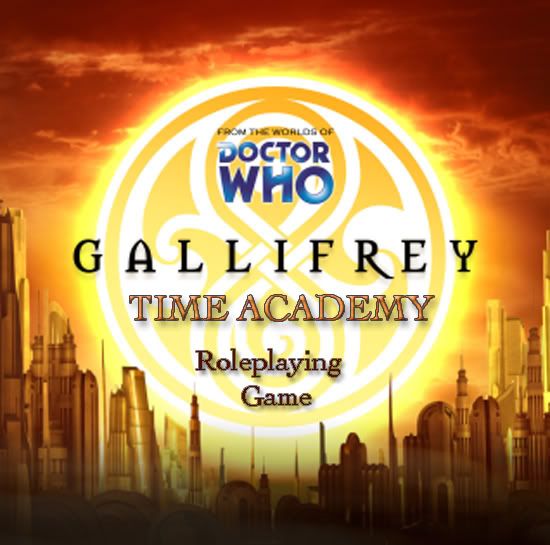 The Story
Far, Far away, In a Land That Time Can't Change...
Gallifrey. "They that walk in Shadows", between the warm darkness of Magic, and the cold light of Science. Home planet to one of the mightiest races, the Lords of Time. A noble, ancient and immortal race, they often thought of themselves as gods. Since the Dark Times of the Universe, the Time Lords of Gallifrey have had great mastery over space and time; an Empire of Time that held such great power, none could overthrow it. And for a long time, the Time Lords saw Time Travel as something only they could be trusted with; any other race attempting such a thing were watched carefully...and, in many cases, Gallifrey would do what it could to ensure itself remained the only planet with temporal control. By keeping Time Travel closely 'monitored', Gallifrey remained to this day, the greatest Temporal Power in the history of the Universe. Even during its time in Isolation, Gallifrey continued to observe the Universe, and in some cases, would break their own non-intervention policy so as to restore order, and temporal peace. Their dictatorial control over time and their Xenophobic distaste for 'lesser' species, has been the source of much hatred towards Time Lords by many other advanced races, for millennia.
But Gallifrey's time as a great Temporal Empire is coming to an end.
Under the rule of Gallifrey's newest President, Lady Romanadvoratrelundar, the planet is already taking its first steps in becoming a more liberal and open society. For the first time since the days of the great Time Lord Founder, Rassilon, Gallifrey's long withstanding policy of Non-intervention has ended, and the Time Lords are finally taking their place once again in Universe. No longer will they sit like kings and queens inside their utopian fortress, only watching the events around them. Now the Time Lords will get involved in other planets affairs, using their power and technology to assist where they can.
Indeed, in the short 25-45 Gallifreyan years that President Romana has been in office, Gallifrey has seen an age of change unlike any other. Her political reform and Peace treaties with other species, have been the source of great controversy. Many of the new policies have caused uproar from the more conservative members of Time Lord Society, and welcomed greatly by many offworlders, some of whom are permitted to develop their own forms of time travel alongside Gallifrey, as part of the new 'Temporal Powers Alliance', overseen by Lady Romana herself. Times have indeed...changed.
And now, one of Gallifrey's oldest laws is being changed: Gallifrey is sharing its secrets of Time Travel with the rest of the Universe. And the Lady President is inviting
you
to join Gallifrey's prestigious Time Academy, a place where you can learn those secrets. Yes, for the first time in millennia, not only Gallifreyans, but aliens are also being permitted to study on Gallifrey, and given the opportunity to become Time Lords in their own right. All module courses will be accessible to offworlders – something that has never happened before. More than 200 different species will be permitted to study alongside Gallifreyan students; a great historical event which could revolutionize the entire future of Gallifrey and Time Travel...or destroy it forever.
So, students of Gallifrey; enjoy your peaceful Utopia while it lasts. For In this beautiful, cynical world of distrust and manipulation, conspirators and traitors, of naive hopes and ambitious dreams, even the best of good intentions can uproot the greatest of evils...
Gallifrey's Regime on Time control is finally beginning to weaken. Dark rumours are being whispered out there amongst the stars, just the faintest of whispers:
That a new age of Temporal War is coming. One which will echo throughout the whole of creation.
~*~
Setting
This RP takes place shortly before 'The Last Great Time War' (as often referred to by the Doctor), during the events leading up to it. It's based loosely on one version of the Doctor Who Extended Universe, during the Eighth Doctor's Era (and in terms of background information, greatly influenced by it), but will for the most part being following various different plotlines; some pre-existing ones as well as many new ones. In a sense, this is one possible reality out of many - anything could happen. This is a universe which isn't strictly speaking canon – which gives a lot more freedom than a story based on the TV show alone. This alternate reality is yours to change, but how will you change/affect it?
The RP centres around the Doctor's home planet, Gallifrey, in the lead up to the war. But in particular, the focus is on the planet's Time Lord Academy, where students go to learn about time travel (as well as a whole host of other subjects) in order to become 'Time Lords'. The controversy surrounding the recent changes to who gets into the Academy (Aliens allowed on Gallifrey to learn time travel), means that you (as the students) will be put right at the heart of this political battle. The whole universe's eyes are now on Gallifrey and its Academy, drawing the attention of both allies and
enemies
alike...
What could possibly go wrong...? :D
About the RP
Some prior knowledge on Doctor Who will certainly help, but as with any RP, I hope to explain the universe in a way that will welcome anyone to join, even if you're not at all familiar with the Doctor Who Universe. If there's anything you're unclear or uncertain about, just ask.
As you will soon discover in this RP, there are no 'good guys', there is no 'right side' to be on. This RP is a particularly cynical Black and Grey morality side of the Whoniverse; there are different sides of varying shades of grey, and it will be up to you to decide who to side with. As a student at the Academy, there are many different sides you could choose to support. Every side carries its own brand of evil, even those who believe they are doing the right thing. Or alternatively you could choose to be on your 'own' side.
However your character chooses to align themselves and whatever decisions they make, will have a great impact on what happens. This is a pivotal point in Gallifrey's history...you may be only a lowly student, but just by being at the centre of this event, you have more influence over what happens than you'd think. Just remember that ;D
So, if you want to get ambitious and wish to set a few of your own plans into motion, don't be shy. If you're clever and use this current political situation to your advantage...who knows what you might achieve? Alternatively, you might just want to sit back and enjoy/try to survive the ride. The choice is yours. This is a great opportunity; you have a good amount of flexibility here, and although you don't have a lot of power as an individual student, potentially you could do almost anything, if you play your cards right...
Also, if you wish to play a character who isn't a student on Gallifrey (i.e. A Villain for a side-plot) you may do so as a secondary character –
But please PM me about this first
.
Same applies to any side-quests or plot ideas you may wish to pursue – go right ahead, but PM me so we can discuss the details. In fact I heartily encourage you to come up with your own plotlines to follow; I will be providing an underlying plot, as well as having a series of smaller plots lined up ready, but if you happen to come up with a side-plot amongst yourselves to pursue without the GM, that's brilliant.
You can play either as an off-world student who is arriving on Gallifrey for the first time, or as Gallifreyan student who is now having to share
their
Academy with aliens. Whichever you chose, both options have their own little perks, and come with their own disadvantages, too. Ideally I'm looking for a good number of both offworld students and Gallifreyans.
The Basics

What is Gallifrey?

Gallifrey is a planet from the Sci-fi tv series

Doctor Who

. It's the home planet to the race known as the Time Lords, and was a planet that had a significant yet somewhat secretive influence on the universe.

Who are the Time Lords?

http://www.youtube.com/watch?v=creDcdWHQRM

In its simplest form, as a title, a Time Lord is someone who has complete mastery over space and time. Most of the time this title refers only to Gallifreyans, however (theoretically speaking), with the right knowledge and power, any race could become 'Lords of Time'. Gallifreyans usually gain the title of 'Time Lord' after training at Gallifrey's Time Academy, and becoming qualified and skilled enough to be given their own TARDIS.

As a race, however, 'Time Lords' is generally interchangeable with the name 'Gallifreyans', and refers to the people of Gallifrey. People will often use the name 'Time Lord' and 'Gallifreyan' as if they are the same thing (and, to a certain extent they are – Just remember, though, that although Time Lords are mostly Gallifreyan, technically speaking not all Gallifreyans are Time Lords. Follow that, and you can't go wrong. ;D)

What is a Gallifreyan?

Gallifreyans are (unsurprisingly) the people who inhabit the planet of Gallifrey. As a race, they look almost identical to Humans, but they do have some biological differences. Their biological makeup is thought to be superior to that of Humans. Amongst other things, Gallifreyans are stronger, faster, and have more stamina than that of a Human. They have two hearts, larger lung capacity, as well as other internal differences, such as a superior brain. They also need very little sleep, although they can choose to sleep if they wish to (a couple of hours of sleep a day is highly recommended, however – a week or so without any sleep can make most Gallifreyans tired).

Gallifreyans are also natural telepaths (although these days, training is usually required to unlock telepathic potential and shield thoughts from others), and are time sensitive, meaning they can detect time on a level that some other beings can't. [Just to note: Gallifreyan's are not the only race to be 'time sensitive'.]

Along with having two hearts, one trait which is unique to Gallifreyans/Time Lords, is the ability to 'regenerate'. Gallifreyans can naturally live a long time and age very slowly, but added to this, when they eventually die (whether through natural or unnatural causes), they can heal and replace every single cell in their body, in a process known as 'Regeneration'. After regeneration, Time Lords take on a new appearance and sometimes, a slight change in personality, but essentially they are the same person, with the same memories. Time Lords can normally regenerate a total of 12 times (So they have 13 regenerations/lives, essentially). Once their thirteenth body, or 'regeneration' is used up, the Gallifreyan can no longer regenerate, and finally dies.

Due to this regenerative ability and slow aging process, Time Lords are considered to be immortal.

However, Time Lords/Gallifreyans are far from invincible. Destroying/piercing both of their hearts, destroying them too quickly for the regeneration process to fully take effect, or getting them to use up all their regenerations/lives, can kill them.

[So yes, if you choose to be a Gallifreyan in this RP, death is still likely, and I

will

find ways to kill you ;D]

Who is the Doctor?

The Doctor is a renegade Time Lord, who left Gallifrey in order to travel the universe. The stories of why he left Gallifrey vary, but it is generally thought that he was on the run from his own people. He goes against the customs of his people by meddling in the affairs of other planets, frequently breaking Gallifrey's policy of Non-intervention, as well as taking part in a number of other crimes. He is considered by the Time Lord authorities to be nothing more than a thorn in their side (accept for when they have a use for him, of course)...and it can be said the Doctor and the Time Lords don't always see eye to eye. However, the Doctor has left something of a legacy on Gallifrey, and there are some Time Lords (particularly of the younger generation), who view him as a hero.

There are other renegade Time Lords as well as the Doctor, but the Doctor is perhaps one of the most well-known.

Despite this RP being set in the Doctor Who Universe, the Doctor

won't

be making an appearance (at least, I do not plan to involve him directly any time soon), but seeing as he is an important character and he will no doubt be referenced from time to time, it's worth knowing who he is ;D

What is a TARDIS?

http://www.youtube.com/watch?v=N6MNFKP6Emwhttp://www.youtube.com/watch?v=l82OCNpgKbQ http://www.youtube.com/watch?v=6GJI1_IgkiYhttp://www.youtube.com/watch?v=49rLQ4MDYMQ

The 'TARDIS' (Time And Relative Dimension In Space), or sometimes called 'TT Capsule', is the name of the ships belonging to the Time Lords. These ships can travel anywhere through space and time, and are the main source of transport for Time Lords to get across the universe.

Not only are TARDISes bigger on the inside than they are on the outside, due to Time Lord 'Transdimensional engineering', but all of them are fitted with perception filters and other cloaking devices to make them undetectable when visiting other planets. One such cloaking device is the 'Chameleon circuit', which allows a TARDIS to disguise itself wherever it lands, blending in with the environment. (So, for example, a TARDIS might become a bookshelf if it landed in a library, or a stone pillar if it landed in Ancient Rome.)

TARDISes are also 'organic machinery' – they are technically grown, rather than built like other machines, and are sentient to a significant degree. To say a TARDIS machine 'is alive' is not an exaggeration. They usually have the biological imprint of the Time Lord who owns it, linking it with its owner symbiotically and telepathically, and all TARDIS's are fitted with something called the 'Rassilon Imprimatur'. This prevents the technology from being stolen, copied and replicated by other races.

Gallifrey has two main versions of TARDIS:

Regular TARDISes, used for exploration and observation.

And Battle TARDISes, used for combat and defence.

There also could be an even more advanced capsule called a 'War TARDIS', but this could just be a rumour, since Gallifrey has been at peace now for millennia, and there's no evidence to suggest such a TARDIS exists.

Time Lords usually get their own personal TARDIS after they've graduated from the Academy, and are qualified to own one.

(The Doctor owns an outdated Type 40 TARDIS, the last remaining Type 40 in existence –currently, the newest model on Gallifrey is a Type 101.)

Who are the Daleks?

http://www.youtube.com/watch?v=lWtpTyezR9whttp://www.youtube.com/watch?v=fqVilUtDVZU Information on the creator of the Daleks, Davros

(Thanks Arch)

The above videos practically cover the basis of what you need to know about the Dalek race.

More can be found on the Daleks under the 'Factions' section (to be added soon).

Don't forget, if you have any questions or need more information, just ask!
I'll add any questions to the FAQs Section [Coming soon]

(Thanks Sam for this idea ;D)
Gallifreyan History
Tl;dr version/'Fun' version: An amusingly appropriate educational video, which I recommend you all watch. Especially if you're too lazy to read the history info below.
Here's me trying to explain billions of years worth of history, so bear with me on this. Believe it or not, I did have a longer version of this, but then I realised it was completely unnecessary, so I then shortened it (ha ha) to this:
Ancient Gallifrey/The Dark Times
[NB: Gallifreyan Society is in fact so old, that most of its History has passed into legend. Much of Gallifreyan history has that vague, fairytale-edge to it, and it can't be said how much of it is actually true. This is made even worse by the fact that the Time Lords have erased much of their history from record, and prefer to sugar-coat their brutal and violent past with grandeur and heroics.]
Gallifreyans first appeared during the 'Dark Times' of the Universe, a time when the universe was much smaller than it is now, and teeming with magic and chaos. 'Gallifrey' meant 'They that walk in shadows', thought to be derived from the idea that these Gallifreyans, or 'shadow people' utilised and embraced both magic and science. These early Gallifreyans were religious and highly superstitious, and although they used science for their own ends, it was clear Gallifreyans during this time preferred the irrationality and mysteriousness that magic offered, as opposed to the rationality of science.
Gallifreyan civilisation evolved and developed very quickly. Long long before the Earth was ever created, Gallifreyans were already travelling the stars. The Gallifreyans were highly telepathic, intelligent beings, but they were also beings of war and bloodshed. Many planets and civilisations fell at their hands, and it was around this time that Gallifrey first built its great Empire.
Around this time, Gallifrey was ruled by a tyrannical power called 'The Pythia'. It was a female-dominant society, an Empire ruled by a woman who was worshipped by her people as a goddess. The Pythians were powerful oracles who, although they had no powers of time travel, could see into the past and future, and built their lives on prophecies. During this age, slavery, tyranny, and discrimination against the poor were highly common. The Gallifreyans of this age "had tremendous powers, which they misused disgracefully".
Anyway, cutting a long story short, the Pythian Order was eventually overthrown, in a major revolution led by a man called Rassilon [This dude is very important]. He decided to completely reform Gallifreyan society, making it a fairer society for all.
It was Rassilon, who would become the Founder of Time Lord society, the father of the Time Lord race.
The Rassilon Era
Rassilon's Gallifrey, unlike the Pythian Gallifrey, believed that Rationality and Science, not Magic and Superstition, were the way forward. Slavery was abolished. Help was given to the poor. Many Gallifreyan colony planets were given their independence. Government was completely reformed, with Rassilon becoming the first President of Gallifrey. It seemed that Gallifrey was entering a new golden age.
It was also around this point, that Gallifrey discovered the secret of Time Travel. Gallifrey's greatest scientist and co-Founder, Omega, worked on a project with Rassilon that would make Gallifreyans Lords of Time.
Omega's project was a success. Finally, Gallifrey had the power to travel both time and space. But the project cost Omega greatly, and he was lost inside a black hole, thought to be destroyed. However, he would be remembered throughout Gallifreyan history as a hero.
So the age of Time Lords began. However, it wasn't long before Gallifrey became paranoid; there were other civilizations out there, some who would soon develop time travel too. Fearing that these civilizations would become a threat to the Time Lords, Rassilon ordered his people to destroy them. During this time, countless planets, creatures and civilisations, were wiped out by the Time Lords. Anything that was deemed a threat to Gallifrey (and a threat to their rule over time and space), was destroyed.
These wars, would become known as the first of the Time Wars.
Once these wars were over, Rassilon was so ashamed by what he and his people had done, that he ordered that all records of these wars were destroyed, and that these wars were erased from Gallifreyan history. As those who could remember these wars grew fewer and fewer, so the Time Wars past into legend.
One war would be remembered, however: and that was a war labelled as 'The First War in Heaven'. The Time Lords went to war with the Great Vampires, known throughout Gallifreyan history as 'The Ancient Enemy'. The war had actually been going on since Rassilon was young, and it would be Rassilon who would end it. He had all the vampires in the universe hunted down and slain. In the end, only one of the great vampires would remain, fleeing to another universe.
However the war was so long, so devastating, and with so much bloodshed, that it was said that the Time Lords became sick of the violence forever.
Not only this, but other events caused the Time Lords to fear themselves, and fear the power they had. There had been cases where, Gallifrey had given time technology to developing worlds, in an attempt to help them...only to have disaster strike, as the civilisations damaged themselves though time travel, and in some cases, wiped themselves out completely.
And so from this moment forward, Gallifrey would become isolated from the rest of the universe; their policy of non-intervention preventing them from interfering with the lives of others. Time Lords swore from this point onward never to interfere – only to watch. Gallifrey itself became something of a legend, whispered among the stars. The Time Lords: the greatest and most powerful civilization, looking down on the galaxies below from their shining paradise.
Although, not everyone viewed Rassilon's Gallifrey in a good light. Whilst many would view Rassilon as a hero (and, to some extent a god, even), some believed him to be nothing more than a xenophobic tyrant. And indeed, Rassilon kept many secrets from his people. No one knew, that he had chosen some of his most trusted guards, to carry out covert operations behind everyone's backs. These Time Lords, hand-picked by Rassilon himself, would become the first ever members of the Celestial Intervention Agency (CIA).
It was unknown what happened to Rassilon. Some say he died as a hero. Others, say he grew corrupt, and the Time Lords overthrew him and locked him away for all eternity.
But even long after Rassilon's lifetime, during Gallifrey's millions of years of peace and isolation, the CIA would investigate and intervene in the lives of others, both on Gallifrey and elsewhere in the universe, in order to regulate Time travel and keep Gallifrey safe. Any other race or planet seeking the use of Time Travel, the Time Lords would keep an eye on...and, if deemed necessary, CIA operatives would be sent to deal with them. Despite Gallifrey's word to stay out of the affairs of others, the Time Lords' authoritarian policing over time travel would remain almost an established fact...to some extent, at least. No one knows to what extent the Time Lords were present in the universe, since most of their actions during this time were covered up.
The time lords would continue on this way for countless generations.
However, slowly, the Gallifreyan people would become more aware of its government's secrets. Some Time Lords would even rebel and turn renegade...one such renegade, was a Time Lord called the Doctor. Although the Doctor would be regarded by most Time Lords as nothing but a pest and a trouble maker, he did have a significant impact on Gallifrey's history. He has saved Gallifrey and the Time Lords on more than one occasion, and even became President of Gallifrey for a time, although he did keep neglecting his duties... Unsurprisingly, he was eventually deposed of his presidency by the High council of Time Lords, although the Doctor would continue to meddle in Gallifreyan affairs from time to time.
However recently, when former renegade and companion to the Doctor, Lady Romanadvoratrelundar, became president of Gallifrey, this is when Gallifreyan history took a new turn.
Current Events [You should definitely read this section if you want to know what is going on]
These are events all from the past 45 years
Unlike many of her predecessors, President Romana sought to change some of Gallifrey's oldest laws, even changing some of the very laws Rassilon himself put in place. Gallifrey was to become a more liberal and open society. Rassilon's policy of non-intervention, a policy that had been in place for millennia, was finally lifted. Gallifrey would, instead of going to war with the various races developing time travel, or secretly interfering behind everyone's backs, make peace with them. Under Romana's direction, the Temporal Alliance was formed...an alliance between the Gallifreyan Empire, and several other civilisations and Empires, all of whom had developed their own methods of time travel.
However, only a few weeks into Romana's presidency, disaster struck. A sudden dalek attack caused a whole planet to go missing...and amongst the personnel from the Temporal Powers that were on that planet, the new Lady President of Gallifrey was one of them.
An acting president for Gallifrey was drafted in, in the wake of the emergency, but despite all efforts to recover the president, it wouldn't be until 20 years later that anyone found out what happened to President Romanadvoratreundar. Being kept prisoner by the daleks for the whole 20 years she was missing, she finally escaped, making it back to Gallifrey.
...Although, the Gallifrey she came back to was not in a good position. She escaped just at the moment the Daleks put the next phase of their plan into action – and invaded Gallifrey.
Gallifrey has only had a couple of invasions in the past, throughout its long history (Most notably the Vardan and Sontaran Invasion that happened during the Doctor's presidency). And never before had Gallifrey encountered such a direct attack from the Daleks. With Gallifrey completely unprepared and weakened from its years of pacifism, the Time Lords stood little chance against this surprise attack. Civilians were evacuated from the Capitol as quickly as possible as the Daleks moved in, killing any resistance. They captured the Citadel of the Time Lords surprisingly quickly, and...for a terrible moment, it seemed that the initial invasion was a success. Gallifrey was now occupied by the Daleks, the Time Lords powerless to do anything but surrender.
However, in a rather unexpected twist, it seemed taking over the Capitol was only planned to be temporary. What the Daleks were really after, was simply access to the Time Lords power source – the power source that gave the Time Lords the power to control time.
Long story short, (you don't really need to know the details right now, just go with me on this one,) The Daleks sought to invade Gallifrey, and use Gallifrey's resources to help them expand their Empire. Once they had access to the Time Lords power, they used it to help them wipe out the entire neighbouring galaxy – A whole galaxy, destroyed, billions and billions of civilisations, wiped out in an instant. In the devastation the destruction left in its wake, a new galaxy was born out of the dust. A whole new galaxy, empty and ripe for Dalek occupation.
This action of destroying an entire galaxy, though a success, destroyed the invading dalek force as a result, who burnt up as a consequence of harnessing such great power. The last remaining dalek explained this to President Romana and the others present, as it died. The plan had always been this – the Daleks that invaded Gallifrey would sacrifice themselves, so that their empire could continue to live. They forcibly took the Time Lords power, because they knew the Time Lords would never have given it to them willingly.
After clearing up the mess left behind by the daleks, Romanadvoratrelundar took up her place as President of Gallifrey once more. During the 25 years that have followed (despite the shaky start to her presidency), Romana has proven to be one of the most popular presidents Gallifrey has ever had – with a generous amount of support from off-worlders, as many of her policies have been in their favour. The Temporal powers first temporal summit was a success, with all of the parties involved coming to an agreement. By some miraculous luck (albeit with some coaxing), the High council of Time Lords have supported the President on many of her endeavours, allowing Romana to make some significant changes to Gallifreyan law.
- However, the new changes haven't been popular with everyone. And Romana's newest policy, to allow aliens to study at the Academy, has caused quite a stir. Whilst some are heralding this as the start of a new age, others believe that these changes to Gallifrey's laws, can only lead to disaster...
[Note: Whether Romana has been in power for 25 or 45 years, depends if you count the earlier 20 years during her presidency that she was missing.]
CS Outline
Name:
Unusual names are welcome, but you can use regular names if you wish. (Note: If you're doing a Gallifreyan, just put a shortened name i.e. 'Romana'. A full long name is optional, and should be placed in brackets.)
If you don't wish to reveal your characters real name for whatever reason, you may use an alias.
But please, no aliases such as "The Doctor" or "The ____" whatever. Time Lords don't get a title until they graduate :P
Incarnation:
(Time Lords Only).
This is just so I can keep track of how many lives you have left. Although I'm unlikely to make your character regenerate in this game (certainly not at the start, anyway), it's a good idea to start thinking about what your future incarnations would be like, just in case.
You should be on your 1st incarnation, unless you mention a reason for regenerating in your history.
Nicknames:
This field should be left blank. This is something you will gain through your experience and reputation at the Academy. (And in a cruel twist of Time Lord humour, these nicknames are usually negative ones...although you might gain a positive/neutral one,
if you're lucky
.)
Age:
Any age from 17 onwards. The Time Academy has little restrictions on age – Time Lords can sometimes spend
centuries
at the Academy. However, your age should correspond logically with your race. (i.e. Gallifreyans could easily be a few centuries old, but obviously if you're a human, you're not going to live that long).
Also bear in mind that, obviously, 'young people' are more common at the Academy than mature students – but please don't feel too restricted by this. After all, learning is for any age :)
Gender:
Pretty straightforward. (I hope).
Although, in the odd event that you
do
choose to play a sex-changing species, just give me the gender they are currently, and what they were originally. Both or no gender is also allowed, but do think about how you're going to write for them.
Race:
Gallifreyan? Human? Cyborg? Strange hybrid with multicoloured spots? Tell me what species you are. If it's something unusual, give me a detailed description. What your race is and their general reputation [Ooh and political standing,
definitely
!] could have a significant impact on how people react to you.
And no, you cannot play a dalek, or any other species with a bad history with the Time Lords. Don't be daft. (However, this option is available for the purposes of side quests/plots, as stated earlier.)
Homeworld:
What's your native planet?
Appearance:
Detail is always nice. Please include how your character is dressed. [For simplicity's sake, there is no formal dress code for students, apart from the robes used for ceremonies, but you don't need to worry about that for now.]
If you're a Gallifreyan student, you can pretty much pick any taste of clothing from any culture, date, or planet of your choosing. It doesn't have to be clothing from Gallifrey, since Time Lords can pretty much borrow any fashion/food/stuff/whatever from any culture, time or place.
Personality:
What are you like as a person? How does your character usually behave ? Do they have any quirks? Likes/dislikes? How does your character tick? What makes them, them? [If you wish some details to remain a secret for now, PM me them].
Equipment:
List any weapons, tech, gadgets or unusual items your character has on you. I'm going to be pretty lenient with weapons in this RP (it's no fun otherwise, if I said no weapons are allowed on Gallifrey), BUT just be aware that Gallifrey is essentially an anti-weapon planet, and you
are
going to be attending what is essentially a school. If the authorities catch you wielding weapons, they might see you as a threat. So just be careful.
Powers:
List any powers you have currently (if any). Keep in mind your species, and your situation. Think logically about what powers you would have. (i.e. If you're an ordinary human who has lead an ordinary life, you're not going to have fire shooting from your fingertips). Gallifreyans, if they have any natural powers, are usually psychics. This means if you choose to give your character powers, (unless you give me a good reason why they'd have a power that isn't psychic, i.e. a power given to them through technology), it must be a type of psychic power (Telepathy, Telekinesis, etc). It's unusual in this day and age for a Gallifreyan to be naturally gifted with psychic powers, but not unheard of. There will be a chance to 'learn' psychic skills at the Academy, so you can pick up new powers as you progress, if you wish to.
(Please be careful if you choose any power that affects people's free will, such as mind control and mind reading. In fact, that goes for
any
power where it is difficult not to God mod. Try and avoid them if you can, but should you choose something along those lines, then be cautious.)
The powers you have might have been learnt, they might be natural, or they might be generated through technology. It's completely up to you.
However, if you are planning on using any powers that are explicitly 'magic' apart from psychic magic, you may (cos I'm a nice GM like that) but be VERY careful how you go about it. Gallifrey doesn't like magic. So if you start waving your arms around going: LOOK AT ME, I'M A WIZARD! ...Expect trouble. I'll try and be nice, but I've got to stay in character. You have been warned.
Skills:
List here any skills you have, prior to entering the Academy. What are you good at? What can you do that sets you apart from the rest? Is there any particular skill that you really excel at? What are your talents?
History:
Who are you, and what is your story? How did you get here, and what made you join the Time Academy? Is there anything interesting in your past, any significant events that you can tell me about? [If you have any secrets in your past you can PM me about, I'd love to hear them].
If you're an Off-worlder, how did you hear about Gallifrey and about the Academy? Under what circumstances did you decide to join the Academy? Did you request to join, or were you singled out and offered a place?
If you're a Gallifreyan, how has life been on Gallifrey for you up until this point? Do you get along well with the rest of Time Lord Society, or are you rebellious? Have you been at the Time Academy for very long, or will this be your first time entering the Time Academy? Did you attend another Gallifreyan college before accepting a place at the Time Academy? (Bear in mind the Time Academy is a bit like a university/college; there are separate 'academies' aimed at the younger ones [from the age of eight onwards]).
[If you wish to, feel free to talk about the Dalek invasion that happened 25 years ago, assuming you were around for that. Where we you when the Daleks tried to invade Gallifrey? Were you inside the Capitol when it happened, or were you somewhere else? This is just a topic point if you get stuck for material, it's up to you whether you talk about it or not.]
Also, feel free to use any of the information I give on Gallifrey and the Time Lords to help you. You can ask me any questions if you need more info.
Theme:
I have a theme song now. Theme songs are cool.
[[PM any details on your CS you wish to remain secret for now.]]
Rules & Limitations
- Standard RP rules apply. No god-modding, no power playing, no auto-hits. Have courtesy for your fellow players. If you're unsure whether you're allowed to do something, ask the GM about it first, and if you do plan to do something that could be considered god-modding or auto-hitting, consult the people it affects first before you do anything.
- Keep things tasteful. No material of an explicit nature, please. In terms of sex, violence and horror, I want it kept to the standards you'd expect to see from a universe such as this. So yes, sexual references, romance and some innuendo is allowed, but
nothing
above a PG-13.
Plus, bear in mind you'll be spending a lot of your time on Gallifrey. A place known for being virtuous and reserved. So let's keep things tasteful, k?
Violence and horror has much fewer restrictions, (this universe is well known for its nightmare fuel), but please nothing too graphic.
- No functioning TARDISes are allowed at the start of this game. To begin with, only the GM will have control over TARDISes, or anything that involves time travel. This is mainly because I want to limit how much time travel is used. It's so easy to fall into the trap of relying on time travel to give you a Deus Ex Machina for every problem, so yeah...No Time Travel without the GM's consent! I'd prefer you all to use time travel as a plot device to get you from point A to B, rather than using it as a cheap solution to a problem. There may be times when I say 'yeah fine, go back in time, change things so none of this ever happened'...but I'd like to keep that to an absolute minimum. For that reason, you will not be allowed any (working) Time ships or TARDISes at the start of this RP.
However your characters
will
get the chance to time travel, I can promise you that. So don't worry ;D
- If you're a Gallifreyan, this really goes without saying: don't abuse your regeneration powers. You may be immortal, but you are not indestructible. You can and
will
, die in this RP. Regeneration is only to be used as a last resort kind of thing, and it won't benefit you as much as you think. To regenerate is a stressful process, it takes up a lot of energy, and it will most likely leave you incredibly ill or at least considerably weakened for the next several hours in game. Although it might save you from immediate death, it will actually make you more vulnerable to attack, so it's not something you should carry out lightly. If a player wishes to regenerate at any point, they must consult the GM. Also, just like killing another player,
no
player is allowed to force another player into a situation where they must regenerate, not without the consent of the GM, and the player/s involved.
-
In terms of Magic vs Science:
Ultimately, this is a Sci-fi RP with fantasy elements, rather than a fantasy RP with Sci-fi elements, sooo...yeah, just remember that. Magic does exist in this universe, but science ultimately rules. Just remember:
The Doctor Who Universe LOVES Clarke's Third Law
. Wibbly wobbly, science-y magic-y... whatever, just roll with it.
Also, on Gallifrey, magic is a taboo subject. Thanks to the whole ordeal with the superstitious Pythia and the revolution, very few Gallifreyans view magic in a good light these days. Magic goes against the teachings of Rassilon, it's considered archaic and dangerous, and as far as the Time Lords are concerned, it's not welcome on Gallifrey (despite the fact that the magic-loving Pythians were their ancestors, and Time Lords still have psychic abilities and other things that could arguably be considered 'magic'). Whilst I will happily allow you to use magic in this RP, do bear in mind that performing 'real magic' on Gallifrey is actually illegal and could possibly land you in trouble (unless you can bluff/wriggle your way out of it somehow).
Aaaand...If I think of anything else, I'll add it later.
~**************************************************************************~
"There was once a world on the brink of war against the cosmos."
"A world that used its mastery of space and time to kill."
"A world where creatures and monsters lived deep within the shadows."
"A world which would end before it had ever even begun."
"And the name of that world; the world we called our home..."
"

Gallifrey

."
~**************************************************************************~