Role
: Player
Name
: Kurenai, Wataru
Age
: 21
Appearance
: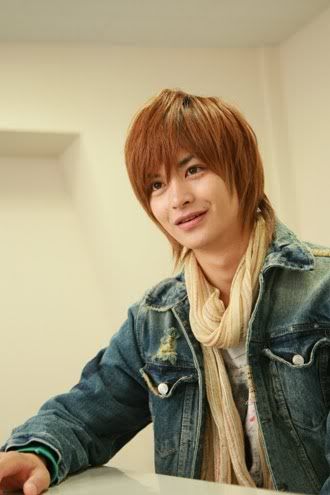 Personality
:
Wataru as a brave young man with a good heart. Though once incredibly timid he has matured through the course of his many battles, baring an unwavering sense of right and wrong and a will of iron. His love of music is only matched by his admiration for his late father, whom he holds as an ideal for him to achieve. He fights not for himself, but to protect the song that lies within the heart of each person. He has become a brave knight in crimson armor, ready to fight the darkest creatures which go bump in the night, but is just and never quick to judge others. He is quick witted and loathes to fight, but will do so when the need arises. His dreams of a world at peace fueling fire which burns within his heart. Though the loss of his love, Mio, still weighs upon his heart; he has sworn to do all that is within his power to prevent another tragedy like hers from occurring once again.
In truth one who sees Wataru would never imagine that he holds this kind of strength inside him, for he can come off as bashful and is easily excitement, often worrying himself over the slightest things. He is friendly kind and soft spoke, almost never raising his voice unless truly perturbed. Wataru always seems to be getting into trouble, often in an attempt to help others; though never so much as to invade their personal space. More often than not he is dragged into those situations rather than willingly entering them. He is slow to anger, though once his rage bubbles to the surface one cannot help but listen to his words; for he may be soft spoken, his words carry great weight upon them. Those who are close to him know him to be dependable and that he posses an inner strength which words cannot quite define. He bares the respect of his friends and is a symbol of terror to all who stand against him.
World: Kamen Rider Kiva
Soul Shard Location
: Left Breast
Powers:
Unarmed Combat
Type: Talent
Cost:
Description:
Though he might not look it, Wataru is a highly skilled martial artist and can fend for himself against most enemies. Though his skill truly shines ones he has entered Kiva Form and has the strength to actually harm the monsters he fights.
Kibat Bat the Third
Cost:
Type: Summon
Description: Kibat is Wataru's most loyal and trusted companion, having been together as far back as either of them can remember. Highly charismatic and a bit of a snob at times, there's no doubt that he Kibat is a good "person". He is nearly fearless and often gives Wataru that extra push he needs to get things done. He is wise and has a particular fancy for European culture, having a particular interest in the arts, and is known to spill random facts and quotes from time to time.
As a member of the Kivat race he is an extremely swift and agile flier, ready to come to Wataru's aide at a moments notice; always knowing where he is and how to get to him. His small claws and and teeth make him more than a match for most normal humans; though against a real threat he can only truly stall for time or stun the enemy long enough to fulfill his true purpose, creating the Kiva armor.
Kiva Form
Type: Enhancement/Support
Requirement: Kibat
Cost:
Description:
Upon biting Wataru, stain glass-like veins spread forth from the bite mark unto Wataru's face; causing a set of spectral chains to come forth and wrap themselves around Wataru's waist to form his rider belt. Finally Kibat places himself on the center as a buckle, thus calling forth the Kiva armor in to existence.The mighty Kiva armor is Wataru's birthright and gift from his mother, the former queen of the Fangire. This mighty crimson armor is called forth through a joint effort between Kibat and Wataru. Possessing great power derived from Wataru's own spiritual power as well as the three demon star stones locked within the armors right leg known as Hell's Gate. The armor grants its donor super human strength, speed, agility, resilience and armor. However this armor comes at a price, it's great strength draws from it's owner; causing it to kill any not worthy of it's full power. In order to protect Wataru magical sealing chains known as katena adorn the armor, limiting its power until Wataru is ready.
Portions of it's power can be drawn forth through the use of artifacts known as
fuestles
. These magical whistles are placed upon Kibat, calling forth mystical powers with it's beautiful melodies.
*Punching Strength: 6t
*Kicking Strength: 8t
*Jump Height: 85m
*Speed: 100m/6.5s
Darkness Moon Break
Type: Instant
Requirement: Must be in Kiva Form to use.
Cost:
Description:
Upon blowing the Wake Up Fuestle Kibat leaps off the rider belt and a scarlet mist spreads from Kiva creating a Kekai. Within this barrier the area turns to night and a crescent moon hangs in the sky. Soon after Kibat flies swiftly around Hell's Gate unlocking it and revealing it's true form, after which Wataru leaps high into the air before diving towards the opponent. Upon impact, this diving kick strike the opponent with well over 30 tons of force forming Kivas Mark unto the ground beneath him from the shear shock-wave of the attack.
Demon Beast Sword: Garuru Saber
Type: Soul Weapon
Requirement: Must be in Kiva Form
Cost:
Description:
Garuru Saber is one of the most prominent of the monster weapons, a series of magical weapons created from the sealed states of the last survivors of their monster race. These weapon's creatures sealed by the former king of the Fangire now join Wataru's side in battle, granting him access to their power and skill. For with the great power they grant they influence their user, were it not for Wataru's will and the Katena he too might be swayed be their power. Only one weapon may be out at a time, but they can be swaped in and out through the use of a fuestle; the previous weapon being returned to Catsle Doran. The Garuru Saber itself unleashes the power of the mighty wolfen Jirou, current leader of the monster trio which guards castle Doran and last of the Wolfen race. When the Garuru fuestle is blown Jirou is called forth from the Castle, transported by Doran's magic and becoming this sword. This mighty blade unlocks the power of Garuru Form and is known for the ability to manipulate sound, as well as it's skill in cutting through an opponents guard.
Garuru Form
Type: Enhancement/Talent
Cost:
Description:
Upon grasping the Garuru Saber Kiva's left arm and chest turn blue, taking on a shape similar to animal fur, as well as turning his left arm into a claw. While in this state Wataru takes own the ferocious and primal strength of the werewolf, as several of his mannerism change in homage to his new totem. This form grants amazing speed and agility, as well as amazing leg strength and sword skill, at the cost of some of his jumping ability and punching Strength.
* Punching Strength: 5t
*Kicking Strength: 9t
*Jumping Height: 40m
*Running Speed: 100m/1.5s
Howling Shockwave
Type: Instant
Requirement: Garuru Saber
Cost:
Description:
The Garuru Saber launches a close range sonic blast against the target. While this cone of sound does not do that much damage against most monsters, it does however posses a great deal of knock back and can be used to block physical attacks with a well timed blast.
Howling Slash
Type: Instant
Requirement: Garuru Saber
Cost
Description:
The Garuru Saber is lowered to Kibat where he bites the blade, infusing it with Kiba's power as a crimson mist spreads through out the area forming the kekai; in which the area turns to night and a full moon hangs above. The blade is then placed in Kiva's mouth guard, before he sleaps in to the area, turning his body as he closes in on his foe and bringing the blade upon them. This strike will rend apart most, if not all, of the enemies defenses as it cleaves clean through it's victim.
Demon Sea Weapon: Basha Magnum
Type: Soul Weapon
Requirement: Kiva Form
Cost:
Description:
This legendary magnum draws forth the Power of Ramon, last of the Merman race and youngest of the three care takers of Castle Doran. This weapon has unparalleled range and the water bullets it can generate can easily blast apart solid stone with a single blast. It is a high accuracy weapon with an amazing rate of fire, and is known for it's ability to manipulate water. It serves as the key to unlocking Basha Form, and has been known to be able to change to generate rain to fall within an area.
Basha Form
Type: Support/ Talent/Enhancement
Requirement: Basha Magnum
Cost:
Description:
Upon grasping the Basha Magnum his right arm and chest turn green and take a shape similar to scales. This state grants many boons with it's elegant movement, but many flaws as well. Basha form grants Wataru marksmanship skill which could easily rival the greatest snipers, as well as granting a heightned senses allowing him to make shots at distances and under circumstances which would be impossible to make otherwise, as well as being able to spot a targets weakest point. Though for all this he sacrifices most of his close range combat prowess, running speed and jump height. Though he does gain the ability to swim at great speeds under water with unfettered movement, the ability to breathe underwater and the ability to walk upon liquid surfaces. When on a liquid surface he is capable of "sliding" on it's surface at speeds comparable to that of Garuru form. It is also capable of generating a massive psuedo-underwater environment known as an Aqua Field.
*Punching & Kick Strength: 3t
*Jump Height: 20m
*Land Speed: 100/6s
*Swim Speed: 162kt (1kt=1852m)
Aqua Tornado
Type: Instant
Requirement: Basha Magnum
Cost:
Description:
Upon having the Basha magnum bitten, a red mist engulfs the area turning it to night as a half moon hangs in the sky. If Kiva is not standing upon a body of water, then an aqua field is spontaneously generated beneath him. The Magnum is then pointed upwards as it's three stabilization fins begin rotating, causing the water around him to rise up into a tornado surrounding Kiva, which doubles as a barrier, after which the magnum is point at the foe and an immense blast of water (roughly twice the size of a basket ball) ruptures through the tornado towards the opponent. This attack will follow it's designated target until it hits and will not strike an unintended target, and is not known to have a maximum distance once fired. This blast strikes with enough force to demolish small structures in a single shot.
Demon Steel Hammer: Dogga Hammer
Type: Soul Weapon
Requirement: Must be in Kiva Form.
Cost:
Description:
This mighty megaton hammer is formed through the power of Rikki, last survivor of the Franken Race and the physically strongest of the three monsters. The mere weight of this two handed hammer is capable of causing solid stone to break under it. Single blows can break apart cars, though it is most known for its ability to manipulate electricity and unlocking the might of Dogga Form.
Dogga Form
Type: Enhancement/Support
Requirement: Dogga Hammer
Cost:
Description:
Upon grabbing the Dogga Hammer with both hands, his whole upper body turns purple and becomes heavily armored. As the strongest of Kiva's forms his physical strength is increased nearly tenfold, though even with this Dogga form can do little more than calmly walk as it drags its hammer. It can attack with surprising speed at close range and it's great armor allows him to talk most attacks head on without even slowing down. Though it's immense physical strength and defense come at a steep decline in it's agility and kicking strength. Essentially making Dogga form a slow moving fortress.
*Punching Strength: 15t
*Kicking Strength: 4t
*Jump Height: 10m
*Running Speed: 10m/s
Thunder Slap
Type: Instant
Requirement: Dogga Hammer
Cost:
Description:
Upon biting the Dogga hammer it is placed standing on the ground before Kiva as a crimson mist envelops the area and turns it to night with dark thunder clouds and a hazy moon hanging above. The front of the hammer opens up revealing Thor's Eye which launches an intense electric vortex at the foe in the hopes of paralyzing them. Typically Fangire would crystallize upon being struck by the field due to it's electric currents, keeping in mind that a fangire can touch to live power lines and come out with out a scratch one can only imagine how much energy courses through the vortex. After the foe is paralyzed the hammer projects a large fist the size of a small car made out of solid electricity, which mimics the hammers movements and has enough power to topple cars with a passing glance. The attack ends with the "fist" smashing down upon the opponent.
Castle Doran
Type: Summon
Cost:
Description:
This mighty 320 year old creature is one of the finest specimens of the Doran Race, a great wyvern sealed and trapped within the mold of a castle. Once vicious, it has accepted its new form and is quite fond of Wataru. It serves as his base as well as the home of the Arm Monsters, last survivors of their race bound within its confines in service to Doran's master Wataru do to a promise made to his father; though they don't seem to complain about living within this grand mansion. While dormant it can perfectly conceal itself from all means of detection as a normal building and can even bend space, thus allowing it to hide within a preexisting structure. Most of it's offensive abilities are sealed and may only be brought forth by the Doran Fuestle. Even then it most call forth Shudoran, a small wyvern bound to a windmill which attaches to the top of it's body, to unlock it's full power. Once in combat form it is capable of launching magic missiles from its towers and powerful balls of fire from it's maw, it's wings can even reflect projectiles and lasers and it can enhance Wataru's Darkness Moon Break, by using him as ammunition. Though even without it's combat form it served it's duty by consuming the souls of fallen fangire and feeding on their life force, thus preventing them from resurrecting.
Though with all this Doran is still a luxurious castle filled with many comforts, both magical and mundane, and many rooms and secret chambers were the secrets of the former Fangire Kings lay in wait. One of it's most potent and underrated features is it's rose bath, which can serve as a magical intensive care unit capable of bringing one back from the brink of death and curing their ailments.
Tatsulot
Type: Summon
Requirement: All Three Arm Monster Forms purchased.
Cost:
Description:
This adorable dragon like creature is the most exuberant and energetic of Wataru's crew. He posses a child's curiosity and naivety while being able to display the manners of a refine noble towards others. He sees Kibat as his mentor and Wataru as his dearest friend. His just as swift as Kibat and is always aware of Wataru's location. His his nimble claws and small fire balls he is just as much of a pest as Kibat is in combat, though lacks any serious fire power. Though this serves him just fine, for his true purpose is to unlock Wataru's true power Emperor Form.
Emperor Form
Type: Release
Requirement: Tatsulot
Cost:
Description:
As a golden light embraces Wataru, his wounds are mended and his wearyness swept away, as the Katena binding Wataru's power break apart. In golden regalia and mantle weaved from flames thus Kiva stand in it's true glory, unleashing Watarus true power ass the three demon stones, once sealed behind Hell's gate, now are displayed proudly upon his chest plate. Possessing strength, agility, resilience and majesty far beyond any of his other forms, as well as greater skill at wielding each of their weapons than they themselves possessed. Most note worthy of its traits being the enhancements of all his previously learned attacks and the Imperial Slot, which allows him to bring forth the Demon Weapon's without the need of a fuestle. Such is the might it wields that when it fells a foe, it destroys it mind, body and soul. For nothing is left of those who stand against the would-be king. Word's cannot adequetely describe his might and fail further to describe its majesty, upon sighting Emperor form one has only two choices to bow in reverence or fall.
*Punching Strength: 18t
*Kicking Strength: 36t
*Jump Height: 180m
* Speed: 100m/3s
Enhancements:
*Emperor Darkness Moon Break: Upon activating the Imperial Slot and leaping into the air, twin bat wing like blades forged from raw energy from along-side his legs. If a diving kick is performed the blade like wings rapidly puncture the foe sending violent surges of energy into the enemy before kicking of his beaten foe and turning just before they fall. The attack may also be performed as a roundhouse kick or an axe kick, where the blade-wings cleave through the opponent in half.
*Emperor Howling Slash: Tatsulot is attached to the bottom of the blade, before Kiva is rocket propelled from by the handle of the blade either towards the foe or into the air. In either case the foe is rent apart, along with any feeble defenses he tried to put up.
*Emperor Thunder Slap: Tatsulot is attached to the end of the hammer's staff and is used as a cannon to fire a ball of condensed lightning, which is then swatted at the foe like a base ball. The enemy is then shocked and paralyzed before being struck by the hammer.
*Emperor Aqua Splash: Unknown at this time
Flight Style
Type: Release State
Requirement: Emperor Form
Cost:
Description:
This grand Bat-like dragon is known as the Emperor Bat and is the manifestation of Wataru's hopes, dreams and will made flesh. It is arguably his most powerful form, possessing speed and might unimaginable; though it's physical strength might not surpass that of emperor form, it's spiritual might surely does. With his talons he can tear apart the flesh of the mightiest of behemoths and from his maw bring forth orbs of flames which can blast apart all but the sturdiest structures.
*Punching Strength: 10t
* Kicking Strength: 18t
* Top Flight Speed: Mach 3.4
Bloddy Strike
Type: Instant
Requirement: Must be in Flight Style
Cost:
Description:
As the three Demon Star Stones Space, Earth and Water upon it's head glow, an immense radiant gold beam is unleashed from its maw. The beam is roughly 3-4 meters in diameter and of unknown range. Nothing has been able to withstand the shear might of this blast.
Demon Star Blade: Zanbat Sword
Type:Soul Weapon
Requirement: Flight Style Purchased, may only be used in Emperor Form.
Cost:
Description:
The blade of the King; only the destined King of All Fangire may wield this the mightiest of blades. Nothing can stand before it's razor blade, grinded by Zabat. All but the mightiest of entities withstand more than a single strike from this blade, and no blade may match its power. It is the only weapon suited for the one who might one day rule all, for it is the king of all weapons and may cleave through both energy, magic and substance with ease. The sight of the Zanbat Sword is the last thing the foes of the Fangire ever see.
Final Zanbat Cut
Type: Instant
Requirement: Zanbat Sword
Cost:
Description:
By playing the Zanbat's fuestle its true unbridled power may be unleashed unto the world. Kiva places his hand upon the Zanbat, and drags it along the blade causing it to turn blood red before bringing it back unto the handle. Once completed the attack follows on of two paths a standard melee slash or a wave slash. This attack may be used against any enemy in sight and as many as one wishes. All enemies struck by this are felled and their are no known ways to defend or survive this most powerful of attacks, for such is the judgment of he who might rule over all.
*For those who wish to have a clearer idea of Kiva's capabilities here's a set of clips:
All transformations and finishing moves except Flight Style, Emperor Aqua Tornado, Emperor Thunder Slap, Emperor Howling Slash and Bloody Strike
Emperor Howling Slash
Castle Doran & Shudoran
BackStory:
As the child of the former queen of the Fangire and her human lover, he was hidden away at a young age. Left alone with only Kibat to keep him company inorder to protect him from those who hunted his mother for breaking the most sacred law of the fangire race and loving a human. He was often bullied as a young child and due to his introverted nature only developed two friends while he has little. A girl named Shizuka who would be with him for many years and a little boy named Taiga, for whom fate had great plans, but left Wataru's life after a short time. Though young he often battled fangire with Kibat's aide, forming a formidable opponent for the fangires which fed upon humanity.
Eventually his destiny led him to meet the Wonderful Aozora Group, an organization devoted to haunting fangires. He befriended many of its members, and through his many trials proved his worth to them. Though it took much longer for him to reveal his identity as Kiva, due to their prejudice towards the rider; as the previous owner of the Kiva armor had almost destroyed all of humanity. Things seemed to be going fine for him until the day he met Mio, love of his life, she brought out the best in him and helped him grow; unlocking Kiva's true power. Sadly their love was not meant to be.
For fate decided that she would inherit the fangire queen's mantle, as well as marry the King of Fangires as was fangire law. The king turned out to be his dearest friend Taiga who returned after many years. As destiny began to unravel the three soon became aware of each others identities, and Wataru's world came crumbling around him upon being told that he was a half-fangire and that Taiga was his half-brother. As Wataru faced with indecision as to what to do with his life, things became even worse as Taiga asked him to join him and the fangire people, and Mio asked him to slay Taiga so he could become king. Thus allowing the two to marry each other.
Things quickly spiraled out of control as the two brothers were eventually forced to do battle and Mio was caught in the cross-fire, having protected Taiga at the last second upon realizing that his love for her was real. Wataru was then forced to witness as the love of his life died by his hands, though in truth it was one of Taiga's servants who had called her. Believing her to be unworthy of the king. Sadly Wataru did not know this and traveled back in time through Castle Doran's power in order to prevent his birth. Thus stopping all the tragedies that had begun to occur to those close to him, because of him.
It is then that he meets his mother and father, and by fighting together against the previous King of Fangires to protect his mother and baby Taiga, that he finds the will to go on and the solution for all his problems. Upon returning to the present he settles things with his brother, defeating him in combat, but not slaying him. Instead he declares himself the new king of all fangires; doing this in the hopes of protecting Taiga from those who were after the crown, as well as finding away to allow fangires and humans to coexist. However Taiga does not see it that way, seeking out the power of the Dark Kiva armor held by his mothers familiar Kibat Bat the second, Kibat the third's father.
The two begin their final clash, but are interrupted by Taiga's former aide who resurrects the previous king of fangires. Taiga and Wataru join forces and defeat the fallen king, and after speaking with each other and their mother Taiga realizes the error of his ways. Thus the two begin working towards a brighter future were fangires and humans can truly coexist in peace.
Current Soul Fragments
: (Starts at 30)
Intoxication Level
:0
Starting Location
: Nagata City, Kurato