NPCs//GM PCs
*~*~*~*~*~*~*~*~*~*~*~*~*~*~*~*~*~*~*~*~*~*~*~*~*~*~*~*~*~*~*~*~*~
A joint CS here – Non-identical twins. My protagonists (PCs) who will be a part of the action.
Name:
"Angelo" and "Penna" (these are not their actual names, but aliases that they go by)
Age:
18
Gender:
Male and Female, respectfully.
Race:
(Mortal) Humans with 'Angelic' heritage.
Appearance:
Average in height, with a lithe (but not skinny) build. Skin is light and a healthy colour. Angelo has a bit of muscle and Penna is energetic, healthy and with curves in all the right places. However it is clear for both of them that physical strength isn't their forte. Both of them have sandy, fluffy blonde hair which has a habit of sticking out in tuffs or messy strands. Both have dazzling dark eyes which contrast with their fair hair, and identical smiles that make it clear they are related.
Angelo is a head taller than Penna, and his hair is in a scruffy, tufty mop which comes down just past his ears, and sometimes falls over his face. (I'm not best when it comes to guy's clothing but here goes) He wears a small brown cap on his head, dark men's shoes, brown trousers, scruffy white shirt, corduroy waistcoat, chunky beige neck scarf and a brown velvet jacket that is a little worn around the edges. He also seems to have quite a few watches on his person, and often wears a small frown on his face. There are gaps in the clothing at the back, to allow room for his wings to grow.
Penna has long waist-length blonde hair which she keeps in a bun for work, and down wild and loose whenever she's not working. Penna wears
This
in grey and black, and a long dark travel cloak for when she is going about the city. She has two slits at the back of her clothing for her wings to go, when she transforms.
Aims:
>>To fight the Imperium and any other "wrong-doers", and to find other like-minded individuals who can help them.
>>To try and make sense of things. Work out who this 'Stanger' is that they vaguely remember…and why he feels important somehow…
Alignment:
Chaotic Good
Occupation/Status:
Rebellious citizens.
Apprentices to a clockmaker.
Personality:
Angelo, despite his good intentions, tends to be impatient, impulsive and a bit reckless. Also prone to using violence. However most of the time, he manages to maintain a calm disposition which is slightly unnerving. It's almost like he's trying to hard to restrain his 'fiery' personality.
Penna on the other hand is generally a down-to-earth, 'I'm not taking any of your shit' kind of girl. It's clear that out of both of the twins, she wears the trousers, so to speak. However despite being headstrong and perhaps unlady-like at times, she's usually polite and well-mannered, and likes to get along with everyone – well, everyone that she doesn't consider an enemy of hers, that is. Both of them have a mischievous streak in them, always getting into some kind of trouble, although they usually are able to get themselves out of it again…usually.
Weapons/equipment:
>>Matches and flammable substances – Angelo has a lot of these.
>>Explosives of various kinds, usually Nitoglycerin and other explosive chemicals – Angelo keeps these in pockets on his person and in the satchel he has with him.
>>Penna's parasol – What looks like an ordinary, grey parasol. However concealed in its handle is a long, thin, sharp weapon, like a very thin dagger. The parasol dagger can attatch itself to the parasol, or slide out and be used separately. The spike at the top of the parasol also can extend and come apart, revealing a deadly, much sharper spike underneath.
>>They work in and live above a clockmaker's shop, so they naturally have access to all kinds of clockwork devices which they can temporarily 'borrow', provided the machines in question don't need repairs/have been repaired.
Powers/magic:
The two twins (for the main part) share the same power. Their powers work independently, but when they are together, they are all the more powerful.
Transformation: Flight
– Both siblings can sprout snowy-white angelic wings from their backs, which they can use to fly high above the city. Their flying ability allows them to move fast, agilely, and silently through the air.
Fire and Light:
–
Angelo:
He has the power to manipulate fire. His fire is golden in colour, and seems to be more flexible and fluid than normal fire, enabling him to manipulate it in ways he couldn't with ordinary flames. However the real fuel for his power is anger. The angrier he gets, the fiercer, more powerful and damaging his fire attacks become. While he is calm, his fire isn't that strong.
Penna:
She has the power of Light magic. She can generate energy of pure light to create barriers, blind, burn or strike down enemies. She can manipulate the light in almost any way she chooses, and almost anything is possible, if she puts her mind to it. Hope, imagination and courage power her magic, both from herself and from those around her. Fear, confusion and despair drain her power.
Artefacts: "Stop"watch
– A pocket watch and chain that looks just like any other – however it secretly holds magical properties. With it, the holder has the power to stop time, just with one click. Time can only be stopped for so long, however, before everything reverts back to normal automatically. With a half-click down, time isn't stopped, but slowed. Allowing the holder to move in a state where everything seems slower (in effect making the owner of the "Stop"watch super fast) Again, state can only last in short bursts. The effects work for the person in possession of the watch only.
The stopwatch was a 'gift' to Angelo and Penna, and as a result can only be used by them. To anyone else, it is "just a watch".
History:
To be added soon.
'Previous life' History:
Angelo and Penna's real names are Ben and Ruby Cross. They had lived in Skye in Scotland for most of their life, with loving parents and their younger brother, Thomas, who was three years younger than them. They lived a content and happy life for thirteen years. But when the twins were just thirteen and Thomas was ten, the youngest sibling was diagnosed with Leukaemia. And, regrettably, he did not survive, despite treatment.
The twins were devastated. Both of them found it hard to come to terms with their brother's death. Unable to cope, both of them went off the rails. Ruby started going off with "friends" to participate in underage drinking, parties and clubbing…often not telling anyone where she was going and staying out the whole night, often sleeping on the floor of a strangers house, drunk and sometimes stoned.
Ben, on the other hand, turned to a more outwardly destructive route. He started skiving school, and spent his time blowing things up and setting fire to buildings, just to watch it burn. By the time he left school at just sixteen, he had become something of a pyromaniac, and often fell into trouble with the police.
And then, one day they both were given a shock that would knock them from this world to another. Their deaths were played out before them. Ruby saw herself dead on the floor thanks to a drug overdose, whilst Ben, saw himself trapped in a burning building…and then the Stranger came knocking, telling them both he could give them a chance to stop those visions becoming a reality…
Theme song:
Both:
"The Never-Ending Why" – Placebo
Angelo/Ben:
"Into The Fire" – KPM Music
Penna/Ruby:
"In the Shadows" – The Rasmus
*~*~*~*~*~*~*~*~*~*~*~*~*~*~*~*~*~*~*~*~*~*~*~*~*~*~*~*~*~*~*~*~*~
This one's sort of an NPC…although you never know; she might become a playing character…
Name:
Elizabeth ("Lizzie") Taylor
Age:
10
Gender:
Female
Race:
Human (possibly part-elf)
Appearance:
Small, waif-like girl, with unkempt brown curly hair and bright green eyes. She has pale fair skin, often with smudges of dirt from scurrying about the city. Dressed in a small, plain grey, long-sleeved dress, tattered around the edges, and runs around barefoot. One noticeable feature about her is her ears, which appear to be pointed.
Aims:
To survive, and to help those in need. Against the Imperium, but not actively. She feels she has a duty to protect herself and others, although she often lacks the courage.
Alignment:
Neutral Good
Occupation/Status:
Orphan/unofficial city guide
Personality:
Lizzie tends to be quite calm, and there is a somewhat neutral air about her. However she can be quite chatty and inquisitive, and walks around the city with the impression of someone who knows where they're going and what they're doing. If threatened, she will fight back, but otherwise will not get actively involved in other people's affairs, if it does not directly concern her. She will not hesitate to state her opinion on a matter, however.
Lizzie surprisingly knows a lot, considering her social status and age. Where she gets her information from is anyone's guess, but it's (almost) like she knows everything. She knows all the ins and outs of the city…making her the perfect tour guide, should you ever need to find out more about Merchurdon, or need anyone to show you around…
Weapons/equipment:
>>Pea-shooter and sling-shot.
Usually loaded with peas, stones, buttons, bits of metal, anything Lizzie can find to use as ammunition. Minimal damage, but it's better than nothing, and good for causing a bit of mischief.
Powers/magic:
All of Lizzie's powers are purely defensive.
Force-fields
– Lizzie can create force fields around herself, and around other people near her. Very little can break through these fields, but it requires concentration and energy. Sometimes her force-fields fail her if she gets too panicked or frightened.
Apparition
– Lizzie has an extraordinary ghost-like ability. She can walk through walls, disappear and then reappear from sight, float off the ground, and never 'falls'. She has a knack for cropping up from nowhere, and leaving without a trace. If it wasn't for the obvious life in her, she could easily be mistaken for a ghost with this power.
Artefacts: The Summoning Whistle
– A small silver dog whistle Lizzie keeps tied around her neck, hidden under her dress until she needs it. However this whistle does not call dogs. Blow on this whistle and think of a particular person, and no matter where they are in the world, they (and only they) will hear it. However it is not an instant summon; the person will hear the whistle and will somehow know what is expected of them, but if the whistle is meant to summon them physically to a certain place, it will take a while for them to arrive. The whistle can be also used to send psionic waves, or to give someone a message/inclination to do something. The person who hears the whistle, can consciously choose to ignore it if they have enough will power, however generally they will feel compelled to answer the call/summon.
She uses it a lot to call 'friends' of hers - friends more powerful on the offensive side than herself. Knowing Merchurdon inside and out has its advantages…
History:
Elizabeth was the second youngest of six children, born into poverty and living in the slums of the city. Her mother and father were both humans, although clearly there must be Elvin blood somewhere down the line, since Lizzie was born with elf-like ears and beautiful fair skin. Her mother died after giving birth to the sixth child, and two of her siblings died soon afterwards from sickness. The father did his best to raise the remaining four of his girls, but he also had to try and earn a living as a mechanic, working on steam-engines. The long hours and poor pay meant that he wasn't able to fully support his family. The four siblings spent most of their time wandering the dangerous streets of Merchurdon, sticking together whenever they could, so as not to get hurt. Lizzie's force-field ability protected them from the various criminals and 'villains' that roamed the city, and as a result the siblings found they were able to come and go about the city as they pleased. They explored every nook and cranny, without having to worry about coming to any harm.
However by the time Elizabeth reached eight years old, she was left wandering the city by herself. Her father died in an accident at work, and Lizzie's oldest sister was brutally murdered, at a time when Lizzie was unlucky enough not to be with her to protect her. What happened to Lizzie's other two siblings, is unknown. It seems they just vanished one day, never to be seen again.
Elizabeth now makes her own way in the world, giving little guided tours about the city for a few coins, to any travellers who care to spare her a glance. She is scared of the Imperium and the criminals who might wish her harm; although she's confident she can protect herself. She's no one important after all, and her powers offer her adequate protection. It's others she is most worried about…
'Previous life' History:
???
Theme song:
"Not While I'm Around" – Sweeny Todd
*~*~*~*~*~*~*~*~*~*~*~*~*~*~*~*~*~*~*~*~*~*~*~*~*~*~*~*~*~*~*~*~*~
_______________________________________________________________________
Doctress Who wrote:
WILL BE ADDING MORE TO THIS LATER
IMPERIUM
The Imperium have only been in power for a few months, and have only just established themselves as rulers of Merchurdon. However they have a lot of power under their thumb, and a lot of connections. Not so much a militaristic organisation (although their influence stretches that far too), but a group of criminal masterminds and powerful sorcerers. It seems they have been working behind the scenes for quite a few years now, slowly gathering fear and support in the criminal world, and manipulating and corrupting the previous government, (and slowly wrapping them around their finger so that they were no more than puppets) before making their move. The first wave of resistance was met with a rather nasty end, proving the Imperium are more than capable of keeping their place as rulers, and aren't just all talk. Since then, the Imperium and those working for them, having been working hard to make sure that fear will keep the rest of the community in their place. And what with much of the criminal community either working with the Imperium or in support, getting rid of this powerful group is easier said than done.
The Imperium all work together as a unit/council, however there is one in particular who could be considered the ring leader...although he's not known for showing his face much. Not all members of the Imperium are known to the public, having stayed in the background, preferring to let others do the dirty work for them.
The Imperium (Central members)
GM Note: I may be adding more to this, but what you see here is just to get things started.

I say this now – I take no credit for the Images! They are merely to give a general idea of what each Imperium member looks like.
The main bulk of the organization is run by these guys:Name:
[Alias] "Magnus"
Age:
Unknown
Gender:
Male
Race:
Unknown
(Looks Human, although there's a hint of a few other races there too.)
Appearance: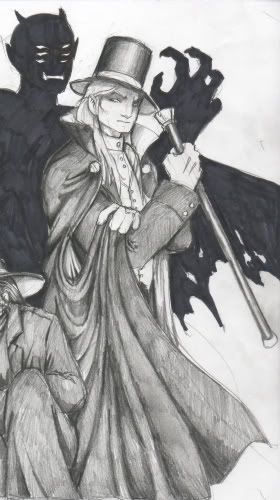 Aims:
To Rule.
Alignment:
Lawful Evil
Occupation/Status:
Leader of the Imperium
Personality:
Not much is known about Magnus. He's rarely seen, even by his fellow Imperium members, often disappearing for a long time before reappearing. From what most can gather he appears cold, and apathetic. He carries a calm air about him, and somewhat calculative. Although he is respected as leader, the Imperium work very much as a group. He has the deciding vote, but they've worked together as a team to take over Merchurdon, through careful planning on both his part and the others. However although he does not command the rest of his members fully, he is clearly the mastermind behind their success. To underestimate him would be a grave mistake, as no doubt those of the Imperium who have foolishly challenged him for leadership have found out.
Weapons/equipment:
To be added
Powers/magic:
???
History:
???
Pre History:
???
Theme song:
N/A
_______________________________________________________________
Name:
Lady Mina Harker
Age:
119
Gender:
Female
Race:
Half Elf, half Demon - Turned Vampire (yes, we're talking
real
vampires here, if the little name reference didn't give it away ;D)
Vampires in Myriat are fairly similar to your classic vampires. Dark gothic creatures of bloodlust and hunger, who tend to stay away from sunlight or bright lights. Light won't kill them, but for them it's comparable to getting burnt or scorched – it isn't comfortable or at all pleasant. However a direct strike of strong light magic through the heart might do the trick. If you wave a cross or religious object in front of them, a Myriat vampire would probably just laugh in your face – however they do tend to steer clear from places of worship. Man-made bullets and common melee weapons can't kill them, and only makes their bloodlust stronger. Magic, however, they are more susceptible to. Just be careful what magic you use…some will benefit the vampire, whilst others will weaken it.
And of course, the best way to make sure you've successfully killed a vampire is a stake through the heart. Preferably a stake infused with holy magic. However Myriat vampires are no fools; they are fully aware of their weaknesses, and most have spent their whole lives insuring their weaknesses won't be exploited so easily…
Appearance: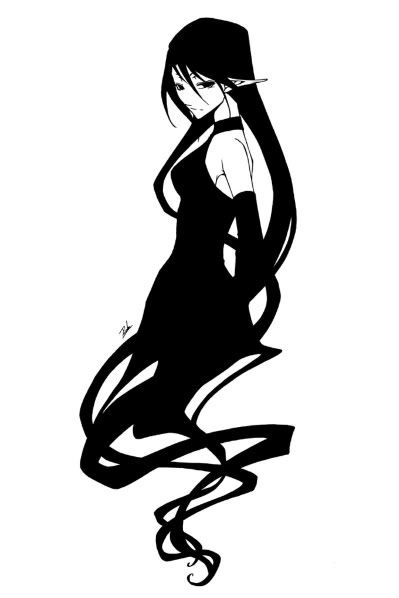 Aims:
To Rule, To keep the rest of the world in its place, and to keep her hunger for blood under control.
Although privately, something else troubles her…
Alignment:
Lawful Evil(?)
Occupation/Status:
Lady, Aristocrat.
Member of the Imperium
Personality:
On the surface, Mina tends to be a sophisticated, cold, rather calculative person. She will often bide her time before attacking…although sometimes her vampiristic bloodlust gets the better of her. She tends to be rather smooth – smooth voice, smooth skin, smooth personality. Unless she is feeding/hunting, is very rare to see her loose her cool. An Ice maiden if ever there was one, any male who is attracted to her would be most likely be also terrified of her…she isn't sure why. I mean, it's not as if she
bites
…
As a vampire, she's naturally a bit of a sadist and masochist. It doesn't matter whether it's her own or someone else's - she finds blood exciting…and delicious.
She didn't always used to be like this…but that is another story.
Weapons/equipment:
She has her physical attributes, such as a pair of very sharp teeth. She also has several knives, and some deadly stakes infused with magic, which are loyal to her, and if used against her won't kill her. ("Let's see how
you
like a stake through the heart")
Powers/magic:
To be added
History:
???
Pre History:
???
Theme song:
–
_____________________________________________________
Name:
[alias] "Jack"
Age:
24
Gender:
Male
Race:
Human
Appearance: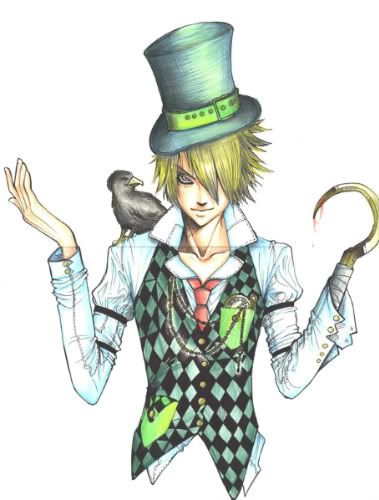 Aims:
To Rule and to kill. Simple?
Alignment:
Neutral Evil
Occupation/Status:
Member of the Imperium
The Imperium's residential psychotic Serial Killer.
Criminal liaison
Personality:
"We all deserve to die…"
Jack is sadistic, insane, a bit of a megalomaniac and a lady-killer…literally. He can appear charming, but really he'd like nothing better than to slit your throat and watch you bleed. He gets a thrill from it. But in his own head, it's ok. He's doing you and the world a favour by killing you, is his reasoning behind it. What he does all makes perfect sense to him, like he's saving you all…you should really be thanking him. Too bad his victims don't see it that way.
Weapons/equipment:
Pocket watch
- Looks like an ordinary pocket watch…or is it? Rumours have it strange things happen when Jack plays around with it…
Hook
His hook can morph into any sharp object/weapon of his choosing.
Powers/magic:
???
History:
???
Pre History:
???
Theme song:
"Epiphany" – Sweeny Todd
________________________________________________________________
Name:
Lady Clarita Lockhart
AKA "The Silver Lady"
Age:
27
Gender:
Female
Race:
Human
Appearance: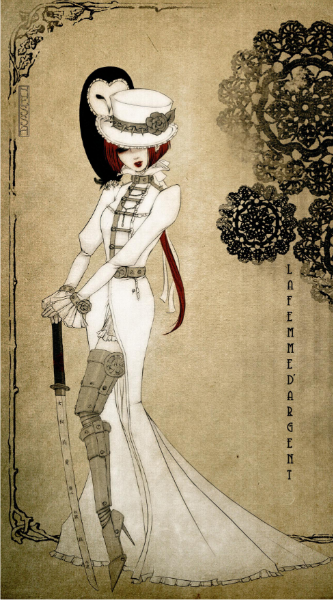 Aims:
To Rule, to stay filthy rich.
Alignment:
Lawful Evil (but affably so)
Occupation/Status:
Lady, Aristocrat
Member of the Imperium
Upper-class liaison
Personality:
Almost the polar opposite to Jack, Clarita is refined, well bred and Classy with a capital C. She doesn't mind killing, but she sees herself doing better things with her time, and prefers not to get her hands dirty, where she can help it. Status, power and money are high on the agenda, though not necessarily in that order. She doesn't actually care for criminals, particularly the common kind, and some of her fellow allies might see her as a bit snobbish. However as long as she is rolling in money, she doesn't care. Despite turning her nose up at the lower class, she tends to give the impression of someone quite pleasant. She would happily invite you to her home for tea, having a nice conversation with you, whilst making sure to poison your drink whilst you're not looking.
Weapons/equipment:
Mechanical leg
– Having lost her left leg in an accident, Clarita has a metal leg, powered by magic and clockwork. The heel is sharp and deadly, and despite the weight of the metal, she can move it very easily, delivering a powerful kick. There is an assortment of weapons and equipment built into the leg, making it a powerful device and weapon.
Sword
(If someone with sword knowledge can identify the sword in the picture, I'd be grateful)
Powers/magic:
???
History:
???
Pre History:
???
Theme song:
"La Femme d'Argent" – Air
______________________________________________________________
Name:
Cornelius Fletcher
Age:
45
Gender:
Male
Race:
Human
Appearance: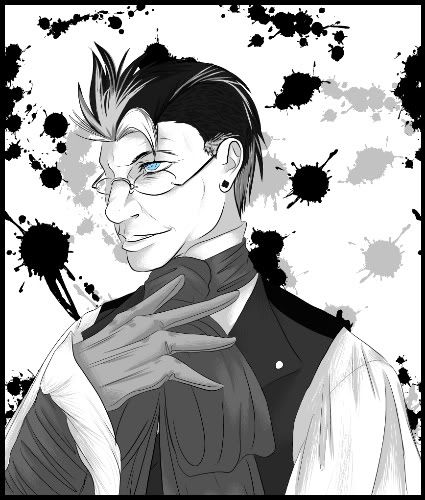 Aims:
To rule
Alignment:
Lawful Evil
Occupation/Status:
Member of the Imperium
Head Researcher, Clockwork Supervisor and Technician
Inventor
Personality:
To be added
Weapons/equipment:
To be added
Powers/magic:
???
History:
???
Pre History:
???
Theme song:
"Diabolic Clockwork" – Two Steps From Hell
________________________________________________________________
Name:
[alias] Roxie Malice
Age:
19
Gender:
Female
Race:
Human
Appearance: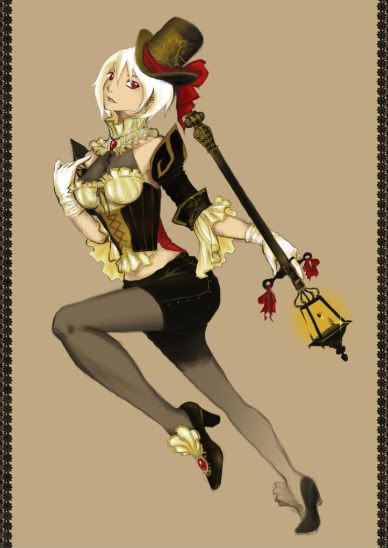 Aims:
To rule and cause mischief.
Other aims, unknown.
Alignment:
Chaotic Neutral
Occupation/Status:
Member of the Imperium
Imperium Mischief maker/misfit – the rebel rebelling against the rebellion (so to speak)
Former Show Girl
Personality:
To be added
Weapons/equipment:
Lantern Staff/Wand
– Near-indestructible, Roxie's staff possesses magical properties. What magical properties they are…you'll have to wait and find out…
Powers/magic:
???
History:
???
Pre History:
???
Theme song:
"Roxie's Suite" – Chicago
Battle theme
(cos I feel like it):
"Corrosion" - Nighthawk22
There will be more, but this is just to get the ball rolling.