Role: Player
Name: Kirby
Age: Unknown
Appearance: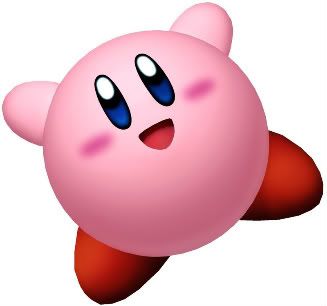 Personality: Kirby is cheerful and innocent. He loves to eat and sleep, especially during the day. His favorite food is tomatoes. He is said to dislike caterpillars. His other hobbies include singing, although he is tone-deaf. He sometimes acts in an impulsive nature, such as when he accuses Dedede of interfering with the Fountain of Dreams in Kirby's Adventure, and then leaves to retrieve the pieces of the shattered Star Rod without even letting Dedede explain himself.
World: Dream Land
Soul Shard Location: Behind his right eye.
Power:
------------------------------------------------------
Inhale (copy): Copy an opponent's ability(s) of his enemies during battle. Ones the battle is over he loses the copied ability.
Martial arts: (natural ability) Used for attacking, defending, and dogging enemies.
Fast Feet: (natural ability) Kirby can run at abnormally fast speeds, sometimes even seen running strait over water. Warning may run over his enemies.
Metaknights Sword: (weapon summon) The sword appears in a dazzling flash into Kirby's hand. The sword drastically increases his speed and attack.
King Dededes Hammer: (weapon summon) Handle of hammer bursts from ground and is yanked out of the earth by Kirby. The hammer drastically increases attack and defense.
Star Rod: (weapon summon) Rod comes flying through the sky to Kirby. Star rod surrounds Kirby with three stars that orbit around him that weaken attacks that hit him. The rod drastically increases speed and defense.
Wheel: (transform) Turns Kirby into a wheel with eyes on each side. Increases speed to travel long distances fast and out maneuver his enemies.
Stone: (transform) Kirby becomes a rock shaped…him. He becomes immune to most attacks, but in this form his speed is decreased. Body weight increase, weighs about 60 tons.
Tornado: (transform) He turns into small tornado that created massive wind currents in the area throwing enemies around that are not holding on to something. Increases speed, usual used to escape and does little damage to enemies but does confuse them so they can not follow.
Needles: (transform) Kirby's skin hardens and very sharp needles sprout from every part of his body making enemies unable to get close enough to attack him. Don't touch the needles they will hurt you, increases attack.
Fire Ball: (transform) His body is engulfed in fire heating up and setting thing on fire around him, allows Kirby to breathe fire and fire chunks of flaming material
Ice Sickle: (transform) His body temperature decreases bring down the temp around him as well, freezing water and putting a small layer of frost on everything he gets near. Allows him to breathe ice and fire chunks of ice.
Electric Surge: (transform) Kirby is charged with high amount of electricity, bolts shoot from his body paralyzing anything it hits. Speed increase.
Cut Cap: (transform) Cap with a blade on top of it appears on his head. Kirby can throw large sharp boomerangs at his enemies and control where they go, can have up to five boomerangs out at a time.
Tomato: (healing item) Instantly heals wounds and speeds recovery of new wounds.
Pep Brew: (healing item) Heals ailments like poison, paralysis, etc.
Super-Spicy Curry: (boost item) Give user a hot sensation in their body increasing speed for a short period of time, good for when you are hungry.
Strawberry Short Cake: (item summon/boost) Increases attack and defense for short period of time, also a good snack.
Maxim Tomato: (item summon/healing) Increases speed, attack, defense and health regeneration. Cures all ailments and prevent them as well. Effects last for duration of a battle.
Back Story:
After Kirby wakes up from his after-lunch nap without having any dreams, he goes to the Fountain of Dreams to investigate. In doing so, he discovers that King Dedede has stolen the Star Rod, the source of the Fountain of Dreams's power, and broken it into seven pieces, giving six fragments to his allies and keeping one himself. Without the Star Rod, all of the inhabitants of Dream Land are becoming restless and unable to dream. Kirby decides to track down the fragments of the Star Rod and bring them back to the Fountain of Dreams in order to restore everyone's dreams.
When Kirby reassembles the Star Rod and places it in the Dream Spring, something emerges from the fountain. It is Nightmare, an evil being whom Dedede had hid the Star Rod from by breaking it and spreading the pieces of it around. So Dedede was only trying to help Dream Land, after all, and Kirby had unwittingly done Nightmare's work for him. Nightmare flies into the sky, and Kirby, armed with the Star Rod (which seems to also be rather useful as a weapon, and not just a power source), is inhaled by Dedede and is shot into battle with Nightmare, the final boss. Kirby and Nightmare fly into space and battle. During this battle, Nightmare is a big ball that shoots hollow stars and crescents. The two are falling back to Pop Star, enabling Kirby to move in any direction. If Nightmare isn't defeated quickly enough, Kirby will be crushed against the ground and lose a life. If Nightmare is defeated quickly enough, both combatants will fly farther up into space and land on Pop Star's moon. Kirby defeats Nightmare, and ends up destroying a big portion of the moon in the process. Kirby returns to the Fountain of Dreams and places the Star Rod back in there, and everything returns to normal.
Current Soul Fragments: 30
Intoxication Level: 0
Starting Location: Just north west of Nagata City in a grove of trees sleeping on a large rock.
*--May add more powers because i couldnt think of them all and what was aloud. What are the rules on healing and healing items?