I'll try workin' on my post later tonight or tomorrow since I'm a bit busy catching up on homework. It's been a bit hectic since the day's gone quicker and night makes for more work to be done. However I did go and doodle some quick Janus sketches. I ain't aiming for accuracy here people, just getting the basic gist of her: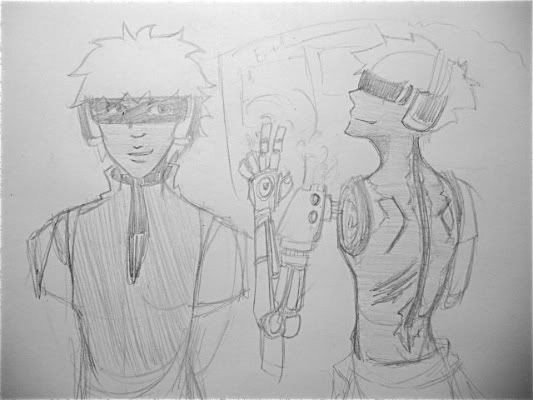 Thought about what sort of things her time fighting crime would do to her. She's got a spinal injury that was corrected via surgery, and a few scars here and there (mostly from her skin reacting to the metal and materials that are forever bound to her body). The weird sketchy scribbly thing her hand is seemingly wiggling about at is what she "sees" with her visor. They're screens that she can interact with due to the sensors at her fingertips, so she may look crazy when she's poking at the air, but she's actually working. Not like she's gonna say anything.
And just cuz.
_________________
Enough with the tomfoolery: it's time to play.