Name: Wakka
Game: Final Fantasy X
Appearance: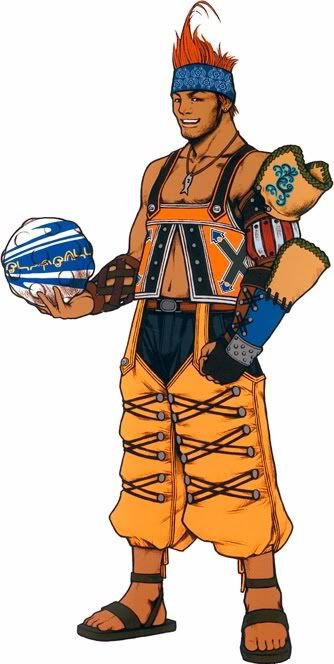 Personality: Like most of the people of Besaid Village, Wakka is a rather calm young man, though he is prone to outbursts of excitement or anger. He enjoys a sport known as 'Blitzball', which seems to be a combination of soccer, synchronized swimming, and hockey. Despite the fierce competitiveness of this game in Spira, Wakka and his team play not to win, but to simply enjoy themselves, though he wouldn't say no to winning. He has a strong sense of companionship with his fellow guardians and a good standing in common sense. Because of his feelings for his companions Wakka will go to any lengths to keep them safe.
Weapon of Choice:
World Champion
Additional, Notable Equipment: The World Champion has had both it's Sigil and Crest infused into it, putting it at maximum power.
Example Abilities: Since you said Wakka's kind of a monk class, I took the liberty of using some of Sabin's abilities.
Element Reels
Attack Reels
Meteor Strike
Raging Fist
Phantom Rush
Focus: Strength
History: A skilled Guardian, fighter and Blitzball player. Wakka is 23 years old and grew up on Besaid Island along with Yuna, Lulu, and his brother Chappu. Wakka is of what would be considered Hawaiian descent in our world and is characterized by a long reddish-orange coif and a Besaid Island accent. As such, he uses such speech-mannerisms as saying "brudda" for "brother" and finishing sentences with "ya?", which could be his way of saying "right" or "okay". He hates the Al Bhed (but, oddly, he will not notice that Rikku is one of them before it is revealed by the others) simply because they do not follow Yevon, and depends greatly on Yevon's religion and guidance for his decisions, making him appear fairly socially conservative; as a result, he has been intentionally kept in the dark about Yuna's half-Al Bhed heritage. Even though he is old-fashioned, used to living on an island, he has a big heart and tries to cheer the party up, though it does not always work.
Wakka became like an adopted brother to Yuna, together with Lulu, and they grew up on Besaid. He lost his parents to Sin, and tried to be like a parent to his brother Chappu. Chappu and Lulu were in love, but Chappu was killed by Sin. It is because of Chappu's death, as well as the fact that he chose to fight with an Al Bhed Machina weapon, that Wakka's hatred for the Al Bhed was shifted from religious prejudice to a more personal grudge. When Yuna decides to become a Summoner, Wakka became one of her Guardians, in order to avenge Chappu, together with Lulu and Kimahri.
Wakka meets Tidus when Tidus first appears on Besaid, and due to Tidus looking a lot like Chappu, Wakka quickly bonds with him, and they quickly form a brotherly friendship. He shows the confused Tidus the ropes of Spira. During his travels, Wakka gets more and more resentful of the Al Bhed, and generally needs Lulu to cool him down. He was equally resentful of the Al Bhed when towards their journey to Macalania Temple, he finds out that Yuna's newest guardian, Rikku, is an Al Bhed, and begins to mistreat her, much to Tidus's anger and frustration. However, he begins to soften his attitude towards the Al Bhed when he discovers that their kidnapping of Summoners was meant to save them from their inevitable deaths, going so far as to lash out in rage at the Guado during their attack on the Al Bhed city and attempts to comfort Rikku when she mourns the senseless destruction the Guado are causing.
When he finds out that Yuna is part Al Bhed, Wakka gets confused and slowly realizes that his hatred of the Al Bhed is unjustified. He is horrified and disbelieving when they find out the truth about Yevon and Seymour's betrayal and begins doubting if the teachings are true. Just before the final battle, he makes peace with Rikku and the other Al Bhed. Like the rest of the party, he is also saddened at Tidus' fate, having made a brotherly bond with him.
A few months later he had heard of a way to bring back the fallen, which in his case meant Tidus, but he would have to travel to another world. He asked Lulu and Yuna for help, and they combined their magic into one strong spell to send him to the world in question, locating it by the strong amount of magic concentrated there.