TheLivingCouch wrote:
Aww... Well at least I know what happened to your post now. I was scared for a moment there. I was looking for it just now and couldn't find it. It's good to know I'm not going crazy. God I need to pay attention more. I'll have a post up as soon as I can type it out. Probably some time today.

Ginny if you want I can write my response as if you stumbled into class like you did in your post, or if you want to put something up saying so just let me know. I'll wait for you before attempting to move things along.
Thanks Couch, and sorry about not responding fast enough dude. I just finished a few things I needed to get done. Got another art piece into the upcoming art show and a lot of projects that need to be done. But I just posted! Sorry for delaying, I needed to get my stuff here done first before I could do anything else.
Now that Thanksgiving weekend's here and I'm not going anywhere, maybe I can get some the hardest stuff done before all my fellow students return. I may not be eating turkey, but hey, if I can get 60% of my Finals work done, I'm damn doing it. :B
But thanks a ton Couch. Let's get the class started now that the directionless delinquent's appeared. :P
EDIT: While I was doing my projects, I sorta got weird and drew up something adorable, which is something Zel does
not
approve of but Zath absolutely adored. But oh well. Related sort of to this RP and Zath said I could post 'em here. :P Sorry guys.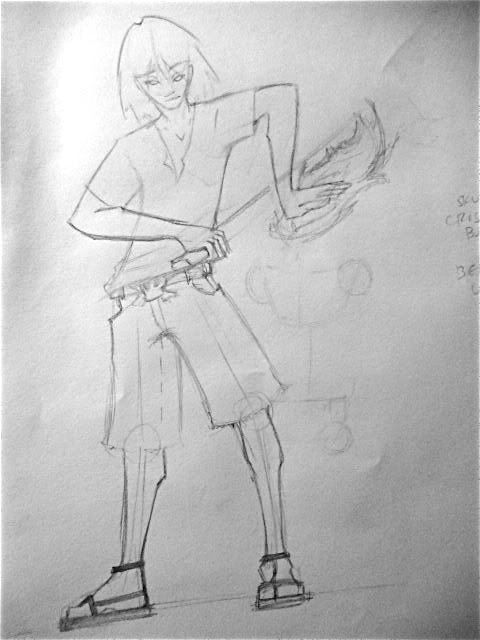 This is a quick sketch so there's a lot of rough marks, lines, and things that wouldn't be there if I was serious about drawing this. But this is of Urufu in his youth, not exactly great but eh, it's got a concept.
This is Urufu. The cute adorable version of the angsty teenager Urufu. What's he looking at? IDK. I really don't know! He reminds me of a pirate, possibly looking for tracks or even clues for treasure. Not that I'm supporting those pirates...
arrr.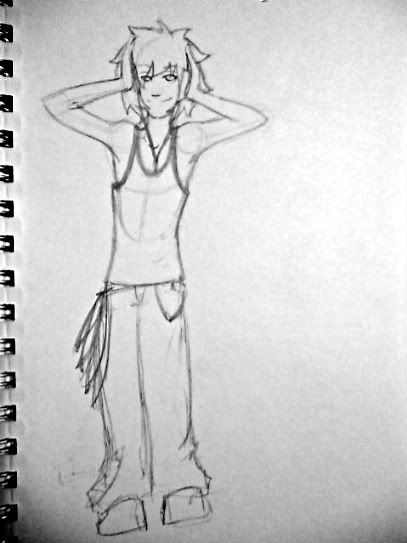 Alphonse Frans casually adjusting his headphones during his free time. He has a set of heavier and noticeable wires that are neatly slung on his side, but the other discreet wires he has are all hidden away. In the meanwhile he looks as normal as can be.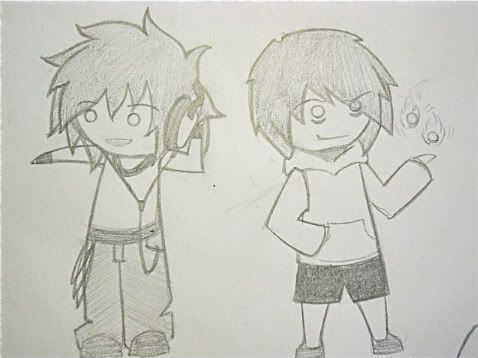 The one on the left is Alphonse Frans, and the one on the right is Alphonse's son Marcel Frans (a character who does not exist in this EA but DID in the one after this one in chronological order).
I love drawing these little things cuz they look like puppets/dolls and they're nice to sketch up when I'm bored and in need of a break. So I'll probably go down the roster of characters and we'll see how each person turns out. I did try to draw some people full sized and "normally" as I could... but most of 'em came out plain. I drew Hisui and my god I didn't capture her personality at all. So, chibis for now. Actual drawings later? Eh. We'll see. My mandala's being a she-dog and my other projects are keeping me busy, that's for sure.
_________________
Enough with the tomfoolery: it's time to play.