Student File #8003
Name:
Thomas Morison
Gender:
Male
Age:
14
Class:
Weapon
Fighting Style:
Contrary to his partner Mr. Morsion has shown a strong preference to close quarters combat utilizing a style which could be described as a mixture of Judo and Wuxen. Swiftly maneuvering well into the enemies field, completely avoiding any obstacles along the way. Once within the enemies inner circle Mr. Morison shows just how surpraisingly aggressive his style can be. Through the use of fluid motions, grapples, parries and swift strikes he manages to both tear into his opponent while simultaneously preventing his opponent from retaliating or escaping. While he has proven to excel against single opponents, especially those of a higher size class, his style seems ill suited towards combating multiple opponents simultaneously.
Student ID: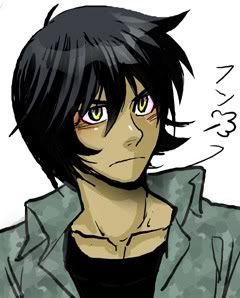 Physical Description:
Mr. Morrison stands at approximately five feet and seven inches and weighs in at around a hundred and forty pounds. He possess a highly athletic bronzed-skinned body, no doubt a product of his daily exercises. Bearing his mother's raven black hair, he keeps it cuts short and often leaves it messy; in contrast to his partners Mr. Morison doesn't seem to bother as much with his appearance, then again in the opinion of this humble worker no one bothers as much as her. By far his most distinguishing feature are his amber eyes.
Mr. Morrison's attire also proves to be much simpler than that of his; he'll often be seen in simple button up shirts and jeans, much to his partners dismay; who has been constantly thwarted in her attempts to "improve" his wardrobe.
Personality:
Mr. Morison has proven, much to the delight of the faculty and class, to be Mrs. Rose's folly. He's laid back persona often proving to be a much needed counter balance to Mrs. Rose's "exuberance". He seems to get along well with the other students, though quiet his words tend to carry great weight upon them. Quite thoughtful and wise for his age, he has often played the role of counselor to his fellow students. Though patient, he does have his limits; which are often reached by his partner. While the two do seem to get along swimmingly, with is just as well seeing how long they've lived together, the few arguments they do have are quiet legendary amongst the student body and the faculty. This is not helped much by Mr. Morison's own persona.
Though often easy going, when he finally gets riled up it is best to just let it past. So long as no one gives him an outlet, he'll often simmer in his frustrations for a while before calming down. Sadly, it's often hard to estimate how long this takes for the lad. More than once, students and teacher's alike have been victims of his ill tempered rants when they thought him calm. Needless to say, he has gained a reputation for holding grudges only to let them go when one least expects it.
Academically Mr. Morsion has shown to be a quite bright lad, and is believed to be the one responsible for Mrs. Rose's improved GPA. In his other duties, his proven himself more than worthy of his position as a weapon. His organizational skills and common sense are a welcomed trait in any group, and have often used Mrs. Rose's odd musing to form well made and efficient plans. Though for all skill his he is quite cautious, which has garnered him somewhat of a negative reputation in most groups as a coward.
Weapon Form:
Mr. Morrison's weapon from is that of an elaborate chain whip. His handle is made off what would appear to be polished red wood. The chain itself appears to be made up of a long series of brass like links approximately five feet in length. At the other end of the chain lies a single black iron blade roughly three inches in length and two inches wide at its base.
Qualities:
5-Level Headed
20-Soul Detection
5- Elemental Affinity: At the best of times Mr. Morison can be a refreshing spring to those around him, allowing them to slow down and relax. When focused he is like a flowing river, seeking the swiftest path to his goal. When angered he is like the can be tranquil upon the surface, but in moments becoming a raging typhoon sweeping away all those around him.
20-Shifting Waters: By attuning his spiritual wavelength to a body of water he is capable a manipulating it, changing it's state, temperature, surface tension and pressure. This process requires him to be in contact with the desired liquid for at least a full post before being able to manipulate it with his spiritual wave-length
Remaining Souls:
0
Madness:
0