Name:
Malon Carmela Sol
Species:
Human
Gender:
Female
Age:
28
Description:
Standing at the height of 5' 8'' with measurements of 42-35-44. She has jet black, hip length hair, held in a high ponytail at times of leisure. Grey eyes that change color between a pale blue and then a dark green. Caramel tanned skin with a dark mahogany tattoo of the numbers 69.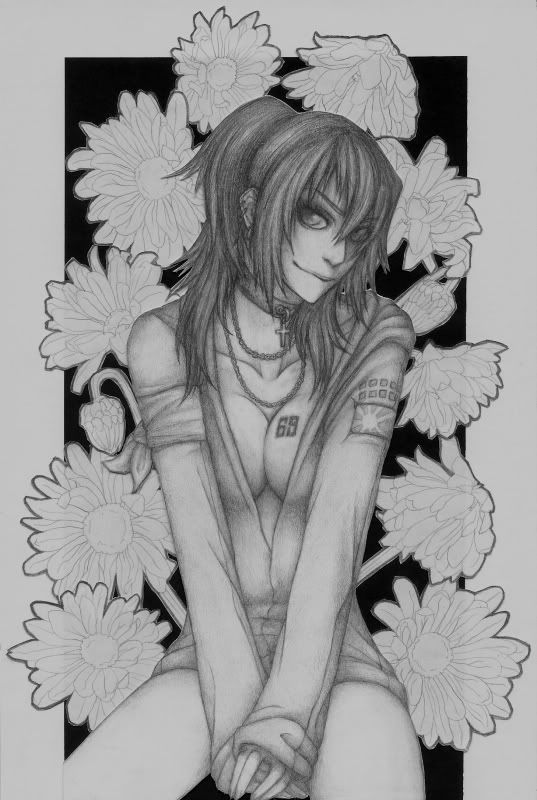 Clothing/Weapons:
Her clothing usually consist of what's shown in the picture but when she's out and about, she's caught wearing that same dark indigo jacket with a red tank top and black dress pants. Her weapon is a collapsible staff that holsters nicely on her left side. To extend its length she merely has to flick her wrist downwards with it and it locks into place at full size.
Goal/Occupation:
To make copious amounts of money and gain reputation as the Brothel/club/hotel owner of Sanity's Fallen
Personality:
A sadistic, analytical, conniving woman, full of tendencies to personally attend to those who disobey. Hedonist who is organized to the point that it's teetering on OCD and she has an uncontrollable soft spot for and urge to tease little boys; no matter the breed. She may conduct her sales legally but has no qualms about dealing with the 'underworld' so to speak. She's absolute sickened at the Hybrid's existence. But like with every insect, they are expendable and easily collected. Her usual administrations of 'discipline' are carried out during the first week of each new month to old and new Hybrids within her domain. She quite honestly enjoys watching them squirm in wanton pleasure. There are no beatings to say of but many a Hybrid would prefer she refrained from using certain methods. Her pride is taken in from employers who praise. They ask her how she does it. She plainly replies, "I'm simply talented with my hands."
History:
Her mother was a crime lord of a small yet prosperous syndicate called Morals Down. She conducted any to every type of legal and illegal trafficking of drugs, electronics, weapons and—most prominently known for—Hybrids. Her mother was stubborn and hard to the core, disciplining Malon as a child.
Her parents constantly fought, yelling and blows to the head plagued the child's nightmares as she tried to block out the noise, secluded in her room. By her teenage years she realized what her parents were arguing over; the Hybrids. Her father was a sympathizer and wanted his wife to disband her syndicate. He said it was for the sake of their family, for the sake of their daughter to have a normal life.
Malon didn't learn about her mother's line of work until after her parents divorced and a week later, her father died. Her mother's abuse doubled, not just physically but verbally as well. When she graduated her mother began taking her on the jobs her mother handled personally. She was taught all the tricks and tools she'd ever need to succeed the business. Malon truly hated her mother, the woman who molded her from when she was just a child, rearing her to be afraid of the woman's hand.
So it wasn't long until Malon turned 19, her mother brought Malon on an important overseas exchange in a deserted warehouse off the grid. The deal went sour and her mother was shot twice, one in the stomach, the other at point blank range to the forehead. Malon wasn't in the warehouse when it happened but when she saw her mother's dead corpse, the smile that crept on her lips was unavoidable.
She succeeded her mother, changing the name of the syndicate, in a proposal to the other leaders of making a vast amount of money. They agreed without question and she expanded the newly named syndicate Sanity's Fallen into a Brothel hotel with club. Thrumming music, alcohol and a place to sleep, her first batch of clients were easily roped in.
The members of Morals Down—respectively turned into managers, bouncers, security, trackers and others—were happily enjoying their new, albeit young, leader. Malon used the Hybrids that weren't sold off as her main selection, adding new slaves each year.
Currently she's trying to get her hands on a certain Hybrid an underground Brothel has within its selection. The information she received on a wolf of a young age, has caught her interest and she wants him in her own brothel. The Brothel owner denies her request, quite possibly just to yank her chain. She likes it when others struggle. But she won't give up, not so early in the game.
_________________
Perhaps you are asking the wrong questions?