Hi, everyone.
Sorry for the rather late intorduction but i'm Huang Long and i'm the new Keyblade wielder. Pleased to meet you.
Here is my official CS.
------------------------------------------------------------------------------------------------------------------------------------------------------------------
Type: Original with Disney roots
Name: Yod Nish Nedakh
Appearance: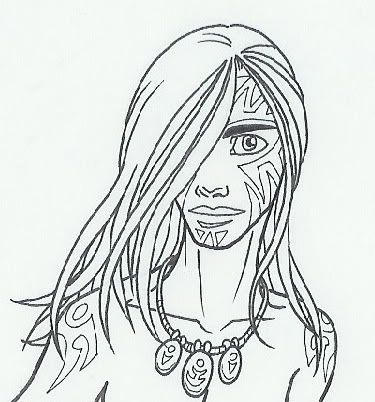 Yod stands at 6'2", possessing an athletic build, tanned skin, and shoulder-length white hair. he has blue tattoos on his face, shoulders and back. Scars decorate his body, as memories of battles, stupid stunts and other such important events. His atlantean attire consists of light blue toga, sandals, the necklace containing the Shard/Keyblade, and two bracers. He usually wears his atlantean clothing, though any clothing that is comfortable is fine. Of the non-atlantean clothing, he prefers sneakers, jeans, a shirt and jacket.
World/Game : Atlantis: The Lost Empire
Keyblade of Choice: Diamond Heart (Yod Keh-Loab)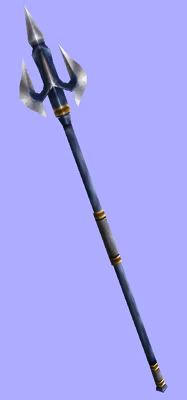 Diamond Heart is the latest manifestation of the Keyblade of Dawn. Born from his own desires to understand the Heart of Atlantis and the Heartless, with his own crystal shard. While dormant, it manifests as the crystal shard
all atlanteans carry. When called upon, the shard flies to his hand, and transforms into a blue crystal three-bladed spear, which glows from its core and pulse like a beating heart. In either form, it functions as a greater connection to the Heart of Atlantis. With this connection, he can,though techniques, call upon the ancient energies of the Heart to enhance, protect, heal or damage. Additionally, it provides environmental protection, as well as the ability to empower devices.
Drive Form: Heart of Atlantis
By using Diamond Heart as medium, Yod connects with the Heart of Atlantis and undergoes a transformation. His mind clears as he hears the voice of his ancestors, flesh gives way to crystal as Diamond Heart is absorbed into him. In this state, the powers of the Heart are placed at his fingertips. His body is graced with regeneration, the ability to manilupate the Heart's energy into shields, a facsimile of Diamond Heart, or raw blast of energy. Additionally , the energies flowing through his body boost his physical abilities. There is but one flaw to this form. That is the Call. With in the Heart, there is peace, harmony, joy, family, everything any being can desire. The longer one remains connected, the stronger the call become, until the one connected to the Heart disappears, leaving behind only the Heart. Thanks to Diamond Heart, the Call's progression is slowed, allowing Yod to revert before the Call overwhelms him, but the mental strain of the return prevents him from tapping into the Heart's energy until he can recover from the strain.
Dawn, dusk, or light?: Dawn
Strength Focus: Yod focuses on agility, spearplay and acrobatics, while relying on the connection to the Heart to supplement his abilities via techs
Brief description of Character:
Personality:
If a word exists that would describe Yod, it would be energetic. Always looking for the next "awesome" thing, he was always exploring, to see something that would keep his attention from the dullness of regular life. Like many atlanteans, he's hardworking and practical in his doing. However, like Kida after she communed with the Heart, Yod has greater sense of spirituality. He believes firmly that the Heart has a plan for him, and trains constantly for it. Loyal, noble and dedicated to fault, he has and will put his life on the line for those trusts.
Background:
Hi, my name is Yod Nish Nedakh. I'm the cousin of the current queen of Atlantis, Kidagakash "Kida" Nedakh. I am also the wielder of Diamond Heart, Keyblade of the Dawn. My story begins about 8000 years ago on the day i was born. That day changed the lives of every atlantean for it was the day King Kashekim misused the power of the Heart and nearly destroyed Atlantis. If not for the Queen's sacrifice, Atlantis would have perished then and there. As my mother raced to safety with me, I saw it. The Heart of Atlantis glowed with power, shaking the land itself. My dear mother took a wrong turn and we were caught by collapsing building. She was greatly injured. I, however, was unharmed. She had a vision, which she believed to be from the Heart itself. It told her that a great danger would come to lay waste to our people and that i would be needed if Atlantis was to survive. After we were rescued by the other survivors, Mother did her best to raise me so that i could be ready to meet my destiny well prepared. I learned about our history, culture, and combat. My attention always went towards spear combat and anything that had to do with the Heart of Atlantis. Sadly, since the loss of the queen, uncle Kashekin did not feel like revealing much about the Heart to any one.
Time went on. I became a skilled hunter, spending my free time between practicing spears, hanging out with the other kids and exploring ruins of our home. Sadly, in this time, mother succumbed to the effects of her old injuries. Before she passed, mother told me that my time would come when Atlantis's Heart rises to the surface, the Darkness come to steal our sun and that a spirit of crystal would wield the key to victory. For years, i pondered what it could mean. I knew that the Atlantis's Heart meant the Heart of Atlantis, and the spirit of crystal could mean me, after all my name means Crystal Spirit in atlantean. However, two things puzzled me. What was the darkness that was coming and what could the key to victory be? It had to be some sort of weapon. As the years wore on, i continued to train, hunt, mediate, and try to deepen my connection to the Heart, which wasn't progressing.
Then they came from the surface. Kida brought them in. The Whitmore expedition claimed to looking for Atlantis. They had the journal of the Shepard that had managed to find his way to Atlantis all those years ago. I'm glad he made it to the surface, but the fact he left brought trouble to our doorstep. This was pretty evident to me since only Milo seem to be completely without a hidden agenda. After him, only Dr. Sweets, Audrey, Mole, Bertha, Vinny and Cookie seemed to be good people. The rest of the expedition members, especially Rourke, were here to loot my people. It didn't take long for my impressions of them to be validate. Rourke came to steal the Heart. Uncle tried to stop him, but got shot for trouble. Kida was forced to communed with the Heart. This was the second time I'd seen the Heart, I wanted to go it, to protect it as I felt it always had protected us. However without proper weapons or other means, we would simply have died. That was until Milo took a stand. Then Dr. Sweets, Audrey, Mole, Bertha, Vinny and Cookie had a change of heart and joined us. After that the rest became history. We beat Rourke, got Kida and the Heart back, and with Milo's help, we began to restore our culture.
At the time I was still restless. Dreams of my mother and the vision began to invade my mind. Images of dark beings filled my mind. Danger was fast approaching. I threw my self into my training, spending much of my time trying to solve the vision. Then Dr. Sweet returned with the others and Mr. Whitemore to Atlantis. It seemed that the Legacy of Atlantis was causing problems in the surface world, so Kida and Milo left with them. This left me in charge of our people. The elders were a great help. While other slept, i poured over Milo's notes, and explored other areas looking for clues on the key. As for the spirit of crystal bit, it became more clear in my mind that i had to be me, though if i wasn't it was fine too. So long as Atlantis was safe, i would be fine with what ever role destiny had me play.
When Kida and Milo returned, they brought with them the Spear of Destiny or Gungnir as the mad man who tried to abuse it. When i saw the spear, i felt the tug from the Heart itself. This spear was important. I could sense from it a very intense connection to the Heart. Kida mentioned that this spear was the one her father used to command the Heart's full power. With the spear, Kida commanded Atlantis to rise to the surface. My dreams became more intense. I finally confessed to Kida and the others about my mother's vision and what i had discovered over the years. Needless to say, i received several lecture from all sides. Frankly, i was relieved to no longer have to work alone. We all started to prepare, each according to their specialty. The days slowly passed. Kida, Milo, and I studied the spear, pouring over old texts about it and any other artifact that could be used against the Darkness.
Finally the fated day came. At first they tried to appear in Atlantis in small numbers but thanks to our preparation and Kida wielding the Gungnir , we pushed them back. Then they tried to breach our defenses from underground, but they fell prey to the traps that Vinny and Mole cooked up. We thought we had won, but then the heartless pulled the biggest stunt they had. They created a copy of Leviathan, our guard. Unfortunately, with fake Leviathan in the field, we couldn't deploy the Stone guardians since they were protecting the city with the shield. Every available person was also fighting the smaller Heartless that continued to pop up. Even the most stupid person could see that we had been lured into a battle of attrition. I could see it in Kida's face. She was thinking of communing with the Heart again. I couldn't let her do that. Atlantis needed her. Milo needed her. There was no way i would let her sacrifice herself again. She barely made it out last time. I took my stone fish, stole Gungnir from Kida and flew straight into the Heart of Atlantis. Kida wouldn't make the sacrifice this time, I would.
As a member of the royal line, i had the right to commune with the Heart. Because of my mother's vision, I trained my mind, body and spirit for this moment. With the spear I had the key to defeating our enemy. All that remained was to become my namesake These were my thoughts when i was enveloped by the Heart's blue light. Peace, tranquility, joy, serenity. These filled my heart and soul. I floated in sea of blue. Then i heard many voice speaking as one.
"We knew you would come, child. Now comes the time of choosing. If we grant you what you seek, even if it means never returning to you home, would you still choose to fight?
There was no hesitation in my voice, my heart did not waiver.
"So long as my friends, family and people live well and prosper, i will do what is needed. I will become their strength as they have been mine. I will give them Hope."
There was silence for several moments. Then they spoke again.
"You have spoken from your heart, and we judge you worthy. Return, Yod Nish. Grab hold of your destiny. Transform and transcend your fate. Become Hope for all who meet you, and put an end to the Heartless. This quest will be long and difficult, but you will not be alone, for We will be with you.
When I returned to my sense, the battle was over and i was standing in a crater where the Fake Leviathan was. In my hand i had Diamond Heart, next to me, my stone fish, which had been transformed. The Heartless, as the Heart had called them, had retreated. I turned my head, and saw that all was well. Then i collapsed. Next thing i remember waking up in my room bandaged up. Kida and the others filled me in on what happened. Apparently after I entered the Heart, I return almost immediately, my stone fish transformed, Diamond Heart and Gungnir in hand, and my tattoos and eyes glowing blue. With the two spear, cleaved my way to Kida, gave her Gungnir and went off to fight the fake Leviathan by myself. It was a truly epic clash. To this day i only remember bits and pieces of that fight. It ended with me launching myself into the sky, and descending onto the fake, followed by a detonation of Heart energy. I told them what the Heart had told me, that my new purpose was to stop the Heartless, that i would be leaving as soon as i was fit to travel, and that the possibility existed that i may not return to my home again. This conflict's victory was bittersweet. The next few days everyone helped me prepare. By the time Dr. Sweet gave the okay, i was done preparing. I said my goodbyes to everyone, got on my stone fish and headed out to fulfill my destiny.
Stats
Sword: 2
Shield: 3
Wand: 2