Name: Adrian Myoto
Age: 24
Gender: Male
Race: Half Elf
Physical Description: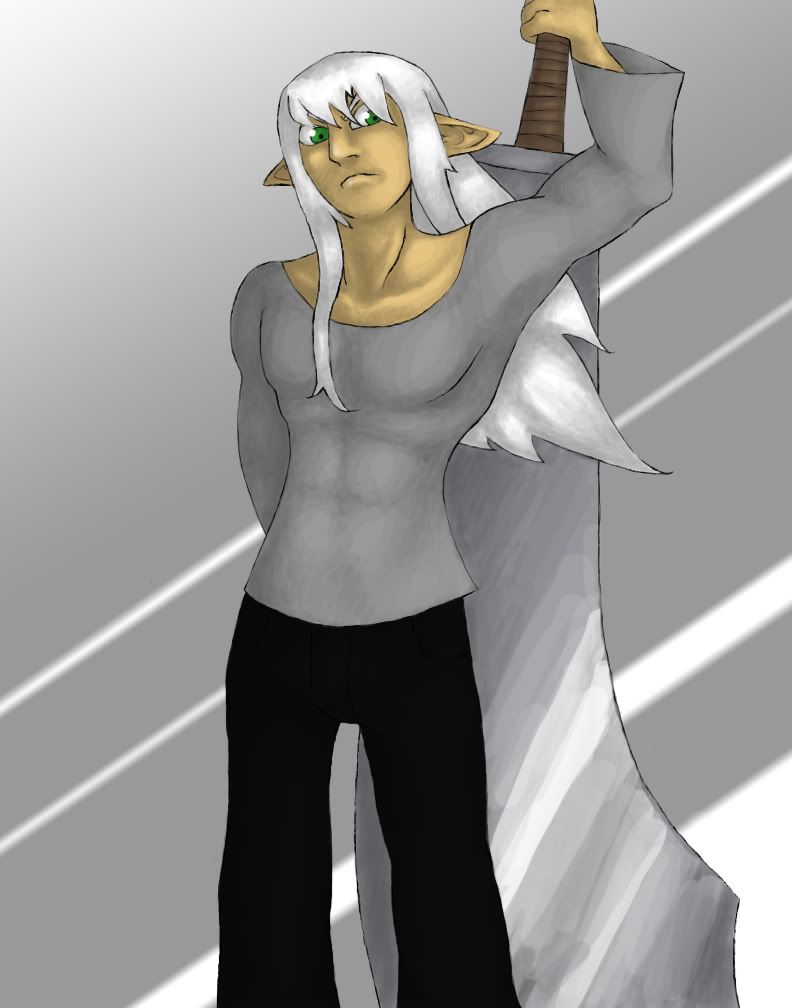 Adrian draws most of his physical characteristics from his human father. He is tall, matching his father's height of 6' 4" and weighing in the range of 215 lbs. His body is noticeably muscular and toned like that of an athlete. What makes Adrian stick out in a crowd the most though is arguably his hair. Like his father, Adrian suffers from albinism of the hair. While the rest of his body appears completely normal, his hair is an almost non-pigmented silver color. In addition, the hair stretches down to the very middle of Adrian's back. Thankfully; Adrian also received his father's naturally tanned skin rather than his mother's creamy white flesh tone, thus keeping him from appearing too ghostly. What he did receive from his mother though was a pair of emerald green eyes and the traditional pointed elf ears.
Armor/Clothes: Adrian doesn't wear much armor, often finding it too be more hazardous than helpful to his endeavors. Rather, he wears a dull grey long sleeve shirt and a pair of black cloth pants. His feet are clad in standard black military boots, though he honestly prefers a descent tennis shoe to anything.
Weapons: Adrian is well known in the mercenary world for the incredible size of his sword. In addition, his weapon is fairly large as well. The blade he wields stands on edge at a whopping seven feet in length. At its widest point the blade is 3 feet in width. Due to its size, Adrian is unable to wield the weapon except through the use of charms his father had placed on it when he himself wielded the blade. The charms allow anyone of Adrian's father's direct bloodline to wield the sword as if it were a 3-lb. katana. In addition to this near weightless charm, Adrian's father also infused the blade with a boomerang effect. Upon being thrown, the weapon will automatically return back to its master in a similar path to that of a boomerang.
Theme Song:
Forsythe - Tesoro
Powers:
Storm Master - The title for this power is an unofficial one Adrian came up with to help explain it. By manipulating a force present on all planets known as mana, Adrian can either create or take control of wind, water, or lightning. While it is true that all three of these elements can be synthesized through the use of mana, this is not as effective as using the actual raw material. For example, one could argue that a synthesized bolt of lighting would only produce about half the energy of one created naturally (depending on the caster's experience).
Skills: For a humanoid, Adrian is quite strong, able to lift up to 400-lbs, 200 for each arm. In addition his skill with the blade is almost unmatched by any other in Lunatic inc. This skill however came at a price. When it comes to mechanical devices, Adrian has no skill to speak of. Driving a car is nearly the peak of his ability, thus he tends to travel through strategic use of his flying ability.
Titles: As said before, Adrian is sometimes referred to as a storm mage. Unfortunately, he finds this title to be too unflattering and rather prefers to go by Gale.
Personality: Adrian is quick tempered to say the least and has no patience to speak of. This often get's him into more trouble than he'd like to admit as he rarely thinks before jumping into a fray. At his core, Adrian is kind hearted. However if his first impression of someone is less than favorable he tends to hold a grudge.
History: Adrian spent most of his life studying swordsmanship and magic from his father. His mother meanwhile made sure that the boy at least made it through highschool. By the time he graduated though, it was quite obvious that Adrian would not make it as the next world leader and would thus have to settle for a more fitting mercenary job.
He left home shortly after reaching 18 years of age and found himself doing various odd jobs for different companies, none of which he cared much for, nor respected heavily. Rather he aimed for Lunatic inc. The company was famous for helping to bring about the end of the war so why not start there. Of course, Adrian knew that no one simply walked into a business such as this without knowing what they were doing. As such, he has spent the last six years of his life working towards what he expected would be standards worthy of admission.
---
Name:
Katsu Myoto
Age: 56
Gender: Male
Race: Human
Physical Description: While significantly older looking, Katsu resembles Adrian heavily, although it would be more appropriate to say Adrian resembles him, most noticeably in the silver color of their hair. While he used to have hair as long as Adrian's, Katsu has recently accepted the fact that he's a bit too old for the rock star look and instead keeps his hair cut to at least above the shoulders. Like his son, Katsu also stands at a whopping 6' 4", weighing in the range of 230 lbs. One thing one will notice though is that Katsu seems significantly more muscular than his offspring, almost dwarfing him by comparison. His eyes are an almost ice-like shade of blue, fitting for the cold glares he often emits.
Clothes/Armor: Katsu often dresses for cold weather, no matter what. While it does vary, his attire usually consists of a long black trench coat, black pants, and a white, long sleeve button-down shirt, with his feet clad in a pair of sturdy black boots. In addition he also wears a small necklace beneath his shirt resembling that of a half-heart, the other half of which is kept by his wife and Adrian's mother.
Weapon(s):
No-Name: A heavy looking blade resembling that of an oversized meat cleaver. The blade itself measures three feet in length by one foot in width along the entirety of the weapon. Its strength does not lie in its design however, but rather the cursed soul which resides within it. No-name is imbued with the soul of a man, or quite possibly a woman, plagued by the curse of envy. Whenever its wielder poses the question, "What is your name?," the blade will respond by randomly adopting the persona of some person in the vicinity, taking on their memories as well as their skills.
Theme Song:
Fury of the Storm – Dragon Force
Powers:
Storm Master: While Katsu cannot claim to be the originator of this skill, he is in fact the one who taught it to Adrian. The difference between the two however is like that of night and day. Unlike his son, Katsu has had enough experience to the point where even a synthesized bolt of lightning packs virtually the same force as a natural one. This combined with his superior control of wind and water makes Katsu a force to be reckoned with on any level.
Skills: Katsu has endured a hellish life of hard battles, and a wife that never gives him a moment's rest. Due to this though, he has remained in fantastic physical shape over the years. While he is not as fast as his significantly younger son, he is very easily more physically powerful. In addition Katsu is also the better swordsman between him and his son. A fact which he is always ready to point out.
Personality: While one would normally expect a man of Katsu's age to behave maturely and rationally, this is not the case. Katsu refuses to admit his age and instead behaves like more of a hot-blooded twenty year old than his son, whom he seems to have it out for. When he's not tormenting Adrian through the use of father-son training sessions, he can usually be found in a bar with Riku, sipping whatever top shelf liquor he can afford at the time.
Titles: None – As he does not belong to a company, he has no need for such a thing.
History: Much of Katsu's youth was spent running about with his childhood friend, Riku. The two men were mostly known for their work on their home world as "ruthless" mercenaries. In actuality the two were always fairly easy going, accepting and finishing jobs on a whim rather than with firm dedication. It wasn't until they reached their twenties and became involved in one of their planets few civil wars that the two gained any sense of duty. During that time Katsu met his (now) wife, an elf by the name of Katou Katann. While the two were slow to agree with one another, somehow they formed a relationship and were married at the end of the war. Two years later, Adrian was born and it seemed Katsu would finally be able to settle down for awhile. Alas such was not the case as he soon found out that the life of a normal man was far too boring for him to handle. Within a year of Adrian's birth, Katsu again took up his mercenary title, though this time with much more dedication.
--
Name:
Riku Zamura
Age: 56
Gender: Male
Race: Human
Physical Description: Over the years, Riku has also began to look more his age. What was once a crown of messy jet-black hair has now became a mass of equally messy patch of grey. His eyes as well have faded over time, losing some of their deep blue color and instead adopting a softer shade. Riku does not stand quite as tall as his friend, Katsu, or his adopted nephew, Adrian, instead measuring in at only 6' and weighing around 180 lbs.
Clothes/Armor: Riku's fashion choices have not changed much over the years. Rather he still prefers his old blue button-down shirts, black pants, and brown work boots. Though he will occasionally don a coat, Riku prefers the refreshing feeling of the wind against his body to wear one often.
Weapon(s):
Shikomo: A broadsword imbued with the sole of an electromancer. The blade has the unique ability to summon down bolts of lightning from the sky, as well as launching a blade-like beam of electricity from its tip.
Kiori: A broadsword imbued with the sole of a pyromancer. This blade spews flames from its hilt when swung.
Ryoko: A katana imbued with the soul of a kryomancer. This blade has a habit of freezing whatever it comes in contact with, as well as the ability to launch large icicles from its tip.
Andari: A rusty katana imbued with the soul of a geomancer. So long as the blade maintains contact with the earth it can manipulate it to within reason.
Maruki: A strange broadsword with a black hilt. When drawn, the weapon will cause the wielder's shadow to come to life whilst sucking half of its owner's strength away and bestowing on the newly generated shadow clone.
Ichimori: A broadsword imbued with the soul of a monk. The blade can heal minor wounds and ,given enough time, mend bone however it cannot raise the dead, nor restore a body to full health. In addition, the blade also has the ability to generate a spherical shield around its owner composed of light energy.
Theme Song:
Last Man Standing – Pop Evil
Powers:
Curse of Greed: A "skill" which has been in Riku's family from generations. Upon losing contact with all six of his blades, Riku will be overtaken by this curse. During this time his already grey hair will adopt a more silvery tone, his eyes will shift to a completely milky white, his canines will grow into a pair of feral fangs, and his hands will become bent and claw-like. During this form, Riku's body is under the control of a wolf-like being, unable to differentiate between friend or foe. In addition his speed triples, making him an almost impossible target to apprehend. In an annoying twist, the curse also keeps Riku from tapping into his family's natural control of raw energy, instead bestowing this power on the wolf consciousness. This ability allows the wolf to send claw like bursts of raw energy towards whatever he sees fit. To Riku's knowledge the only way to stop this rampage is to forcibly reattach at least one of his blades to his body.
Skills: In his youth, Riku was always known as the fast one, while Katsu supplied the muscle. Not much has changed since the two have grown. While his age has caused him to slow down somewhat, Riku still remains (what he claims to be) "one of the fastest men alive." Aside from that he is a gifted swordsman, capable of throwing down with both Katsu and Adrian simultaneously and emerging without a scratch. As a side effect to his curse, Riku's sense of smell and hearing are somewhat heightened, though the latter is still nothing compared to Adrian's or his mother.
Personality: Much like Katsu, Riku also refuses to act his own age. In fact, one might say he's the reason to blame for Katsu's own immaturity. He remains to this day as quick tempered as he ever was, always looking for some kind of a scuffle. To further add to this idiocy, his one and only hobby, aside from brawling, is drinking. Be it booze, hooch, beer, whiskey, scotch, schnapps, firewater, moonshine, rum, or really anything with alcohol in it, Riku will drink it.
Titles: None – Like Katsu he has no need for one as he does not belong to a company.
History: Riku is Katsu's childhood friend and unrelated uncle to Adrian. No matter how much time passes by, he has always maintained a kind of loveable ignorance to the world. A fact which has throughout his life caused him quite a bit of trouble. It was Riku who got Katsu involved in the civil war when they were young, mostly because he opened his mouth at the wrong time. However, because of this Katsu met his wife, so it wasn't all bad in the end. Ultimately Riku never settled down, a fact which he doesn't seem to give much thought or care too. Once Adrian was born, it was Riku who convinced Katsu to take up mercenary work again, which ultimately led to Adrian taking up the sword as well. One might say Riku was Adrian's inspiration, while his father was a mountain top for him to cross over. Either way, Riku has remained close to the father and son and hasn't shown any signs of changing anytime soon.