Okay, lets try this for a start. (If for any reason i'm having trouble posting, feel free to kick me out as it will mean that i'm, having problems with the army again >.>)

Name: Pan
Race: Imp
Gender: Male for now but it can change at any moment.

Race: Imp. A demonic being with no set form synonymous to mischief. They are found in an alternate realm on a separate plain of existence than the human world. Imps are mostly considered minor or weak demons with only a handful of notable exceptions and are generally looked down upon by demon kind. They are not very malicious by nature but certainly sadistic and troublesome. All imps are mostly lonesome creatures and tend to become attached and helpful to anyone that provides them with love and care. Imps are natural shapeshifters.

Personality: Playful, stupid, perverted, twisted, mischievous and some would say evil, need I say more? Pan is generally the person you wouldn't want to meet in a dark alley in the middle of the night. His favourite habits are toying with humanoids, toying with female humanoids (or male, depending on his mood) and enjoying a good bloodshed from the distance. Also if you are wondering, no, he doesn't eat babies, they give him indigestion.

But don't blame the guy for his antics, while his mischievous and creepy as a person he really doesn't like seeing people getting hurt or suffering, that's why he usually avoids the annual torture-a-humanoid imp festival every spring. In addition he never really moves to permanently injure anyone unless Pan is in direct threat from that person. Furthermore the poor dude doesn't really know any better, that's the way he was brought up and thus he can rarely tell right from wrong, in fact most of the time he believes that he is helping people with his actions.

To make matters even worse Pan is, frankly, a pure-blooded moron, even if you sat down to explain things to him he would barely understand half of it and ignore the rest…that or ogle at you if you're pretty. Finally Pan is a desperately lonely entity and he would do almost anything—even commit good deeds such as self sacrifice—to have a committed friend.

Physical Description: Pan can take many forms some of which exist and other like which you cannot imagine but usually he likes to take the form of a human teenager. Pan is almost perfect in his impersonation of the healthy adolescent human male. With the average human height and physique of that age and shoulder-length wild black hair at first glance he looks like your average farm boy, a very handsome farm boy but a farm boy nevertheless. Unfortunately when it comes to details the differences between him and regular human can be seen. His entire set of teeth is a long line of razor-sharp fangs, his onyx eyes are reminiscent to a snake's and his fingernails are short curved claws. Some even said that they saw a tail swinging playfully behind him at times. With all that, along with his tendency to adopt a low animal-like stance, it's no strange fact that some people simply shy away from him when they see him.

This playful imp usually chooses to dress/shift to clothing one would expect to see in this day an age. With long black leather gloves dressing his hands, trousers made of the same fabric and a dark form-fitting A-shirt, tacked in his pants of course, he is able to raise more than a few eye-brows in the places his visits. Yet apparently he believes this is the normal everyday clothing of the human world. As far as ornaments go, he wears a silver earring on his left ear and several decorative silver buckles around his waist.


Equipment: Pan doesn't really carry anything with him. Not even the clothes on his back.

Theme Song: Peanut butter jelly time (craziest song I could find)

Powers:
Shape-shifting: Pan is a being that is naturally amorphous by its creation. Pan is an imp. Having no set form, imps can adapt the shape and properties of virtually anything or anyone limited only by their skill and the total mass and complexity of material being copied. Pan himself is able to assume the shape and form of anything with the proportional mass of a bull and the complexity of steel carbonate. On the topic of fluid materials Pan can only drop his solidity to semi-solids like slime. Take note that he is unable to copy complex machinery or electronics due to their high level of complexity. Pan is wounded by removal of mass which registers as damage for him and heals by assuming more mass overtime, either through consumption or by natural regeneration.

Minor demon magic: Curses, hexes and gruesome dark rituals of varying effects, for example, hexing the floor to collapse under someone. Mostly useless in combat with the exceptions of pre-casted enchantments and the like. Pan only recently begun learning the dark arts, as such he is a mere novice. Pan uses them mostly to wreck humorous, for him, chaos when he's bored out of his sadistic mind.

Skills: Sneaky and cunning beyond mortal measure. Immune to diseases and poisons due to his changing physiology. Midly knowledgeable on supernatural affairs and is rumoured to have relations of several minor demonic or angelic creatures although most are relations of dislike against his person…he IS kind of annoying.

Titles: The unholy perverted bloodstrom (You REALLY don't wanna know how he got that one >.>, but here's a hint, it has tentacles.)

History: Pan's history is pretty simple really. He born in a good family of imps and grew up wonderfully…for an imp. Eventually thought he got really bored and annoyed at the antics of his brethren thus he decided to take a trip to the human world to entertain him self and entertained himself he has.
_________________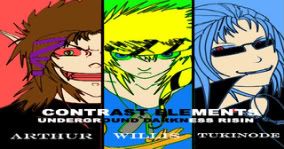 Made it myself. (Tukinode may not reflect the ideas of his original creator)
Last edited by Deathmaster Forse on Sat Nov 20, 2010 11:00 am, edited 2 times in total.