Ahh, here it is.
as always feedback and/or criticisms, and questions appreciated.
-------------------------------------------------------------------------------------------
Name: Enine Estel
Age: ??? (Enine has no real "age" but if you mean how many years he has been conscious...too many to count. But he looks to be about 21 in this universe)
Gender:Male
Race: Human
Physical Description: Enine wears a long late Victorian era over-coat, complete with extra golden embroidery and frills (It would look like the same thing Ebeneezer Scrooge or jack the ripper would wear, it's black). Under this he wears a red vest, followed by a tie with the yin/yang symbol patterned all over it, and a white tuxedo shirt. All of which he keeps prim and proper under his coat, which he keeps open. He has some rather expensive looking cuff links on the sleeves of the tuxedo shirt were you to look.
He wears a golden monocle upon his eye, as well as a perpetual smug, smile, as it has grown out of habit. He loves to play games more then anything else, and absolutely despises boredom. He also wears a pair of white gloves. As for pants he wears a nice set of black dress pants with fancy designs on that too. As well as a set of regular dress shoes. Enine looks extraordinarily handsome, not because of magic, but because he chooses to be that way, he has a light shade of silver hair, that falls just below his ears and green eyes. Of medium build, he looks "fit" and nothing more.
Equipment: Absolutely nothing but the knowledge he possess. Well the Stakes could be considered both equipment and powers. They are Demonic Weapons, that can take both the form of a small demonic stake, and the girls below.
Theme Song:
犯行の予告状読み上げ(ラック眼力)
Fight Song (might as well):
System 0
Powers:
Rule Magic: One of Enine's specialty is the ability that of the "Rule changer"(considered neutral magic technically). An example of his power can be found in a game of chess. As one would know, the rules of chess are set in stone, but were you to play Enine, that would not be the case, for every time you play him he has a new set of rules, and you literally would have to follow his rule. While this may sound extremely advantageous to him, in truth it is rather not. It is more the power of random probability, this chance that anything can happen (ironic for someone who hates most everyone in this world) which includes the chance of the opposite party winning (and a round of applause coming from Enine, who is a gentlemen and understands when he has been bested)
But how does this affect others? It weakens whatever they may use, because while Enine's power is considered magic, it can affect both machines and other magics. He does have a harder time using this ability on machines/science though. In relation to other magics though, the affect can be deadly depending on the amount of "magic resistance" in the air (magic can be defeated by not believing it has any affect) sadly this effect also works on his own magic, but only those of science can use that against him, it would be nae impossible for an enemy magician to deny what he himself uses. It's a passive ability, affecting both allies and enemies. Any and all spells are suspect to the random probability of it screwing up or soemthing totally unexpected happening, but rather then just jump to the point (which would ruin the fun) Enine has made this passive ability a little weak for the start of his journey, wouldn't want everybody's spells failing now would we? In actuality, Enine exudes a sort of strong interference, a distortion in reality if you will, now because he has aligned himself with magic, it is stronger against magic. This interference, well, interferes with other magicians (and in some cases machinery/science) magic. That would also explain the grave feeling other magicians get when they are around Enine (any with-in a 20-ft. radius that is).
But of course, Enine does not have it on at all times. Whenever he does turn his ability on, however, his eyes turn a deep blood red, the only indication that the ability is working its supposed magic.
As for science, it causes to some degree, an occasional weapon or equipment malfunction. He also has a very rare chance of changing physics, which can be bad or good depending on what happens.
Summoning: Enine's real forte is a summoner (Demonic summober to be exact). Enine is the master at summoning beings, usually demons, or furniture as he may call them. Now he limits himself to the sisters, again, to keep his interest up. The "sisters" are called: the 7 Sisters of Purgatory. They are Demonic weapons, that can take two forms: A regular human form (as seen below), and a demonic stake (a literal steak, a metal knife sized stabbing device)
They serve Enine, to protect, kill, babysit. In general any and everything he demands they will do (albeit with a little grumbling perhaps)
Misc: Another ability, extremely small and of no particular use (yet still technically an ability) is that of a certain "sense" Enine can sense beings who've traveled from different universe, or in some cases, been in close contact with the "multiversal" this has no effect other then knowing who's one of Enine's kind (a fellow witch [who isn't purposely masking their identity] or sensing someone who deals in the "other-world" quite often) Again, not a practical skill by any means.
---The Seven Sister's of Purgatory---
--Satan-- Satan acts like the angry class president of the sisters. Her voice gives off a rapid succession of scolding, so she is feared by the other sisters. Because of that no one talks back to her, so she is lonely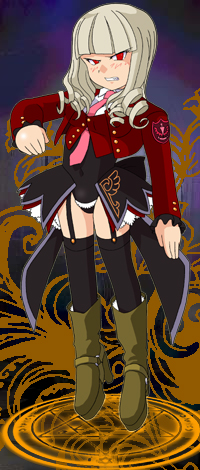 --Lucifer-- Lucifer is the oldest sister and therefore the leader. Because of that she claims to be the strongest of the sisters, but she is aware that she is actually the most inferior to them.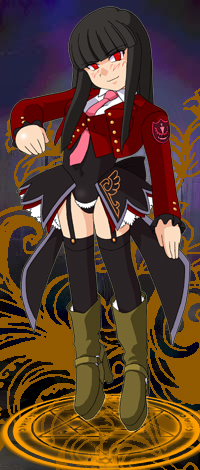 --Belphegor--Belphegor is reticent, serious and the one most trusted as furniture. However this is because of her most demonic desire to make her master a lazy pig. In this case you might call her the most exemplary demon among the sisters.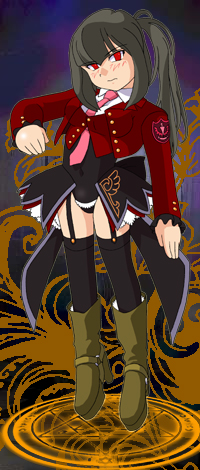 --Asmodeus-- Asmodeus is always treated with affection from everyone as the youngest of the sisters. Maybe that is why she is always kept at a distance whenever a slightly lewd topic comes up.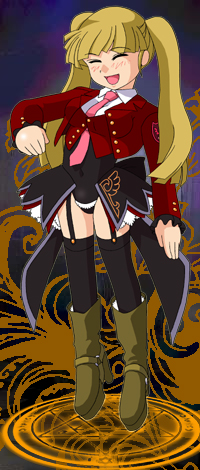 --Mammon-- Mammon is quick to act, without reservation regarding her other sisters. Her motto is to monopolize things through greed. Therefore she is often the Vanguard and the fire starter fro the conflicts between sisters.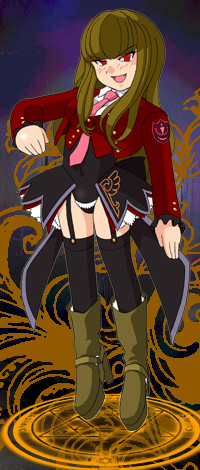 --Beelzebub- Beelzebub is the gourmet of the sisters widely know by enthusiasts of exquisite and large quantities of food. Her personality is similar to Mammon's and they often compete against each other to see who will get something first.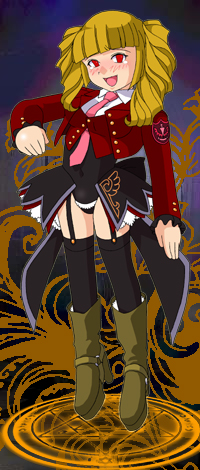 --Leviathan--Leviathan views herself as the representative of the younger sisters to Lucifer. She has, by nature, a brutal personality thick with jealousy and is adept at find weaknesses. Although she's a bit of a selfish cry-baby too.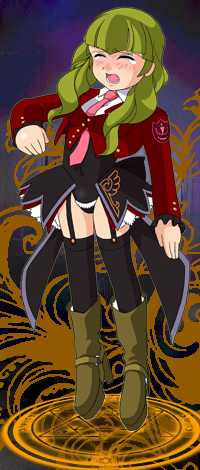 While these 7 Demons (called furniture by all witches) are not exactly Enine's he acquired them through a bit of a bet between another witch by the name of Beatrice. He will tell you, it took him 500 years to win the bet, but he won it, seems the endless witch is not so endless when it comes to random circumstance. They are high-class furniture, whose true forms are that of 7 demonic stakes whom are named and stylized after their respective owners. In other words, they are demons, but demons that really are furniture. They can take both their human form, and stake form, as they want, and when in their true (stake) form, have a tremendous amount of speed, when in their human: just a lot'a speed, to get an idea of how fast they are: in their stake form, they ricochet off of walls just a bit below the speed of a bullet, a lowing pinging sound like gunfire can be heard when they do this, all before the giggle they make before impaling themselves into their enemies head/heart, and in their human form they are pretty agile, they ca dodge a bullet or two. In this form they are not as fast, but they have more firepower as a trade-off. And yes, their costumes are quite lewd, it just cracks Enine right up. Guns and other anti-magic things can kill the girls, if they can hit (not literally kill, but put them out of commission for like: a few days) but they are extremely good at killing soft targets, and magicians too. In their stake forms they can only puncture lightly armored targets. To actually do damage to heavier targets they must be in their humans forms, a bright red locus (i.e. blade) will appear on their arm for such a job. Few people now-a-days get the reference each of their names has. And they are all "unique" to say the least, but...you'll see...
And for now Enine will limit himself to 4 girls at once. He'll increase it as he "grows" in this world.
A small explanation
_________________________________
As with all magicians, Enine has a high resistance against magic, and views science with a sort of disdain. Enine is crap in an actual fight, as magicians are not supposed to be on the front-lines. He has no protection against offensive non-magic attacks, but that is why he uses the sisters to do his job for him. In short, he can die like any normal person can, you shoot a bullet at him and it'll hit, so long as the air is not filled with magic (as the mere appearance of the sisters usually solves...to a certain degree)
Title: Rule Breaker
Bio: Enine, comes not exactly from "one" world (or universe). He is a manifestation, as is how most "witches" are created. However, unlike most "witches", whom stay put in their own areas of origin, Enine is a traveler, going from world to world, he knows there are an infinite number of them, and thus and infinite number of ways to keep one's interest up.
Enine hates boredom, and loves a good game or two, Enine finds all the other witches quite shallow, maybe due to the sexual difference, you see Enine, is the only male witch, it was quite strange for the other witches. But because of this, Enine is unique as witches go. Preferring to ride his own course through pretty much anything, which is exactly where his own specialty comes from. Witches always hate to play games with Enine, probably because, they won't know what to expect. He still accepts them though, as little more then uncomfortable equals.
In this world Enine chose Lunatic Inc, as a bit of a random guess. As stated earlier he wants to keep his interest in this world, and if asked that's exactly what he will say, quite questionable for anyone else, but for a subject with such promising capabilities (?) it perhaps can be overlooked. One of the strange things about Enine, is the "feeling" other magicians get when they are close to Enine, other then the small magic dampening, that something is "wrong" with Enine's simple appearance. He "feels" like an abomination that should not be, some magicians have attributed the "aura" about him to the dimming of lights when a circuit is being used by a more powerful machine. And with that eccentric smile, his demons, and his strange, strange clothes, it's a wonder just what he is in the first place.
*A witch is an immortal (Enine is immortal not in the sense that he will never die, but in that he can die in a single universe but reincarnated infinitely...as long as he is not killed by another witch.
Every
world he visits is different, no exceptions) reality traveling, being. Sounds pretty powerful, but they usually limit themselves, an EXTREME, amount to increase the "fun" they may have in the given univeres (or realities). Don't expect any god level techniques. At all. Oh and a witch is also a magician; you'll only here himself refer to himself as that.
------------------------------------------------------
(I said there'd be references no?)
If it seems any at all too powerful or something, I can accommodate duly.
Notes:
Seven Sisters color key
This is Satan of Wrath
This is Lucifer[ of Pride
This is Belphegor of Sloth
This is Asmodeus of Lust
This is Mammon of Greed
This is Beelzebub of Gluttony
This is Leviathan of Envy
Last edited by
Slipslash
on Tue Jan 05, 2010 11:11 pm, edited 7 times in total.