Mon Sep 16, 2013 7:32 pm
All these feels T-T

If I find any good AMVs I'll post some later

Also, Tenshi I tried looking for the one you mentioned, but couldn't find one with DBZ in it. Here's the closest match c:

Mon Sep 16, 2013 8:05 pm
Damn, it's very similar.
The part where Gildarts is transitioning to Fariytail is the same clip the other one had for Gildarts. Where he's yelling.
I believe One Piece was the finale for the other one too.
I don't recall Soul Eater or Black Butler in it, but it's been so long since I've seen it.
I'm recalling Hunter x Hunter and FMA; HxH more so than FMA; FMA I'm not too sure of.

I've been trying to find it for a while, that vid was the first time I heard the song, and I remember it being really amazing, I just watched it so many times. Then, one day I just stopped, and I can't find it again. It's so frustrating T.T


Thanks for the vid, Blue. c:
It feel like this was inspired from the one I'm looking for because it was relatively the same format.
Mon Sep 16, 2013 8:55 pm
No problem c: Oooh I see. There were a few more that were similar to that one as well so I ended up just picking one
. I looked around a bit more and found this one (has DBZ, no Soul Eater or BB in it). Round 2!
and possible last try
for now
I wish I could remember my first AMV. I remember the song being one of Cascada's, but I couldn't for the life of me remember which anime were in it.
Mon Sep 16, 2013 9:06 pm
OMG YOU FOUND IT <3
I LOVE YOU!
AWSEDHFRDTFSGDZCBFHXNJGKHYFJGRHTFEGS
This has been a good day, and a perfect way to end the night.

Thank you so much Blue, the title is completely different, but the video's the same. I'm a bit embarrassed that you found it in a couple tries, whereas I've been looking for it for over a month >.>

BUT THANK YOU SO MUCH! <3
G'night everyone c:
Mon Sep 16, 2013 9:53 pm
No problem xD Just glad that I was able to help c:

Party!


Action! (One Piece Action, be forewarned if you watch, spoilers be a float)



FEELS! (Anohana feels to be precise, there are a lot of spoilers in this one, so heads up if you haven't watched it)


T-T The feels overwhelmingly returned after watching this.
Tue Sep 17, 2013 5:12 am
Ah, I've seen these, and I was going to make that party one part of my next post :p
Must find replacement, when I return later today. (Also, AnoHana feels...tearing so early in the morning T.T)
Thank you again :p
Once I return tho, there's going to be a fun surprise. c: Ari knows what's coming, Blue could probably guess. c:
But only time will tell...I SHALL RETURN IN 10 HOURS!
Have a good day everyone! c:
Tue Sep 17, 2013 7:16 am
She sent me four notes regarding the subject. I am going to go out on a limb and say Blue knows.
Tue Sep 17, 2013 7:22 am
Shhhhhhhhhhhhh
Btw, I've decided to put a little, Banner by Ari-6. c:

Edit: Couldn't find a nice place to put it. But I will find a way to mention it during the thread's discussion.
Wed Sep 18, 2013 2:52 pm
Any of you heard of J-stars Victory vs? It's basically a fighting game with Shonen Jump characters to celebrate 45 years. Here's the second commercial.
http://www.youtube.com/watch?v=YYNIxRNvgWQ
So far the roster includes:
Son Goku
Monkey D. Luffy
Naruto Uzumaki
Toriko
Ichigo Kurosaki
Himura Kenshin
Gintoki Sakata
Kankichi Ryotsu (From Kochira Katsushika-ku Kameari Kōen-mae Hashutsujo)
Gon Freecss (From Hunter X Hunter)
Yusuke Urameshi
Taro Yamada (From Chinyūki -Tarō to Yukaina Nakama-tachi-)
Jaguar Junichi (From Pyu to Fuku! Jaguar)
Vegeta
Zebra (From Toriko)
Sauske Uchiha
Wed Sep 18, 2013 3:12 pm
Wow, there is one game I will not be buying. None of my favourite jump characters are in it.
Wed Sep 18, 2013 3:17 pm
Some of my favorite characters are in it.
Is it a US or JP port?
Wed Sep 18, 2013 4:11 pm
Right now it's Japan only but I'm sure it'll see a US release somewhere in the future. Characters I want to appear in the game:
BoBoBo-BoBoBoBo
Arale (from Dr. Slump)
Seiya (from Saint Seiya)
Piccolo
Gohan
Krillin
Rock Lee
Sakura Haruno
Hinata Hyuga
Gaara
Zorro
Nami
Ussop
Sanji
Chopper
Robin
Franky
Brook
Kenpachi Zaraki (Only character I ever liked from Bleach but I'm sure other the Uberpowerful secondary characters & irrelevant primary characters will make the cut.)
Don Patch
Jelly Jiggler
Anyone else from Saint Seiya, Toriko, or Gin Tama
Kazuma Kuwabara
Hiei
Kurama
Kinnikuman
Terryman
Ramenman
Buffaloman
Warsman
Robin Mask
Brocken Jr.
Dark Yugi
Seto Kaiba
Joey Wheeler
Sagara Sanosuke
Myōjin Yahiko
The guys from Shaman King (I guess)
Character who needs to be in the game or the world riots.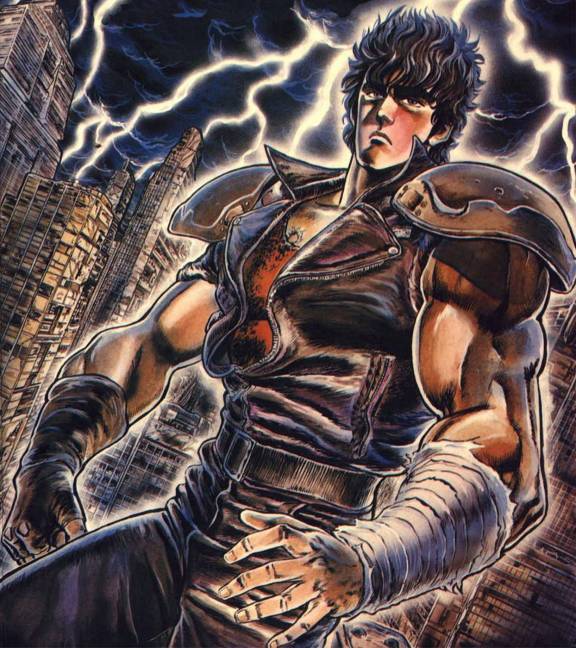 Last edited by
dj1107
on Wed Sep 18, 2013 4:20 pm, edited 1 time in total.
Wed Sep 18, 2013 4:18 pm
You said a lot of names that were in one series. 3 from DBZ, 3 from Naruto, and 6( 7 or 8?) from One Piece. I think some of you're desired selections are a bit out-of-line as it is a fighting game for
Jump-Stars
, as in people who popularly demanded character(s) from different Shonen-Jump series to fight in one game. Plus, you do know those series has fighting games of their own, right?
Wed Sep 18, 2013 4:30 pm
Yeah I'm aware that most of the series have their own fighting games I just made a list of any characters who could potentially be in the game

My top picks would be Zorro, Kazuma Kuwabara, Piccolo, Kinnikuman, Arale, Kenshiro, Dark Yugi, Seto Kaiba, BoBoBo-BoBoBoBo, & Seiya
Wed Sep 18, 2013 4:34 pm
dj1107 wrote:Kenpachi Zaraki
You forgot Soi Fong.
Last edited by
Tenshi Nova
on Wed Sep 18, 2013 7:57 pm, edited 1 time in total.
Wed Sep 18, 2013 4:41 pm
Actually, it's Soi Fon. Not Soi Fong.

Whatever your heart desires, dj.
Wed Sep 18, 2013 4:58 pm
Tenshi Nova wrote:You forgot Soi Fong.
No one wants that undertone of an angry lesbian.
Wed Sep 18, 2013 5:29 pm
I agree with Arale from Akira Toriyama's most popular series Dr slump. There are a few other characters I would want to appear, Like Clare from Claymore and Eve from Black Cat. But I really do not like Jump that much and the ones I do like are not very popular. I would much rather see a fighting game containing characters from Soul Eater, Railgun or SnK.
Wed Sep 18, 2013 5:35 pm
I wrote it that way bcuz I'm used to spelling the words in Chinese. :p

Also, that angry lesbian is one of the only likable characters in Bleach that don't rely on 'service'.
Wed Sep 18, 2013 6:02 pm
I'm guessing this is a good place to put this.
This is a short trailer of an anime called "Kill la Kill" and its by the same team that made Gurren Lagann and FLCL. Not a whole lot about the show is explained here, but I'm a big fan of the two other shows they made and the girl who I assume is the main character looks pretty cool.

Wed Sep 18, 2013 6:06 pm
Never could get into Bleach. Don't know why maybe it was the abysmal pacing, The fact that our main cast are literally irrelevant or overshadowed by a ton of overpowered assholes, or that most of the story is basically a "Rescue the princess" plot just with bigger swords.
Wed Sep 18, 2013 7:14 pm
I think bleach has some really great looking character designs and those masks look badass. But I from what I can gather it is all about the fighting and the creator is kind of a memetic dumbass.
Wed Sep 18, 2013 8:03 pm
I hate Bleach. Hate with a passion, anyone that's seen any of my other posts about it, can tell how much I must restrain myself so I don't end up typing an essay on 'Why I hate Bleach'. I do respect it, but I hate it.
It's the most shitt- WAIT, must stop before it gets out of hand.
But out of it, I did enjoy Kenpachi(plus his
i) and Soi Fong(That's how you spell it in Chinese, that's how I'm doing it). I will admit that the recent mini story with his parents was nice. But the rest of the fucking anime can go suck a bi-AHEM...Moving on now!
Kill la Kill looks interesting, tho we're going to have to wait for more detail on that before passing any solid opinions.
Wed Sep 18, 2013 8:35 pm
Wow, that's some passion you have Tenshi.
No skin off my back, though. Your opinion's your opinion.
Have you read the manga, though? I do dislike the filler anime arcs in Bleach.
Wed Sep 18, 2013 8:42 pm
Up to date. I don't dislike things I don't know about. If I do, I'd mention if I'm uninformed. I keep up to date with Bleach because I do enjoy the few characters I've mentioned, and the artwork is tasteful. I respect it to a certain extent, because of its...unique...way to 'explain' their own plot. But, as I said, I fucking hate it. If it were to end with the shittiest ending ever, I wouldn't give it a single fuck. If it were to somehow become the best manga/anime of all time, I wouldn't even give it half a fuck.