Tue Feb 19, 2013 4:23 pm
Edgar Alan Poe?
Tue Feb 19, 2013 8:25 pm
Who want so juicy plot info
An interview with monty was just released. He clears up a few things abou the fairy tale mythos but leaves us with more questions. We also have some information on the setting which just opens the door to theories.
http://constantlycalibrating.com/2013/0 ... monty-oum/
Most intresting fact to me was that he relased that the villain is a woman, but is not seasonal, she will be the bad guy as long as the show goes on. So im getting some sailor moon vibes now.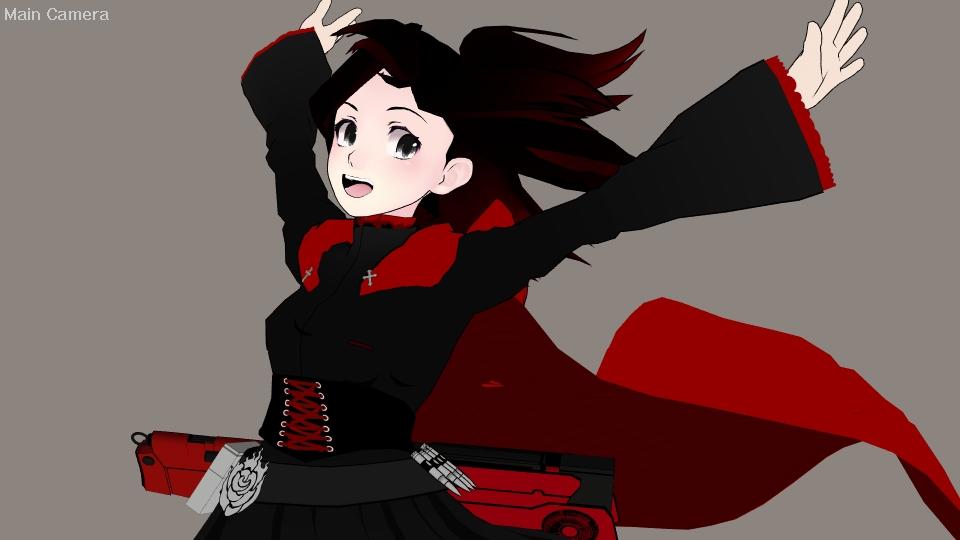 Wed Feb 20, 2013 12:03 am
Jasthn wrote:Edgar Alan Poe?
Close, but not the one I was aiming at.
BTW, White's name is Weiss Schnee, which a direct translation from German means "White Snow".
Wed Feb 20, 2013 1:08 am
Evermore? I thought that was what the raven said many times in one of Edgar Alan Poe's writing. Is that not it, or is "evermore" a quote from another writing?
Wed Feb 20, 2013 1:49 am
Wasn't even aware they released a second video. Neat.
Wed Feb 20, 2013 2:47 am
Where are you guys getting these pictures of Ruby from? Can't find em anywhere.
Wed Feb 20, 2013 3:12 am
Rosso Rose wrote:Where are you guys getting these pictures of Ruby from? Can't find em anywhere.
Internet :U
Wed Feb 20, 2013 7:23 am
Monty Oum has confirmed that the characters are not based on Fairy Tale characters, but instead just allude to or reference them.
According to a recent interview with Oum, the girls will be a team(apprpriately named RWBY) and go to a school where they will be encountering various other "teams
Names in this world must either be or refer to a color, and the team name has to make up the reference to said color.
The school is a training ground to prepare them to fight the main antagonists in the series.
Fri Mar 22, 2013 4:05 pm


I'm not sure what to call that weapon...gunblade whip?
Fri Mar 22, 2013 4:15 pm
Wow, dialog. ACTUAL fucking dialog in this trailer now. And does anyone else think the whole 'giant-spider-robot' design has become a bit of a cliché by now?
Fri Mar 22, 2013 4:21 pm
Her name is Blake? Interesting trailer, she really didn't do anything big like the other ones. for a moment there I was thinking who would win in a fight, Ruby or Blake, and well, the end of this trailer certainly answered that.
Fri Mar 22, 2013 7:15 pm
I guess it isn't as kickass when it is with two people. The other two barely said anything, but that what makes it cooler. They didn't need to.
Fri Mar 22, 2013 7:27 pm
Lets see, we have Yellow to go, and then they start production of the episodes, when?
Fri Mar 22, 2013 7:31 pm
I think they release them in early July, I think.
Fri Mar 22, 2013 7:33 pm
The series? Excellent.
Fri Mar 22, 2013 8:00 pm
The general feedback has been simlar to whats been said above. That and the issue with adam's voice. (Note that adam is the name of the prince in beauty and the beast) Uhh yeah did she seem a little less bad ass, yes but her situation felt real. The first two trailer were suppose to give us a taste of the RWBY universe. this episode felt like sample of whats to come. Honestly this show would be no fun if those girls were ultr powerful off the bat. It was nice to see them have to interact with someone who could talk to them. But I was hoping to see some of the school in this preview. Anyway over all I give it a 8 out of 10. The music felt straight out of rvb, matter of fact so did alot of Blakes mooves did too.
Yellow trailer next month so pumped,
the girl with the fists on fire
Sat Mar 23, 2013 12:09 am
rac7d wrote:the girl with the fists on fire
And it was all yellow...ok time to stop quoting songs.
April will be a mighty fine month.
Sat Mar 23, 2013 11:13 am
Except for the frequent rain. Not that it matters to people like us.
Sat Mar 23, 2013 7:36 pm
You April Fool, it always rains here where I live in Washington State :P.
Sat Mar 23, 2013 7:42 pm
God yeah it does.
Sat Mar 23, 2013 11:49 pm
Combat in RWBY feels like combo strings you pull in MvC. That I really much appreciate.

I know it's kinda Monty's thing but I find the BGM with singing during combat sequences really annoying. I can't seem to 'get into the experience' with that kind of music.
Sun Mar 24, 2013 1:58 am
I don't like this trailer as much as the other two. The weapon is similar to Ruby's, and I don't see anything related to "the beast descent from shadow".
Sun Mar 24, 2013 3:29 am
That could mean that may be the best part of RWBY from what I speculate.
Sun Mar 24, 2013 4:30 am
I kinda expected Red would pull off some moves of Death (Darksiders II)--with that huge scythe and all.

I don't expect quality story or plot from Monty. He's a guy strong at game-based combat scenes. I'm not sure if he writes good stories. Have you see the ending of RvB season 9? That ending is just depressing.
Sun Mar 24, 2013 3:42 pm
I don't think he'll be alone on developing stories for RWBY.