Hey guys, it's me again, here's some news for you guys from Toonami and NeoToonami: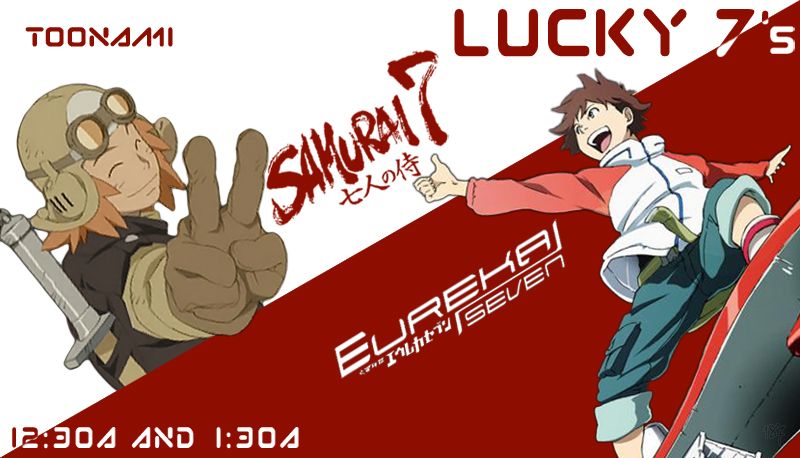 As some of you may know, Toonami made schedule changes and we now have the Lucky 7's, consisting of shows Samurai 7 and Eureka 7, showing at 12:30 for Samurai 7 and 1:30 for Eureka 7. Also, I've read that the popularity of Deadman Wonderland in Japan has caused it to be cut short by 12 episodes, so we won't be see the last 12 of the season. Bleach will no longer be filler, so we'll finally get to see more canonical episodes which lead up to the end of the Bleach anime itself.
Here's Toonami's Lucky 7's promo.
NeoToonami has also done schedule changes as well, but it's no ordinary schedule change; NeoToonami now starts at 7 PM and ends at 10 PM. Like Toonami, NeoToonami has also changed their line up as well. Beginning September 3, NeoToonami will now be showing DragonBall Z last before the broadcast ends. New shows added to the line up include Sakura Wars, Soul Eater, and Samurai Jack, so NeoToonami will be saying farewell to Spectacular Spider-Man, PowerPuff Girls Z and Gurren Lagann.
Oh, and NeoToonami also has a promo for their live stream too.
I'm digging the line up NeoToonami's got. Eureka 7's a show we've all seen before, so the schedule change here is nothing special at the moment, however being someone who has been quite absent from all the Toonami goodness a decade back, I've heard that this was something Toonami once did, and that they're doing it again, and that's great.
In other news related, topics related to Toonami have been trending. Hell, it's not just two or three hash tags. Although it was announced on the 19th of August, it's still pretty big. This is what we're talking about:
#toonami
#samurai7
#Casshernsins
#eureka7
#ghostintheshell
#FmaBrotherhood
#outlaw star
#bringbacksarah
Lastly, here are some bumps for everyone here to enjoy If you haven't seen them. If you haven't been keeping up with the block, I've included some from July too:
TOM tells Moltar a story
Life Advice
To Hell With Fear
Skyrim: Dawnguard
Dawnguard 8/10, Skyrim 100/10
Catherine
8/10
Slender
???/10
And that's all I have for you guys today. I'll be posting more stuff as time goes on.
2 Toonami's are better than one.
Later.